One of the places that are very dear to my heart is the isle of Kefalonia (or Cephalonia), the largest one in the Ionian Sea, Greece. She became widely known after serving as the setting for the film Captain Corelli's Mandolin, but even so, she's kept a low profile. She is truly a dream travel destination that will seduce even the hardest to please with her crystal clear waters, lacy coastline, rugged wilderness, lush forests and picturesque villages with an Italian architectural aura to them. She is a lady charmer and there are four major reasons for visiting her, good enough to convince anyone to add Kefalonia to their dream travel wishlist.
Kefalonia is one of my favorite islands – simply gorgeous. She's about a three and a half hour drive from Athens to catch a ferry at Kilini for about another hour to reach Poros, one of her two ports on the southern tip of the isle. (There's also a ferry at Patra that can get you across to the port of Sami). Either way, some further driving is required to reach Argostoli, her capital, and numerous other villages on the western side of the island. It sounds a lot, but the isle so beautiful that you'll soon forget about the trip.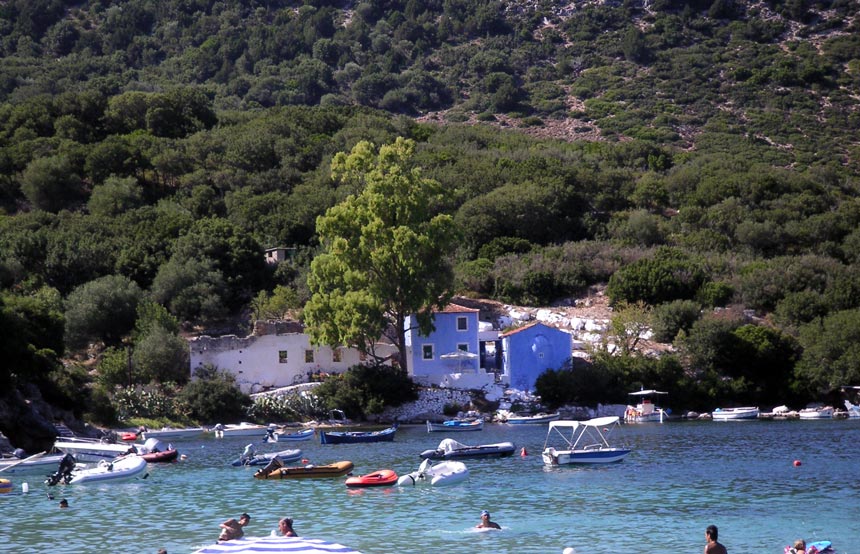 The good news are that she does have a small airport, unlike the smaller isles, to accommodate for long distance travelers. In any case, once you're there be sure to make the most of her with her polished and laid back attitude. Be sure to do the following.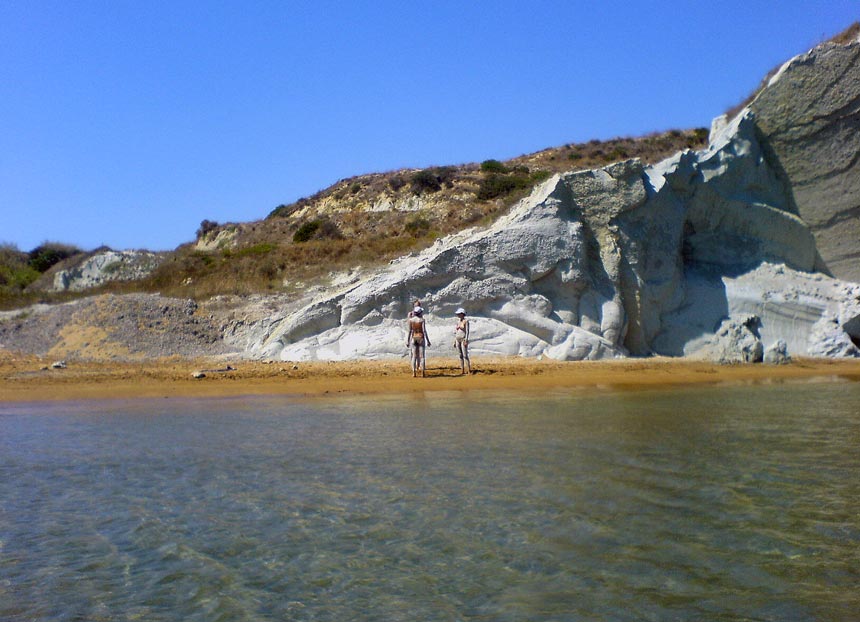 1. Have a beach holiday.
Swim at any one of her exquisite beaches. She has a great variety but most are sandy stretches and coves – lots of them. Others are with refined small pebbles. There are even a few rocky ones. Kefalonia, just like Santorini, also boasts about a red sandy beach – Xi, but Myrtos, a white pebbled beach, is probably her most famous one with its turquoise water color and blinding white stones. Lourdata on the other hand, is the ideal white sandy beach for a quiet time with the family.
It is a lake, once in a cave but now that the roof has collapsed so many years ago, the sun ray beams pierce right through the water creating a most unforgettable sight.
3. Visit the 16th century Medieval fort of Assos, a scenic seaside village.
This is my favorite seaside village, probably the prettiest too. Combine the steep hike to the fort with some dinner by the strand later. Note that this cove is just after Myrtos beach on the western side of the isle. Visitors get a glimpse of the fort and village first from atop as they drive down the narrow road. The view is quite breathtaking. Take the time to "devour" its beauty.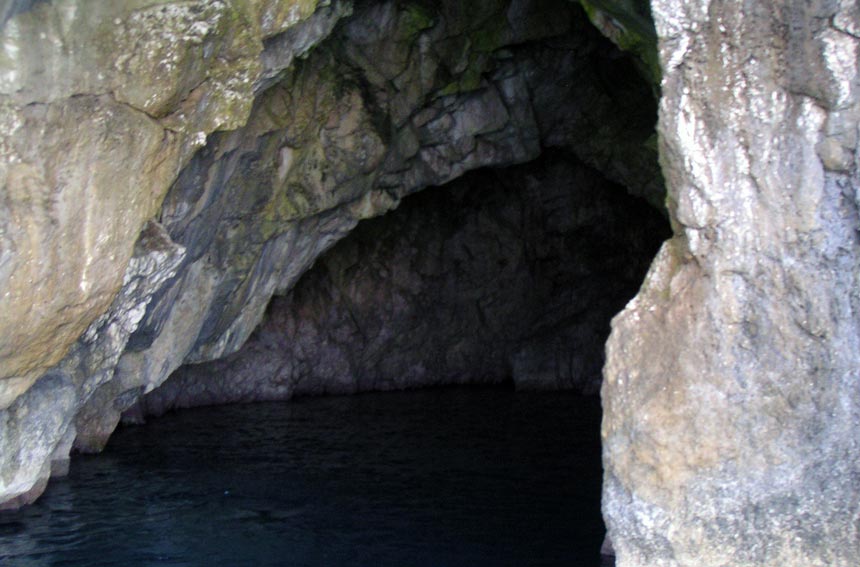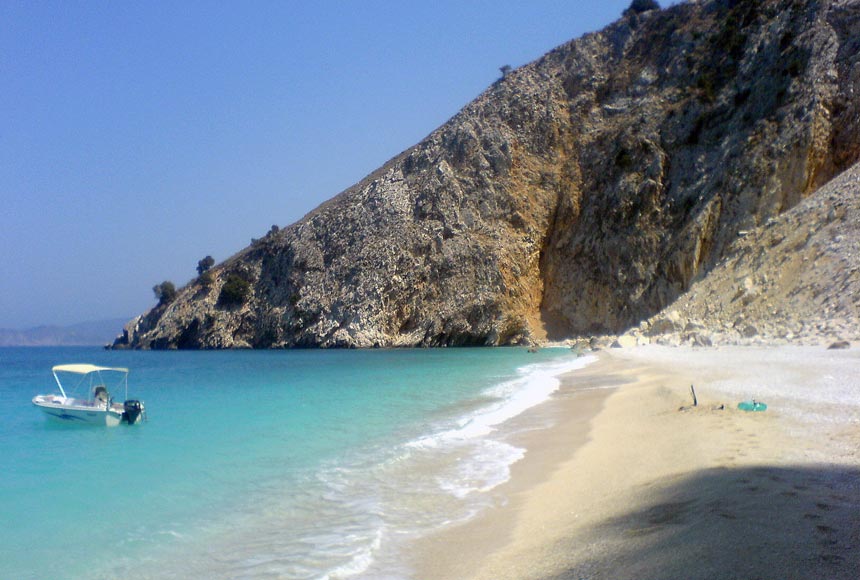 4. Go sailing.
Rental sailing boats are available from Fiskardo. This is a beautiful seaside village on the northern tip of Kefalonia, the only one left intact from a great earthquake in the 1950's that destroyed most villages of the island. Ithaca is just across and makes an ideal one day cruise.
5. Blend with the locals and their pace at Argostoli.
Since it's the capital of the island, the town has a different flair to it. It has a large central square which is a major attraction site with lots of coffee houses, bars and restaurants around. The local market is within walking distance and offers a variety of local produces well worthwhile. Walk down the pedestrian zone to get the feel of the town's vibes. Make sure to taste the local cuisine (influenced by the Italian) and enjoy a frappe (instant coffee served cold found typically at any coffee store in Greece) while watching passersby. Consider also, tasting the local wine known as Robola.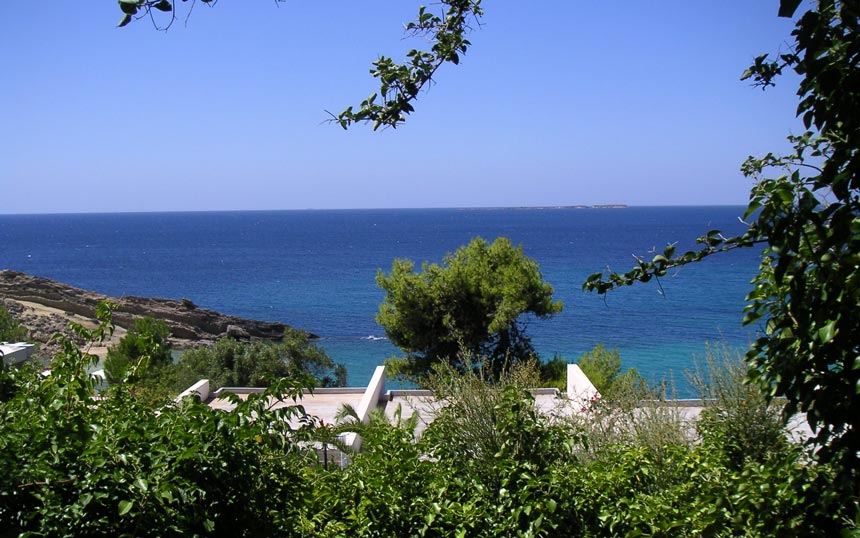 Each time we visited Kefalonia, we stayed at the seaside village of Lassi. It's kind of touristy, but it was a good location for making all sorts of excursions around the island. Now, Kefalonia is rather large in size. That means that it's probably best to rent a bike or car if you really want to get to know the island and all it has to offer.
Needless to say that, whilst writing this post a lot of really good memories rushed back. That's why I'm certain that this island will win you over. She can easily seduce anyone with her seas, but the secret in her charms lies with her people who are lovable, joyful and known as a little "nutty" in a good sense. 😉
XO,