Sofas are probably the single most important piece of furniture you'll ever own. Personally, I think that no matter what other furnishings you might buy in the near future or in the long-run or even which furnishings you already own, the sofa dictates your design scheme; it's a key feature. I think that makes a sofa quite important. Therefore, I put together this 101 basic guide on how to choose a sofa that is super stylish sofa!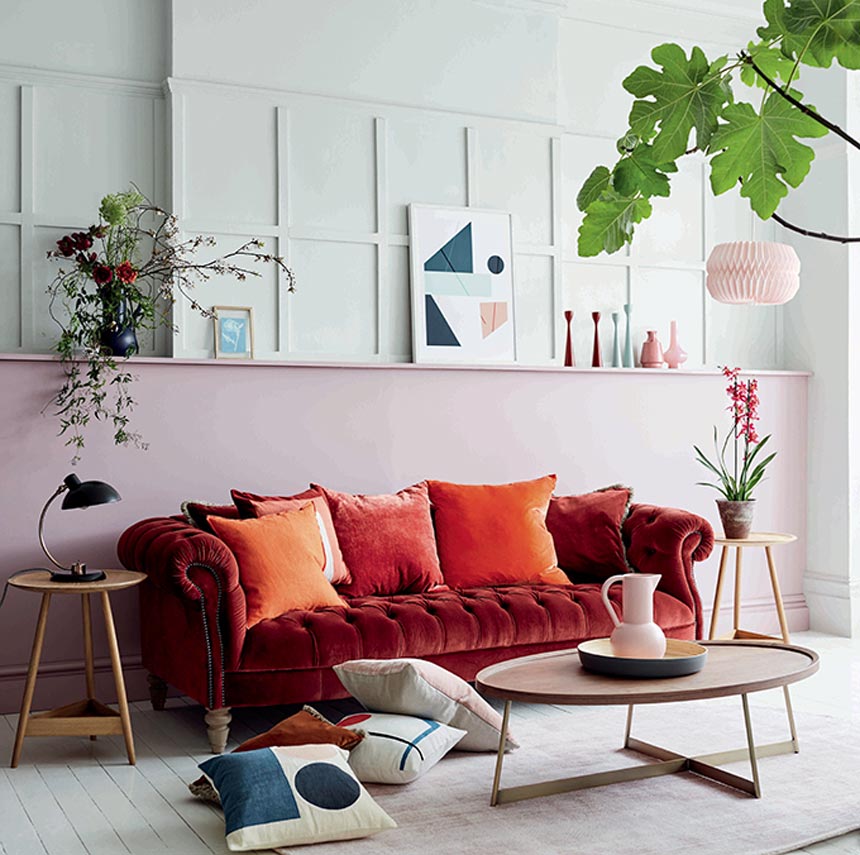 Sofas ought to be comfy and cozy although some are not even close to that, trust me. Sofas should help you relax, unwind, rest and let's not forget socialize. If you think about it even more, you'll realize that once you own a sofa even if it's not the ideal one (i.e. you're married now with kids thus, different priorities) you stick with it for as long as you can (i.e. until it breaks down, lol here)! Therefore, I believe buying a great sofa is a long term investment.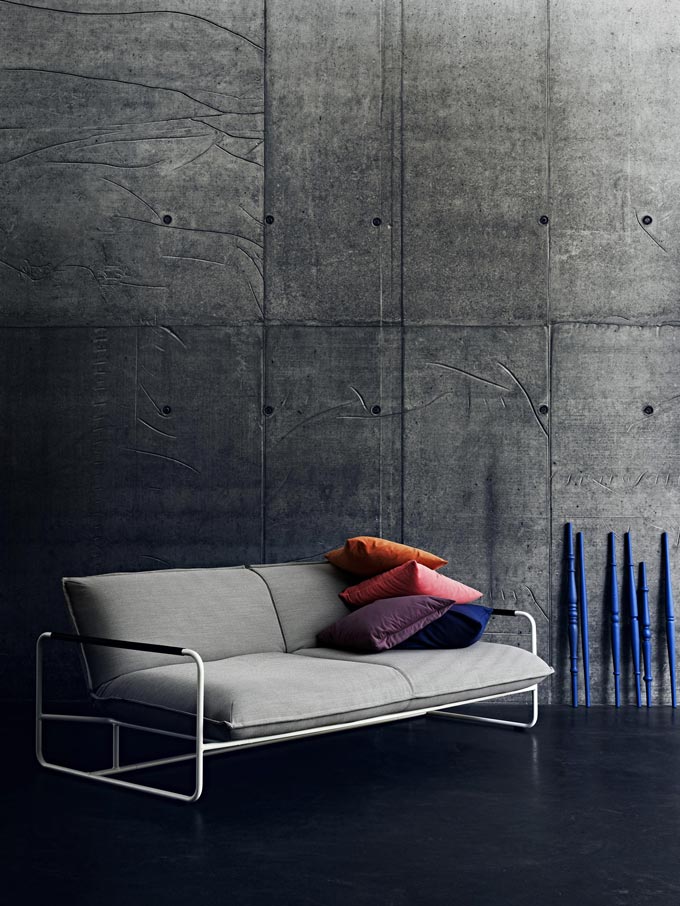 Sofas are somewhat of our personality display and they are most definitely theme setters. They come in many styles (classic, contemporary, modern…). Similarly they come in different sizes, heights, lines, colors, textures, fabrics… No matter what type of sofa you choose though, try to pick one that is stylish. It's so nice to come home from a long day at work and sink in a sofa that simply spells out the word STYLE.
Seriously, try to picture that! Would it not make you feel good about choosing something as elegant as you? But first thing's first: let's brush up our sofa terms, so that we are on the same page.
I prepared the figures below as a cheat note to avoid confusion. I omitted a few sofa styles on purpose since I don't think they are as popular anymore (i.e. futon, bridgewater, english, settee, divan etc). Some of these are classic and have been around for ages. They are many up-to-date contemporary versions of them thus, I think it would only be fair to look at them before you dismiss them.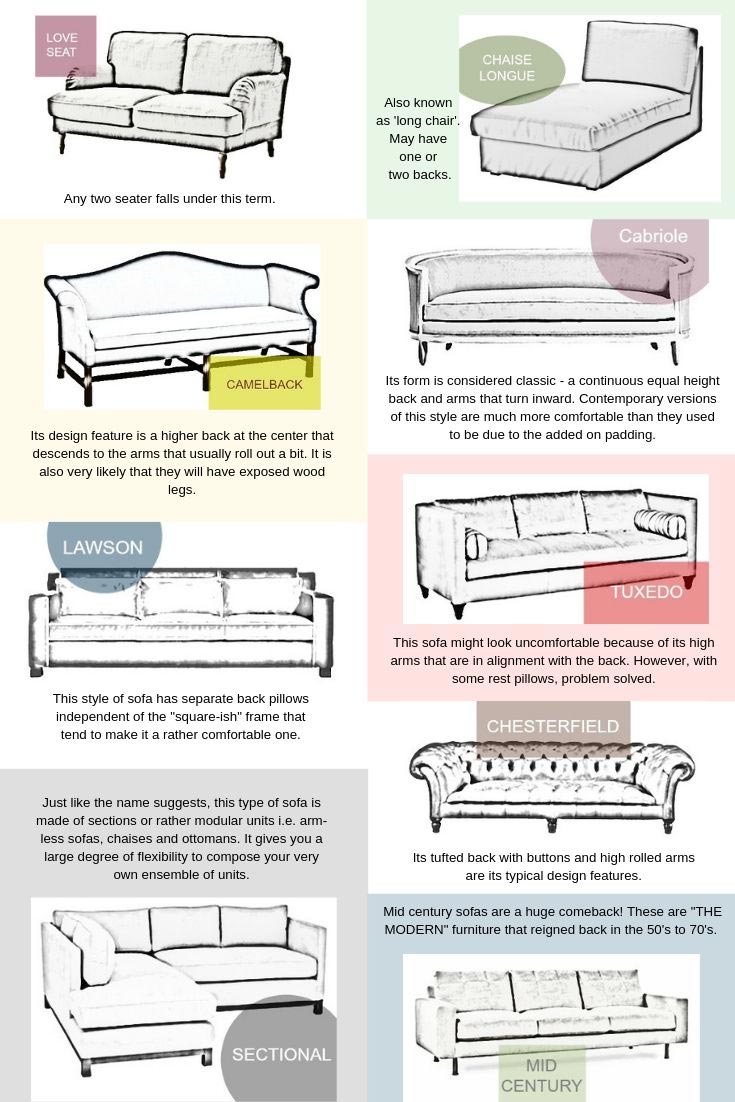 This year's trends are all about style that enhances "contouring" in every sense: texture, pattern, color.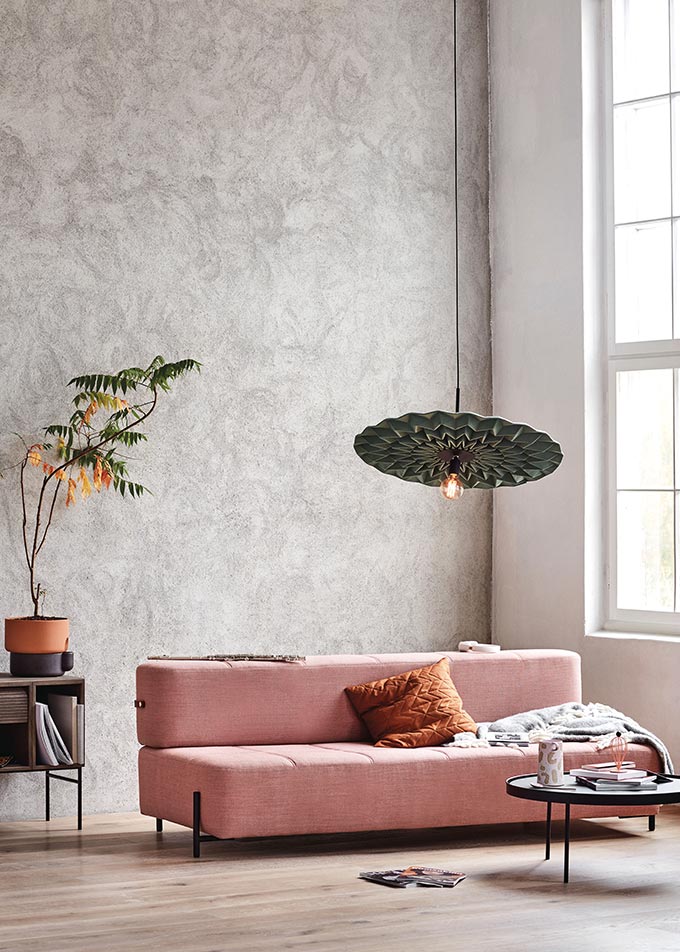 How to Choose a Sofa Guide :: Part I
When do you know it is the right time to change your sofa?
Take a close look at your interior. Think about its appeal to you. Then think about how your setting will "feel and look" down the road in the years to come. You have come a long way but, is it "really you" NOW? If your sofa along with the rest of the setting reminds you of someone else you used to know, then it is time to do something about it. The best thing to do is to invest in a sofa that looks your best and suits your needs now! This will change your mood completely.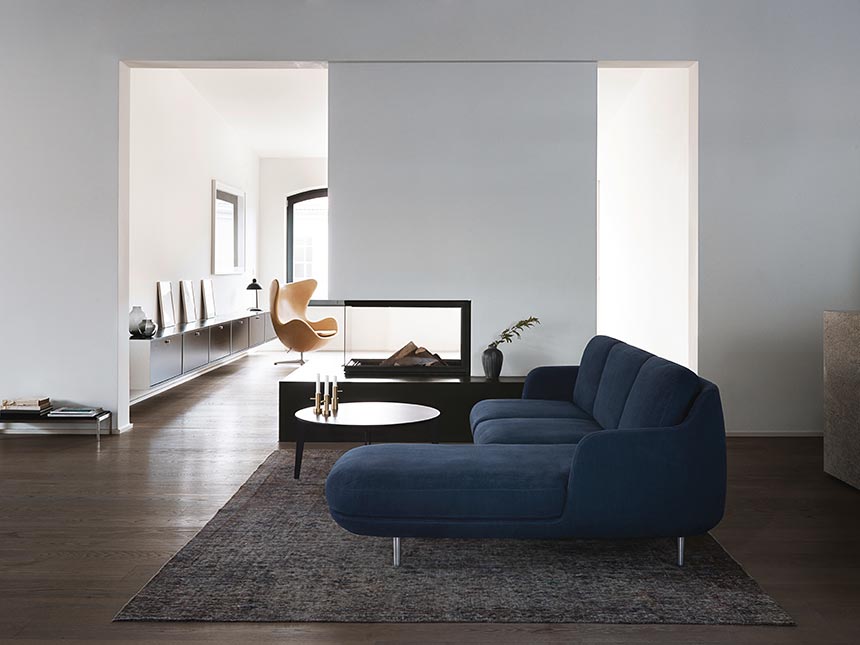 Pick your sofa style
Now, that's not always very easy. From my experience, most people (low profile people) prefer a style that doesn't stand out thus, they choose modular sofas. The great thing about modular sofas is that they tend to blend in with the rest of the interior. They are not "stand alone" material like mid-century sofas and chaise longues.
A chaise longue for instance looks great in a spacious room like a master-bedroom or outdoors by a pool. It is an elegant piece of furniture that spells confidence and luxury. A lawson style sofa on the other hand, much like a modular one, is rather bulky yet, more elegant and just as comfortable. The camelback sofa tends to be the most uncomfortable from all these styles, yet some decorative pillows tend to resolve that issue quite easily.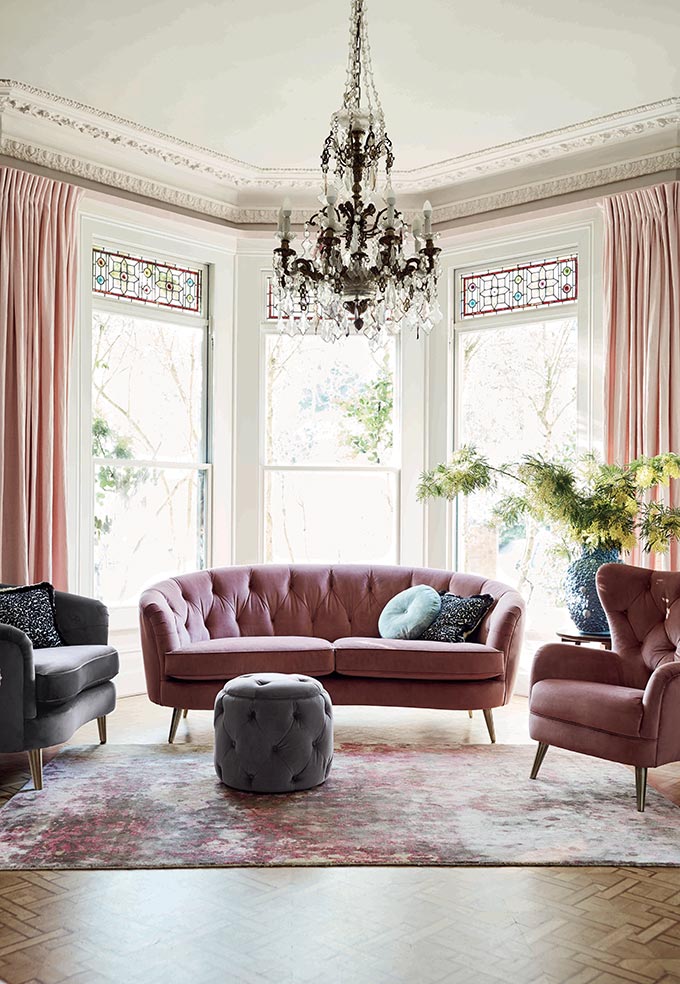 Pay attention to the design details
As you probably noticed, each sofa's identity is defined by its design features i.e. the frame line, the legs and arms. Some sofas come with these awesome stainless steel legs, but with a brass finish to them, which is so trendy now! Another design detail I find irresistible is the nail head finish in some sofas. It gives that touch of sophistication. I also love any difference in the piping coloring of the cushioning that portrays attention to details.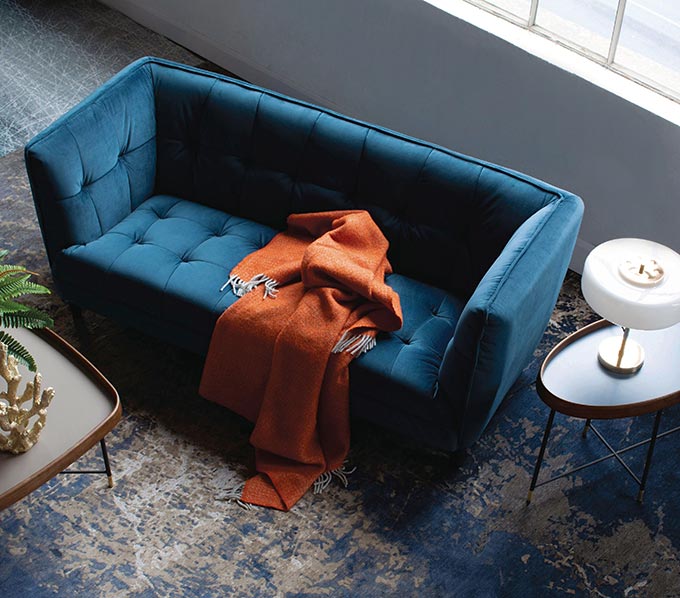 Color to awaken your senses
Embrace color, don't be afraid of it. I love color yet, I also like white sofas. Modular and lawson style sofas look awfully good in white! White simply upgrades their bulky shape. But not all sofa styles look good in white. A chesterfield sofa for example might not look as good in white depending on its surrounding furnishings.
The trick in picking the right color is to consider the overall color scheme of your space. It's great if you go for a mix and match approach as long as there is some basic coordination and cohesion.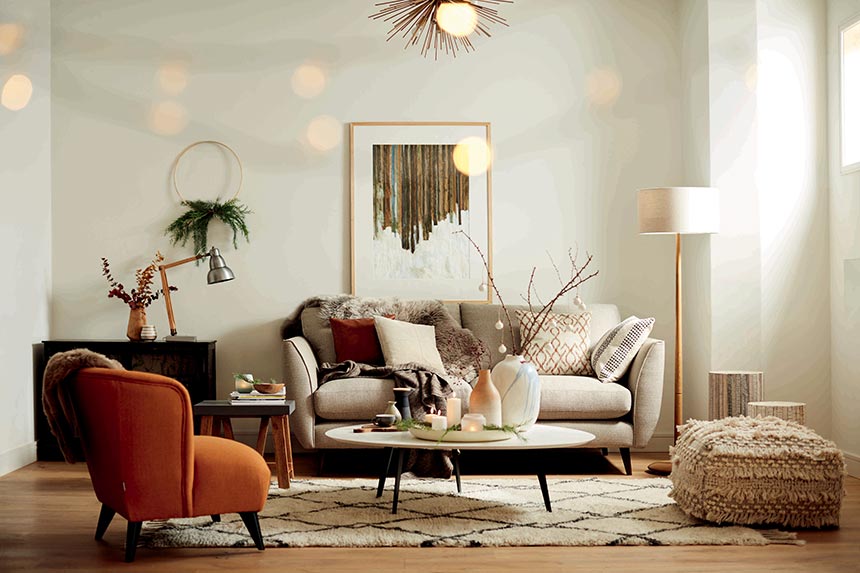 Patterns for the bold and beautiful
This is the one element that can either look awesome or will turn into your worst nightmare and hence, most people will avoid choosing a patterned fabric for their sofa. However, patterned sofas are gaining ground. Fortunately, there my guide on how to match patterns will help you on this one. But in every case, "if it looks right then it is right"! You need to trust your instinct on this one.
Personally I would prefer large geometric patterns. In any case, you can always choose a monochromatic sofa and add on throw pillows with huge patterns on them! That will surely spice things up.
Break the design rules!
Go for the unexpected. What do I mean? Simple! Take a chesterfield sofa that usually comes in leather and go for a velvet one instead! Say you want a chaise longue. Most people pick one in a white shade fabric for their bedroom or velvet for their living room. I would propose to go for a chevron or striped pattern fabric instead – gorgeous and timeless for any space!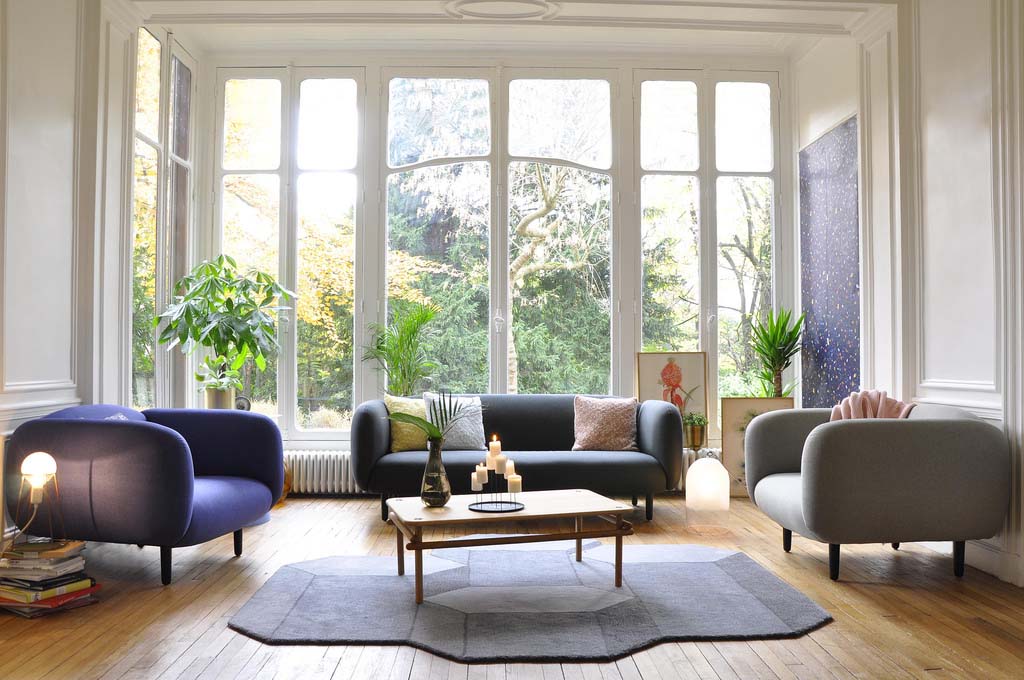 How to Choose a Sofa Guide :: Part II
If you do set out to buy a new sofa, then it would be wise to reconsider the whole layout. Sofas don't always look all that great up against a wall. A stand alone sofa is best admired midst the living room. But in a small living room there might be no other option as to place a sofa against the wall.
Sofas help us interact with people and socialize under our terms. The actual placement of the sofa in a room is of great importance and should not be overlooked. Think of your seating arrangement in terms of interaction; does it aid it and promote it or does it hinder it? I think it's best to let your sofa "float" in your room for a little while before you anchor it in position. Remember that great design is an evolving process that takes its time to evolve.
Consider carefully your furniture proportions with regards to your sofa. An oversized sofa could make all else look even smaller. Likewise, an under-sized sofa would make all other furnishings appear larger, creating a rather unwanted, awkward feel. So estimating the ideal sofa size beforehand, will prove handy, for it will help you rule out any misfits.
If your living room is small and you opt for a modular sofa then, consider including in your setting an "airy" coffee table with thin legs instead. It will surely lighten things up and it will look a lot more edgy.
Sometimes it's best to have a single wow-factor sofa paired with a couple of accent armchairs (now would be a good time to read a post about accent chairs) rather than trying to have two of the same sofas. Of course, you can also mix two different styles of sofas that will complement each other. Anything goes!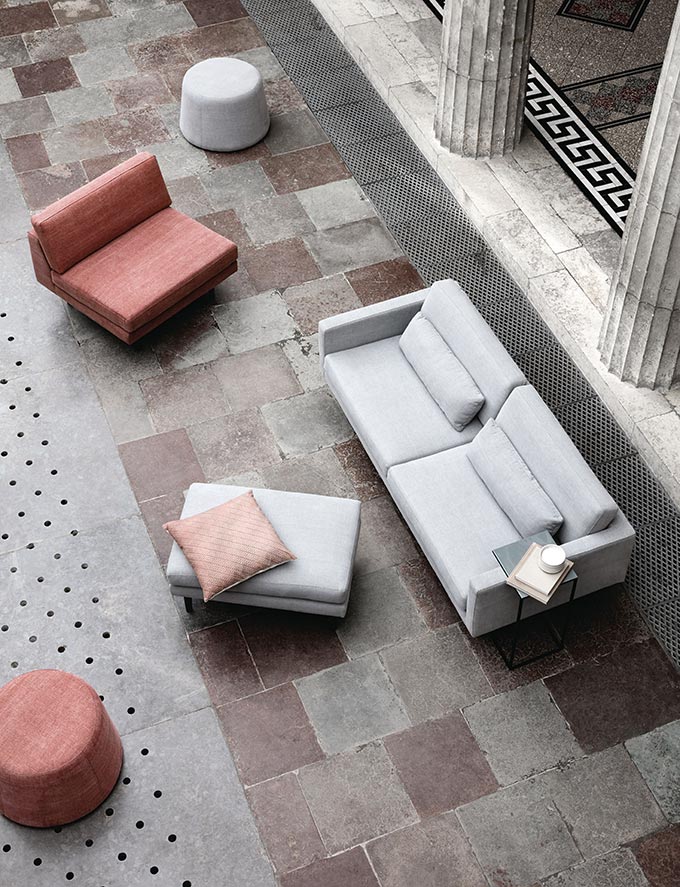 Overview of Tips on How to Choose a Sofa
Personally, I want sofas to be livable. I don't own the kind of sofas that you can't sleep on… So I was ecstatic to read about Antonio Citterio's sofa designs for Flexform, that have creases stitched onto the cushions to give that livable, informal quality!
In every case, the great thing about any sofa, is that you can dress it up according to the season or even your latest mood. Adding pillows and throws is a great way to makeover any sofa anytime. So break some design rules… it is fun when there are no real consequences.
Add side tables, foliage plants and some proper lighting i.e. floor lamps to upgrade the whole setting and voila! These are the most basic tips for choosing a stylish sofa that you'll enjoy for a long time…
Yours,