Well hello everyone! As the weather is beginning to remind us that winter is just around the corner, I thought that this is probably a good time to talk about area rugs – the one accessory with the same impact as artwork. Both, make homes cohesive, cozy and inviting. They are our signature in our homes. Since it's bad practice to sign anything without reading the fine print first, take a minute off your time to learn more about them, in order to make better buys, including five reasons that make modern designer rugs such an attractive option.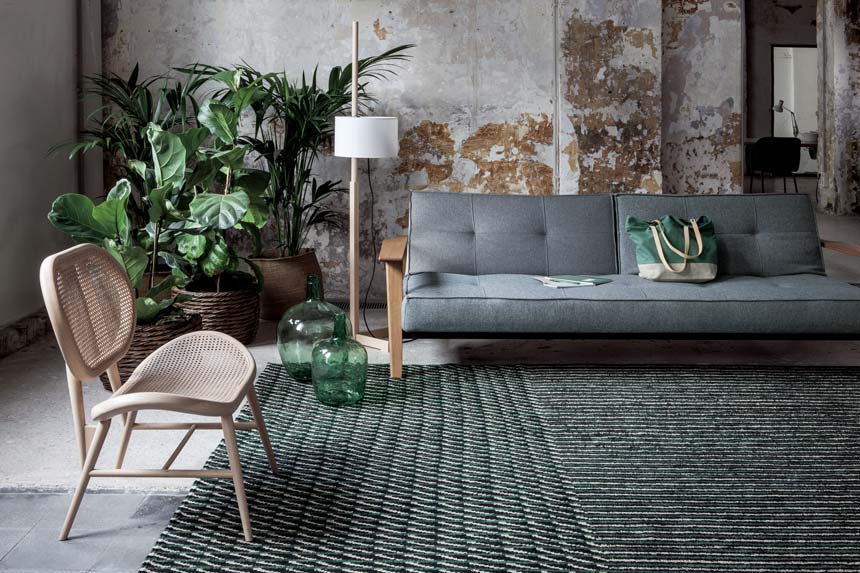 Truth told, there's a lot more into area rugs that meets the eye. They anchor our furnishings to the space and support them. More importantly though, their character defines the design scheme. Rugs state something very personal about us. They reflect a history and a culture with their motifs and colors. Heritage rich, hand-woven carpets and rugs are highly esteemed "assets," particularly in Europe, that are passed down from generation to generation. (Watch the making of one).
My grandfather for instance traveled some 50 years ago from Germany to Turkey to buy his hand-woven carpets that my cousin's children sit on to play today and he wasn't the only one to do so. Similarly, Greeks who spend considerable amounts for Oriental rugs make sure that they're looked after properly (speaking from experience), because they intend to pass them down to their children and grandchildren hereafter. Therefore, it is common practice here in Europe to save up and opt for unique, eclectic art pieces that add sophistication and a sense of luxury.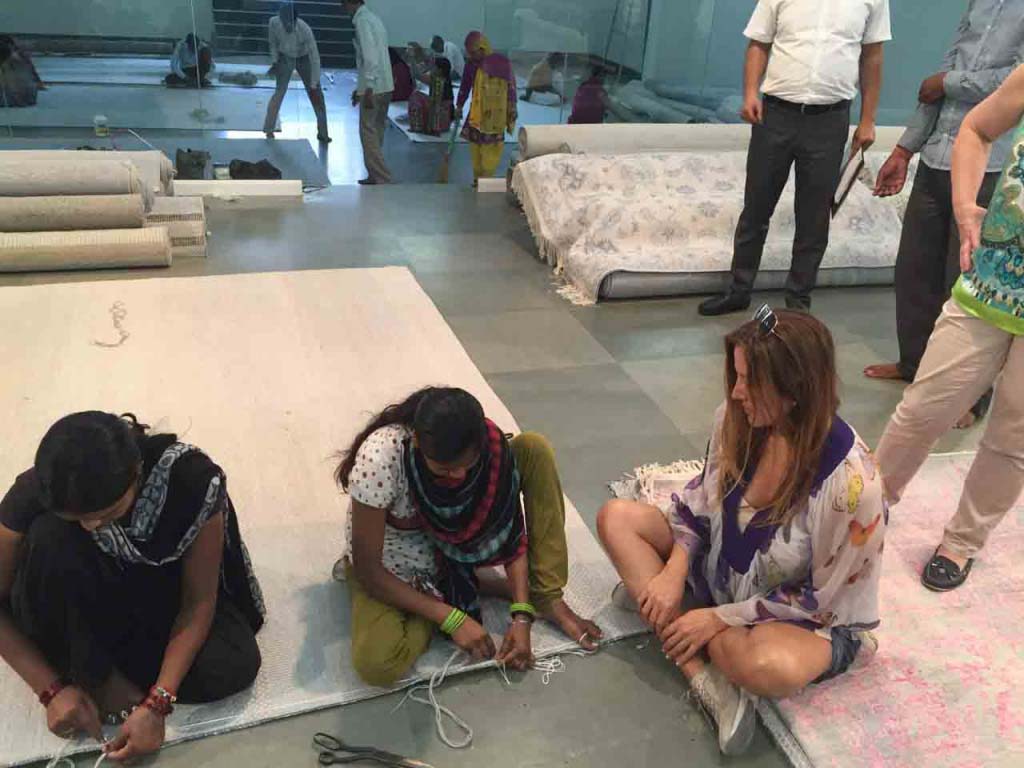 How to Choose a Handmade Rug
Rugs come in an enormous range of prices, not to mention styles. Where do you start from without getting overwhelmed? There are definitely two factors to consider that will narrow down choices. Budget and lifestyle. When it comes to pricing, the sky is the limit therefore, the budget defines some realistic limits.
Not everyone can afford a collectible rug (at least 30 years old) or an antique one (80+ years old). Having said that though, it doesn't also mean that we should settle for a nylon machine-woven either. Thankfully, there are plenty of excellent choices out there, with character, to match anyone's budget and lifestyle needs.
What's the best way to choose a rug? Surely the first impression relies on our eyesight. But the second relies on touch. Carpets and rugs must ideally be felt by hand. They should be laid flat for viewing from either end of it. Therefore, it's probably one of the few things that I never buy online.
Rugs of a certain quality have a distinct feel underfoot. It all has to do with the actual making of the rug. Some are made from silk on silk and hence, they have a particular sheen. Obviously these tend to be the most expensive. Others though, are made from silk on wool, or wool on wool and finally there are those made of wool on cotton.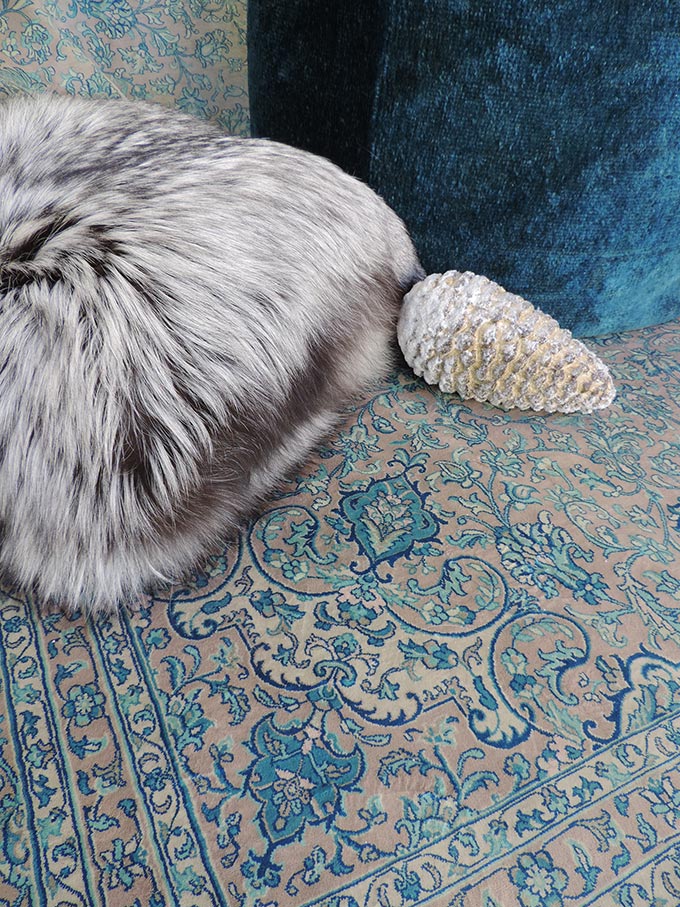 The price of every rug depends upon authenticity, rarity, quality and size. Good quality rugs must have small, tight knots and a fine pattern with a clear design on both the front and back of the rug. For a sound investment though, review the options with a good and trusted rug consultant/dealer.
I urge you to read this post on how to choose a handmade rug that includes a video I put together with more tips and insights on buying a quality handmade rug. Think of it like a visual guide where I talk about all you need to know before going for rug shopping including the ideal size of an area rug for a living room.
American or European approach?
There are no rules. However, most American designers tend to choose a rug while furnishing a home, if not before, making a very cohesive color scheme statement. They usually pull the colors off the carpets and add them as accents to the decor accessories and fabrics.
Europeans on the other hand, choose a rug after they've furnished and decorated it. This usually results in spaces that look as if they have evolved over time and less staged. Both approaches are great as long as you take your time. I always say to my clients:
Great homes reflect the journey, not the destination. The rest of the homes merely reflect the owner's current status quo.
And rugs help us do just that – map and reflect our journey.
Designer Rugs
Persian rugs have a very distinct character, some of which are regarded as treasures in museums and private collections. They are known for their elaborate traditional designs, bold colors and weaving techniques. For the sake of keeping this post short though, I will get into more detail about them in the near future. Political unrest at times, commercial demands and the widespread of minimalism in the design world resulted in the reinvention of the rug industry and the supply of the market with "new" products.
Designers revived the old traditions and practices and developed beautiful, artistic rugs as great alternatives. So, why invest in a modern designer rug? Here are five good reasons.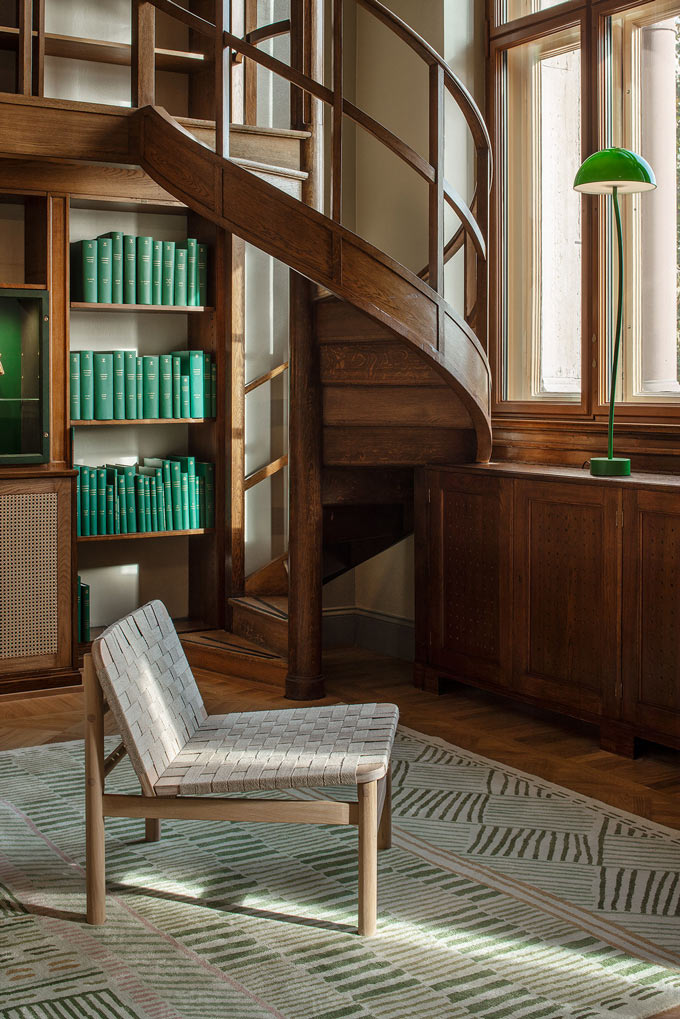 Reasons for investing in modern designer rugs
It is a produce of several artisans. Hence, it's a unique artistic imprint of a culture and a tradition. There's a lot of skill involved in the long and tedious making process and the least we can do is appreciate it.
They make wonderful accents for any setting with their innovative designs and colors, whether they're subtle or bold.
Versatility. There is a huge range of rugs with various designs, textures and patterns to satisfy almost everyone.
They can be customized. Now that is a huge benefit that solves a lot of problems considering that both size and coloring can be customized.
Last but not least, value for money. Their quality is excellent at relatively affordable prices, based on fair trade values. The materials used are exceptional and the craftwork nothing less than impressive.
Rug designers to look out for
Which designer to go for? There are many rug designers, some of which are solely dedicated in making modern designer rugs. So I asked a rug consultant, Georgia Charntelina Argyriou from Xali Glyfada, who has a deep knowledge about the making of rugs and abundant experience. She tells me: "Allow me to name the first four that come straight to my head: Odegard, Jan Kath, Tufenkian and Hossein Rezvani." She continues on, "Of course there are few more. But the important thing to keep in mind about all these designers is the underlying concept of a desire to honor this ancient tradition. Their modern designs can compliment any room, as long as we allow our imagination to get carried away."
Odegard places emphasis on subtle patterns and colors, uses Himalayan wool – all hand processed. Jan Kath creates abstract artworks. Bold colors and erased designs are part of his trademark. James Tufenkian's versatility is epic. Sometimes the rugs are subtle and others really bold. Some fill up the whole space or others simply support the furniture. Hossein Rezvani is an awarded Iranian designer who uses traditional tribal patterns in a unique way and a modern uptake for a timeless elegance.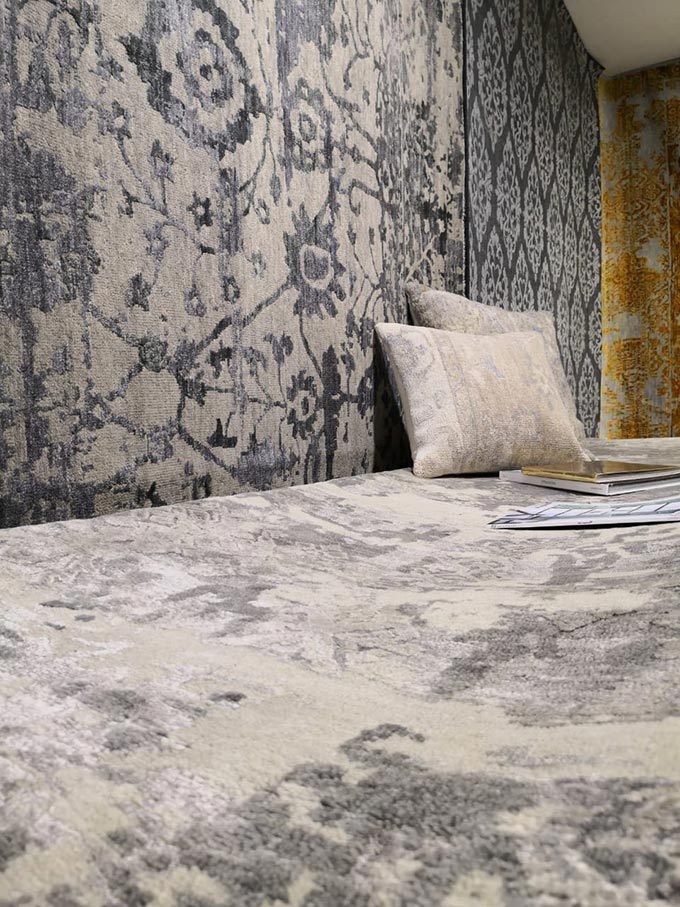 Charntelina Argyriou claims that "They use the best quality of wool, usually from Tibet and they are weaved in many workshops throughout the rug making regions including India, Turkey, Iran, and Nepal. Modern designer rugs have become the 'it' decor accessory for any space. Leading interior designers and architects rely on these to pull off their design schemes. They are the new collectibles of this century."
Recap
After doing my research for this post, I really think she's not exaggerating. These modern designer rugs are truly masterpieces. Considering the fact, that a lot of the nomads that used to make Persian rugs are slowly moving to towns and hence, fewer of them continue to weave, a lot of the prices are going to rise. At the same time, modern designer rugs are gaining popularity and a well-earned fame due to their innovative designs. Therefore, find yourself a trusted rug consultant and invest on something worth living with for a long time.
Cheers,