Creating a space you love has a lot to do with the details. It is details like a favorite artwork, or the inspirational coffee table books on display styled for swooning. And it's a lot about the light you add on in every vignette you put together and style with love. There will be frustrating moments too where you would like to add a table lamp somewhere you can't – up until now that is. Technology has come to designers' aid and portable table lamps are here to shed light and lend style to any odd spot, including book shelves.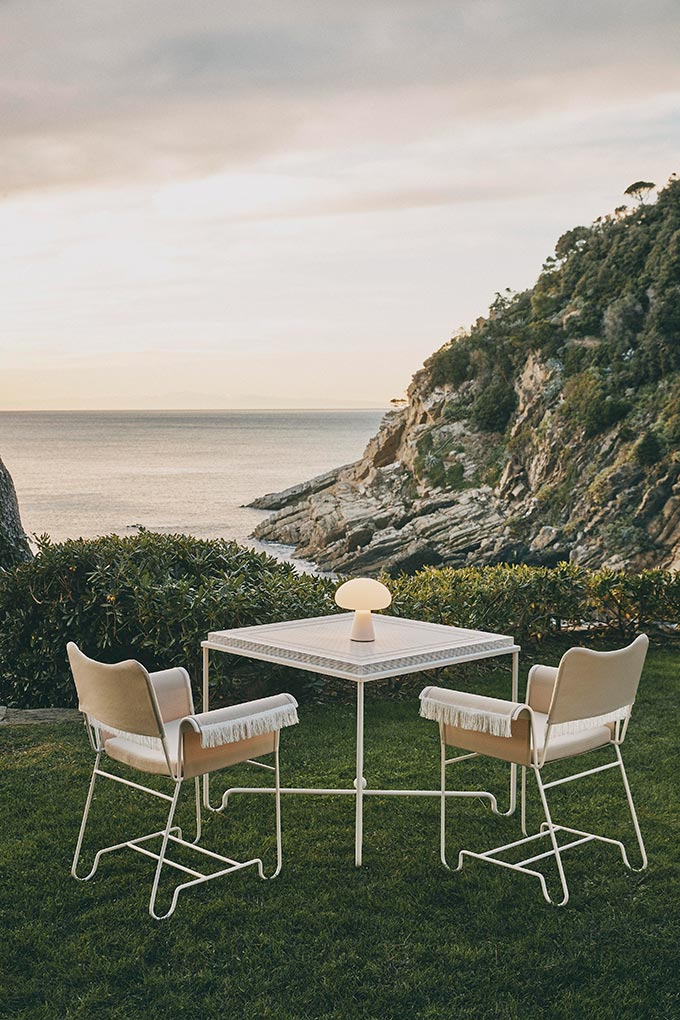 To get you started, I've rounded up some of my favorite portable table lamps out there. (As always, I have no affiliations to any of them). Each and every one is brilliant in its own way – stylish and versatile and most will accommodate both indoor and outdoor use. Since they are portable, they are meant to be carried from room to room and hence, literally, elevate your space on the go.
Their light output is warm and gentle on the eye (2700K for most) and diffused without causing glare issues. More importantly though, they add on to a space without antagonizing other hero pieces that you may own and styled for impact. As such, they are ideal for that small 'collected' punch in creating the perfect ambiance. Since their specifications vary considerably, be sure to follow up on the ones that ring a bell to you.
Panthella
Verner Panton, one of my all time favorite designers, is behind the iconic, full of personality Panthella. It has a jaw-dropping, organic shape, provoking colors, and comes with a 150lm and LED 2700K output.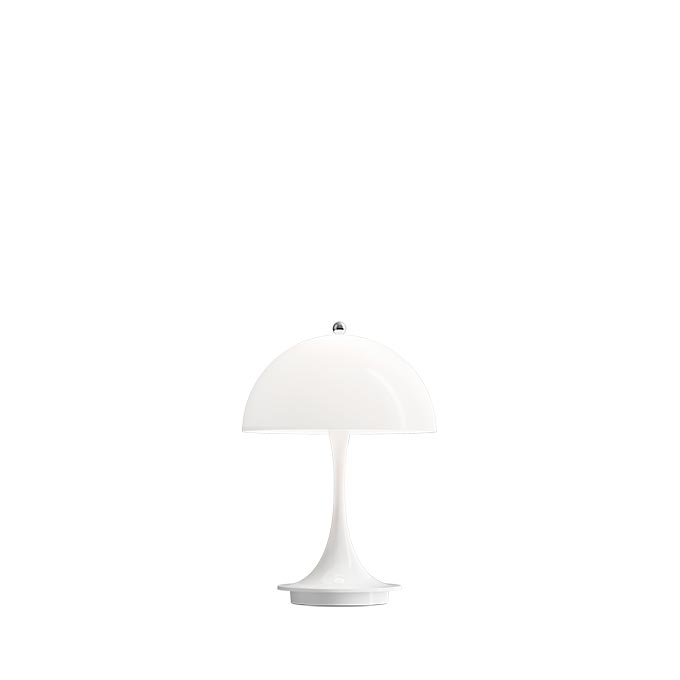 ---
Flowerpot VP9
First designed in 1968 again by Verner Panton, the Flowerpot VP9 is one beautiful lamp that comes in 11 colors. It is dimmable with three intensity levels (100% – 50% – 20%) and gives out up to 104lm and 2700K. It is rated as IP44, yet it must always be stored indoors.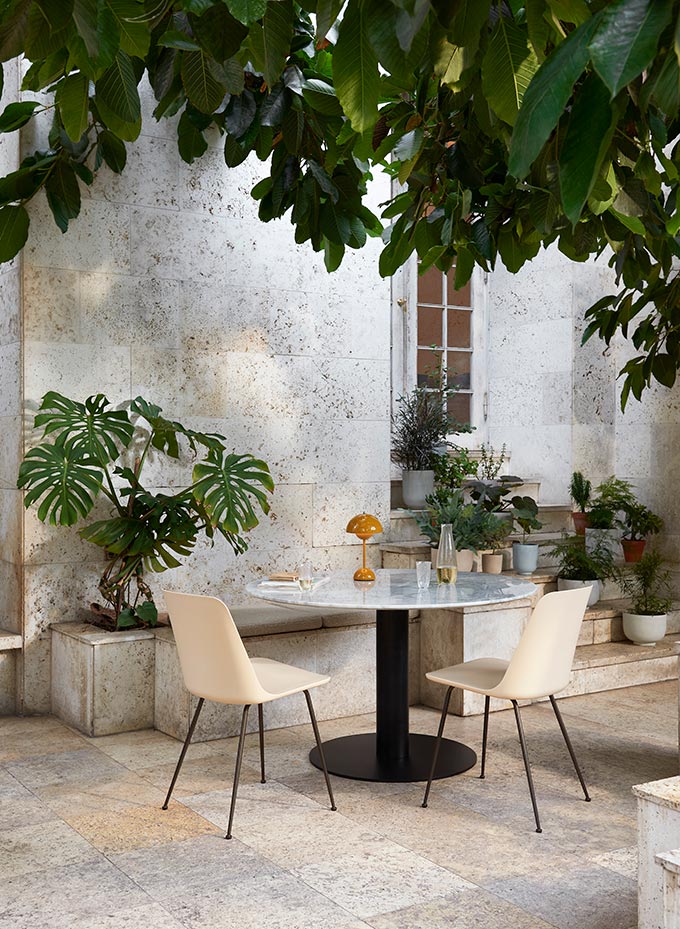 ---
Lucca SC51
Space Copenhagen designed this elegant, multipurpose lamp for both indoor and outdoor use. Its attractive price tag, 154 Euro makes it even more appealing. Moreover, it has an IP44 rating, a light output of 138lm at 2700K, three dimmable levels (100% – 70% – 40%) and a CRI rate of >90.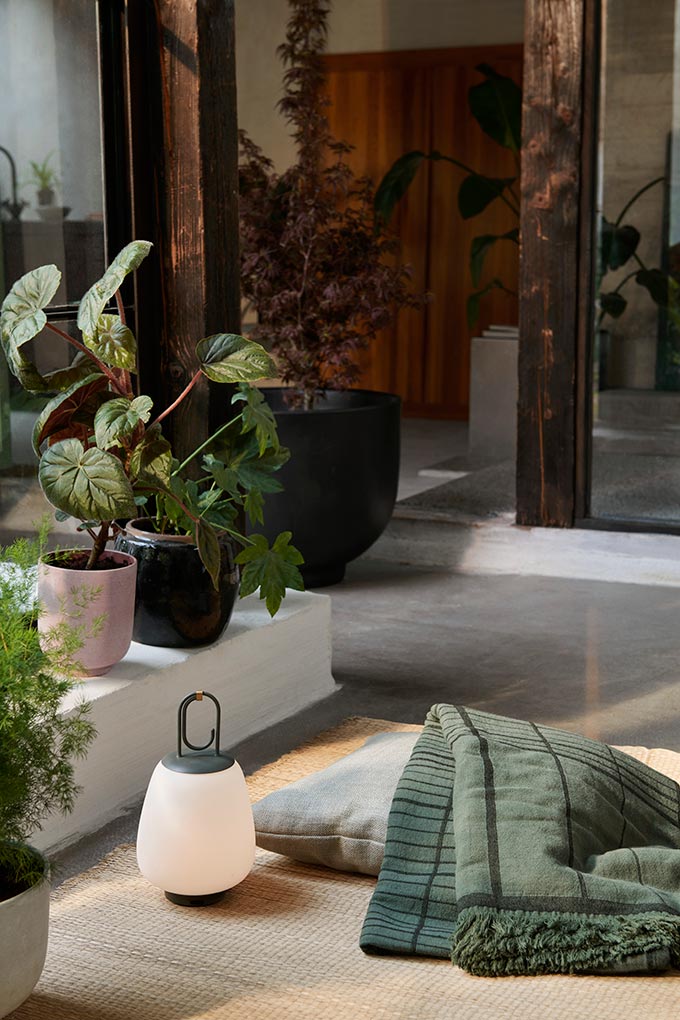 ---
Como SC53
Another favorite mood lamp, designed also by Space Copenhagen with an organic mushroom like shape, and a 16 cm diameter. The light output is 100lm at 2700K, which is like an equivalent to 8 candles, and dimmable up to three levels.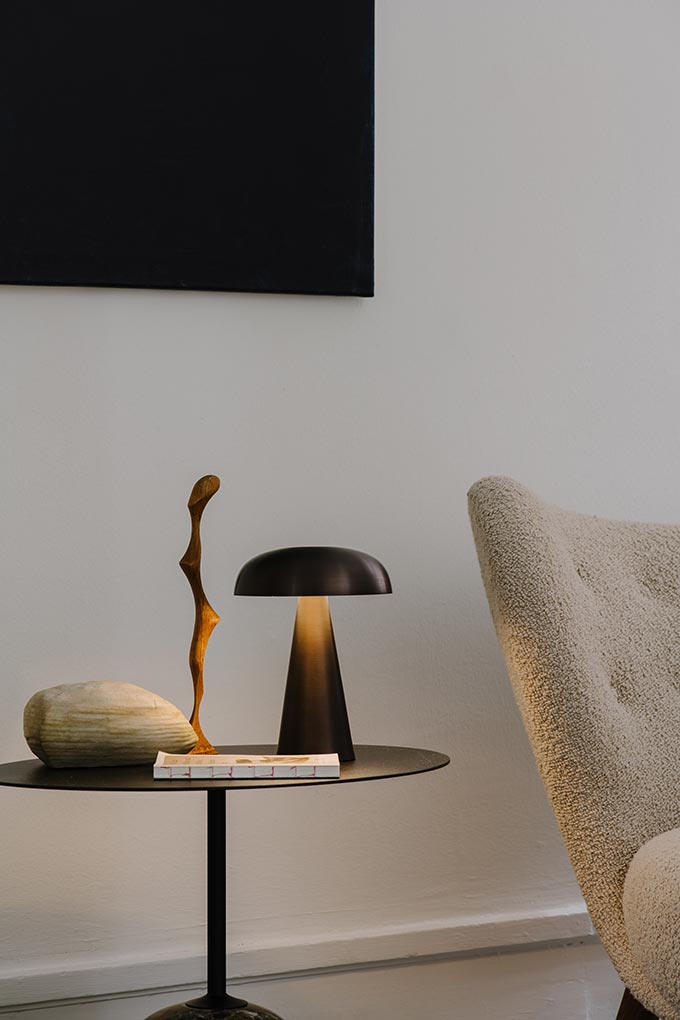 ---
The Muse
This portable table lamp has been built-to-be- repaired, allowing for replacement and recycling of parts too. With an IP44 rating, it is weatherproof and ideal for both outdoor and indoor use. Its long-life battery can give you up to 24 hours of light. It is dimmable and its maximum output is 400 lumens, making it ideal even for a camping trip. It has been listed as one of the best garden lights by The Times. Also, it has a CRI 97 rating which ensures truly good color rendering.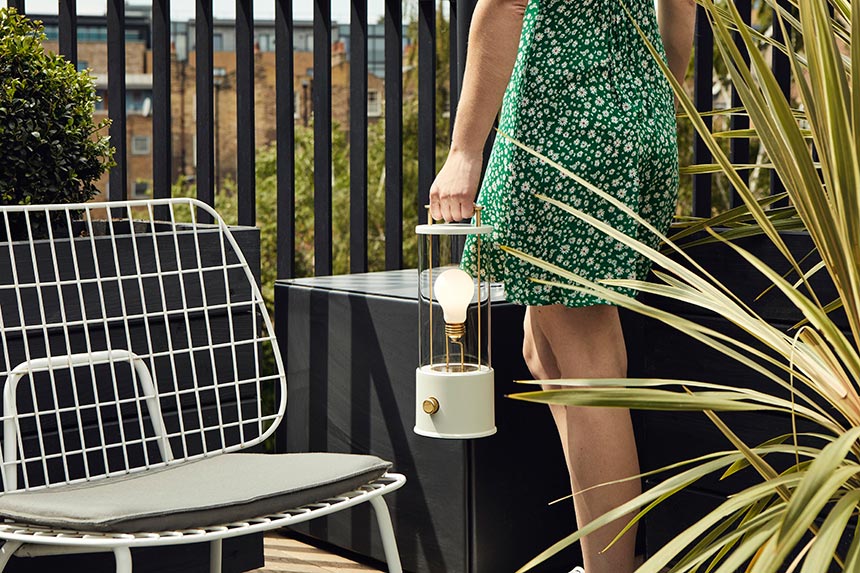 ---
New Works Kizu
An extension of the iconic New Works Kizu Table Lamp, this portable version can be dimmed to three different levels. It is flexible, with a luxurious marble base that supports a striking acrylic shade, where the light spreads from the entire upper part of the lamp, creating a high light output. A stunning decorative piece as well as a purposeful light source, the New Works Kizu Portable Table Lamp is easy to move around the modern home.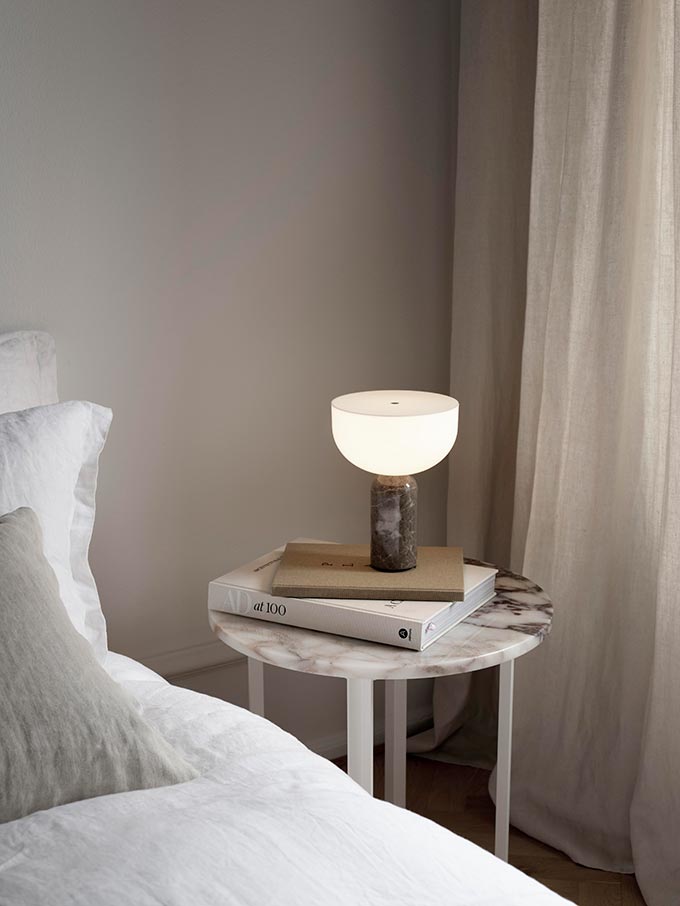 ---
Torso
Petite lamp Torso, by Kroeyer-Saetter-Lassen has the softest ambient light. It's the kind that can replace a set of candles. With a diameter of 12cm only, it fits in any odd spot, provided it's indoors only. (Light output: 150lm at 2700K).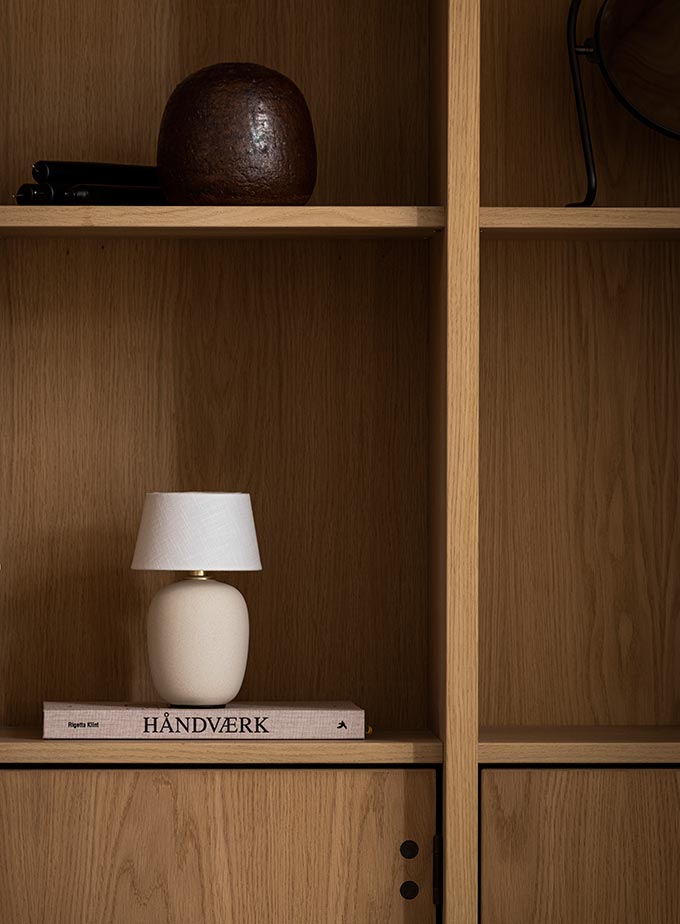 ---
Carrie
Probably one the most popular portable table lamps, MENU Carrie by Norm Architects has an output of 250lm and 2700K. It's as neutral as a light can get, making it style-versatile. At some point, it was everywhere on Instagram.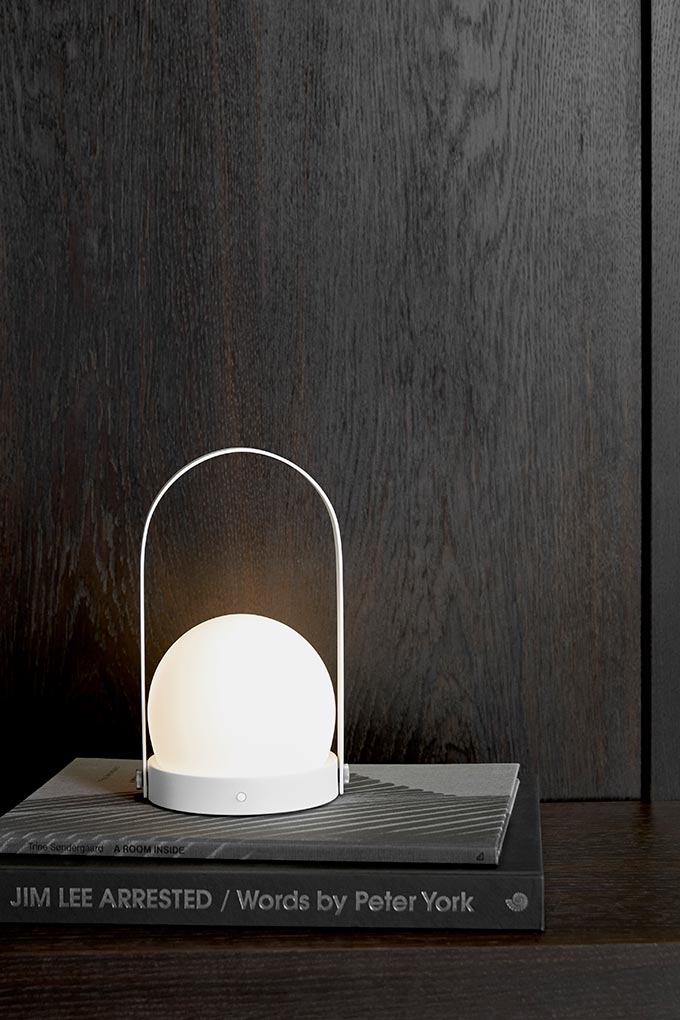 ---
Column
The Column table lamp, also designed by Norm Architects, has a striking mushroom shape and similar specifications with the Carrie lamp. Its light is adjustable to three levels.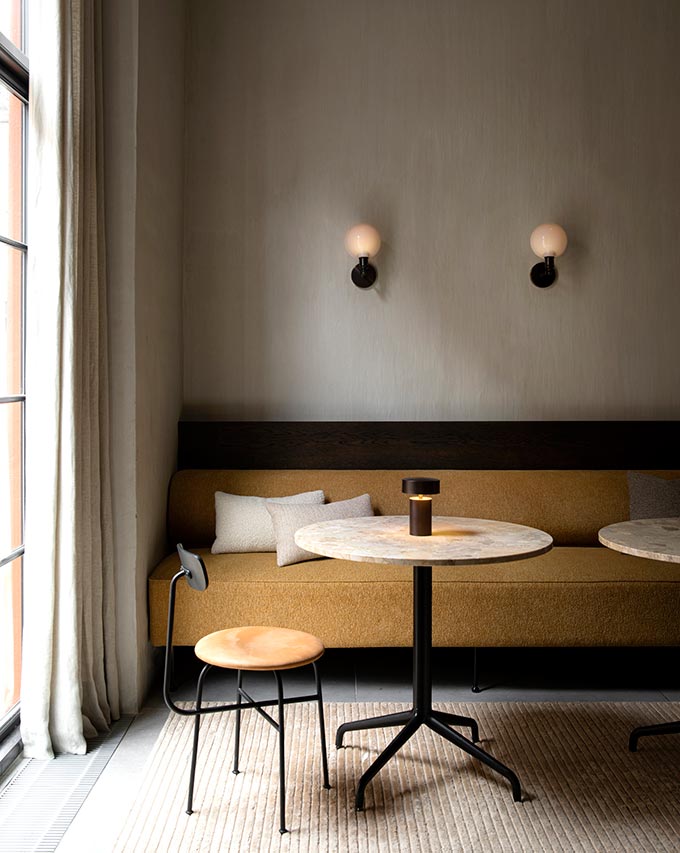 ---
Apollo
HAY's Apollo Portable table lamp, with a traditional vibe but contemporary take, promotes a comforting illumination for any space. Designed by Danish designer Nikolaj Lorentz Mentze from Studio 0405, it is meant for both indoor and outdoor use. Personally, I love the fact that it is hand-made in a single piece of curvy opal glass. Light output is 220lm at 2800K, while its CRI 80 is certainly decent and acceptable.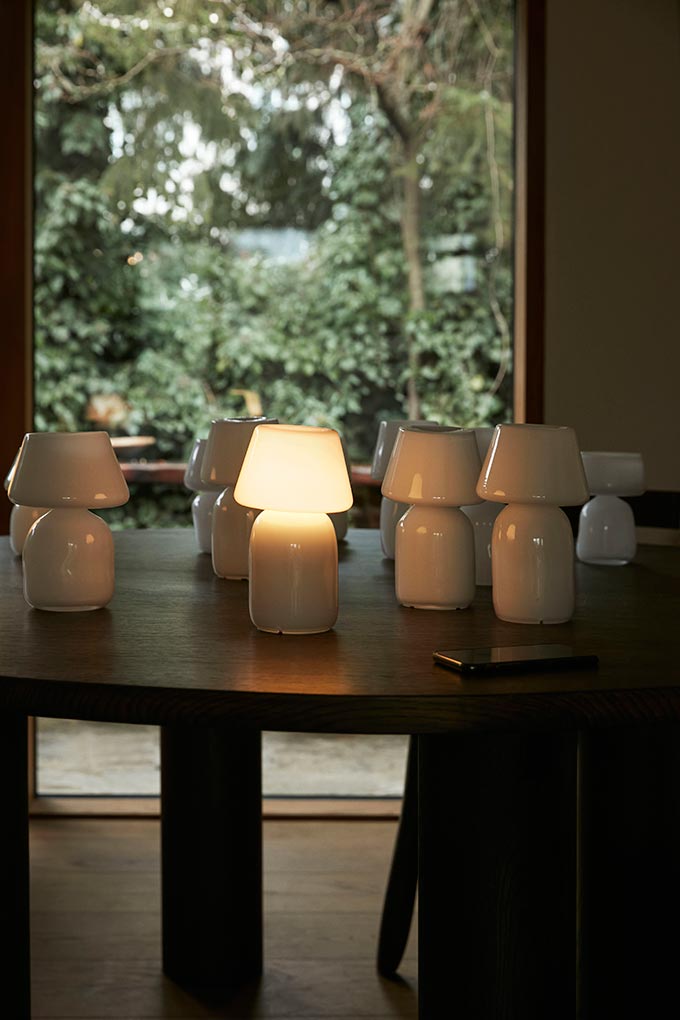 ---
Pao
Japanese designer Naoto Fukasawa is the mastermind behind this mushroom like table lamp. It is made of a resistant polycarbonate, with a smooth, high gloss finish, that comes in four different colors. Its design enables you to move it around, both indoors and outdoors (IP44 rated). It is dimmable with a 220lm output at 2800K and a CRI of 80. A 23cm diameter means that although it's compact, it won't go unnoticed.