Spring is here and Easter weekend is literally just around the corner. It is a chance to pause, connect, and contemplate, or even visit another destination for the sake of that travel hype we have missed. No matter what though, Easter in Greece is like no other. It's probably the most glorious time of the year, in Greece, without the frenzy that comes with Christmas. Since the weekend is approaching fast, here is a little last-minute inspiration for a stylish Easter tablescape to brighten the occasion and welcome the new season. Let's make this an Easter to remember…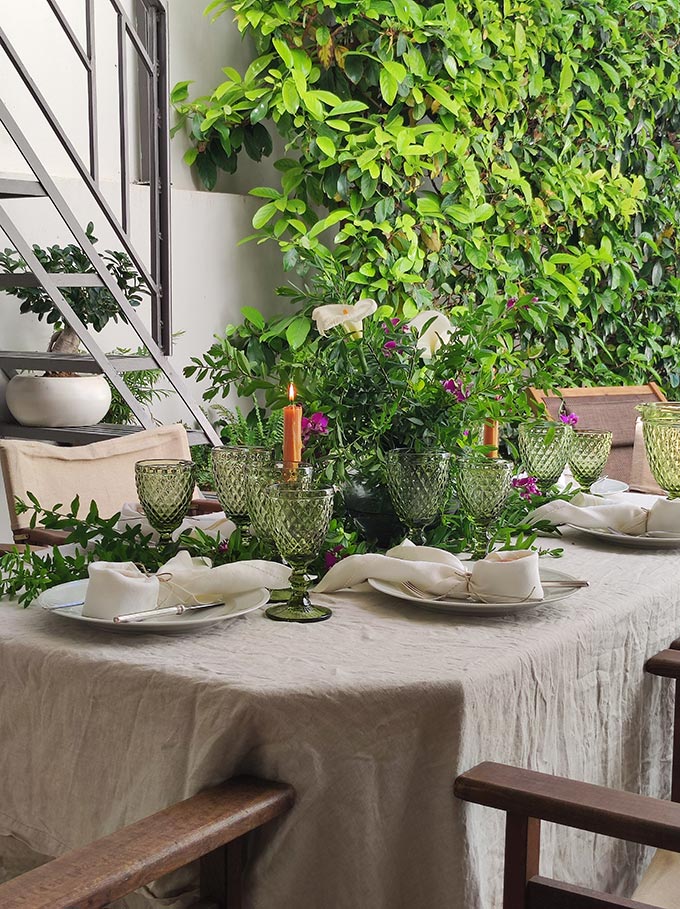 As the temperature is on the rise, dining outdoors on a festive occasion like Easter is not only feasible; it is nothing short of a sensational experience. That's why I urge you to grab the opportunity, pick some fresh flowers from your garden, or nearby field and create the most amazing wreaths and arrangements for a centerpiece. That's exactly what I did for this table setting. In fact, I picked two white Calla Lilies and some branches from a perennial shrub with small lilac blooms that I can never recall its name. Nothing more and nothing less.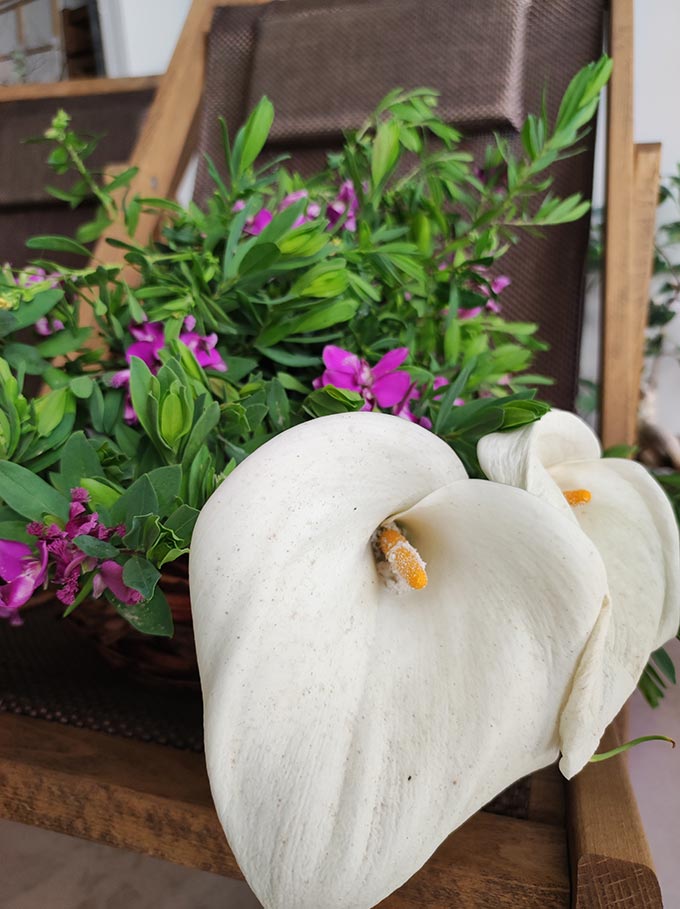 Tablecloth
A natural colored linen tablecloth is an essential staple that won't fail you on any occasion. At least that's what I think so, but by any means use any monochrome tablecloth you already own. Living a slow life and a sustainable one at that, means less shopping and making more of what you already have. So there's no need to rush to buy a new one.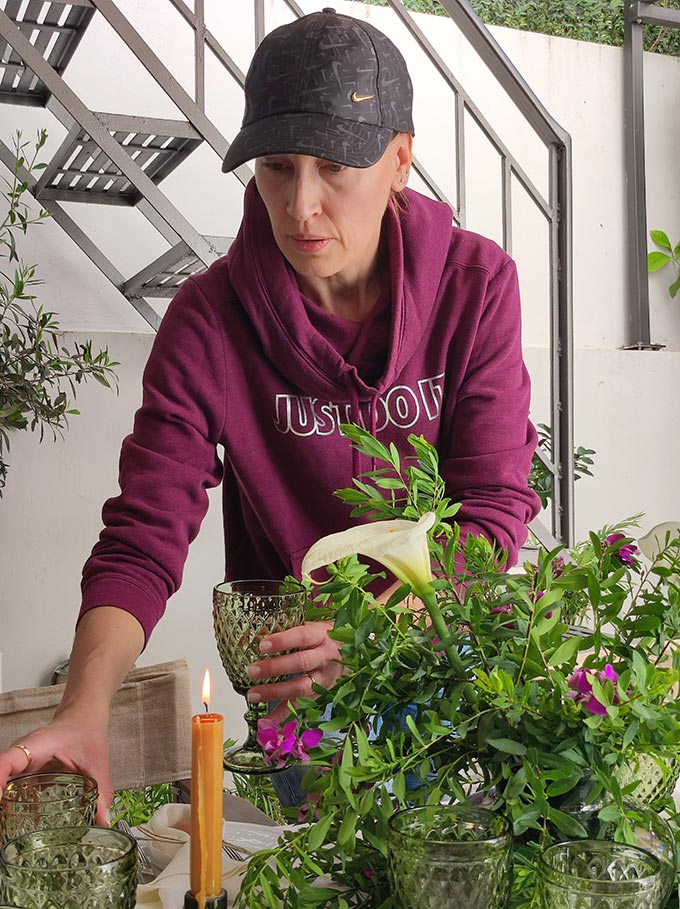 Once I laid my tablecloth, basic white plates with a small detailed texture on their rim, combined with green colored glasses made perfect sense with my kind of foliage. The organic vibe of my tablecloth allows me to keep things simple as a super neutral backdrop – a blank canvas. Thus, the point I want to make is that when you set any table for any occasion, your tablecloth's vibe sets a tone. Don't ignore its style; rather, elaborate on it, using dinnerware and cutlery that will compliment the vibe.
For instance, a white tablecloth is neutral, yet it usually has a much more formal feel. A tablecloth with stripes or a flower pattern on the other hand, has a very casual aura to it. Generally, speaking avoid using too much of anything, like an overpowering pattern printed tablecloth in combination with too much foliage and decor. Chances are it will be way too overwhelming.
The Centerpiece
A vase is usually the best starting point for putting together a centerpiece. Best to go for a really tall one or a short one. That way, communication and sight lines between guests will not be interrupted, causing dismay. Personally, I go for the short kind. In this case, my off-black glass vase with a medium sized rim that has a slight more narrow neck works perfect.
Note that a vase with a really wide rim will give you a harder time to put together a flower arrangement. The reason being is that your bouquet is allowed to develop a mind of its own, spreading and falling as it pleases. If the rim is to narrow, then you can't fit too many flowers. In that case, you could use two different vases and space them out across your table.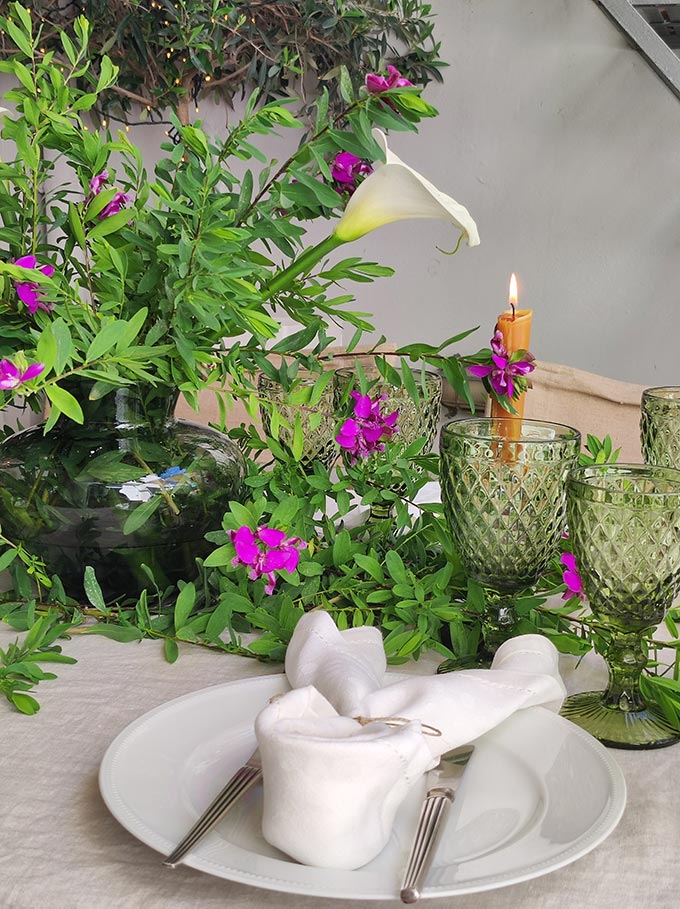 When arranging flowers, there's no need to have absolute symmetry. Yet, it must look right from any odd angle. Fill your vase with the flowers of your choice. First I used the green folliage to stuff the vase. Next, I added, my star flowers; the two Callia Lilies, which I spread to point to the opposing table ends. Lastly, I saved some branches, which I then lay across the table stretch. Lastly, I added two candlesticks with two natural wax colored candles. They were the perfect match – not too much, not too little. Nothing showy or pretentious, but beautiful and more importantly, in harmony with my city garden setting.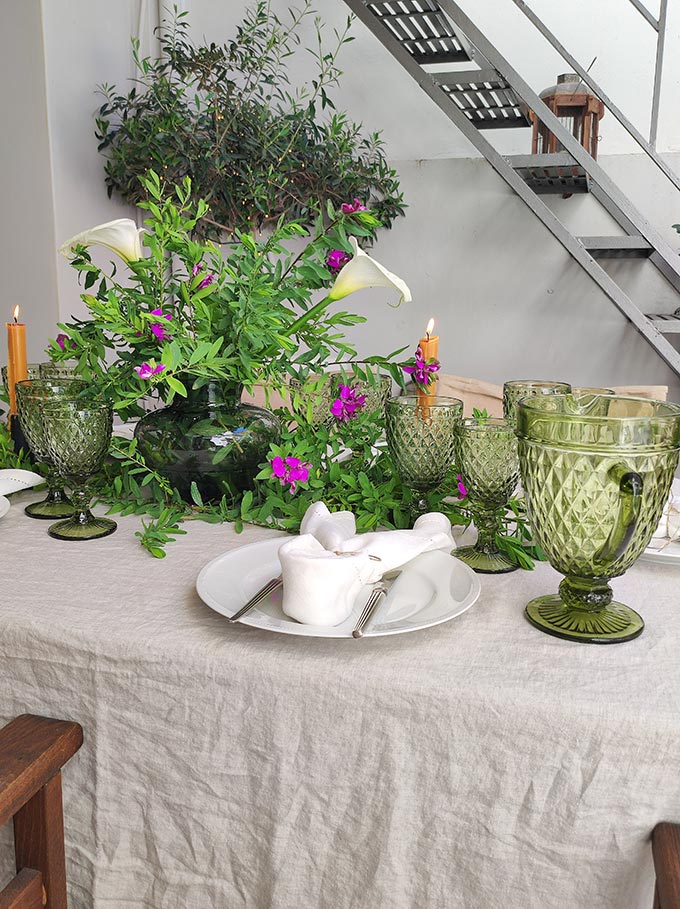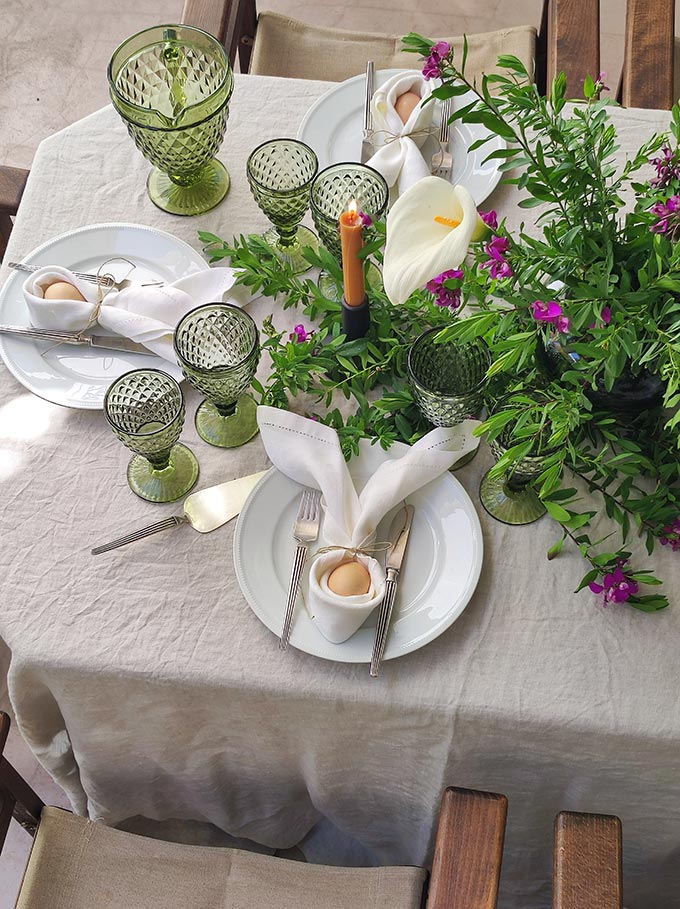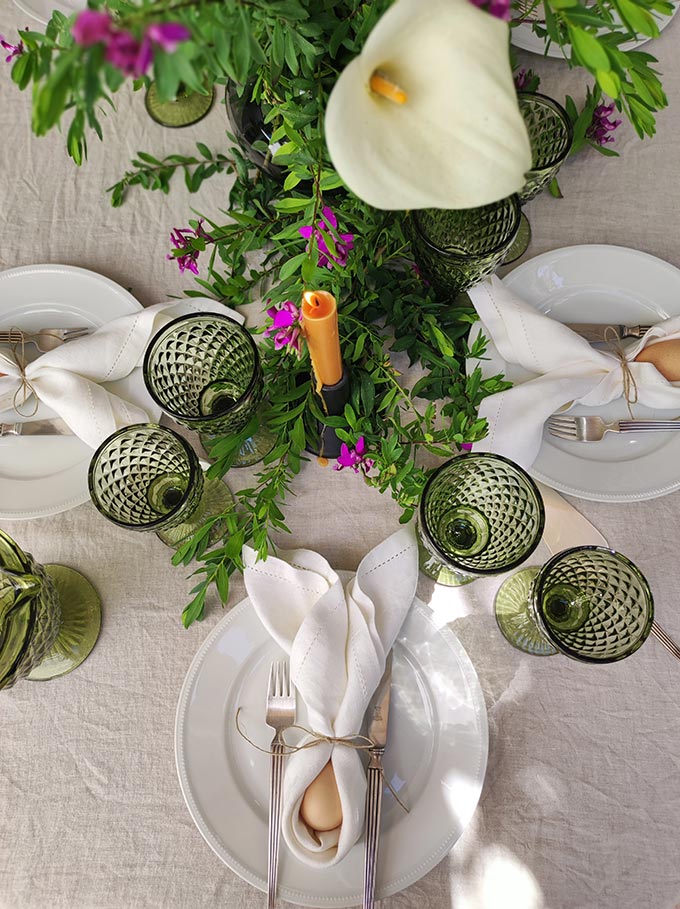 Easter eggs for your Easter tablescape
No Easter tablescape could be complete without Easter eggs. However, I did set the table with plain eggs, dressed up as bunnies with the linen napkins. It is customary for us here in Greece to paint eggs with red dye. This year though, I chose to go about it differently. As expected, regular markers, would not work on eggs without smudging both the eggs and my finger tips all over. Therefore, I resorted to permeable ink markers in various colors to pull off the egg decorating part, which was seriously fun and creative. Pro tip: hearts, polka dots and V's make incredibly good patterns for Easter egg decorating.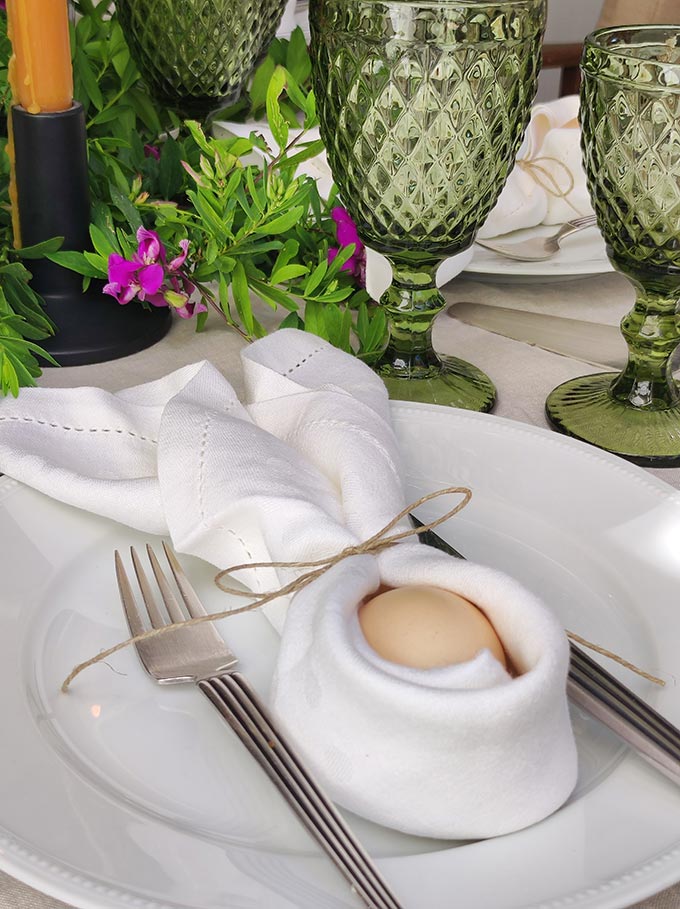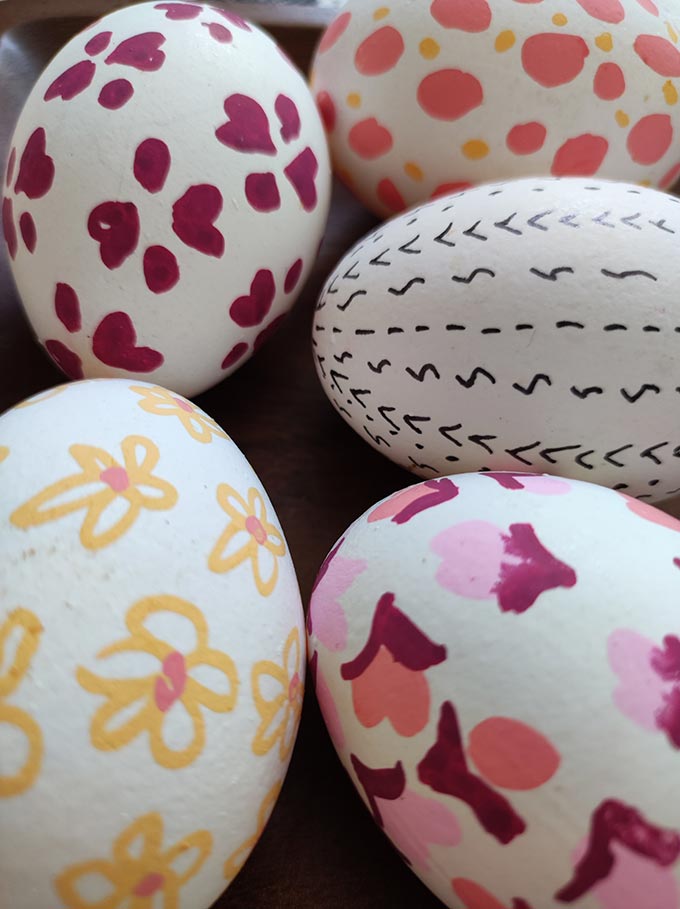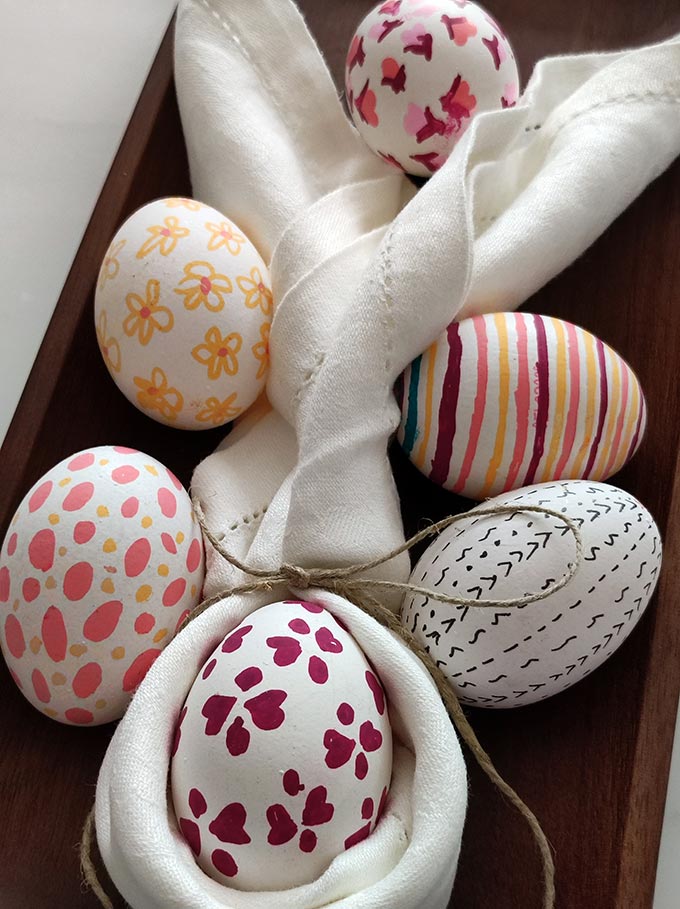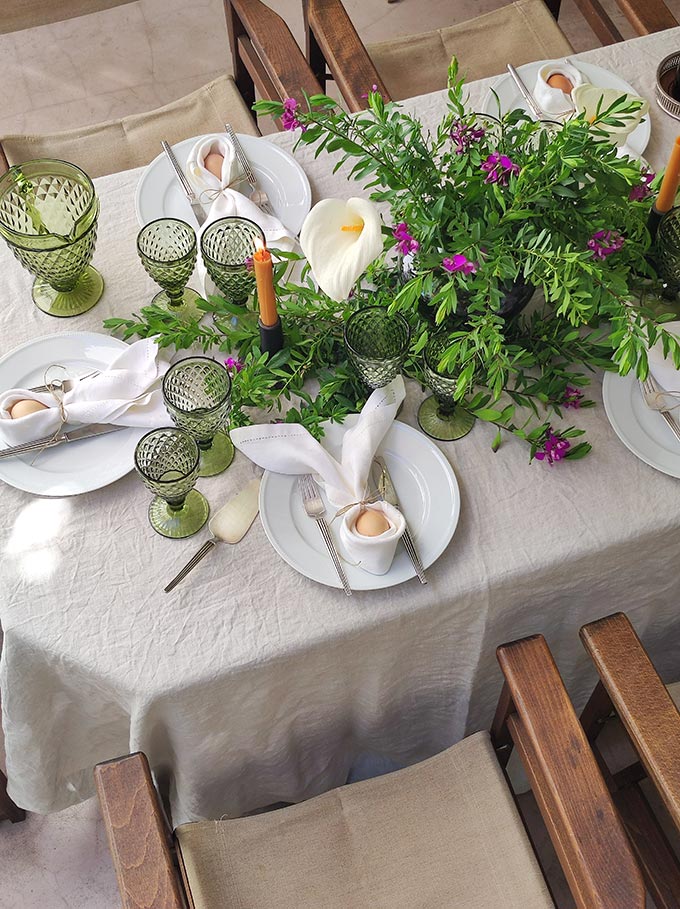 And for more inspiration on the matter: Read Easter decorating ideas and these 30+ Best Easter Cake Ideas to Cap Off the Holiday Meal. Enjoy!