Green spaces are charismatic for they provide visual stimuli day to day and from season to season. They give joy — simple as that. However, not everyone has a big space outdoors or the time allocation required to maintain such a space. Therefore, inspirational creativity must come into play. Let's think "out of the box" and turn any "odd" space available (balcony, terrace, yard etc.) into a green-pleasing city garden.
How to setup a city garden
Setting up a city garden is all about ingenuity. First, think of a theme i.e. Mexican patio (Frida Kahlo always comes to my mind) or an Italian terrace and renaissance (emphasis on Mediterranean plants) or a Japanese garden (repeating patterns and running water). Think of the mood your green space must project and let that be your guide. If you find yourself in trouble then these 15 outdoor living ideas may spark your imagination!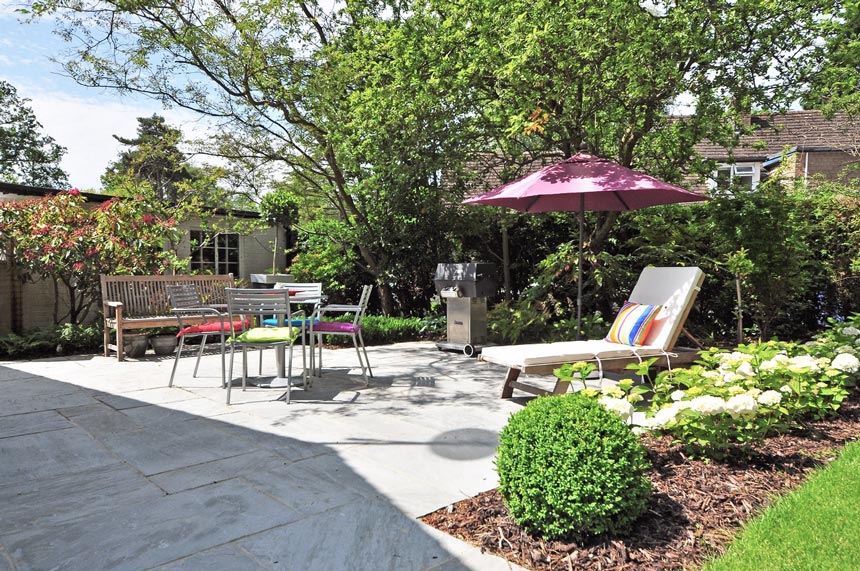 Decide the primary function of your garden
It is important to decide what the main function of this green space will be. The vast majority of "city people" want an outdoor space with a designated paved area to dine al fresco in style. Others prefer a setup that promotes intimate chats with friends. The choice is yours and it will dictate the type of furniture you will need to make it user friendly.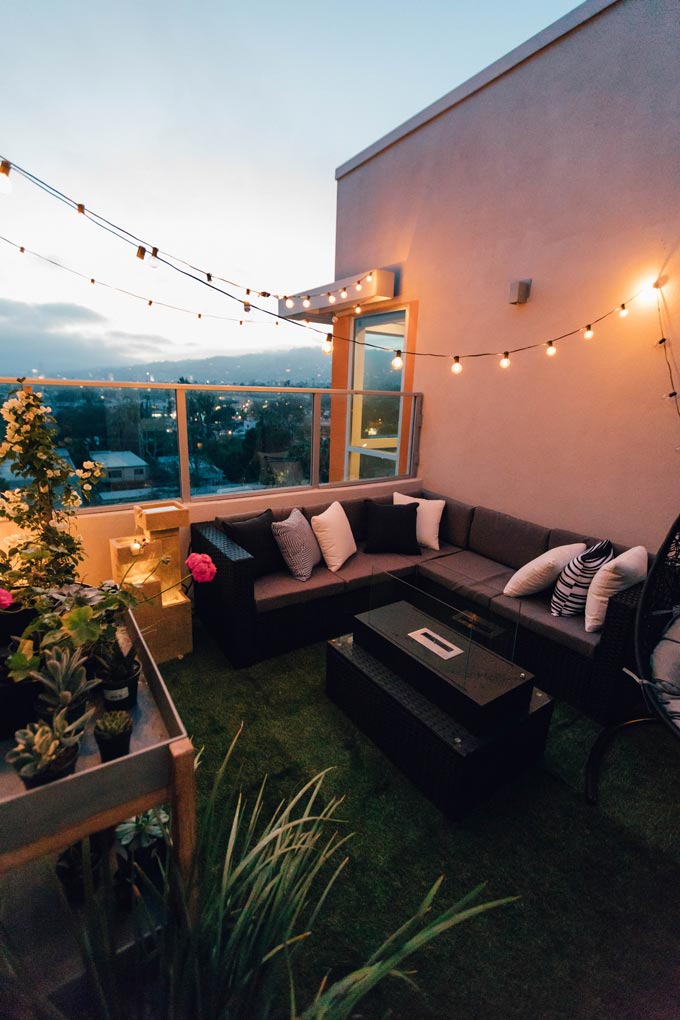 Choose your greenery
Next, plan your space by doing some research on the appropriate plantation. Go for low maintenance plants if time is an issue and do consider carefully their water requirements. Ideally you should opt for local vegetation that behaves well with your local average temperatures.
If you're already a keen gardener then, this might be as easy as choosing which T-shirt to wear in the morning. But it is a crucial step and the one step the majority of people will need a specialists' help for tips and suggestions.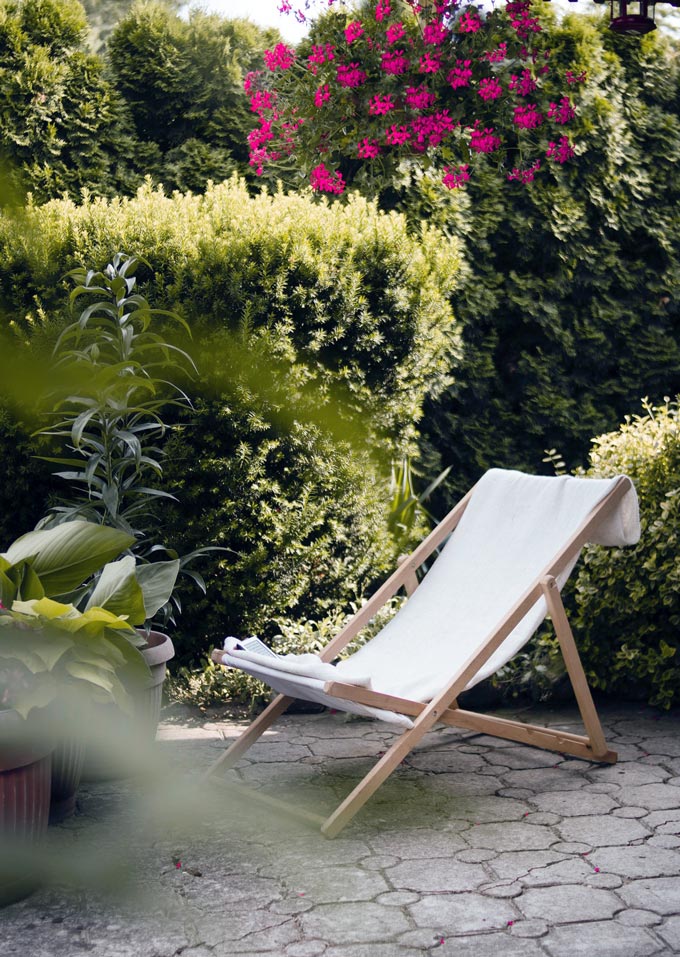 Add shade
Adding a shade may be in order, especially if you live in a country with plenty of sun exposure. Likewise, adding a screen may also necessary for more privacy and this is the perfect way to introduce a three-dimensional pattern (i.e. a horizontal/vertical slat screen) and hence, more depth.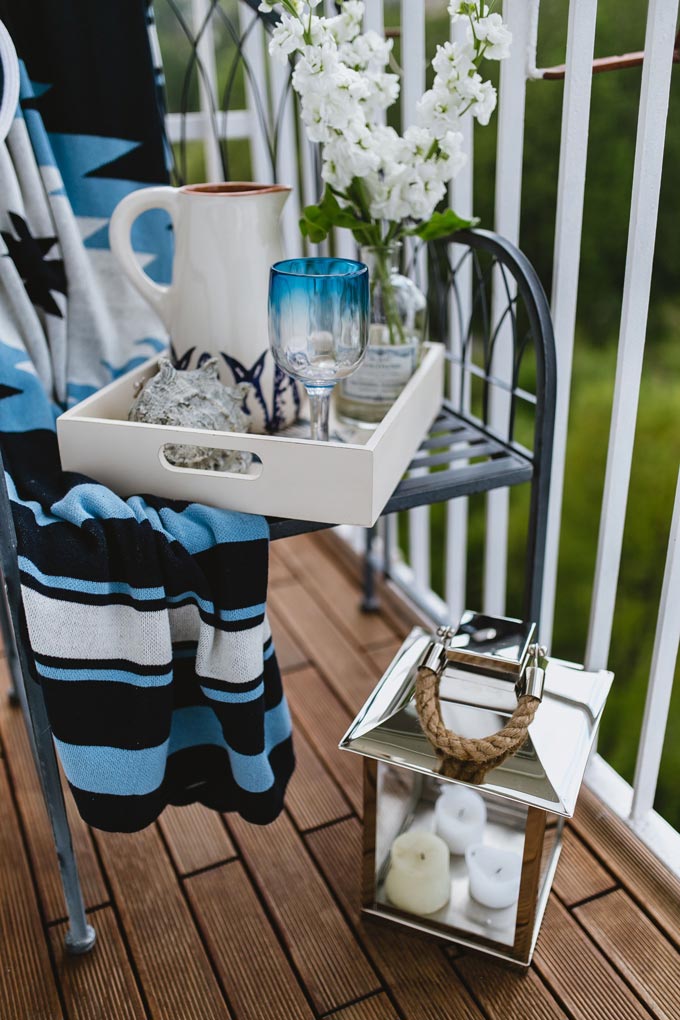 Add decor
Next, use the necessary accessories to create this mood. Planters, racks, shelves, wreaths, pillows and throws are just some of the things – decor that go into decorating any outdoor space. Opt for weather-proof furniture like rattan and wicker. Obviously, sticking to a color scheme will further emphasize your theme and enhance your style.
Since I just mentioned a color scheme, a thing to keep in mind is that your plants can also be a part of it. That's because your plants may come in many different shades of green. Therefore, you'll need to decide whether you want to follow a tone-on-tone approach with the rest of your scheme or create juxtapositions with bold pops of color. These are the two typical approaches, but of course many more lie in between this range.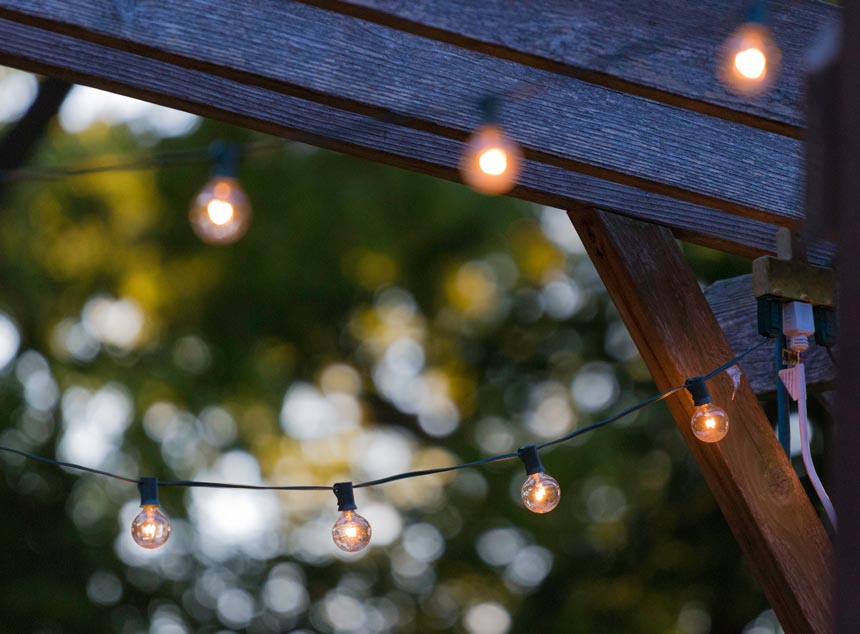 Lighting
Finally, the lighting is the tip of the design pyramid. It is crucial for any green space. It helps to set the "mood" you're after. For instance, when you use more light then the effect of an extra "room" is created when looking outside. Go for a string of lights on your plants or as a canopy to create a beautiful ambient setting that you won't get enough of. Lanterns and lots of candlelight are probably my favorite type of ambient lights for any outdoor space. Now, if your space is large enough, then more lights may be in order as path guides.
Vertical gardens
Vertical gardens are also a trend that is becoming all the more popular. Their advantage is that the "horizontal" space is no longer an issue because plants are placed along a wall's height. This is an ideal approach when your available square footage for a green space is really small or have an odd wall insert that you don't know how to utilize.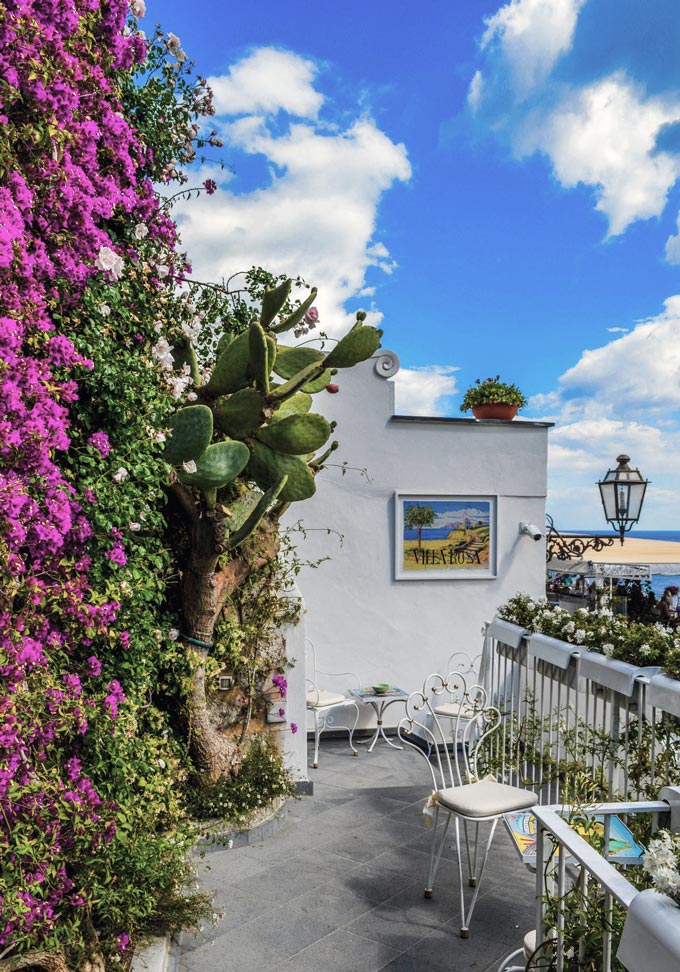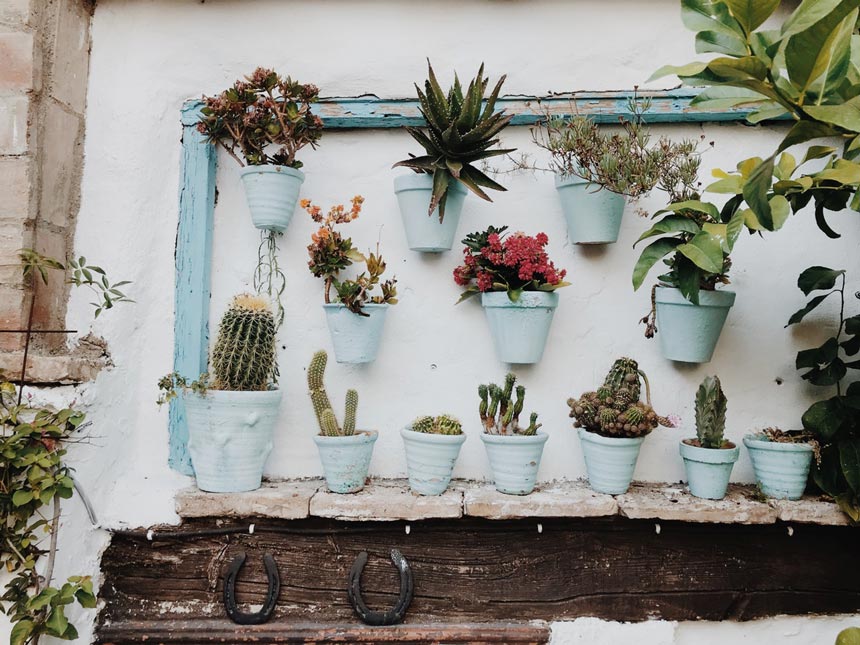 Vertical gardens add both color and texture and hence, it is very easy to become quite overwhelming or look like a messy clutter. As such, my advice to you that really works is to keep it very cohesive when it comes to the plants of your choice. As a matter of fact, the best results are obtained when you use the same plant everywhere. You could add one more plant for variation if that vertical garden of yours is large enough and you feel the need to break it up a little.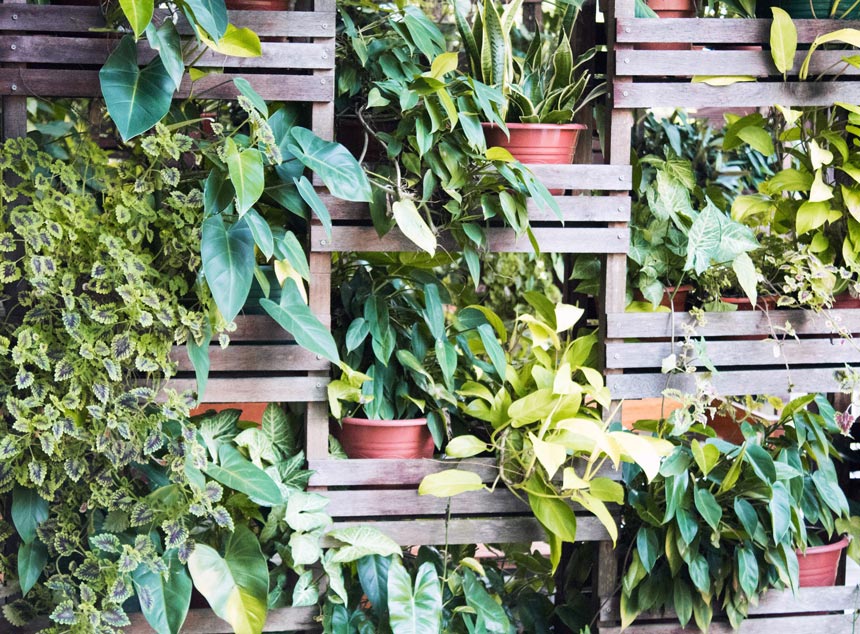 My outdoor space
Personally, I like a city garden that is stylish in an informal way, low maintenance yet, soothing, easy-going with a high degree of flexibility. Think of a "SUV" but in terms of a garden. It is not necessarily the best looking, but its multi-functionality and vibrant personality make up for it in a BIG way. We put together such a space this summer on our driveway ramp! Oh yes we did and the result was not all that bad as it sounds. As a matter of fact, this space has a great advantage; it has a great sense of privacy, it's cozy and highly versatile.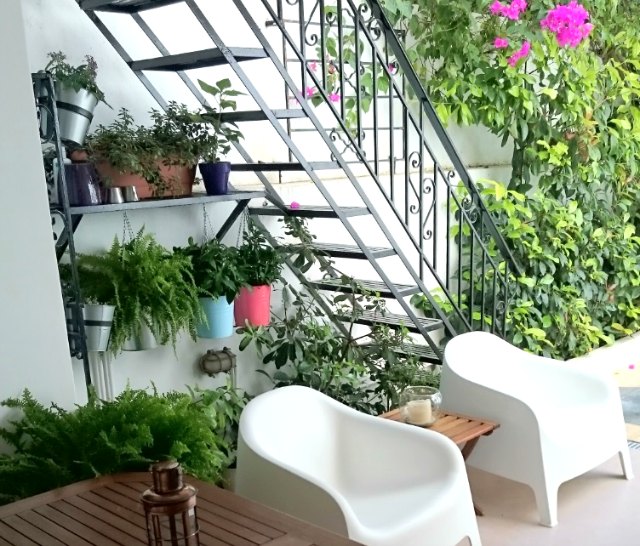 So, we created a conversation pit floor. We used microcement (forged concrete) finish at a custom muted terracotta hue, to create a "soft on the eye visual boundary" of this green space. We then turned a window into a door. Thus, direct access from the inside of the house to this new outdoor space was granted. We also up-cycled old steel railings that we modified to create shelves and racks fixed against the boundary wall, for placing planters. The raised flower beds did the rest.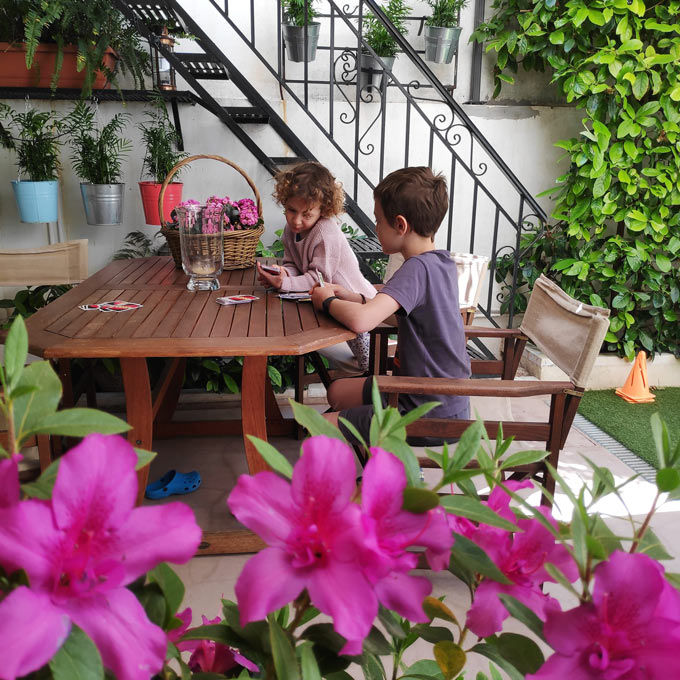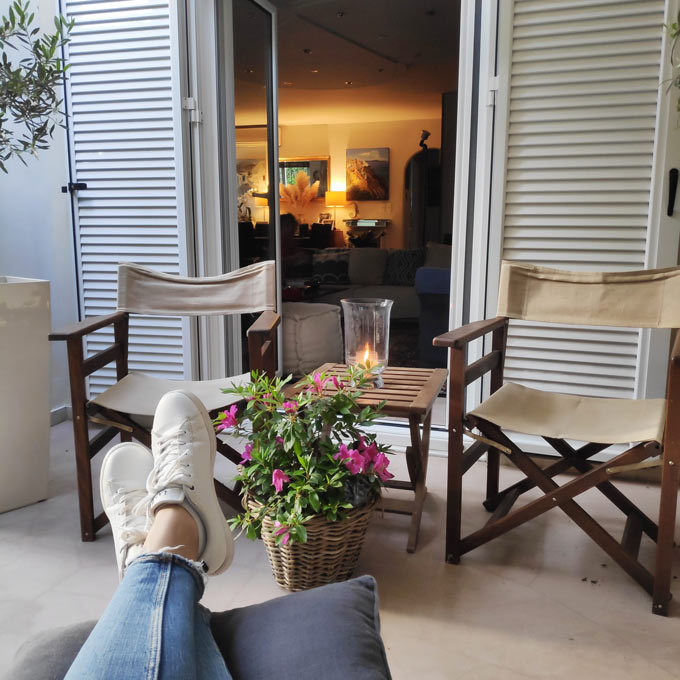 We now have a space that we can cook alfresco, dine, chill out, socialize with our friends, play with our children and even watch projected movies. Note that we're still working out the best plant scheme, because we keep this space shaded and that doesn't go down very well with certain plants; but by the time spring comes round again, we will have figured it all out (fingers crossed).
However, the Maidenhair fern is definitely working out beautifully in this space. The same for our two potted olive trees. They all add texture, volume, and just the right kind of green hues for a Mediterranean style!
Latest update: There is one universal truth – there's always room for improvement. And I'm always looking for ways to improve any space. So since then, I have updated our plants a few times, moved around the furniture in order to create better flow, removed unwanted clutter and most eyesores. I also added two new wooden chaise longues for that organic vibe I'm aiming for.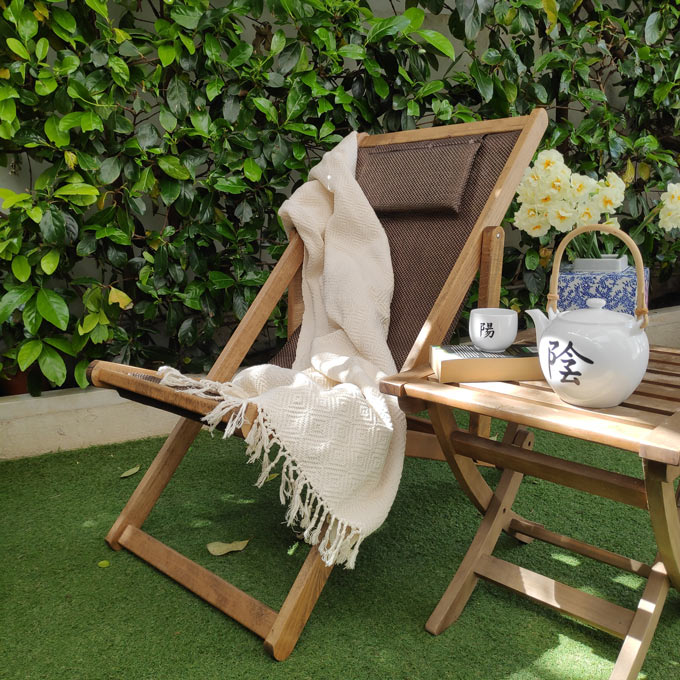 Thus, the bottom line is that there are no rules, especially when it comes to a city garden. Therefore, let your imagination run, so just go for it and let me know how it goes!
Till next time,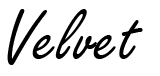 Last update: 05/26/2021