As I'm writing these lines I'm daydreaming of my Easter destination! Tonight I have to pack because tomorrow I'm off with my family to Syros for our Easter break. To be honest, I'm looking forward to this break to recharge my batteries, spend quality time with my family and friends, but not before I share with you some Easter decorating ideas.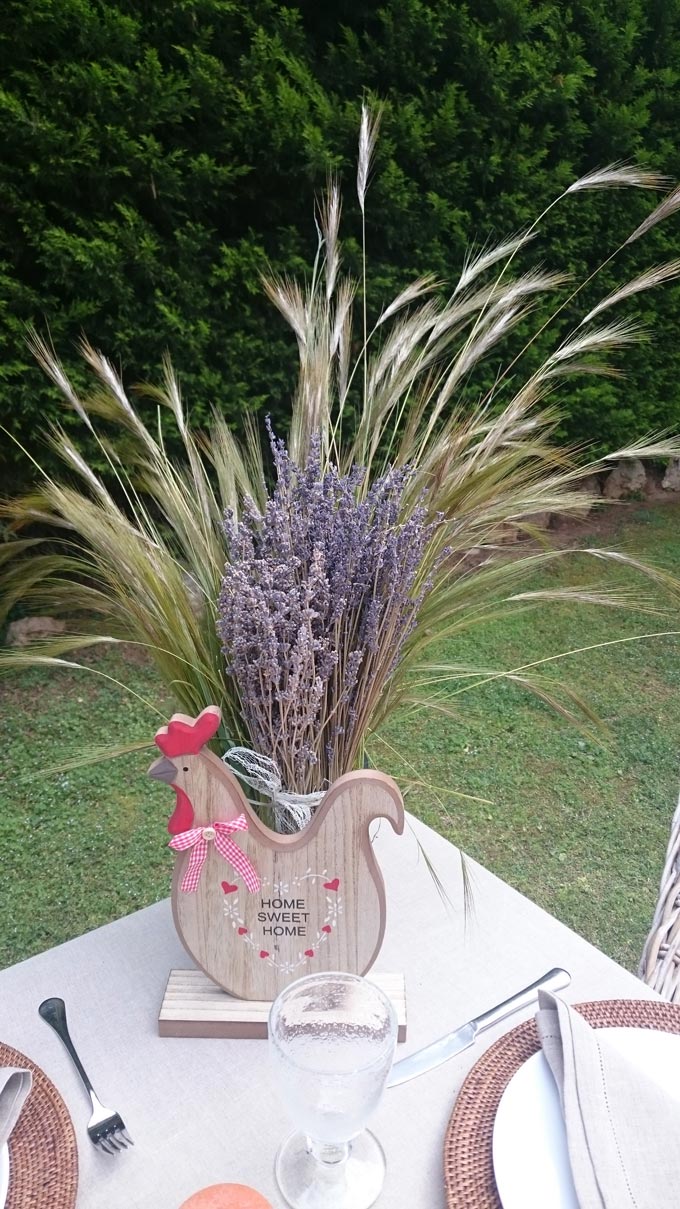 Syros is renowned for its Easter celebrations, where Roman Catholics and Greek Orthodox Christians always celebrate together. Your see, Easter for Greeks is probably the biggest holiday of the year – the most significant religious event and you could read more about Easter in Greece (I think it makes an interesting one minute read).
More importantly, it is a time where families get together and feast for two days straight, more like getting stuffed to the brim really, in celebration of Christ's resurrection. So, I'd like to share a few ideas with you for your Easter tablescape and decor inspired by this special celebration as well as a few Greek traditions.
Easter Decoration Ideas
Most Greek people I know don't spend as much effort in decorating for Easter like Christmas. Partly because the weather allows us to spend more time outdoors and nature looks its best right now. Spring is the season of rebirth and blossoms are the best reminders of that fact therefore, adding a few flower arrangements here and there will make your home feel like its got the spring sprinkle-dust. Flowers have that magic power to bring life in any space. The more flowers the bigger the effect.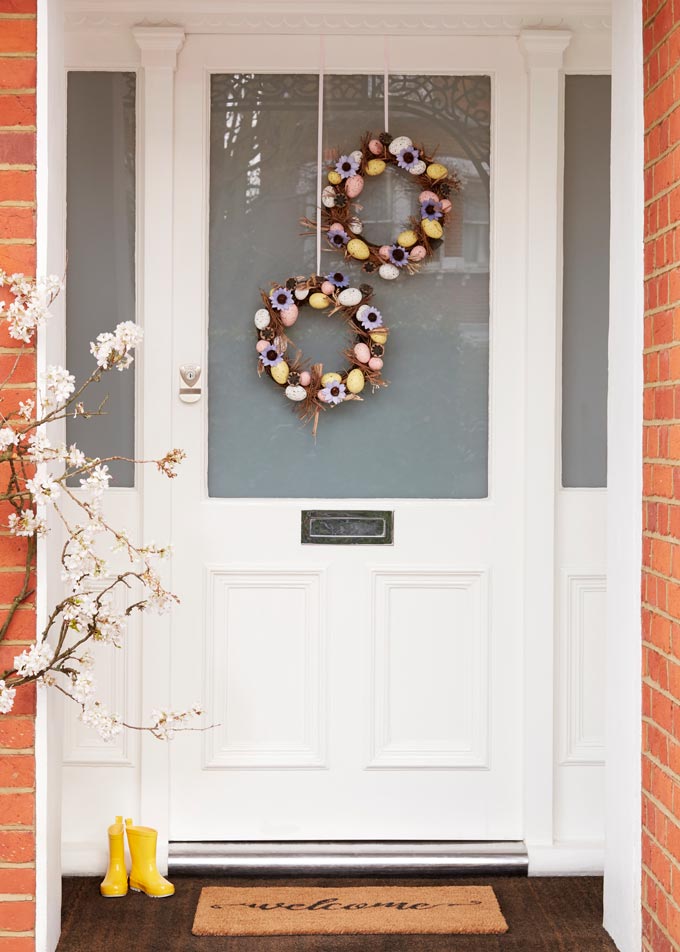 As you probably already know, a wreath hanging on your entrance door is another great classic decor to welcome your guests home. But if you don't mind going an extra mile, then hanging an old watering can or a planter with some wild flowers, tulips, hyacinths or my personal favorite olive tree branches in it, all fixed tightly in floral foam and you'll make a rustic but very unique DIY arrangement that won't go unnoticed.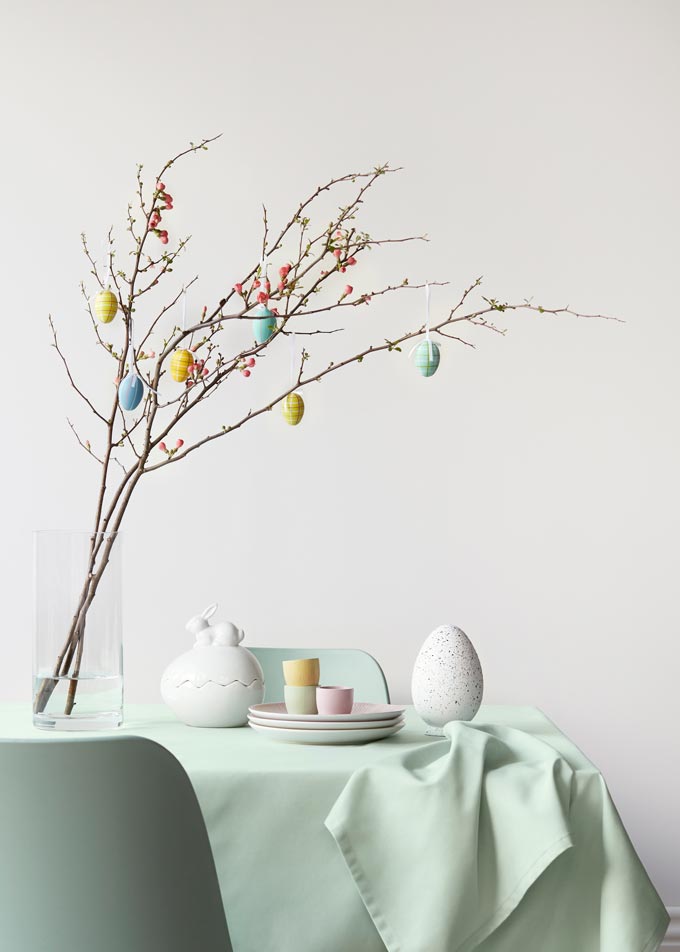 An Easter feast is a great occasion to set up some great tablescapes to entertain your guests and enjoy all that beautiful dinnerware you keep dashed away for special occasions. If your dinnerware is plain white then use a patterned colored tablecloth to create contrasts. Work the other way round if your dinnerware is colored, then it's best to use a white table cloth. Makes sense, doesn't it?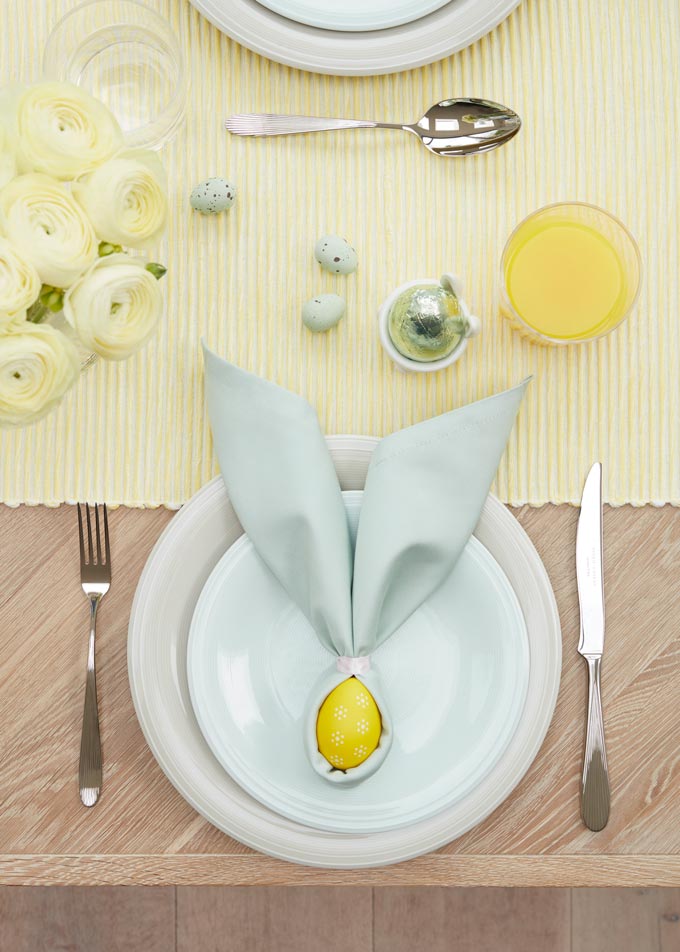 Now, what if you have colored dinnerware and a colored tablecloth? No problem! Add a neutral placemat, that's bigger than your dishes, that will act as a transition between your tablecloth and dinnerware and problem solved! Keep in mind that placemats add on a lavish touch. Linen tablecloths are also a great all time favorite.
Next, your centerpiece. That's where your creativity must kick in. If you have a plain glass vase, then you can add some pebbles or dyed Easter eggs to it until mid-height and some branches with greenery along with your favorite flowers. Bunnies, hearts, wooden ladybugs are all cute additions. Personally, I like tall centerpieces because they create many focal points at different eye levels. Hanging Easter eggs from the centerpiece's branches like in the pictures further below looks fabulous.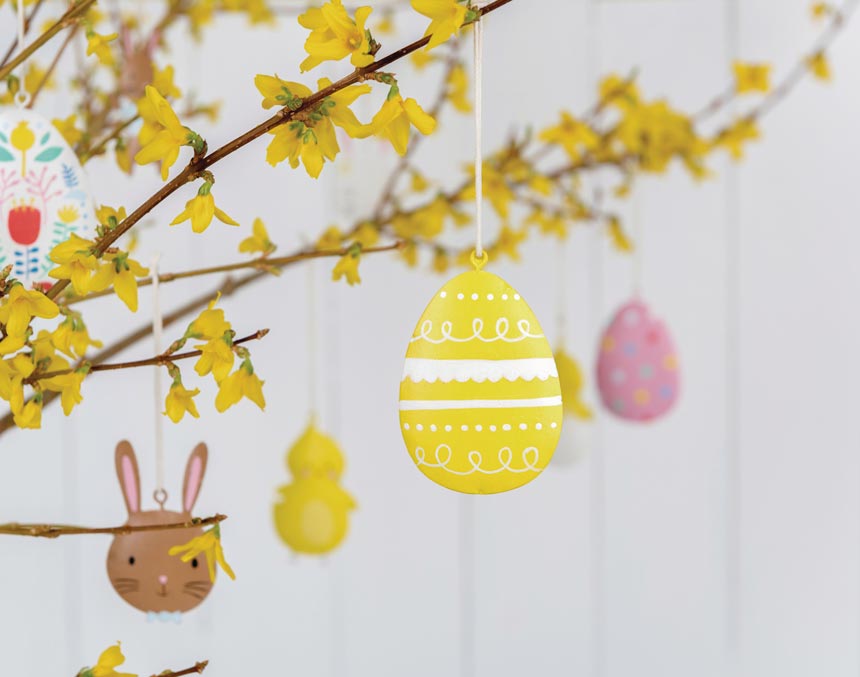 So, for an Easter tablescape, flowers and colored eggs are a given (red ones in particular here in Greece). Shiny red eggs, that symbolize the blood of Christ, are the focal point on any Greek Easter tablescape. One of my favorite Greek traditions (kids love this one) is a game where everyone chooses a red egg and taps each end onto other guests' egg and the winner is the one who doesn't get his/her egg cracked!
Two preparation traditional rituals for Easter have stood out in my mind as a child: the red dying of the eggs and the baking of the Easter sweet bread, known as 'tsoureki'. Easter sweet bread is a favorite sweet savory during this season. Sometimes they even decorate it with a red egg in the middle and with its distinct flavor it remains quite unforgettable (in a good sense).
Like I always say though, details make the design! The one detail I notice in a table is a beautifully folded napkin. That's because someone actually took the time to fold it their way in order to make their guest feel even more special. Even the most humble table can look great with that one detail. So, I found this great video-tutorial that's super easy and can transform your table! Great, huh?!
Lastly, for more inspiration on Easter tablescapes with lots of imagery you may want to watch this video we put together:
---
I hope you have a very special Easter…So, I'll be spending almost two weeks in Syros and it will be the perfect opportunity for me to enjoy my family. I hope you all have a great spring break. Before I go, let me remind you that I will be taking lots of photos that I will be posting on Instagram so do follow me! You won't regret it…