A lot of people know Greece as a small country with beautiful islands and stunning beaches. Some more people might have heard of Greece on news updates about her debts and struggle to re-surface after the economic crisis hit her. But what most people don't know is that Greece, is a beautiful country with a long heritage of customs and traditions. And the best time to bear witness to these traditions is during Easter – the Greek Orthodox Easter (after the Passover). This post is about my Greek Easters; a quick rundown of a few beloved flashbacks and Greek Easter customs you should know about.
I always get mixed up when the Orthodox Easter ('Pascha') falls on the same date as the Catholic one. What I do know since my early childhood though, is that the Greek countryside during spring is a real sight for sore eyes. Fields and fields of blossoming trees that will take your breath away like in Veria with fields of blossoming peach trees.
When I was really young, we used to commute, like so many other Greek families, back to the village ('chorio') to get together with grandparents and other family members to celebrate Easter. It used to be a "long" journey by car back then, but knowing that I would get to ride my bike through fields and mud roads somehow made it all up.
Greek Easter Customs & Traditions
Almost every part of Greece has its own customs and traditions when it comes to Easter celebrations. And the way I see it, celebrations for the upcoming Easter begin with Ash Monday (or 'Clean Monday' as we Greeks call it). Believe me, that is one long weekend in some parts of Greece i.e. in Naoussa with a lot of drinking and dancing involved almost non-stop for three days.
But, seriously Ash Monday signifies the first day of the Great Lent, a period of 40 days of fasting. Some people will fast religiously both all meat (except fish) and dairy products for the whole Lent, others only during the Holy Week. (On Good Friday, many fast anything cooked with olive oil as well).
When I was a kid, Easter was just about the Holy Week and Easter Sunday – the biggest religious holiday of the year for Greeks. My grandmother used to take us to church with her, every day of the Holy Week. I didn't understand much, but I could tell that people were solemn and not sociable like in a baptism. That is still the case, today. If you're in the countryside, during this week, people seize working in the afternoons. Instead, they go to church. On Holy Thursday, they paint eggs blood red, that symbolizes the resurrection – victory over death.
Last year, in Syros we attended church on Holy Thursday. I still get the goose bumps when I think of it. The church was packed and so we stood by the front door to listen to the mass. At some point, they enacted the nailing of Jesus to the Cross. You could hear the pounding noise of the nails being thrust. It was so intense that, tears rolled in everyone's face, including mine of course! In Paros, there are small villages like Parpissa, Marmara and Lefkes where you can walk through a procession and watch the re-enactment of the last events of Jesus Christ life.
Good Friday
Even if you don't attend church every day, chances are that you will go on Good Friday, lit a candle, pray and mourn. Church bells toll all day long in a slow, mournful manner. Late at night, you'll walk along with the Epitaphios holding a lit brown wax candle (white candles are reserved for Holy Saturday) as each church will have an Epitaphios procession walking along a designated route through the streets of their district, before it returns back to the church. Mauve lights, mauve symbolizing mourning, will adorn the public buildings like the Town Hall. In Syros, the epitaphs of three churches intersect at the Central Square in front of the Town Hall.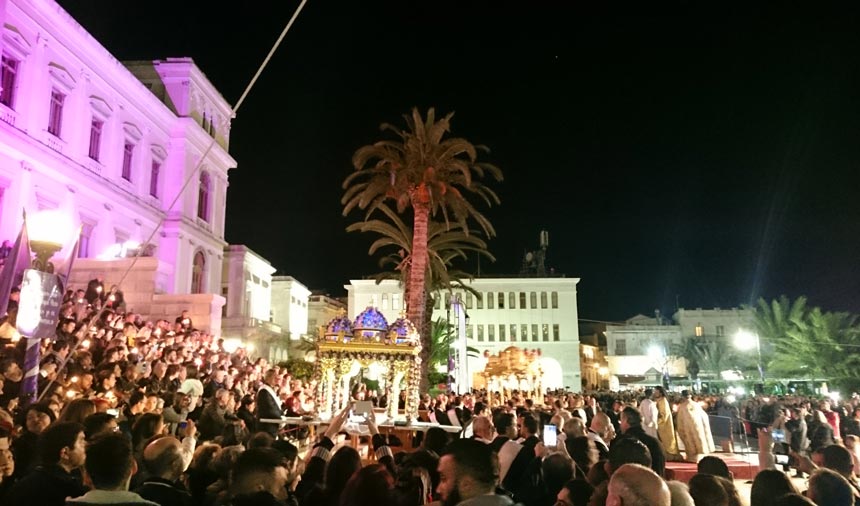 But, on Holy Saturday, Easter eve, everyone's spirits are uplifted in anticipation of the resurrection. I remember all the godchildren by grandmother had baptized coming over the house with homemade Easter breads (or 'tsoureki'). My grandmother always ended up with a pile of them stacked on top of each other.
Greek Easter customs around Greece
One of the best known customs is one carried out in Corfu. It is a ritual where locals throw large clay pitchers from the balconies and windows of their homes on Holy Saturday right after the first announcement of Christ's resurrection in the morning. It is one loud event!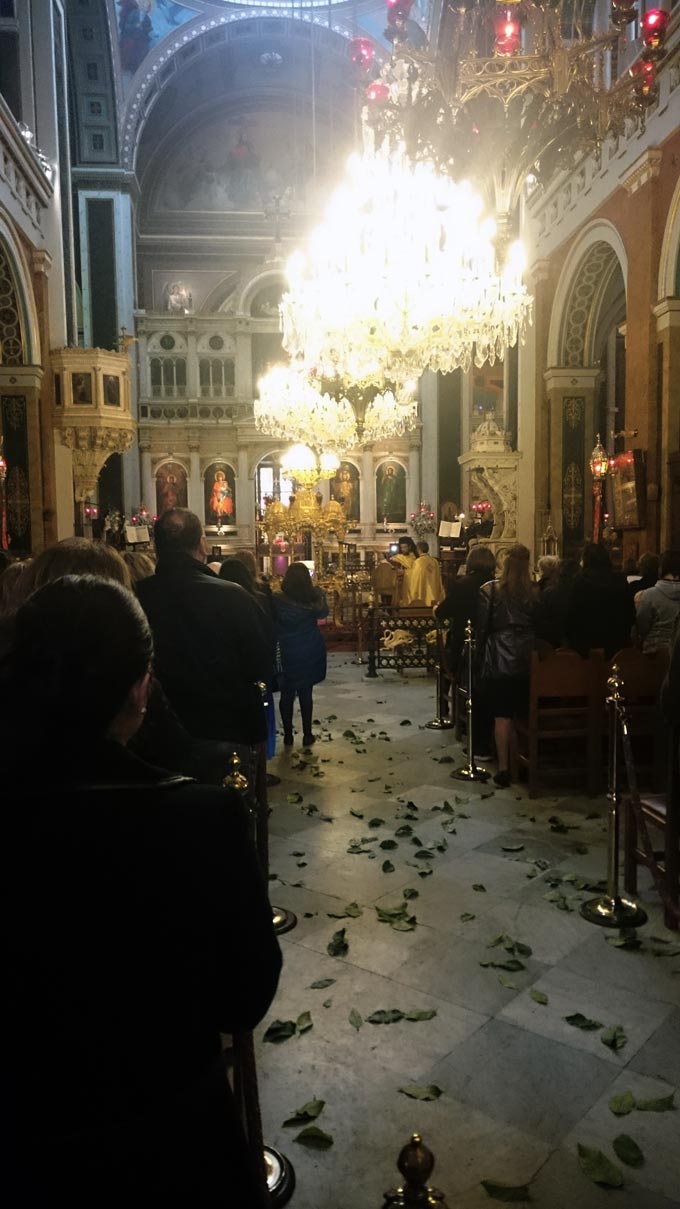 Anyhow, at night people go to church all dressed up and listen to the midnight mass. At some point, everything goes pitch black. Minutes later, a candlelight – the Holy Fire (spreads among the pilgrims while wishing "Christos Anesti" ('Christ is Risen') and "Alithos Anesti" ('Indeed He Has')! It is this light, that everyone is keen to take home as a blessing. But aside the candlelight, in almost every church of any village, town or city there will be people lighting fireworks and crackers.
As a matter of fact, in the island of Chios, this ritual has been taken to a whole new level. It is known as Rocketwar and it takes place between two churches that sit on hills across each other, at the village of Vrontados. It is a real spectacle.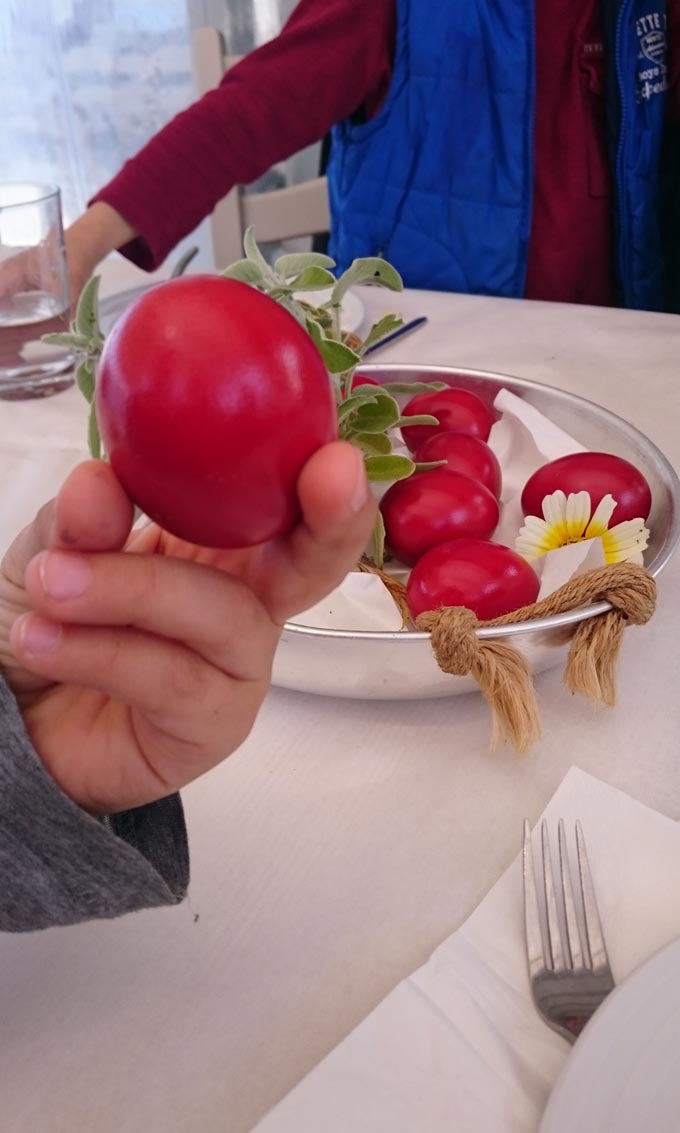 In any case, soon after the joyous toll of the church bells signifying the resurrection, most people head home to eat traditional foods with family. Celebrations continue until the very early hours of Sunday. Cracking blood red eggs with one another (whoever has the hardest egg, gets all the luck); eating sweet bread and braided cookies known as 'kourourakia' are a must do.
Feasting continues on Easter Sunday AND Easter Monday, usually outdoors with roasting of lambs and/or kid goats on the spit over charcoal fire. Can you think of a better setting than that of nature herself? And of course, there's lots of socializing and folk dancing. Moreover, it's a great opportunity to spend quality time bonding with family members that you don't get to see often enough.
Overview
My aim for this account was to merely show that Easter is a glorious time here in Greece. The Greek Easter customs and traditions make the Greek Orthodox Easter an experience of a lifetime. Really! It's all about taking the time to take in the meanings of Easter. It's a moving time that touches us in a most humble way, rich in symbols and meaningful in a much deeper way than that I have described here. Moreover, if you may be interested in some inspiration for you Easter tablescapes that we set up for your inspiration.
In any case, once again this year, Elisabeth and I along with our families, will be heading for Syros to celebrate Easter next week. (BTW: here's my travel guide to Syros). That's why I won't be posting anything on the blog for the next 10 days. However, do follow us on Instagram and Facebook, since I will be posting photos from our journey there.
For those of you celebrating this weekend, I wish you Happy Easter!
Christos Anesti! xx