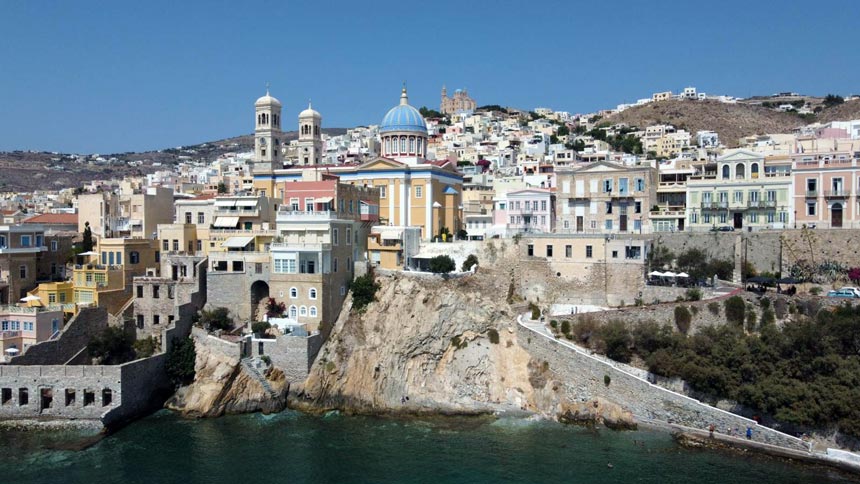 Greetings everyone! I hope you're all well and in a wanderlust mood. As promised this post is about the island of Syros, the "capital" of Cyclades, an island complex in the Aegean Sea. So sit back, take a break for a few minutes, grab yourself your favorite drink and continue reading this review about the things that I like and dislike. I'll try to make it worthwhile for you.
I was lucky enough to spent four weeks during this summer in the island of Syros, a place I've grown very font of. This would be my fourth time on the island (obviously I haven't always stayed that long). Undoubtedly though, the longer you live in a place, the better you get to know it. And Syros, unlike other islands such as Mykonos and Paros per say, is an island that's lively all year round.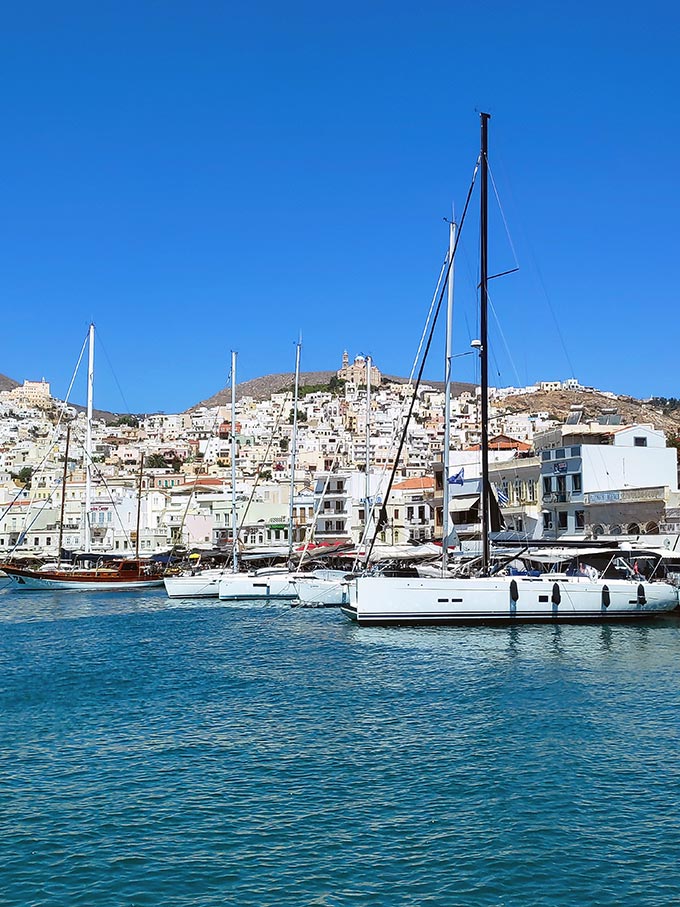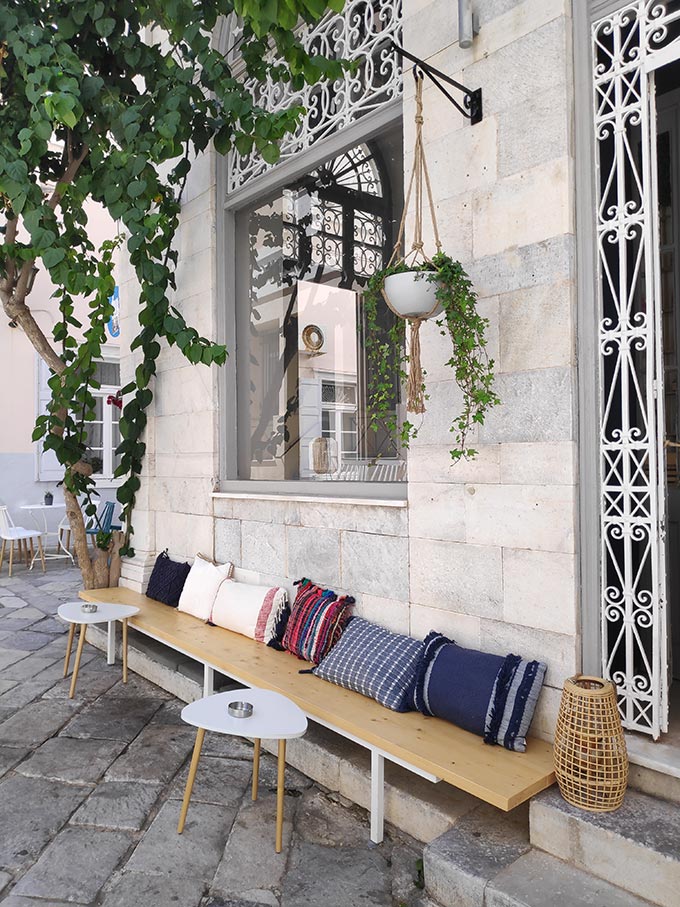 As the capital of the Cyclades, she has a graceful and dynamic character partly due to the fact that all the public administrative authorities for the Cycladic islands reside in her main town, Hermoupolis. Top that with the fact that there is a University campus, that translates into a lot of students even during the winter months. Hence, the people here have a more laid back attitude, despite the fact that they are very much aware of their cultural heritage legacy (read about its amazing architecture).
Travel Guide
Location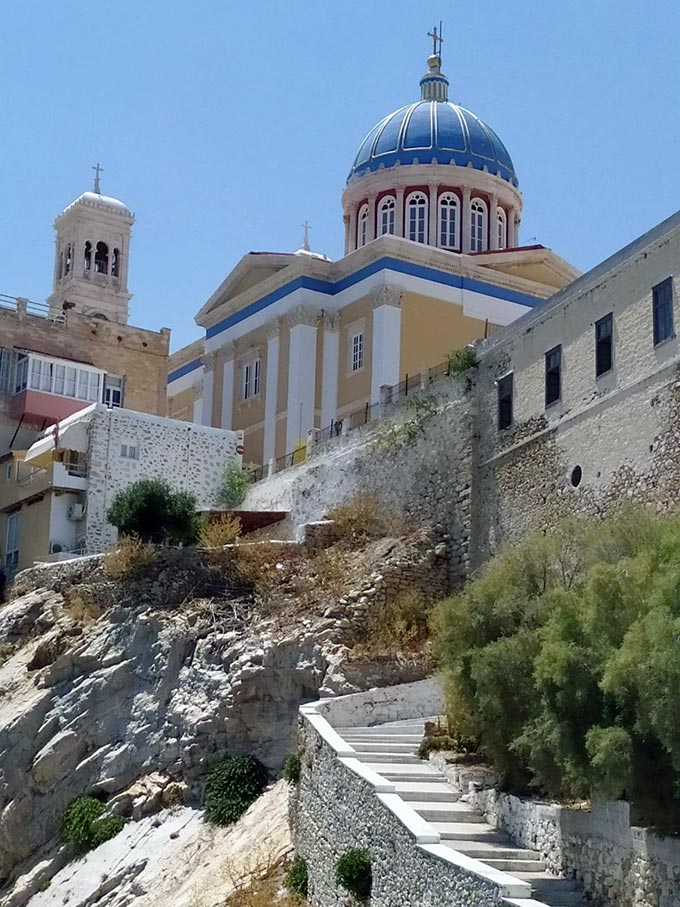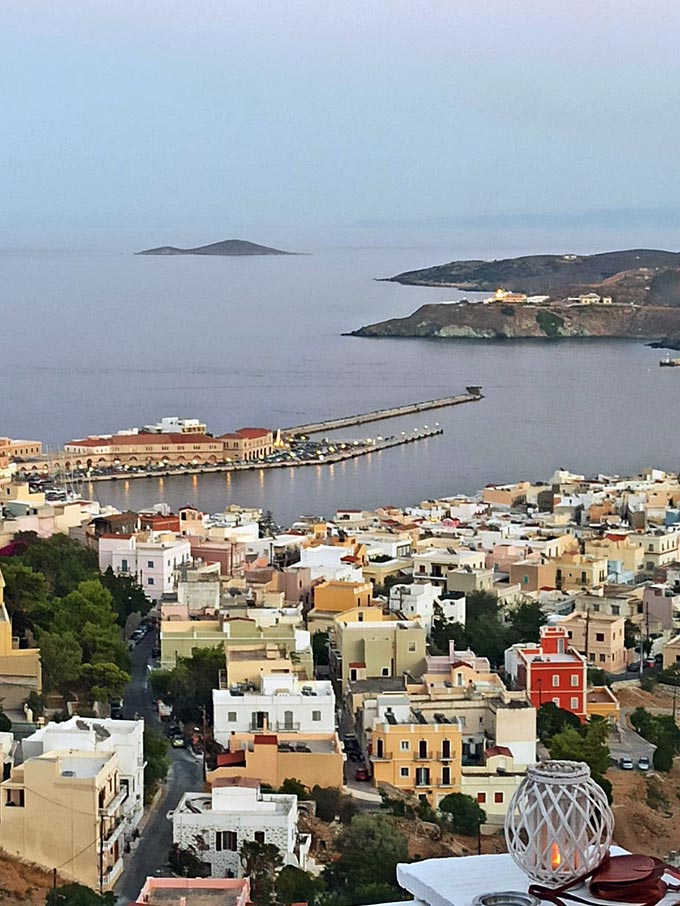 The island of Syros, Cyclades, Greece (an island in the Aegean Sea between Andros, Tinos, Mykonos, Paros, Sifnos, Serifos, and Kythnos). Its main town (Chora) is Hermoupolis.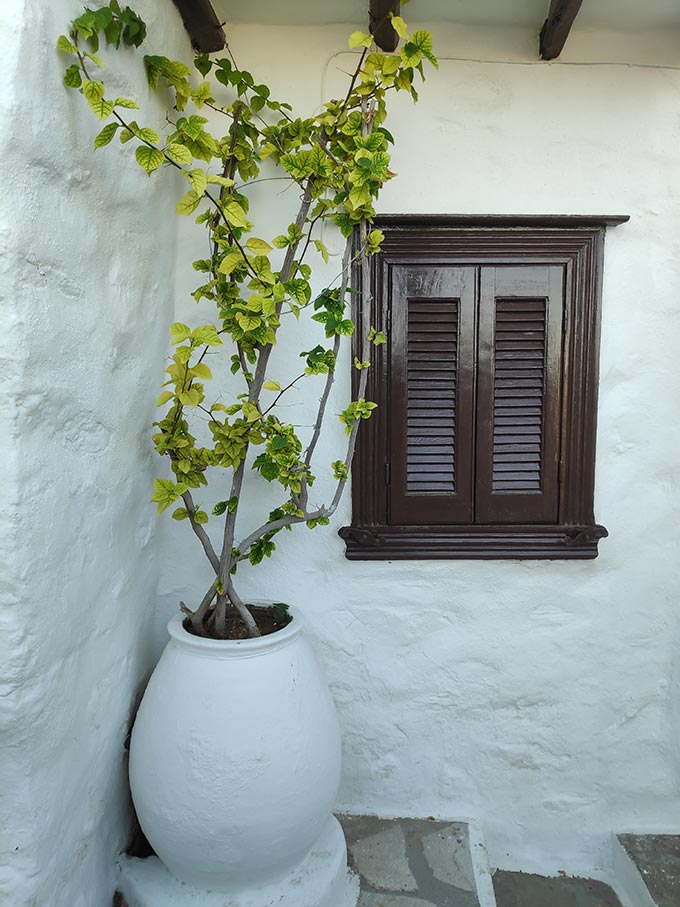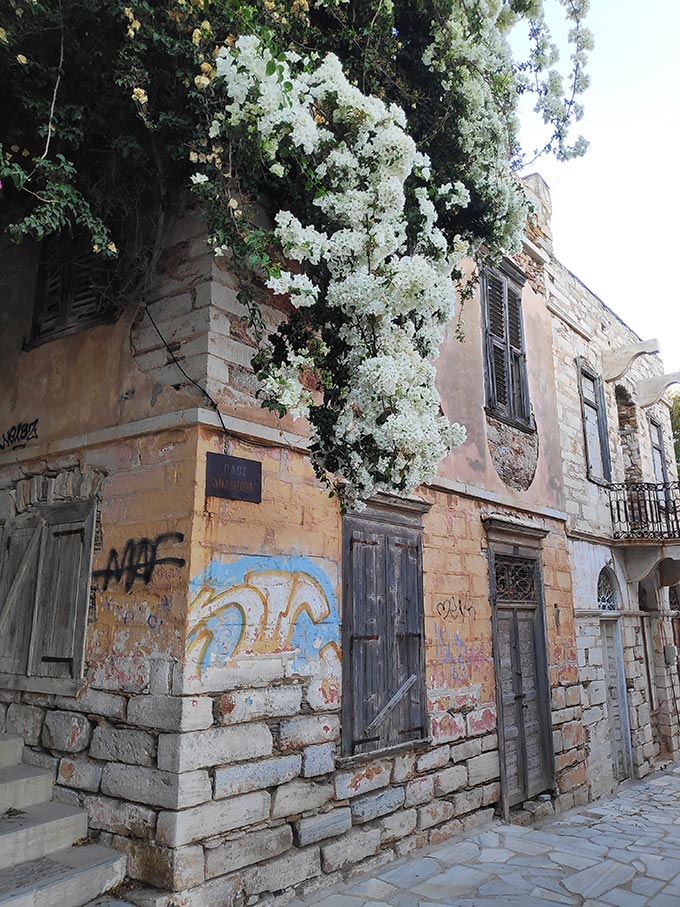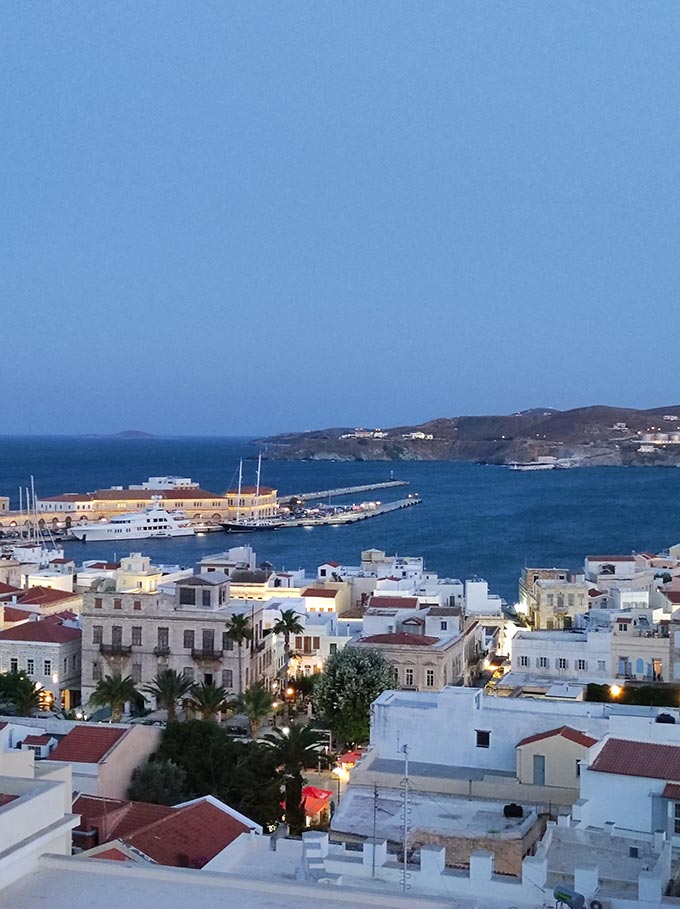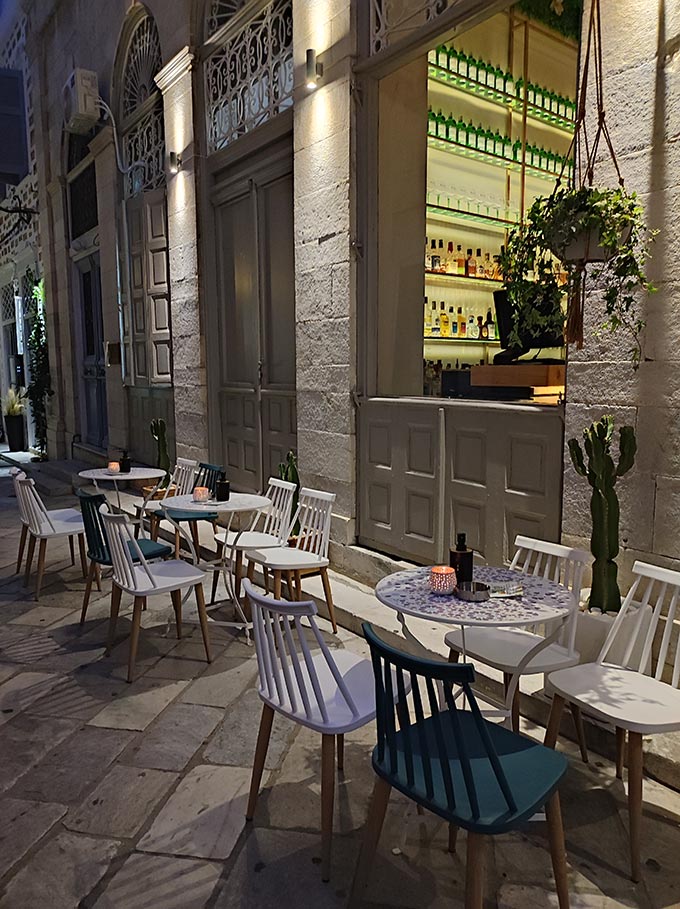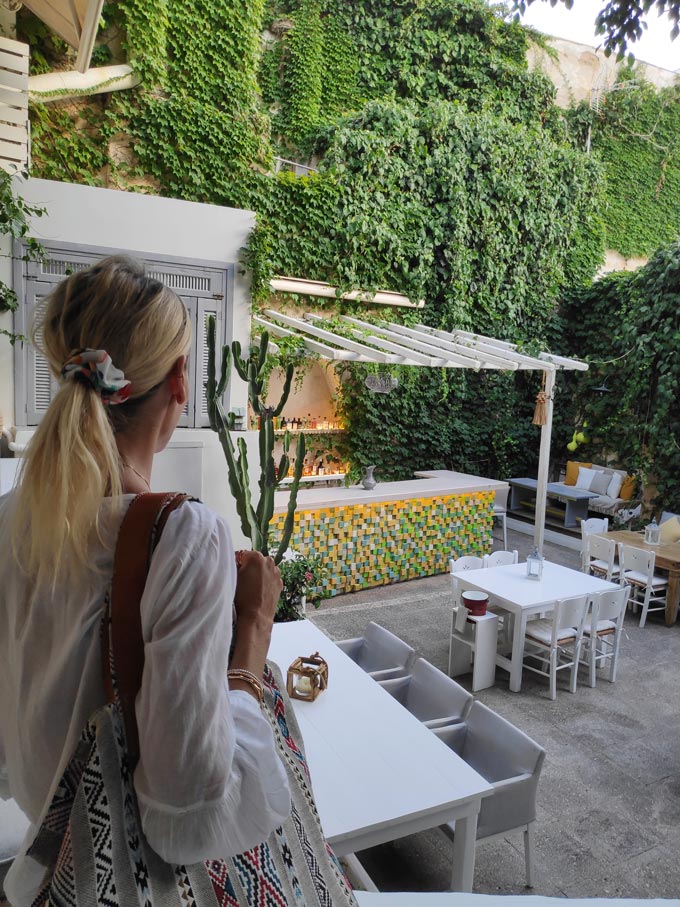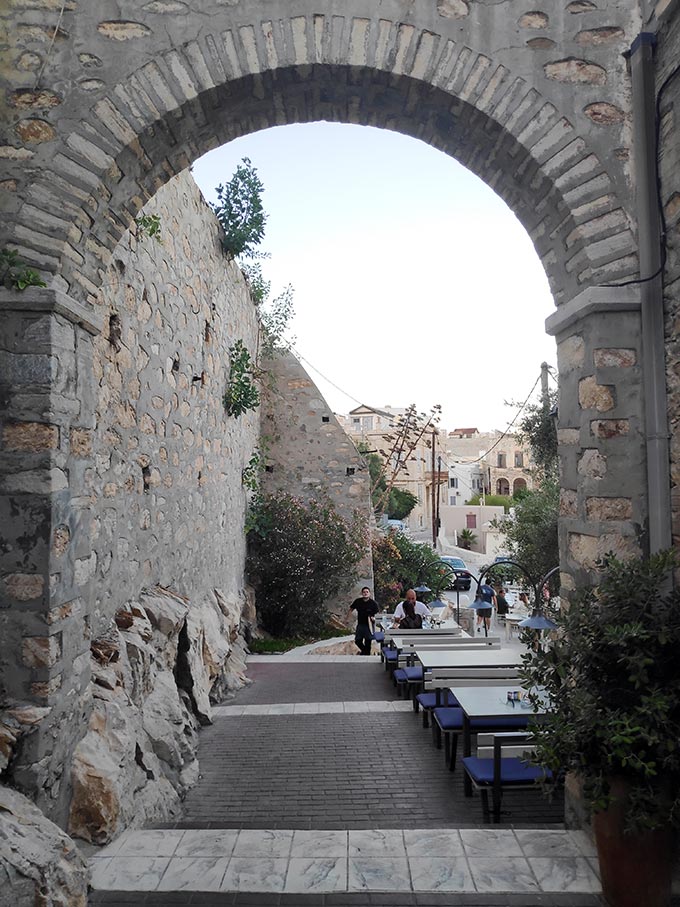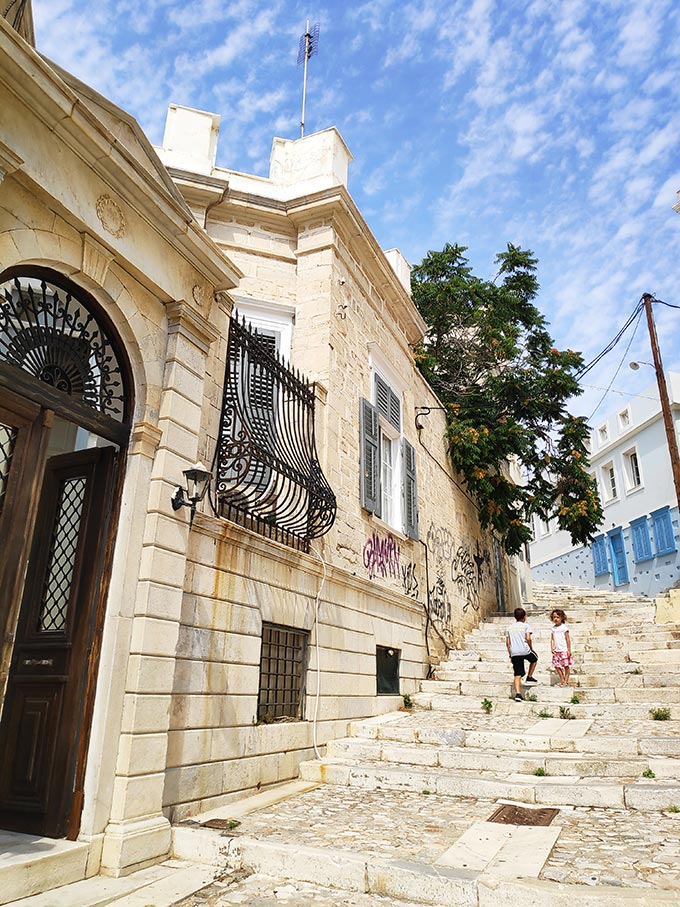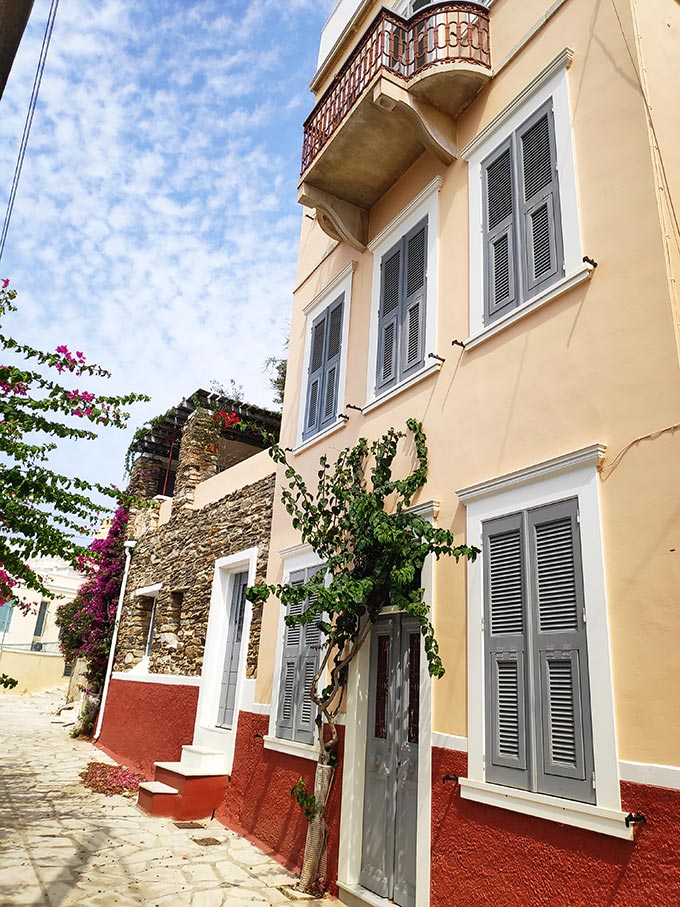 Highlights in Short
The island of Syros is one of the best destinations for a family vacation. Why? It combines numerous fun things. For starters you can have a great swim at sandy beaches (perfect for building sand castles).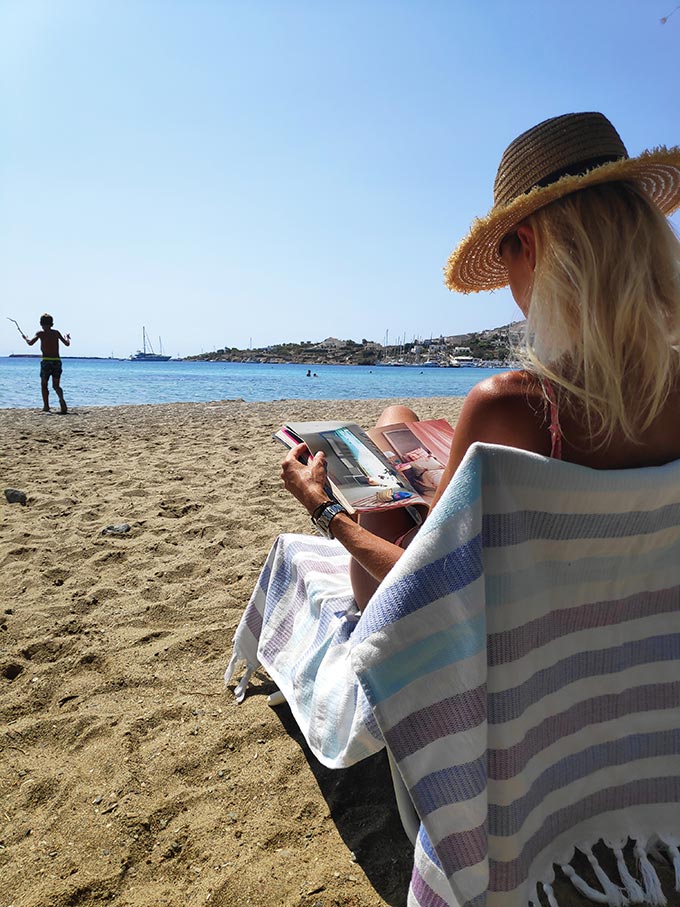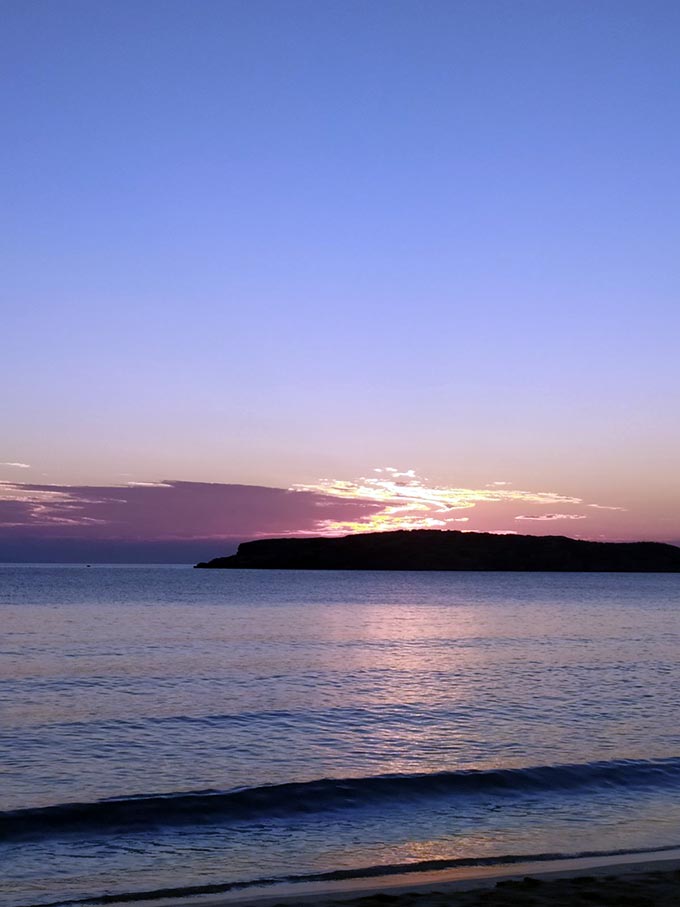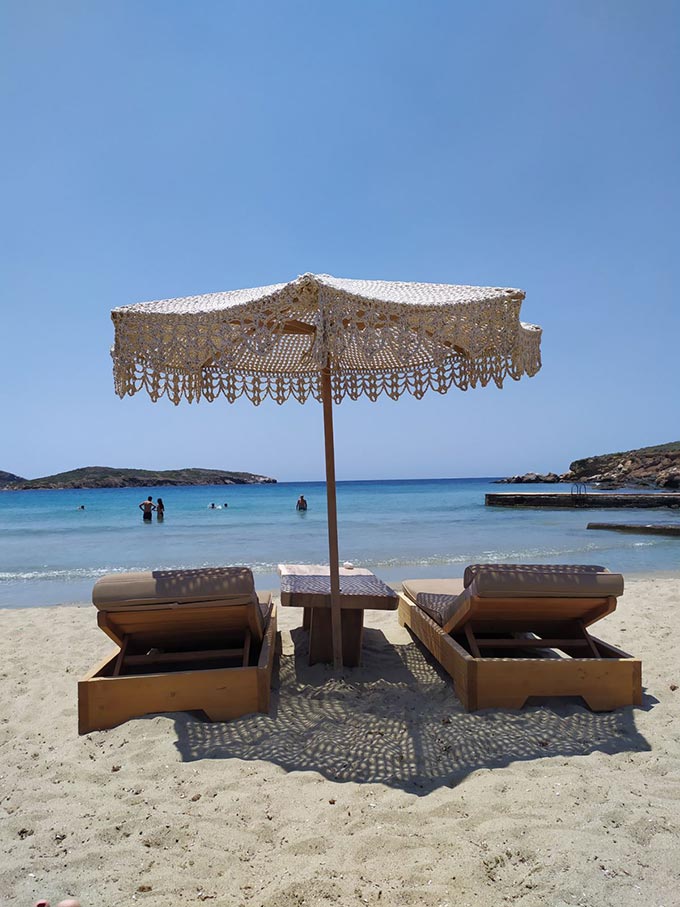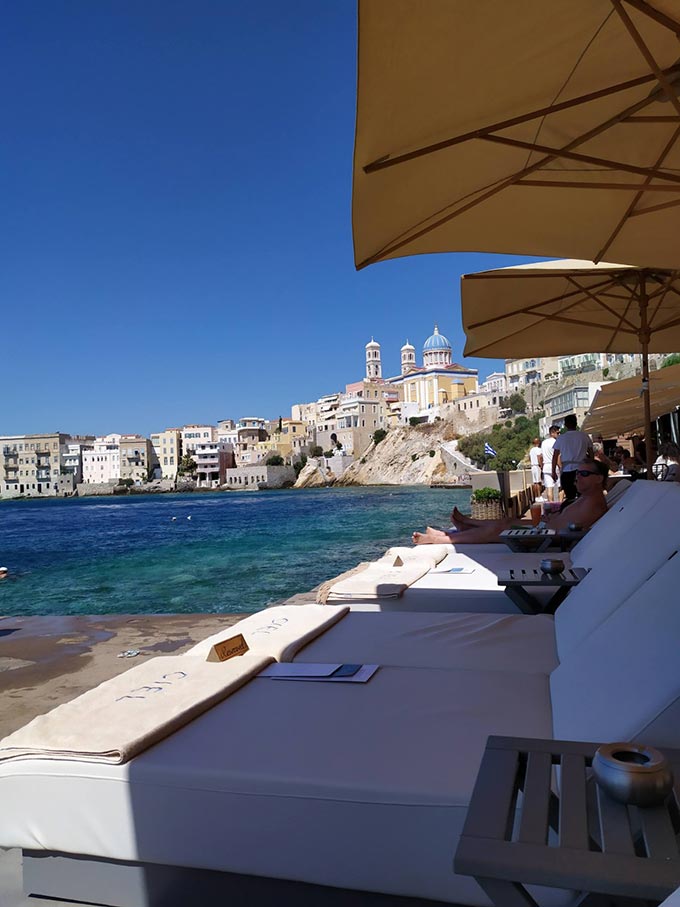 Most of these beaches have sunbeds lined up with sun umbrellas and most of them charge only your consumption from the respective beach bar (check their pricing policy before you sit). That's not a bad deal! There are also plenty of restaurants and tavernas with good food, mostly Mediterranean cuisine dishes (including many local specialties) most of which are reasonably priced.
Next, you can enjoy a great evening walk in town with lots of opportunities to watch street performers and live music bands. Of course, there's also the busy port (yet, not too busy to become a nuisance) where both grown ups and kids walk about while watching the boats dock, combined with an outing to the town's main square.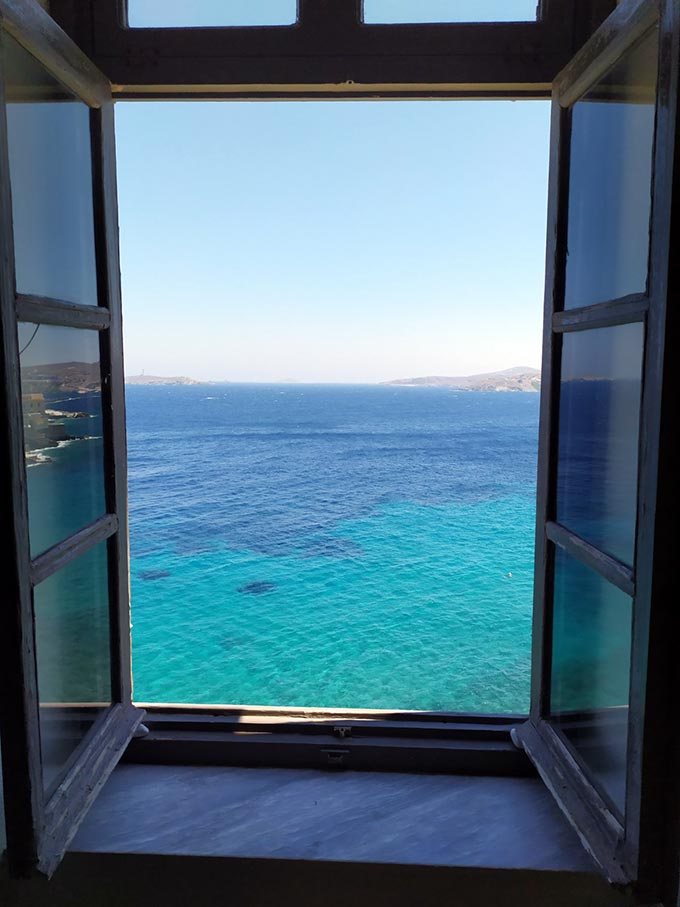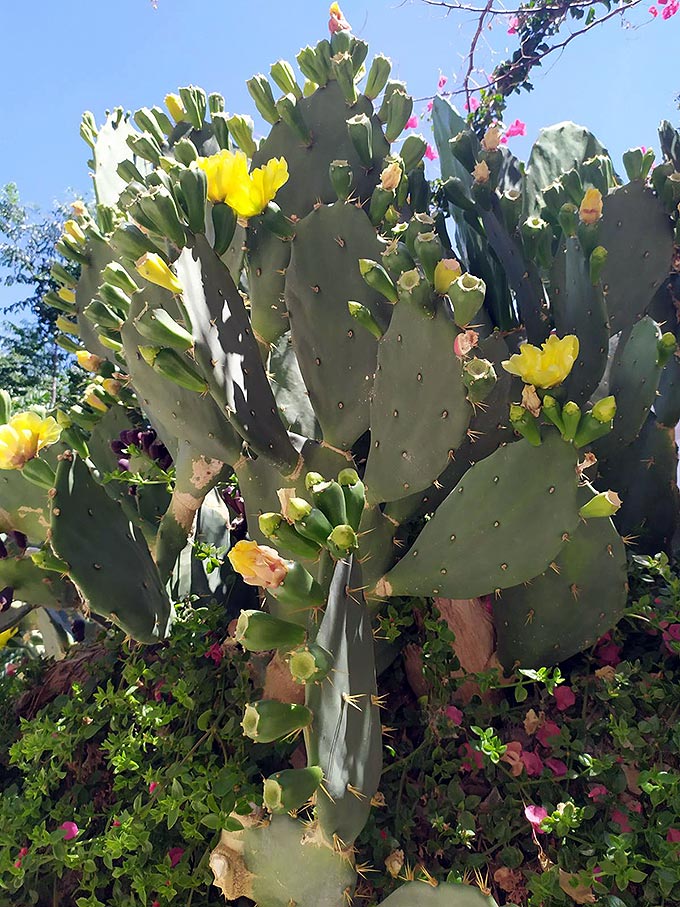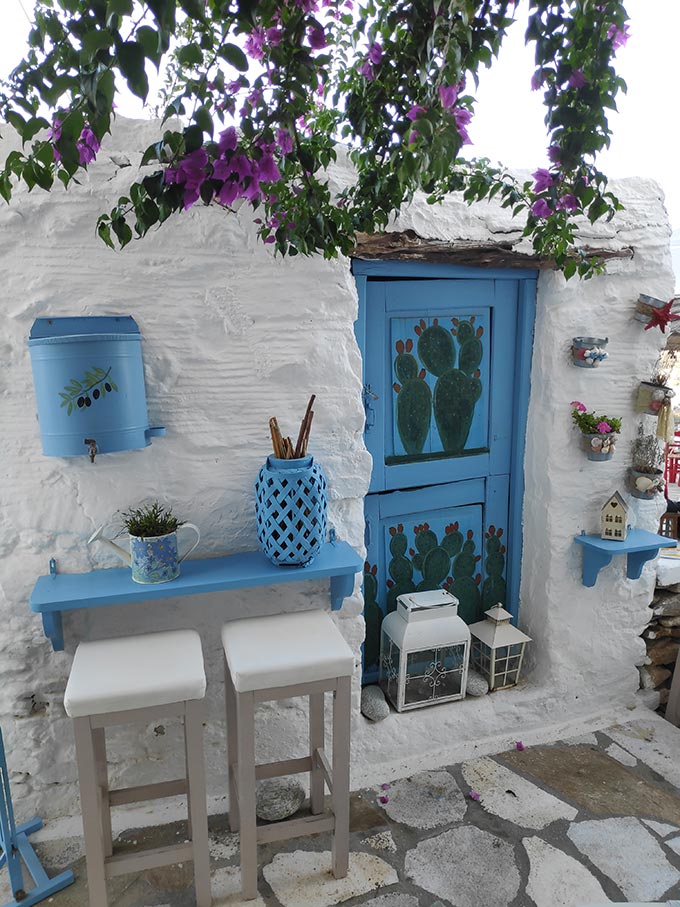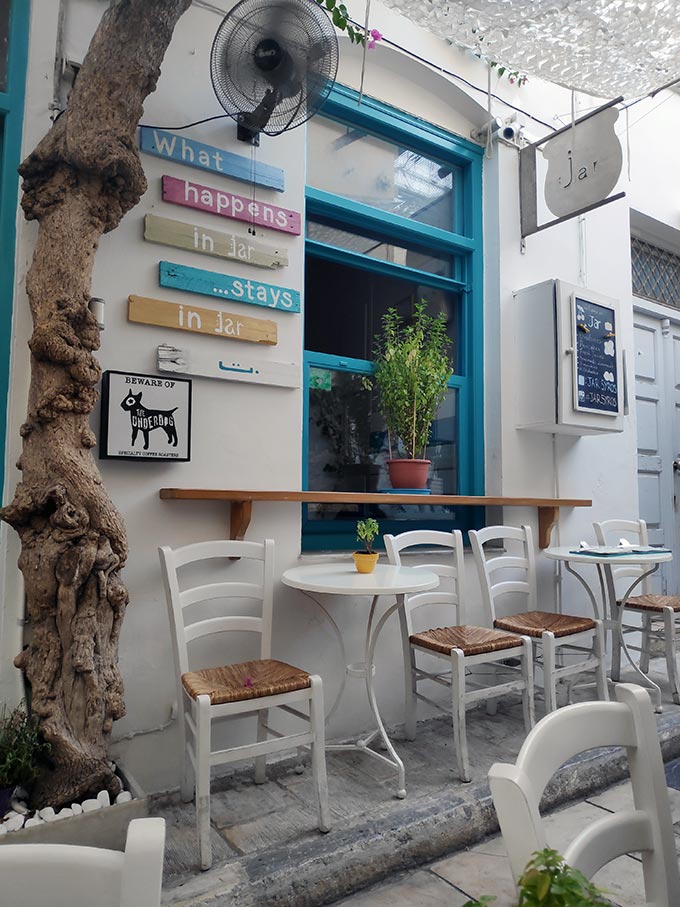 Now, the town's square has several cafes ideal for parents to unwind, while their children can run and play about freely all evening long! There's also an open air movie theater located by the square that can serve as an alternative option for a family outing.
If you're a keen walker, then I strongly recommend visiting some of the churches (both Greek Orthodox and Catholic) or the village of Anos Syros (extension of Hermoupolis).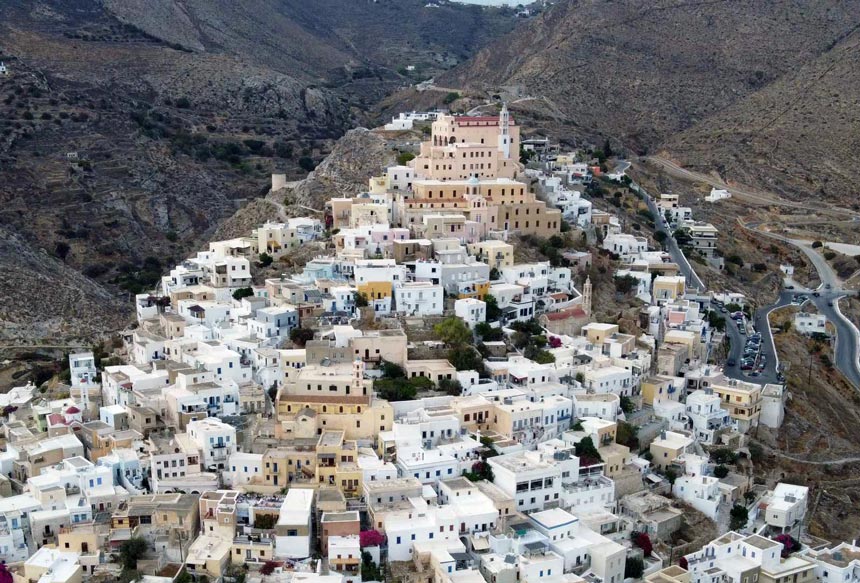 Lastly, there are a lot of people who enjoy fishing in this island (as a hobby mostly). My son and both of my nieces have picked up on it. And it's definitely a great way for them enjoy themselves. Just follow the locals.
---
Where to swim
The island of Syros has several popular sandy beaches and a few sandy coves to satisfy most. I will mention only the most important ones.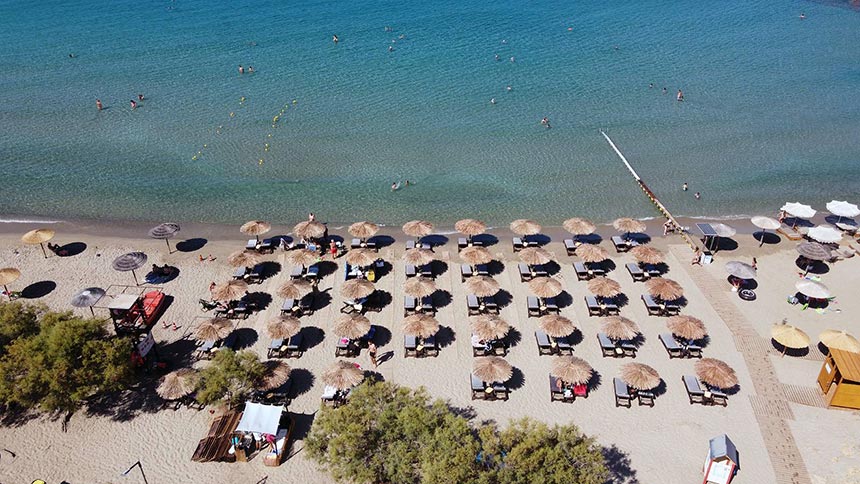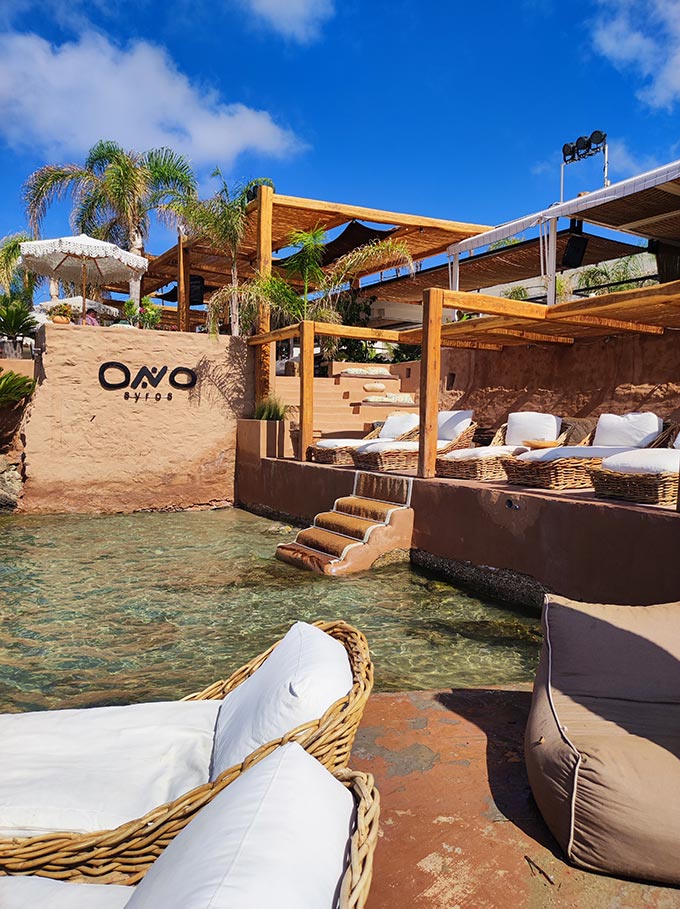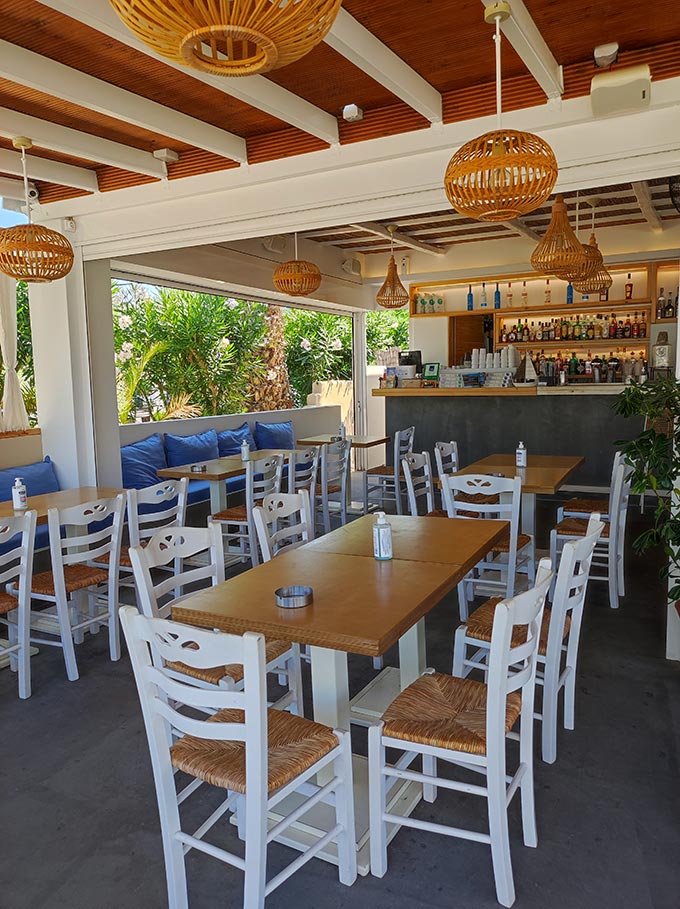 Agathopes is the most popular beach for tourists and locals alike. It has a restaurant – ONO concept – on the hill on the one end of the cove with a beach bar, a spa, a couple of shops and plenty of lounge seating attracting big crowds of people partying. The beat music keeps the party mood going for hours. They serve eclectic dishes including sushi; Elisabeth says that their sushi was really good, but I didn't try it myself. Moreover, they have wide sunbeds with stylish sun umbrellas on the beach, that don't protect much from the strong sun. However, I didn't like their reservation policy. 🙁 So, I opt for the beach bar restaurant De la Gracia instead, where they also serve a superb Croque Madame!
Komito is the beach at the next cove. The road stops there! It's a small, scenic beach, usually deserted and no housing around. This August though, they had about ten umbrellas and sunbeds set up with a beach bar (real basic – emphasis on basic) and a shed for water sports activities. This beach has a raw and rough appeal and I do recommend it, despite the fact that I got stunk by a bee – just like that out of the blue!
Kini is definitely my second favorite beach from the island of Syros. It has several beach bars along its shoreline, so there is plenty of choice. The main reason I like this beach are the breaking waves that can keep children happy for hours, while the sound of the ebb and flow unwind every last cell of mine. Furthermore, there are two restaurants with great food on this beach that I'm mentioning further below.
Galyssas is another popular beach with a lifeguard on watch, a couple of beach bars and sunbeds with umbrellas charged separately from consumption. It has the option of renting out a water paddle boat or a canoe. In case you do get hungry, there are a couple of tavernas serving good traditional Greek cuisine dishes within a two minute walking distance.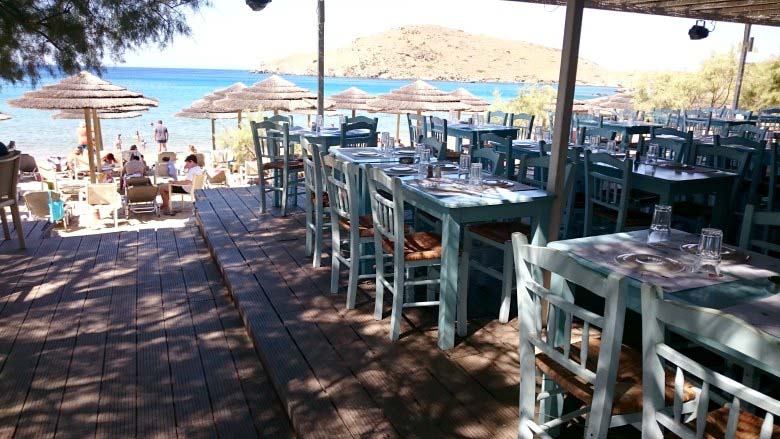 Delfini is our favorite beach. It has a beach bar with a restaurant and a big parking lot behind it. It is a scenic beach and attracts a lot of people during the "not windy" days. We loved watching the sunset whilst playing with the sand. Note that this beach is not "easily" accessible. Buses don't have access and taxis will not drive you there because of the bumpy dirt road you need to take after Kini. However, if you have a car rental, then it's definitely worth visiting.
Vari is yet another sandy but small beach with very shallow waters, so it's ideal for families with very young children. Furthermore, provisions have been made for shade and easy access to the water for people with disabilities. The lifeguard on duty there is always most helpful. At the one end of the cove, the beach becomes really wide. Therefore, they hold beach volleyball and beach racket tournaments there. Hence, it is gets pretty crowded during August.
---
Where to eat in the island of Syros
To Tsipouradiko tis Myrsinis, overlooking the port is ideal for local dishes and "meze" (appetizers) accompanied with "tsipouro" a strong distilled spirit (almost 45% alcohol). It's nothing fancy, but has some tasty dishes.
Amvix with a rustic interior, is probably the best restaurant for Italian cuisine, also by the port. Reservations are usually required for this one.
Limani is another option by the port (despite its really slow service), specializing in seafood dishes; I recommend the "kalkani" dish.
For a nice outing though, there are two more restaurants I recommend. Avant Garden is a stylish restaurant with an eclectic cuisine, a bar and a lovely outdoor seating in the privacy of a backyard garden, located across the Apollon Theater.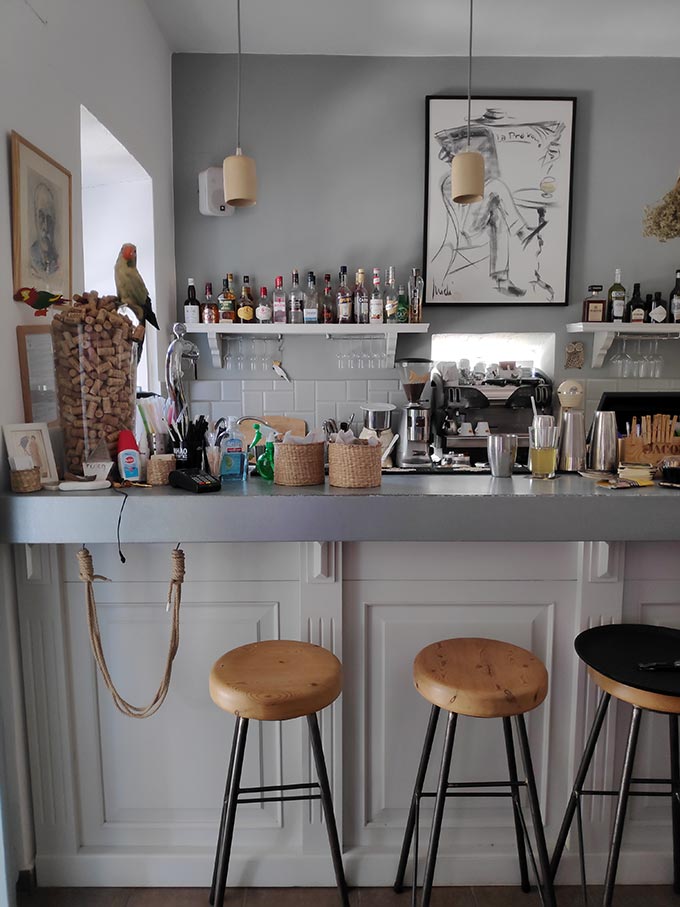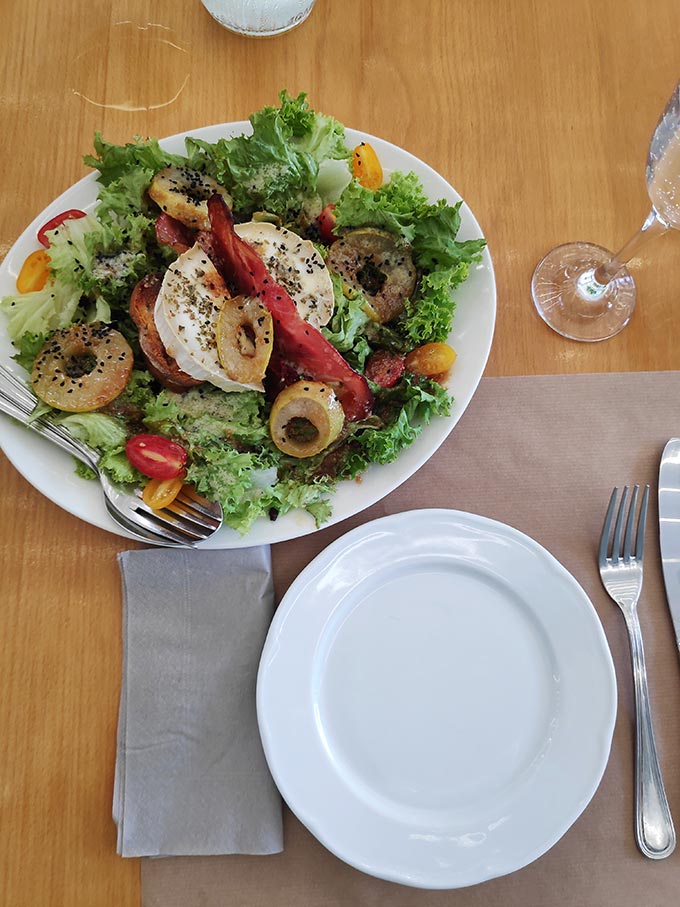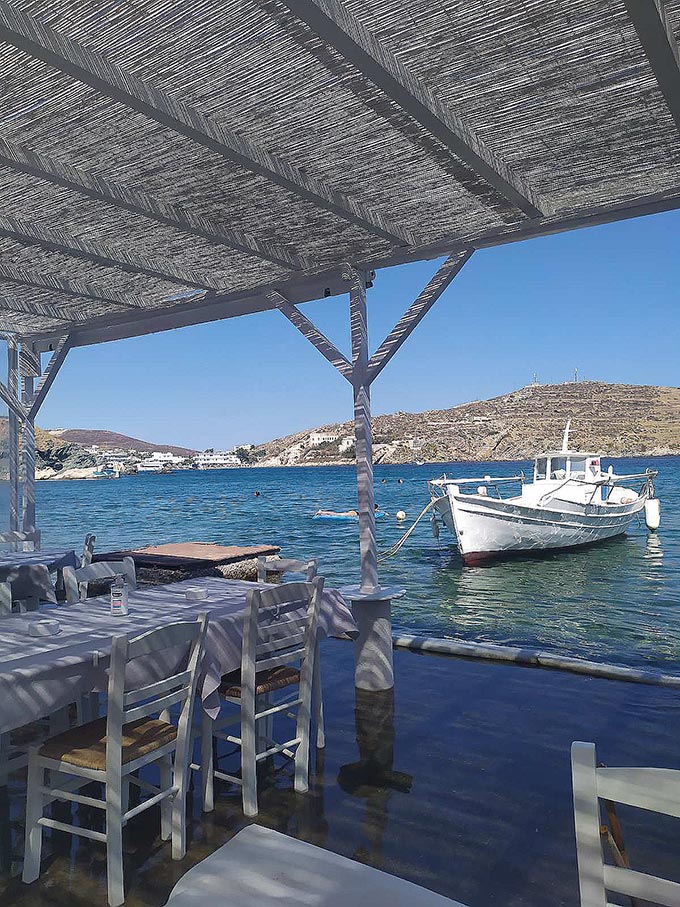 The other bar-restaurant is called Sta Vaporia, named after the district it's located in with a spectacular view of the Aegean Sea with Mykonos and Tinos on the horizon. It's a great place for cocktails and dinner.
If you really want to taste traditional Greek cuisine at affordable prices, then Kastri is the best kept secret in town. It is an enterprise run solely by women (even the delivery service is carried out by a woman) and was partially funded by the EU. These women cook 11 different dishes every day. By midday, most of the dishes are gone! It was one of our favorite choices for lunch.
Don't miss the culinary experience of Tranquille Perroquet for its Mediterranean cuisine with a French twist. It's my favorite. It's not in Hermoupolis, but on the road to Agathopes. They have a small little garden, that's Cycladic minimal with a French flair, quiet and I make it point to try a different dish every time I visit. A must!
Now, back at Hermoupolis, if you're looking for a easy going place to have a great breakfast in the morning or a cocktail at night in a friendly environment with a chill-out atmosphere, then the Jar is just right for you. We loved their freshly squeezed juices.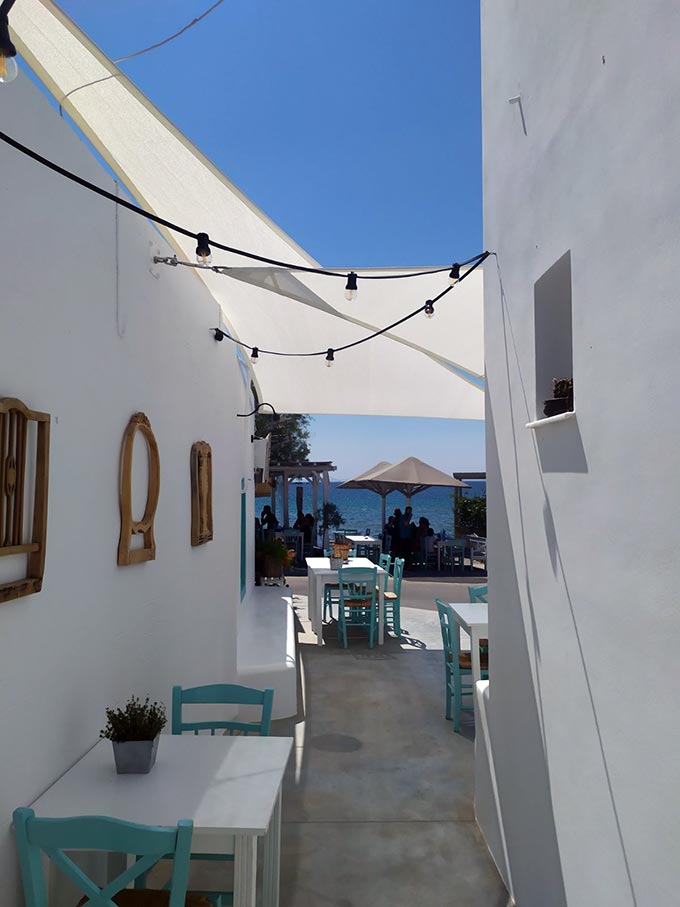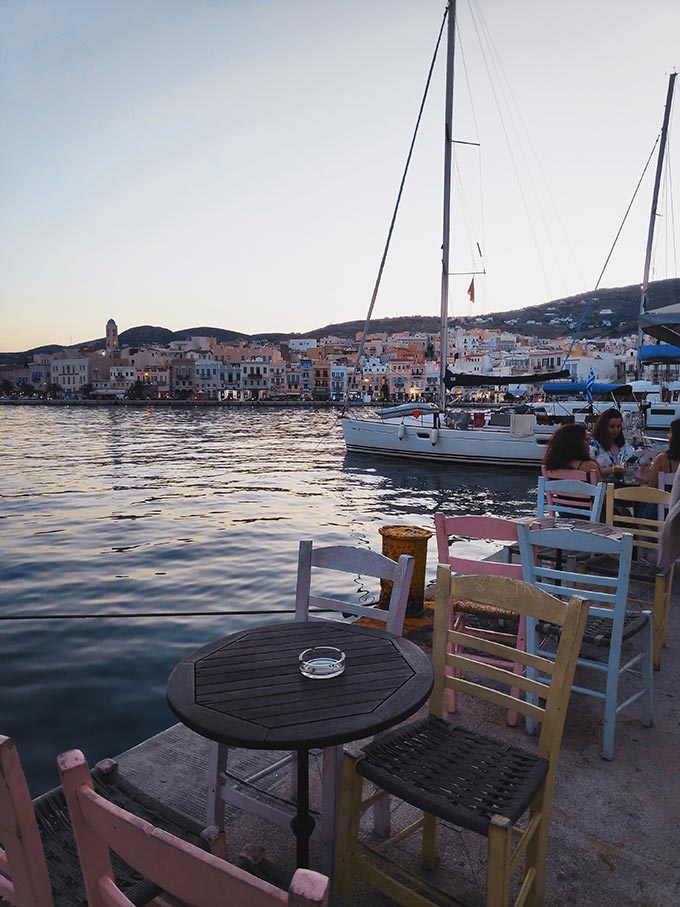 Naturally, if you have children, then chances are that you'll be having plenty of ice-cream too. I know we have lots of it. There was a time that Daidadi, run by an Italian, was the best gelato in Syros. Personally, I think that those days are long gone. So one of our alternative gelato shops is Django, in an alleyway of the pedestrian zone. Every day he prepares flavors based on seasonal fruits and exotic chocolates.
Lastly, at Kini: Apart from the main town there are several other alternative places you can dine. My favorite two are found at the sea village of Kini, which happens to be one of my favorite beaches too. Both restaurants are setup by the sea and serve local dishes with a twist. We really like the food at both of them. The first one is called Allou yialou – I know it's definitely not easy to pronounce 😉 but the next one is even harder! It's called Dyo tzitzikia sta armyrikia and I recommend their seafood risotto.
---
Shop in Syros
One of the things I enjoy doing is window shopping, especially when I find myself in a place with so many shops with arts, crafts, and jewelry. Can you blame me? Seriously, some of these shops had some beautiful stuff: shoes, clothing and home decor related -my kind of thing! I have pinpointed four shops as my favorite.
Sandalia Cyclades. You can't miss it for it's situated on one of the main roads. It's a small shop, all white, run by a lovely couple Andreas and Florence. This Greek – French romance gave birth to a project against the odds. It's all about handmade ancient Greek sandals and bags with a bohemian edge to them. They started out as a local business a few years back, but now they're exporting their products to France, Belgium, Switzerland, Lebanon and the Caribbean Islands. Elisabeth was one their first clients. We love their simplicity in their design, their elegance, their colors, and quality materials.
Velli. This arts and crafts shop is an all time favorite, on the main road (pedestrian zone in the evenings). It has two window displays that instantly grab your attention. It is filled with many great stuff including jewelry, pottery, art prints and home decor, all potential eclectic gifts. I just loved looking through its little treasures curated so meticulously by Daphne Velli.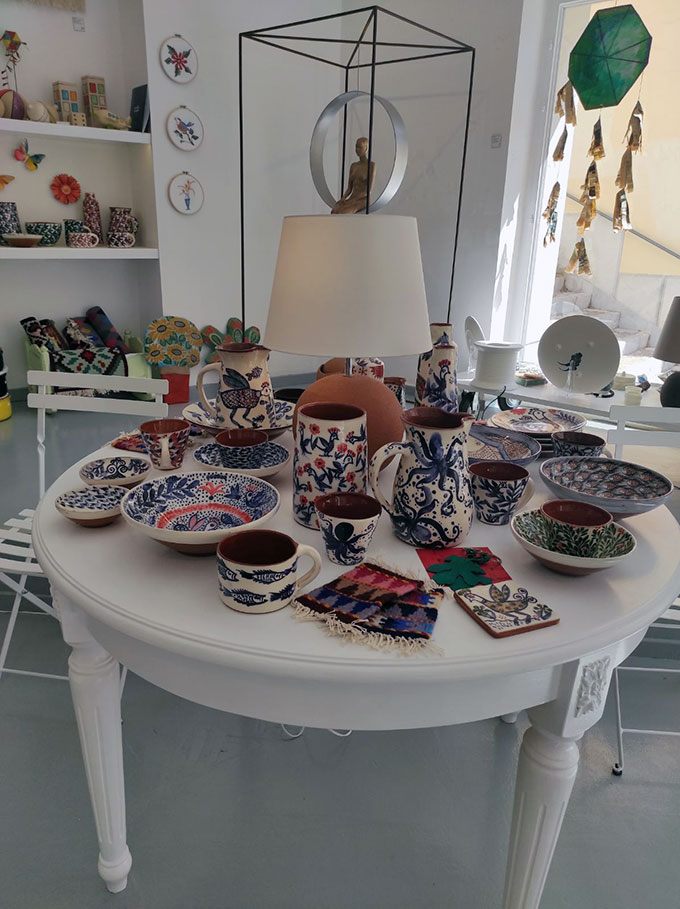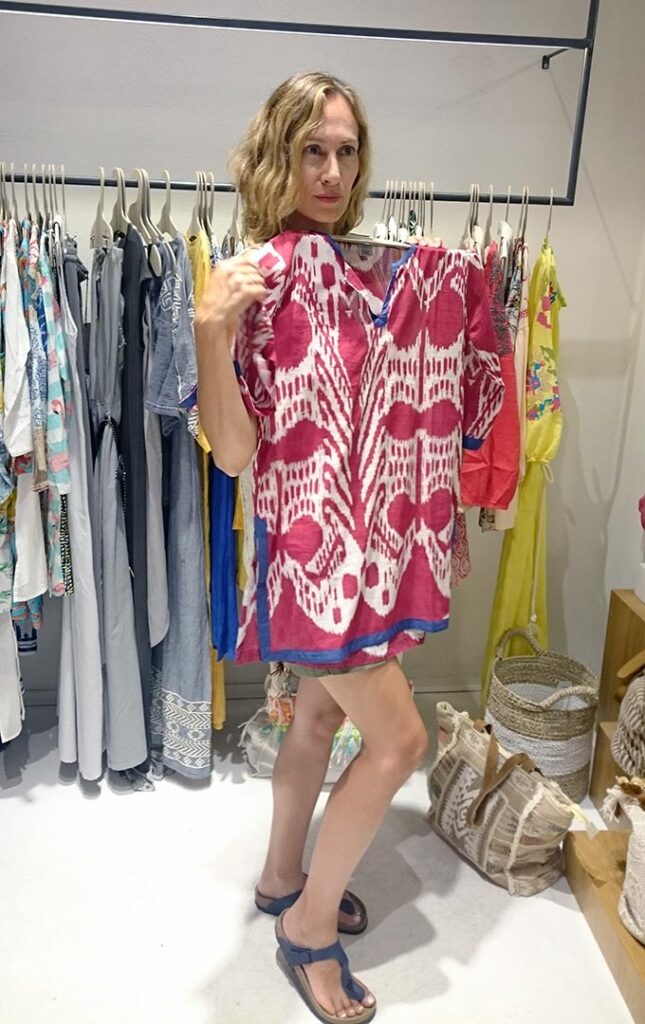 Chimera Art & Craft. My new favorite art shop and gallery with Greek handmade artifacts and crafts. You can find some amazing home decor pieces that will stop you in your tracks. You'll find it behind the main theater. (I realized while writing this post that sadly I don't have any pictures of the store – next time)!
Terra. This shop has a wonderful facade. It's the first thing that attracts you to it, with well lit window showcases. It is a shop with affordable designer jewelry, various accessories and Greek designer boho clothing.
---
Where to stay in the island of Syros
Since, I've always been a guest on this island I can't recommend any accommodation. I know for a fact though, that there many hotels suited for every budget. A very popular choice is a very decent hotel by the port Hermes – excellent location with lots of amenities. But there are also several small boutique hotels (if you're looking for something more exquisite). I actually did a feature about one of them: Apollon Xenon – Wanderlust Design:: A Luxury Hotel in Syros.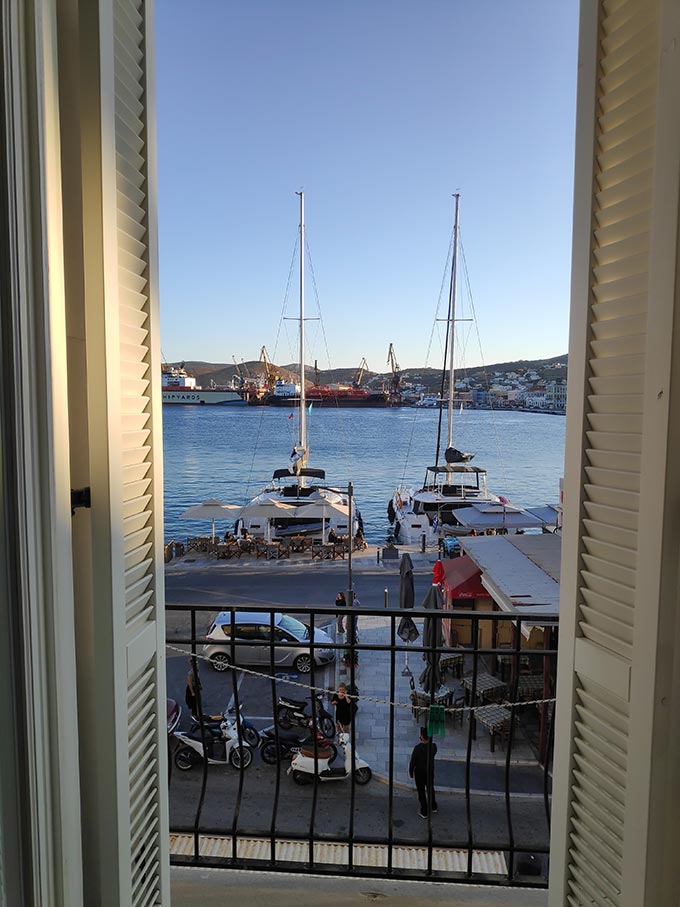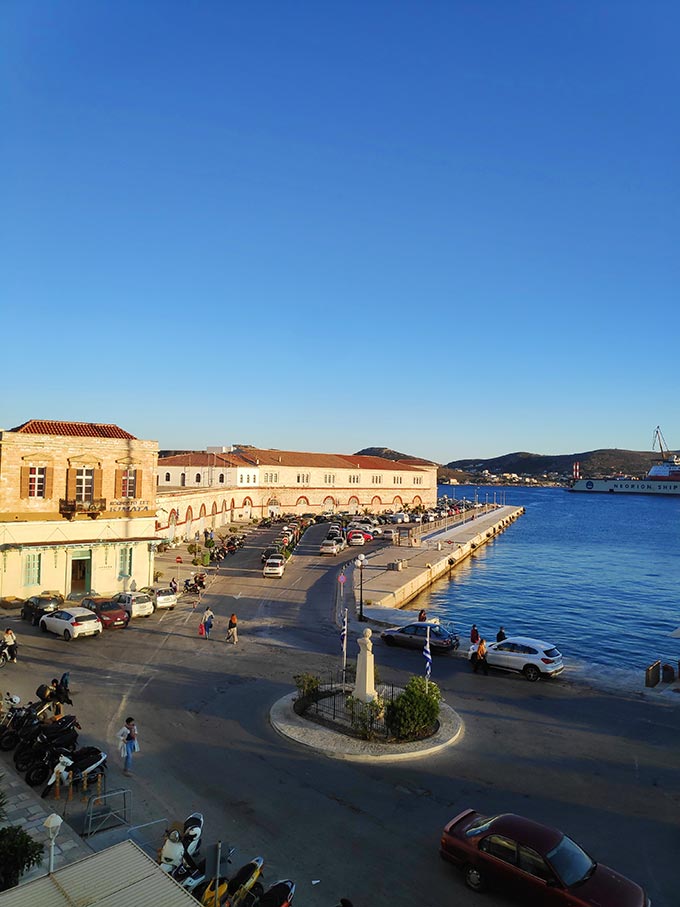 Moreover there are lots of affordable, clean boarding rooms in Hermoupolis and villages. You can always do a little research beforehand or worse comes to worse contact the Greek National Tourist Organization for more information (+30 22810 81206). So, there you have it!
---
A final word about the island of Syros
During my four week stay in the island of Syros, we went to Mykonos for a day (no sleeping over). It is only 45 minutes away and the cost for the ferry ticket was at €13,00 per adult. Our friends at Mykonos came to pick us up from the port, take us to the beach and back to Chora again for a stroll, so it turned out to be a great field trip (more details on that to come).
One thing that was clear, is that Mykonos has a totally different vibe to it. She has changed considerably over the years with all those house developments springing about everywhere. I can't say the same for Syros though that "orbits" at a pace of her own accord and I'm kind of glad about that.
The island of Syros, with its medieval charm is an all season island. It's quite different from the other Cycladic islands with its stunning architecture and unique beauty. It's busy yet, peaceful. It has a cosmopolitan aura to it yet, homey. It will win you over if you give her a fair chance. She has a lot to offer. Hence, it is easy to unwind and concentrate on making some of the most wonderful memories ever.
If there was one thing I could change, that would be the opening hours of the stores. Seriously, it puts me off knowing that most shops are not open all day long, something that you do expect in a touristy place. Other than that, I love this island just the way it is! Really!
Thank you for taking the time to read it all!
xo,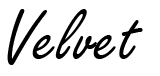 P.S. Last update: 09/12/21