The holidays are coming! Soon enough there will be Christmas trees and decor just about everywhere and along with it, an ongoing holiday buzz about brunches, dinner feasts and parties with family and friends. It is such an exciting season and with all that preparation that goes into it, surely our expectations for a jolly good time are sky high. Our homes look extra warm, cozy and inviting. Here in Greece, people get together as one really large, loud family (in-laws, aunts, uncles, nephews, cousins and family friends, you name it!) and feast till everyone is stuffed to the brim.
Naturally, a lot of effort is made year after year on making our dinner tables look their best in order to compliment this festive season adding a touch of glamour to suit the season. One of the things I enjoy is making beautiful tablescapes to show off my porcelain dinnerware; I think I picked up that ritual from my mother. She always claimed that 'porcelain dinnerware is the ultimate holiday maker.' Believe it or not, she's right for they can get you into the mood to dress up, wear your most beautiful smile and host the best parties.
Porcelain dinnerware
For years, I thought that white porcelain dinnerware was the best deal I could get. I never really liked much any of the ones with designs on them. They were either too formal, wrong color or simply too boring. I never fancied the overly decorated ones for my dining. However, I was wrong! I discovered, "accidentally" through Instagram (one of the perks of social media) this incredible find that I instantly knew I should share with you. Handpainted porcelain dinnerware by Porcelana pintada a mano! I was totally taken by it, and naturally very curious about bespoke tableware. They're undeniably gorgeous. Surely it takes a lot of talent. But aside the skill it takes a lot of commitment to turn a talent into a job. So I reached out to them to find out more. And I was in for a treat…
This is a family run business by two lovely ladies from Spain who kindly responded to my questions. Manines is the "artist" and her daughter, Marta, is the business woman. Together they make the perfect team. Take a short break and meet them!
The Interview
How long have you been painting?
I have being painting all my life for different reasons. I liked painting since I was a kid. I painted my first big picture for my husband when we just got married to decorate the office for we were young and didn't have enough money. I also painted for a non-profit organization for 30 years "nuevo futuro."
How did painting porcelain come about?
A friend asked me to go with her to porcelain painting lessons because she didn't want to go alone and 10 years have passed since and I continue going to the same class every week 🙂
What are your inspiration sources?
Inspiration… imagination comes from imagery, so I believe everything is a source of inspiration. The hand painted porcelain is in its sense unique, because each piece is different even if they have the same design, they can't be the same if its handmade.
Is your dinnerware porcelain or bone china? Which is better?
I use porcelain for it has a better quality. It is also lighter, harder and more sophisticated.
How long does it take to paint each plate?
1, 2, 3 days… it is a question that I can never answer because it depends on the design, on whether I have a "good" hand that day for painting and inspiration… It's difficult to finish one plate in one day. We have a couple of ovens [kilns] so you need to wait to paint again.
Do you make your own porcelain?
I don't make my own porcelain (I hope to do it one day if I have time). I get white porcelain and I paint it.
Do you collaborate with particular porcelain houses?
I work with different providers from all over the world but mostly with several factories from Limoges France.
What is the procedure you follow to produce your final product?
After I paint it, I place it in an oven [kiln] at 800 degrees so the paint melts and goes inside the porcelain [known as bonding]. So when it gets cold the painting is "inside the porcelain" as if it has being there from the beginning. The drawing never fades like with cold porcelain painting.
Are these tableware dish-washer safe?
They are microwave and dish-washer resistant.
Should a client break a plate, how easy is it to replace it after a few years?
Cross fingers it hasn't happened to us. We always recommend to order one more plate just in case. But in this situation it won't be a problem to replace a plate.
What was the most challenging "request" you had from a client?
To make an antique sail of the family as the color was difficult to get right.
Last but not least, how costly is to have bespoke tableware?
It all depends on the design and ultimately on how many hours it takes to make. Based on the budget though, we can work out the best deal.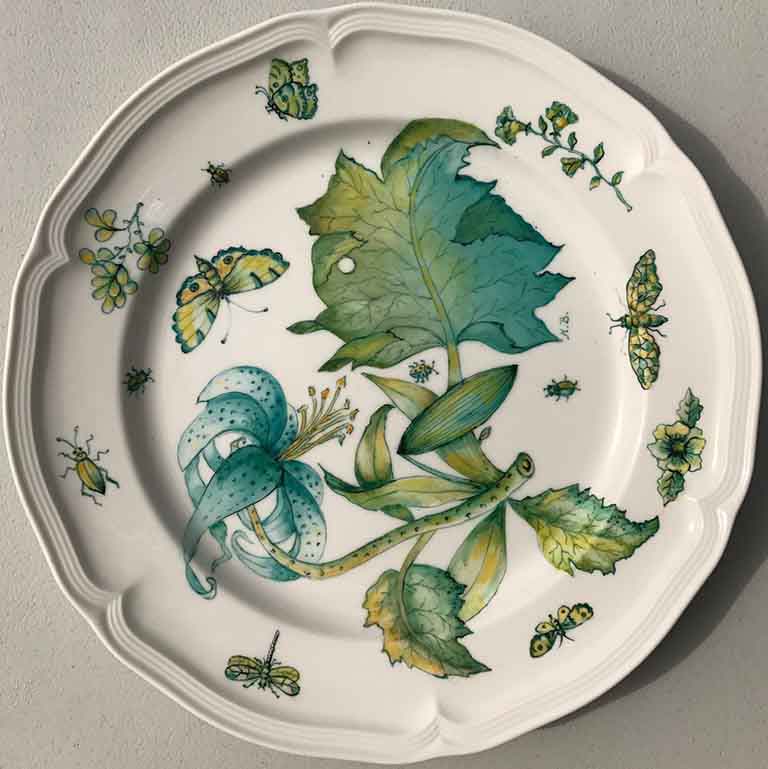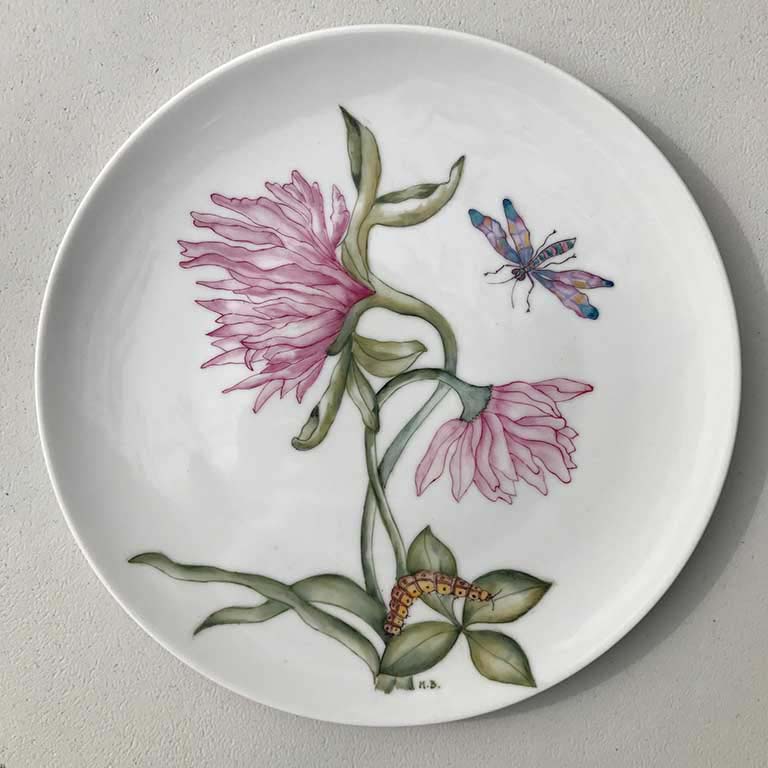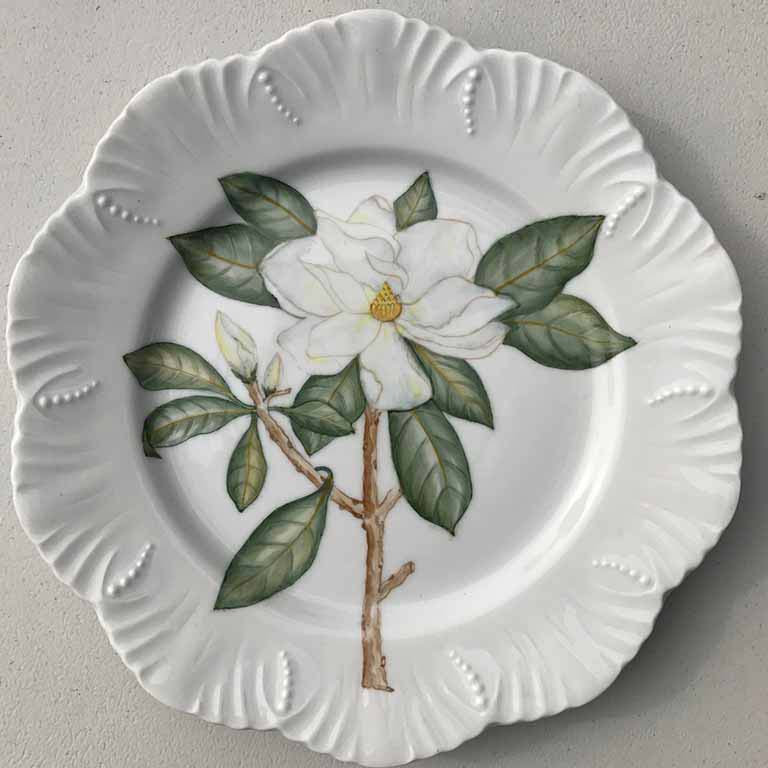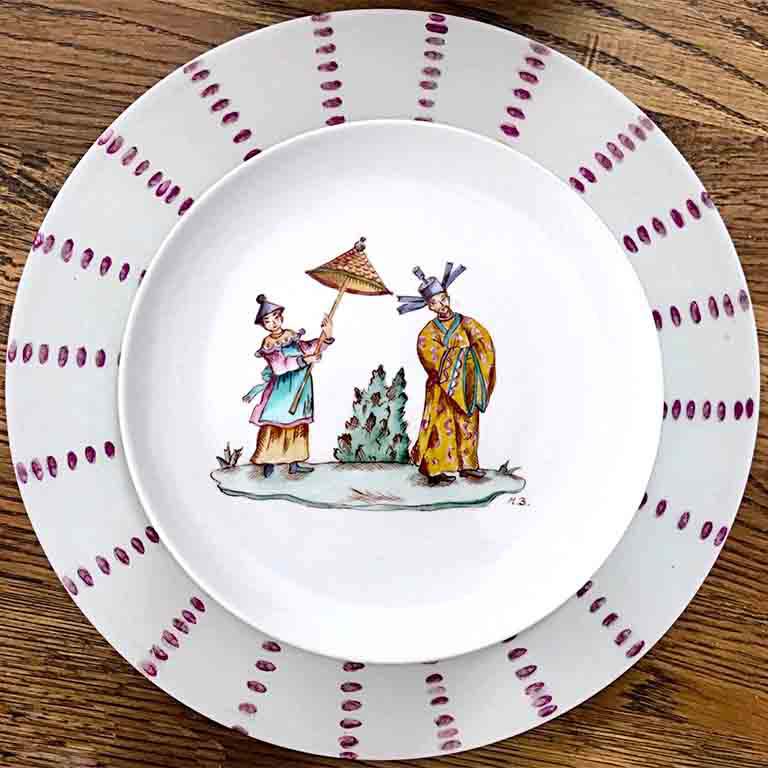 Impressions on hand painted porcelain
What makes this particular business special? I think that these two ladies have revived a very old fine art that has been overlooked for a long time. Let's not forget that porcelain or china painting has been around for a very long time. It first appeared in China and eventually made its way to Europe sometime in the 18th century. I don't know about you, but most people I know are simply not into it (not as much as my mother or grandmother used to be anyway).
Yet, as I grow older I feel a sense of nostalgia for the days my mom used her finest porcelain for our Christmas and Easter feasts. (Have a look at this dreamy Christmas table setting for instance). I feel it's about time to do the same for my family but to be frank, the commercial designs out there don't cut it for me. Call me a hopeless romantic, but I don't "feel the love" in mass productions.
But, these differ considerably. For starters, I think that their overglaze painting technique has a great deal to do with it, for it gives them a better freedom in achieving their desired color combinations and design as opposed to underglaze.
In every case, their approach of creative and "highly" unusual design patterns, themes and color combinations makes them stand out. That's what got my attention in the first place – diversity, uniqueness and a fresh perspective (with a hint of imperfection) filled with endless possibilities for customizing our very own crockery. I instantly felt a connection to them and felt all the "love" that goes into their making.
What do you think of them? I can't wait to hear your impressions! Do you own porcelain tableware? Wouldn't they make a lovely gift for our family rituals or someone special?
XO, XO