If any of you have ever been on a sailing trip with a 38ft rental sailboat, then you know how tiny the bathroom really is. For those of you who haven't had the pleasure yet, then I assure you of the performance of sailing boat's bathroom, despite its smallness. That of course, goes to prove that the layout is king (not the square area) and creativity the most beautiful queen. And this is one mighty pair you want on board, especially when it comes to a bathroom! So let's dive into the top 6 bathroom design mistakes that must be avoided; shall we?
The Determining Factors For a Good Bathroom Design
Does the size of a bathroom really matter? Most times, no it does not! Ultimately, there are two factors that determine the performance of any bathroom: its layout and the proportions of its elements – the analogies. If you get those right, then nothing will feel out of place, or a misfit and it will keep you content for a long time. Furthermore, keeping a balanced sense of proportions adds on to the overall aesthetic value.
Now the best way to go about a bathroom design is getting everything on a plan drawing. That's usually when a designer comes in and determines the ideal positioning of the sanitary-ware, while making the best use of the available space (big or small) to create a good flow.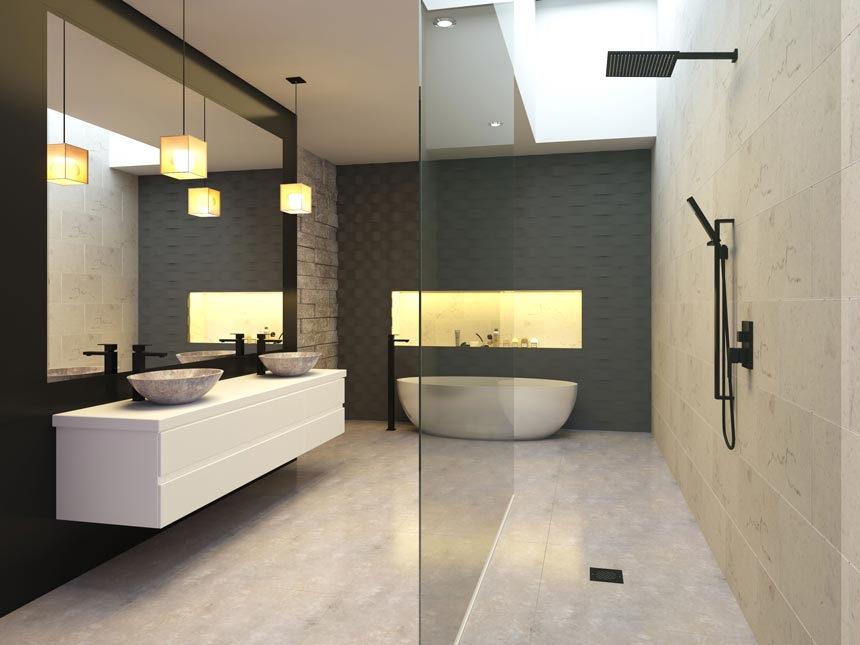 However, so many people for whatever reason opt for a DIY approach. Thus, I think it's worth looking into some common mistakes that I usually come across in order to raise your awareness about them and perhaps help some of you avoid making them altogether.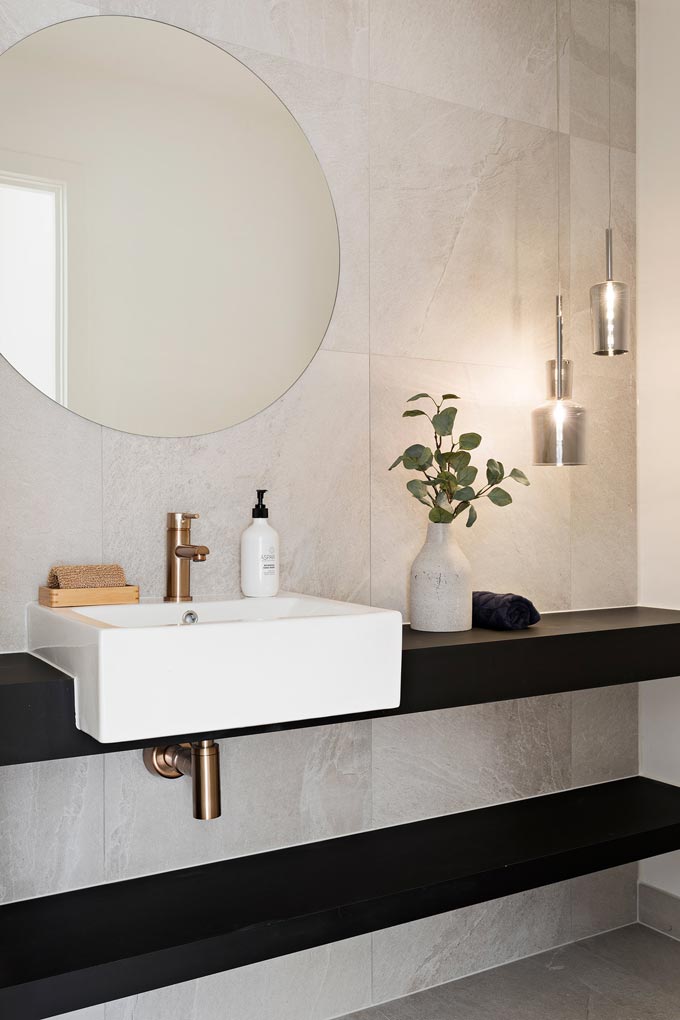 Let's look into some of the most common design mistakes:
Most Common Bathroom Design Mistakes
---
Mistake #1: Mirror size
There are plenty of things to be said about a bathroom mirror. The main thing asset (other than its apparent function) is that it bounces light and therefore, it can make a bathroom look bigger. Moreover, the frame (or lack of it in some cases) along with its shape and size can really make a statement in any bathroom.
Having said that though, I have noticed many Pinterest images lately with noticeably small mirrors or no mirror at all and some artwork in its place instead. These images struck me as odd, because they made a statement in terms of size, but in all honesty I don't really think that a small mirror added on any real aesthetic value. Instead, they just got me thinking how much better these bathrooms would look if they had a good size mirror.
Let's face it: one of the best and easiest things anyone can do in a bathroom makeover is to provide a good size mirror. It works like a charm every time, because it adds the illusion of no real boundaries. That is awesome because especially in a confined space you need to eliminate anything that looks or makes one feel miserable and that includes boundaries. So chances are that having a small mirror with a super bold frame won't work as well, because it creates a well defined boundary, despite the depth.
Therefore, a small mirror tends to create, subconsciously, a more "negative" connotation. Think of a large window as opposed to a tiny one. Which one works better for you? Chances are that you will opt for the large one. So why should your bathroom mirror be any different?!
Example for a Good Mirror Size
So, a good rule of thumb to follow is to go for a mirror size that is the same size as your vanity furniture or slighter smaller. For instance: if your bathroom counter-top with the washbasin adds up to 1.20 m then your mirror ideally should lie anywhere from 1 m to 1.20 m.
If you do decide to go for a bit smaller mirror (using the same example above) then I recommend that your mirror is bigger than your washbasin. Hence, if your washbasin is i.e. 50 cm then your mirror should be 60 cm to 70 cm for a vanity furniture of up to 1.2 m. A 90 cm mirror with a washbasin of 50 cm on a 1.20 m long vanity cabinet may throw off your proportions, making the washbasin look smaller.
Now, in terms of height, I usually propose a mirror that is around 80 cm. But 70 cm works equally well. One of the factors to consider is your ceiling height with respect to your square area. Again, proportions are of the greatest significance. In any case, it also helps to leave a minimum clearance of 15 cm height between the top of your countertop to the bottom end of the mirror in order to avoid damaging your mirror from the dampness.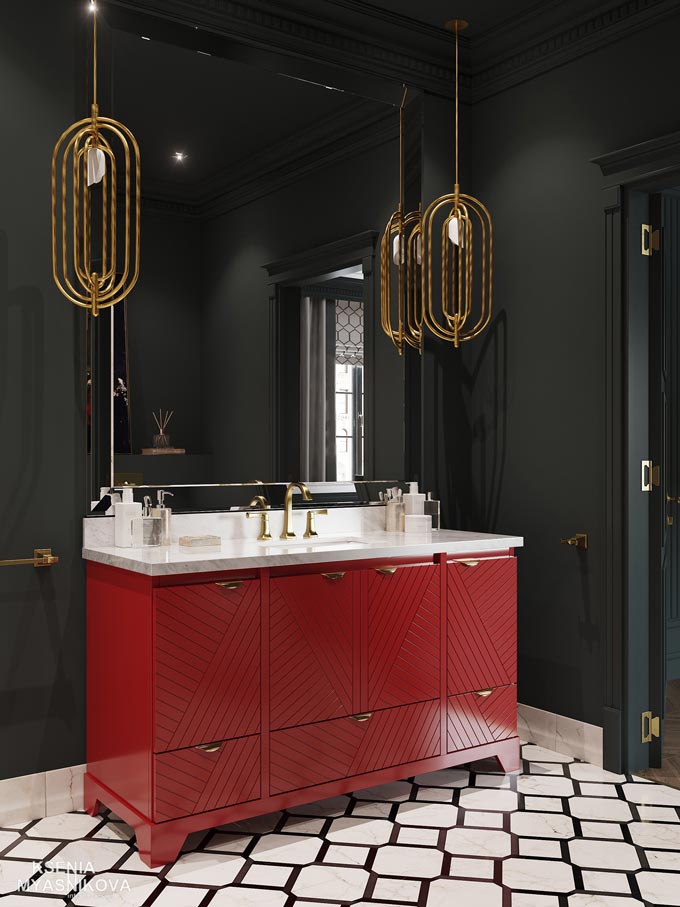 Mistake #2: Lighting
They say "Less is More!" But that's definitely not true when it comes to bathroom lighting. As a matter of fact, I believe a whole lot of bathrooms would look amazing, if only they had more lighting. Again, let's admit it: having shady corners surely does not add any charm. As a matter of fact, when it comes to a bathroom, shady corners may connote less cleanliness. Thus, more is more and therefore, you really should consider to have various light sources to layer in more light.
I find that many people rely on natural light during the daytime hours. The trouble with this is that it's hardly ever of the same intensity at any given time or day. Moreover, most bathrooms have one natural light source coming from one of the bathroom's sides. That means that there is never an even light distribution. Hence, you should provide adequate lighting in your bathroom even if it's bright and sunny outdoors. During the design process, treat the bathroom as if there are no windows, after all at night you don't have any natural light.
Thus, a wall light over the mirror ensures good lighting for grooming purposes. Again, as a rule of thumb 1.80 m from the ground is a good height to install a wall light. Another possibility is having two sconces on either side of the mirror. Moreover, it's good practice to place a wall sconce near the loo, a couple of downlights in the various bathroom zones to eliminate shadows and perhaps LED strips wherever possible if needed.
To give you a rough idea for a bathroom size 2×2 m, you should have a main source with anything from 900 lm to 1200 lm. Remember that watts measures energy use and lumens brightness. And the next thing that you must decide upon is the light's color temperature. For a warmer effect opt for 2700K to 3000K. Personally, I hardly ever use light bulbs with 4000K because of its cool effect, but it doesn't hurt to throw one in the mix when possible.
TIP: 3000K LED bulbs are not always the easiest to come buy in some markets. Therefore, if you have a light with opaline glass over it, then you could use a 3500K LED bulb and get that softer light output.
So what happens if you are stuck in a situation where your lighting can not be amended altogether? One option to consider is to add a LED strip around the bathroom mirror, provided that you have access to the power over your mirror. There are plenty of ready made bathroom mirrors like that in the market, but it is also possible to make one yourself.
---
(Building a bathroom mirror could be your next DIY project. And in case you decide to have a go at it then, in order to hide the LED strip, do make sure that your bathroom mirror's perimeter is about 5cm larger in every direction than an assumed square base of your mirror where the LED strip will be glued on). Also it's best not to gun glue directly your LED strip onto the baseboard. Instead use an aluminum profile to glue your LED strip in, designated for this task based on the lighting angle of your choosing.
---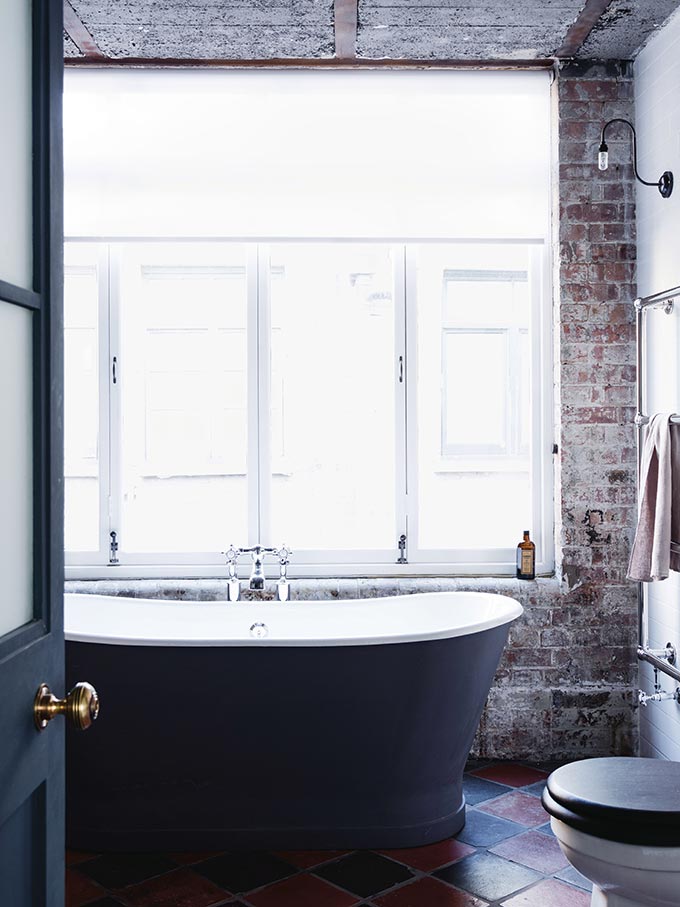 Mistake #3: Tub vs Shower
Are you a tub or a shower person? There are some amazing looking tubs out there. That's for sure…but if you shower every day then you're not really a tub person, are you?! As such, do you really need the tub? I think it is best when your bathroom reflects your lifestyle. Things become a lot less complicated.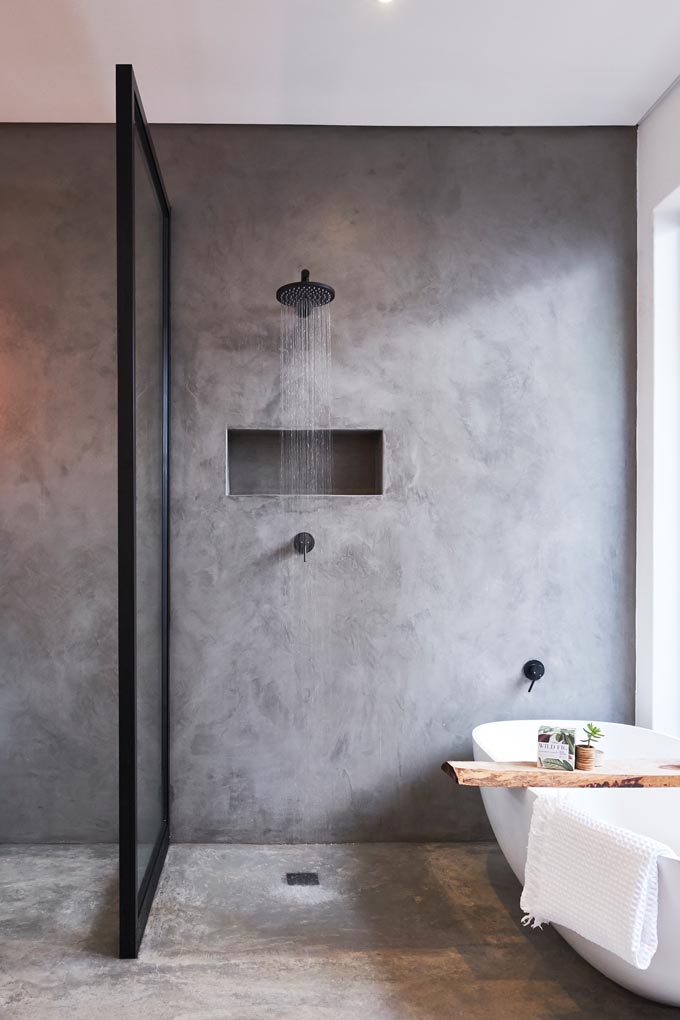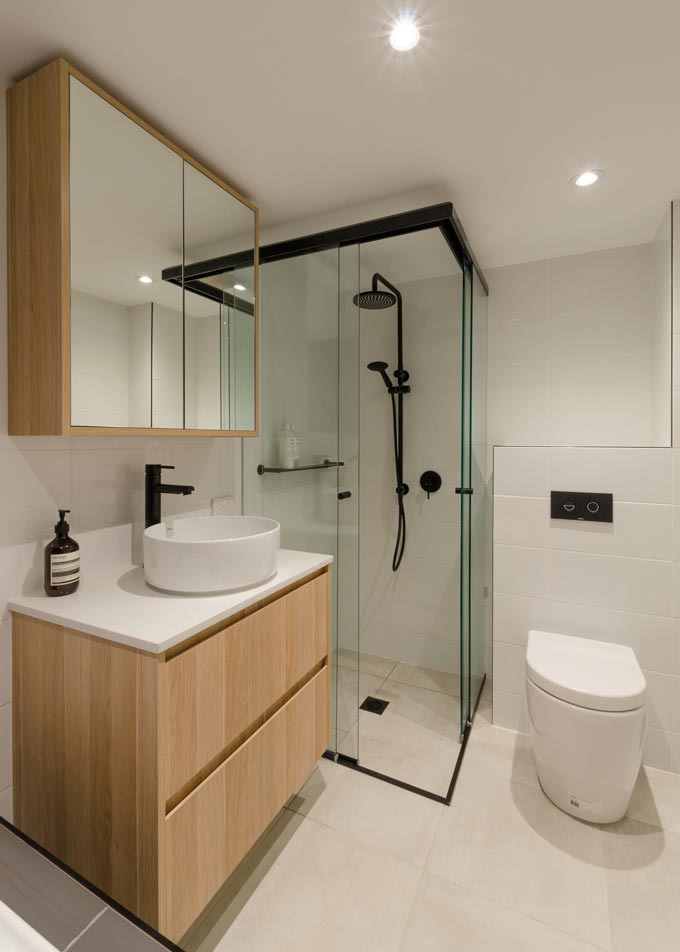 If you were to remove your tub and create a built-in shower in its place instead, then you'll be surprised how much more spacious your bathroom would feel! The inner curvy form of a tub takes up quite a bit and that means that the actual available square footage is a lot less compared to that of a built-in shower with the same external dimensions.
And what about that spa feel of a tub that make you feel zen? (Speaking of that then you may want to read about 6 easy ways to create a zen bathroom). Well, it is possible to have a spa looking, chic bathroom with a shower instead of a tub. One way is by providing some sort of seating within your shower and/or introducing materials with an organic vibe to them (i.e. pebble looking tiles).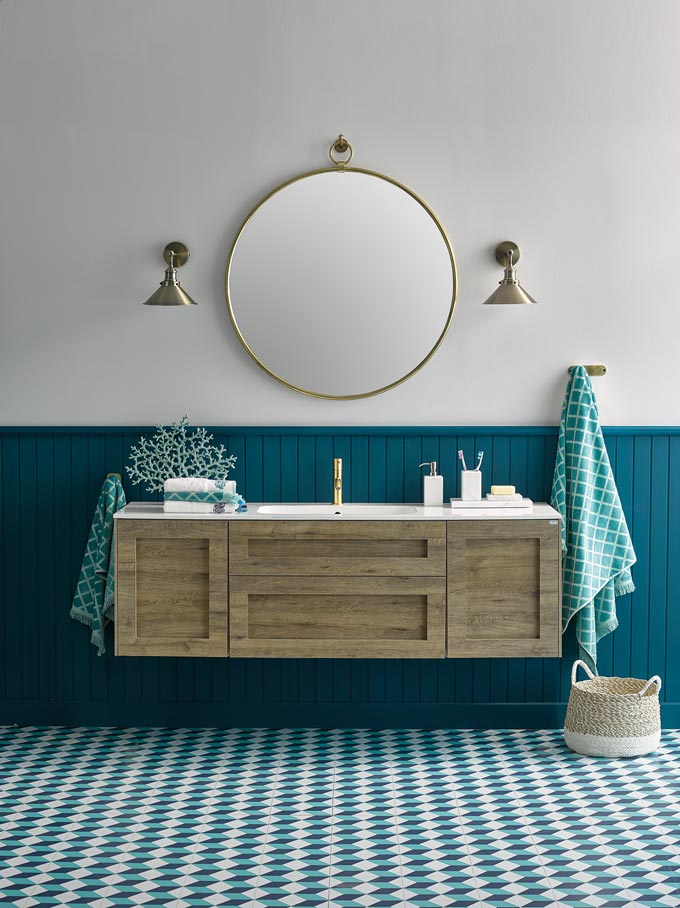 Mistake #4: Discontinuities
Oh, I could go on and on about this: flow and discontinuities… But for the sake of keeping this post brief and to the point, allow me to say that one of the ultimate design goals is to have a continuous flow. I think everyone is on board with me on this one. But, when there is a change in the materials, patterns or colors i.e. at a floor then automatically there is a discontinuity that disrupts that design flow.
Now, most times a discontinuity is a great thing and very much intended and therefore wanted, because it signifies and accentuates something i.e. a change of space from A to B. However, there are instances where a discontinuity doesn't work quite too well. And that's especially true in a small bathroom, where a discontinuity acts like a defining border – a visual barrier.
As I mentioned earlier, borders in small spaces and bathrooms in particular don't necessarily work all that well. They tend to make the space look even smaller because of those borders. Going back to the very first example of a sailing boat bathroom, the lesson to be learned is that it's OK to use the same material for both walls and floor, something typically done in those bathrooms. Keeping a sense of cohesiveness really works.
In other words, if you have a tile on the floor that you like, then why not use it on the walls as well so that you can create a seamless backdrop. Treat that tile as a means to create a canvas and then layer in your lights and/or other design statements you might have in store. This approach will never fail you.
In line with what I just proposed, consider using your bathroom floor tile in your shower as well. There's no need to install something different in the shower and create a discontinuity if your bathroom is already too small.
Believe it or not, even a shower curtain (one of the most necessary staples for keeping a bathroom from turning into a wet room) also acts like a visual barrier and can make a bathroom appear smaller. Of course, there's no sense in getting rid of it unless you replace it, if possible, with glass doors (i.e. a folding or sliding door works great even in small bathrooms).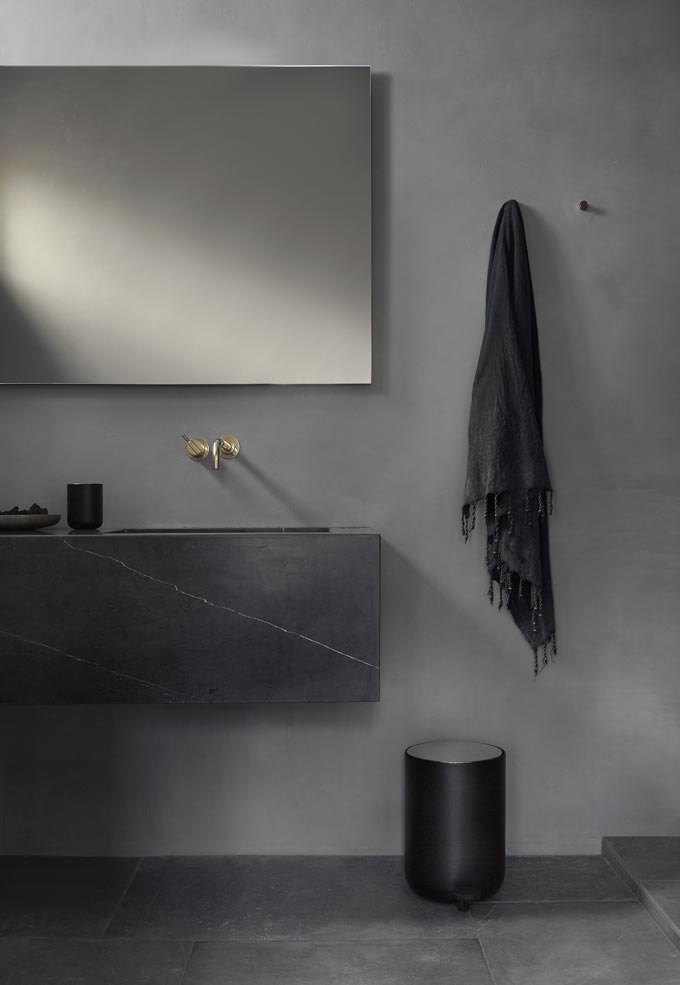 Mistake #5: Planning and Resourcing
As I mentioned at the beginning of the post, the layout is of outmost importance. I won't go in too much detail about the layout here, because I could go on forever. But I would like to mention one typical mistake I see quite often: a bathroom door swinging open to a full view of the loo. There are times that this is unavoidable but if possible, then it is best to place the loo behind an open bathroom door or at least in way that you view it from sideways.
Having said that, once the layout has been configured on a plan drawing, then it is time for some resourcing. I think it's quite crucial to determine ahead of time all the materials and sanitary ware that are to be used. It is very common to find a statement piece that can throw everything else. Therefore, plan ahead before any construction work begins.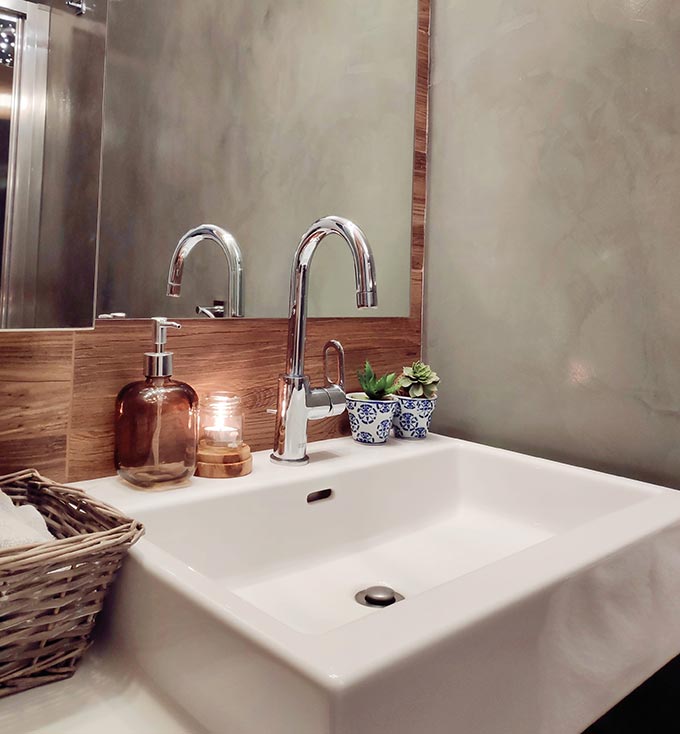 As a matter of fact, let me tell you about my bathroom. I had designed several drawings with different layouts and so I had a pretty good idea what would be a good fit. Even so, when we went to look around for a washbasin and fell in love with one particular one from Laufen (that was 1 m long), I went back to the drawing board to make sure that it would work for us. You see when a bathroom is really small, it is of real importance to create a seamless flow, while keeping everything balanced.
Mistake #6: Lack of Depth
Last but not least, the one thing that really sets apart an ordinary, lifeless bathroom from a good looking one is depth; actually let me correct that – the lack of depth. Creating a sense of depth has a huge impact in any space and that is especially true for a bathroom too. That's where creativity steps in and proves to be mightier than the actual square area.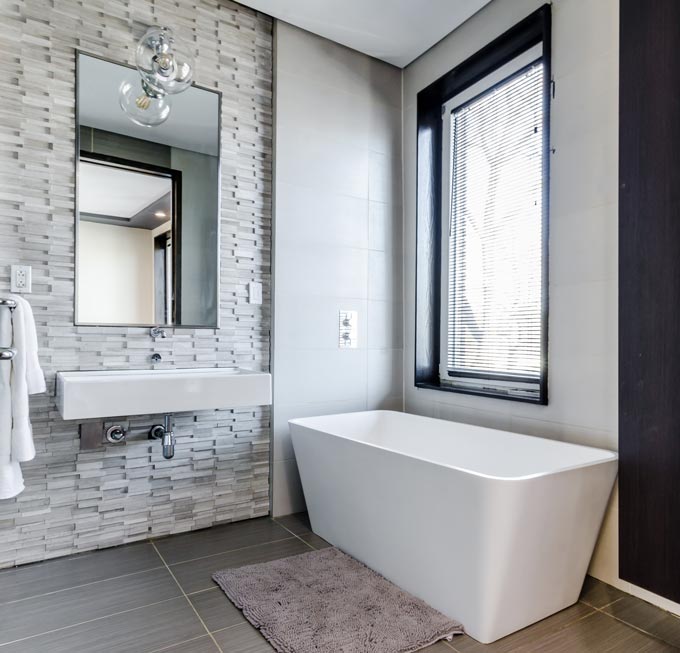 Choosing carefully a tile that has a color depth or a bit of texture or using i.e. a waterproof wallpaper can really set a solid foundation onto which you can later build some more depth with mirror(s), lights, alcoves, fittings etc. As a little note, I would like to mention that introducing a plant can also add some depth, as long as there is no clutter in the bathroom to distract one's gaze. So, yes any clutter will work against your will to create depth and therefore, it must be addressed once and for all by finding a home for everything you really need.
A Last Word of Advice
When I set out to write a post about bathrooms last week, my initial intent was to mention some simple ways to make a bathroom look better. However, I found myself thinking of all the things I have seen time after time gone wrong and being called upon to fix. Hence, I figured that it's probably best to focus first on these common mistakes that I come across, because if you can avoid them, then your bathroom will certainly look and feel so much better.
Furthermore, I would like to point out that there's no need to get fixated about the size of your bathroom. As a matter of fact one of my bathrooms (the one in the picture with the Laufen washbasin) is no bigger than 2.15 m x 1.05 m. And it fits all I need. Obviously, it helps that I designed everything to the last detail and had my vanity mirror and cabinetry custom made. But in all honesty, the point I want to make and hopefully the one that you will keep is to make the most of what you have. Manipulate your space to make it work for you and your needs by placing emphasis on its functionality above all else and then its aesthetic.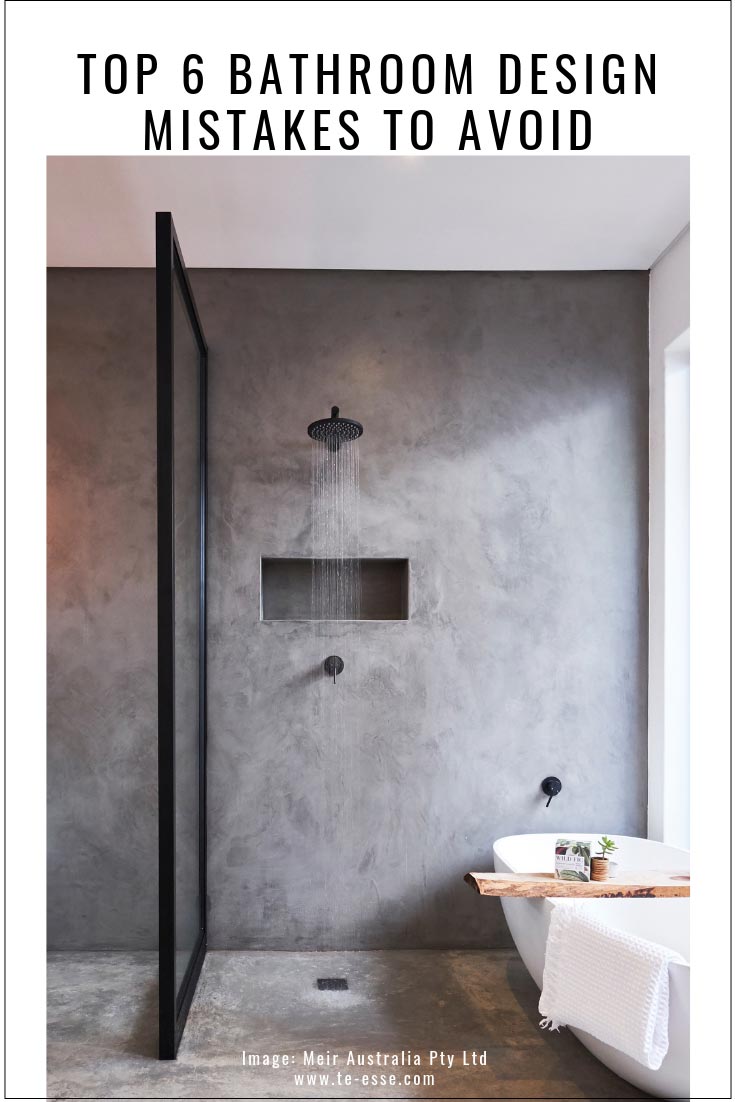 Hope I made some sense. I would love to know… If not, feel free to tell me!
Take care now,