Early this July, George and I along with our two children, took four days off to visit Rhodos (or Rhodes) in the Dodecanese Sea, home to some of the most beautiful Greek islands. It so happens that I have some very fond memories from Rhodos, for we visited this fascinating island as a newly-wed couple just over nine years ago.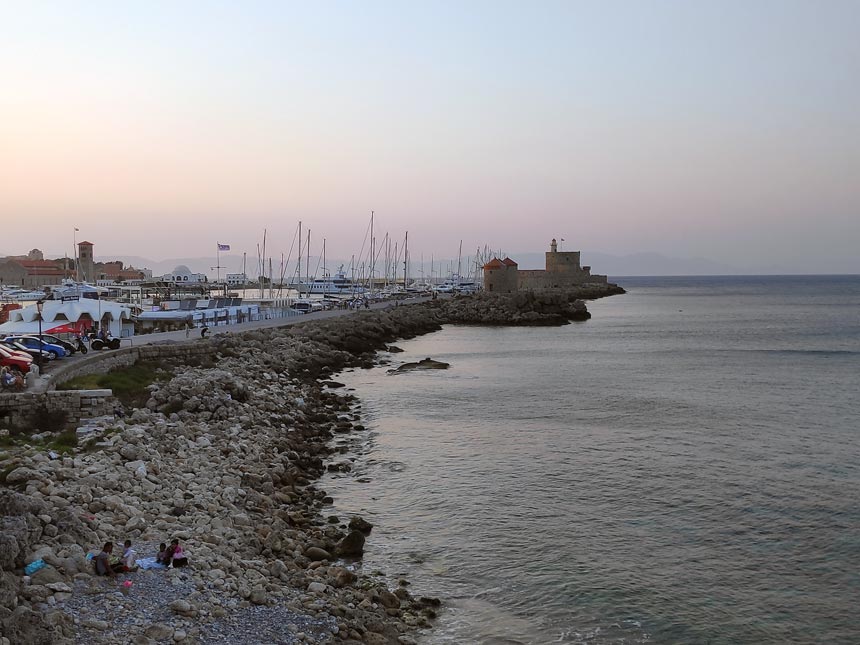 So, I was overly joyed with the idea of visiting Rhodes once more to experience her uniqueness, rich in cultural heritage, while wandering around the best preserved Medieval town in Europe. That of course also meant that my expectations were higher than usual because I surely did not want anything to spoil the memories I made nine years ago. And so as I'm typing away these lines, I'm glad to say that everything turned out fabulous!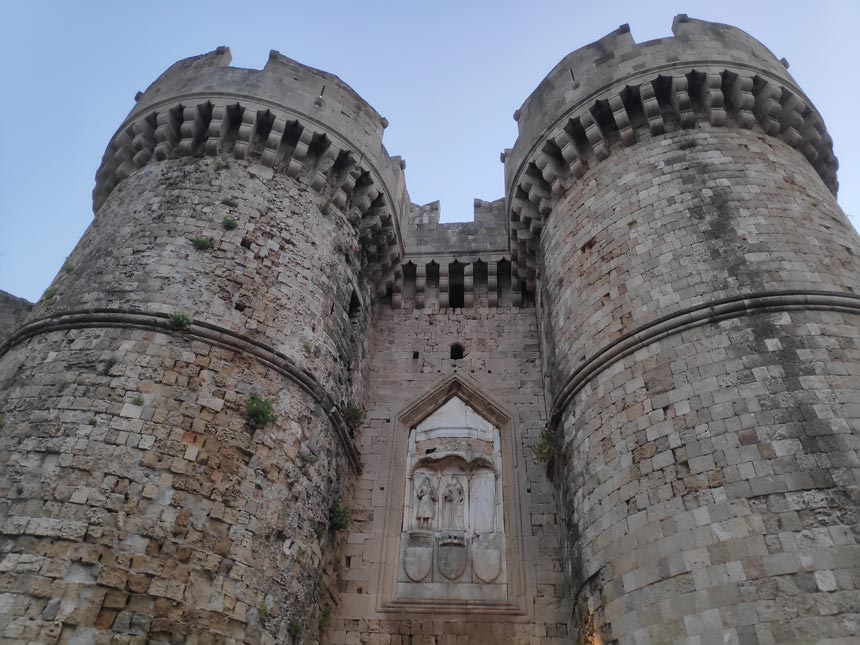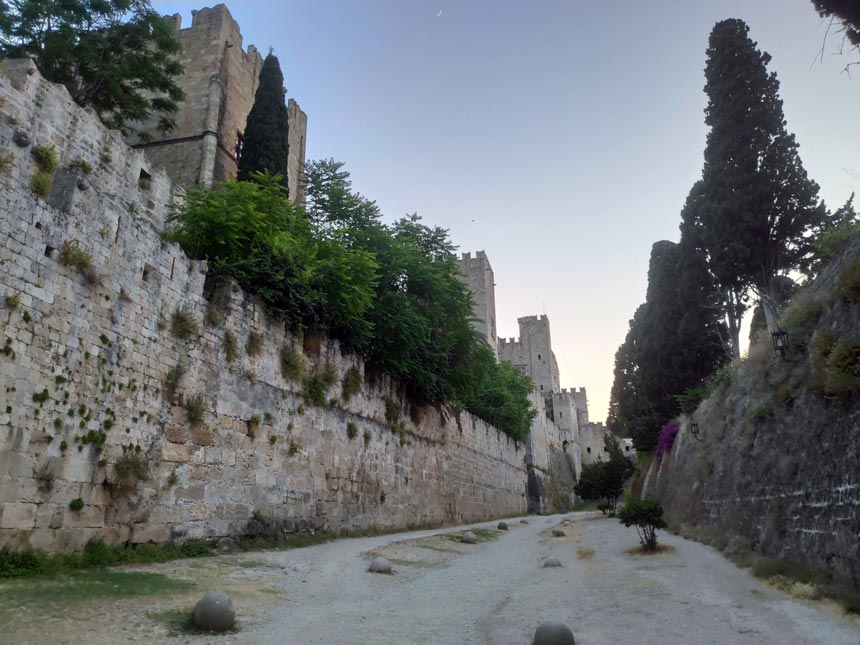 First impressions
We landed at the airport of Rhodes on a late Thursday evening and headed straight for our hotel, which is about 12 km away, at Kallithea beach in the notorious area of Faliraki. Now, Rhodes has many large hotel units, but in all honesty many of them fail to please my aesthetic standards. (Some of them simply are too indifferent, others have a loud, in-your-face kind of aesthetic and the rest are way too dated).
So while in our taxi, I was really glad that I didn't spot our hotel right off the main street. That is because the hotel's entrance is somewhat off-track and moreover, our hotel was much more compact than the other gigantic – almost appalling – surrounding hotel units. Therefore, I was surely pleased and relieved at the same time, for I'm not a fan of large hotels.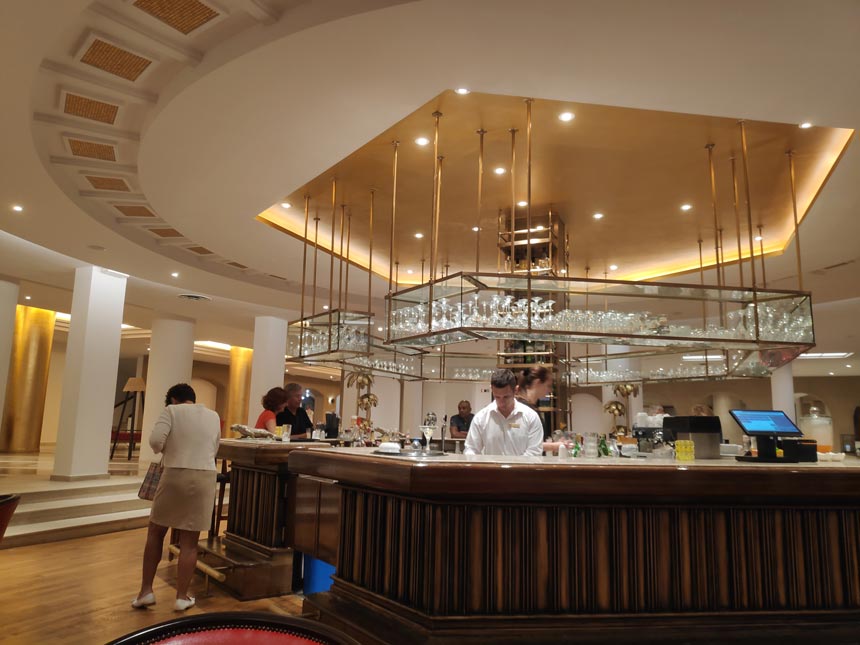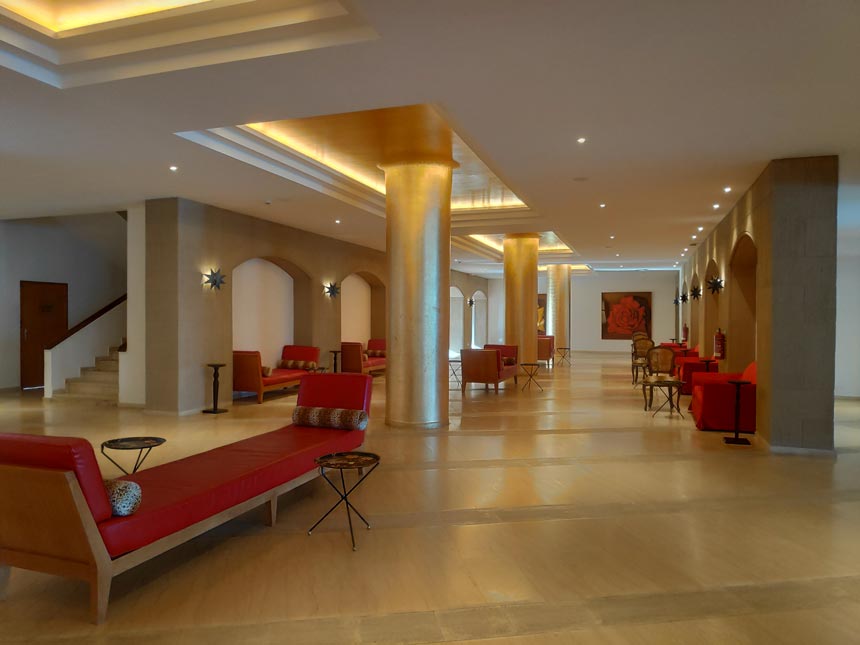 Upon entering the lobby of Grecotel Lux Me Rhodos, a luxurious 4* hotel, I was delighted by the eclectic vibe of the lounge's aesthetic that gave way to the centrally situated bar, that was booming with life by socializing guests. The check in desk was to be discovered next for it was not situated by the entrance as expected, but then and again a little twist isn't necessarily a bad thing.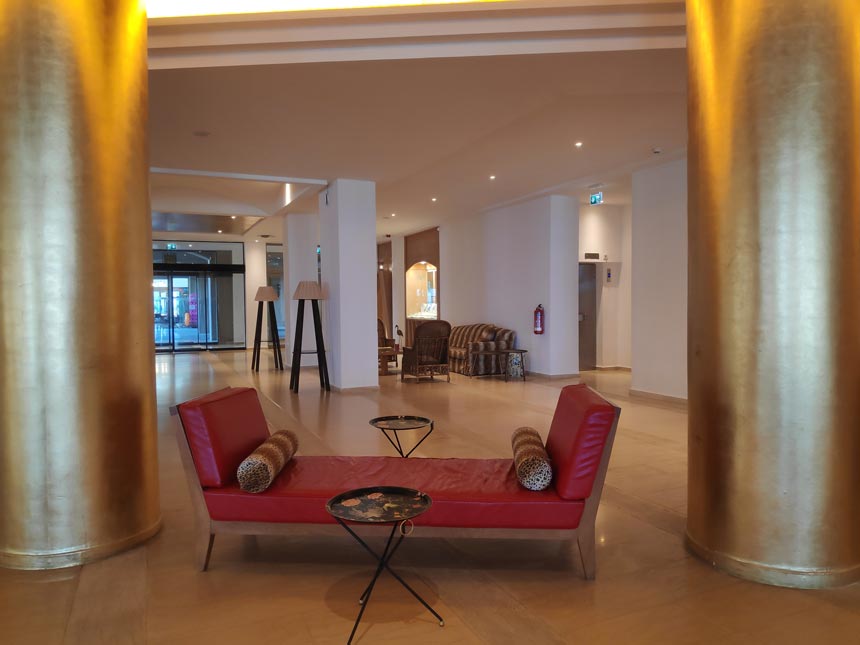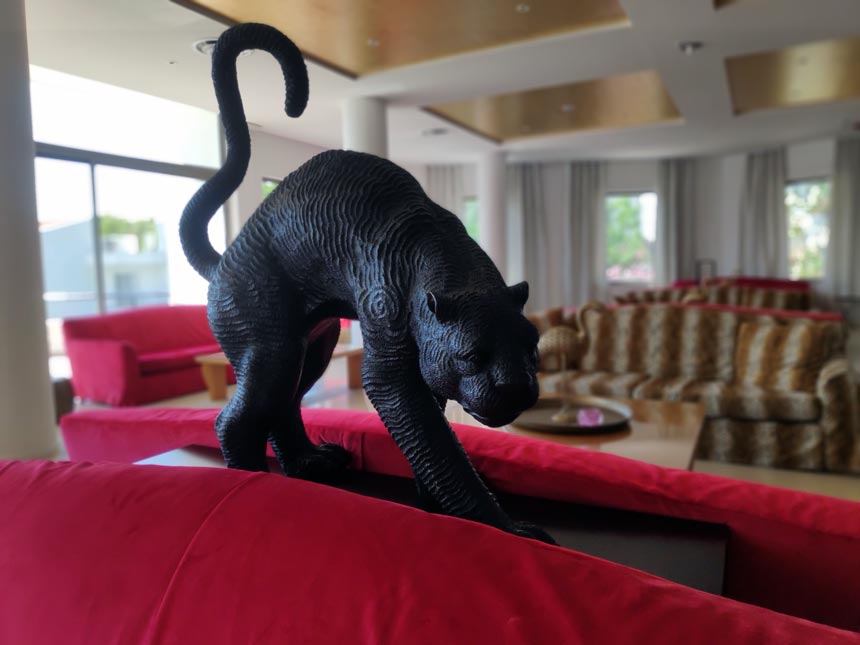 A very eye-catching exotic jungle theme run in the lobby. Red faux leather and velvet, leopard prints, gold painted accent ceilings and columns were all part of that theme. Animal figurines of panthers, lizards, parrots and other exotic birds among brassy palm trees, This anything but boring further enhanced this anything but boring maximalist theme.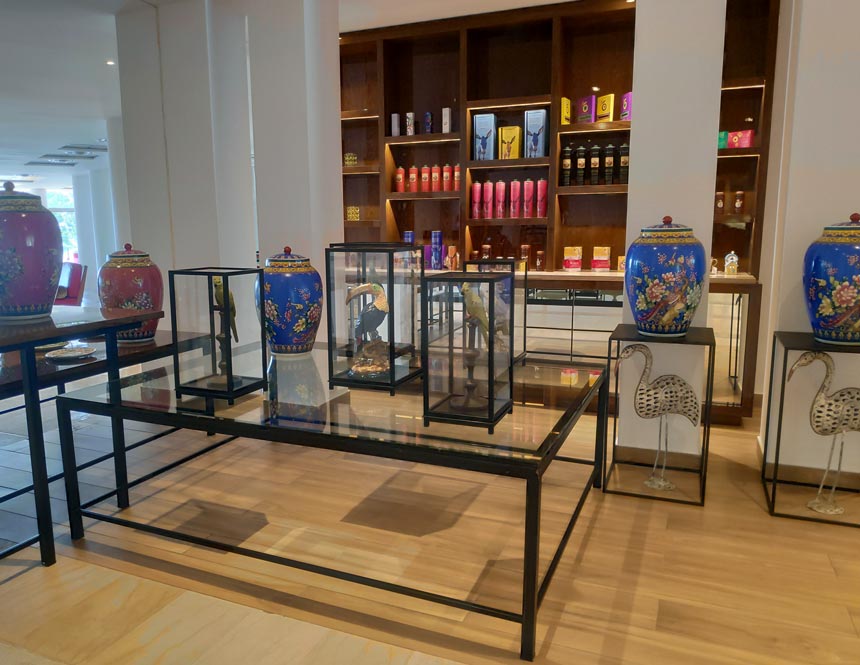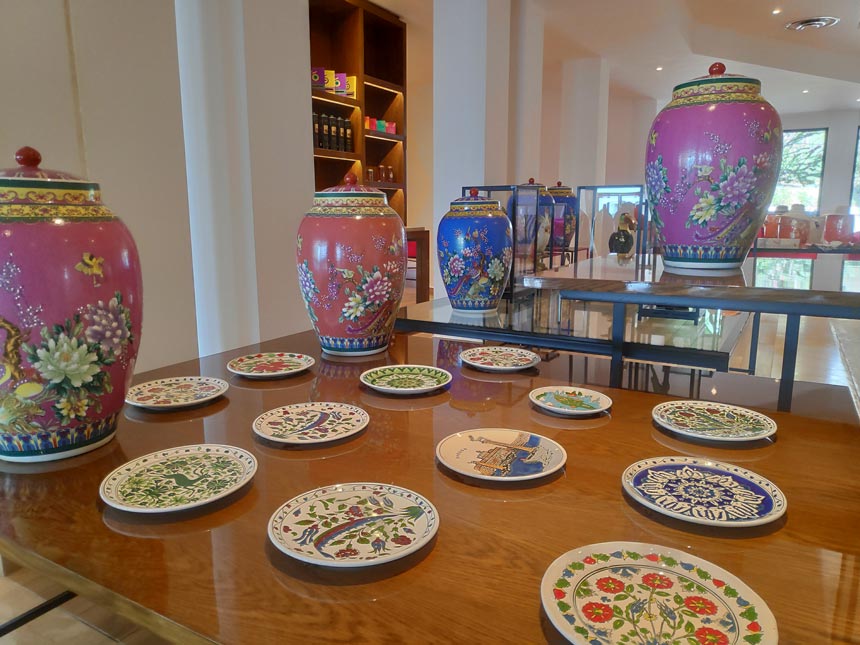 In one corner, olive oil produces in colorful cans and bottles, from Grecotel's very own olive groves in Crete, created a vibrant, colorful background display for the local traditional handmade ceramic pottery, that were being showcased among large chinoiserie décor. The result was a distinct and colorful fusion of different clashing styles – totally inspiring and right up my aesthetic alley!
Things I Loved About Our Escapade to Grecotel Lux Me Rhodos
One of the first things I loved about this hotel is that it felt like a small village. To be exact: Grecotel Lux Me Rhodos is a seaside complex made of the central building, an annex, many bungalows, gazebos, recreational grounds. Those include a playground, outdoor theater, seaside bar, spa and gym) plus two outdoor pools and one indoor pool.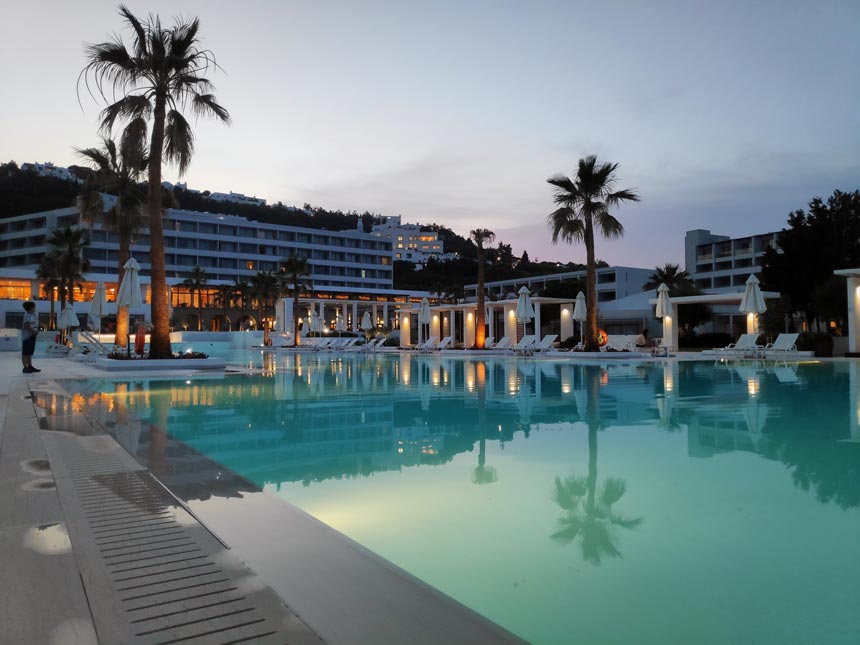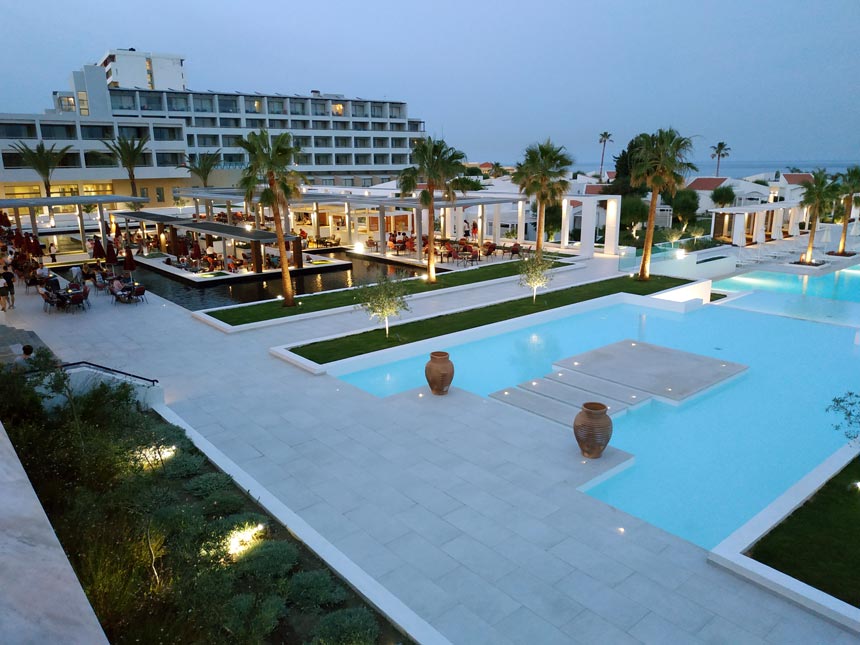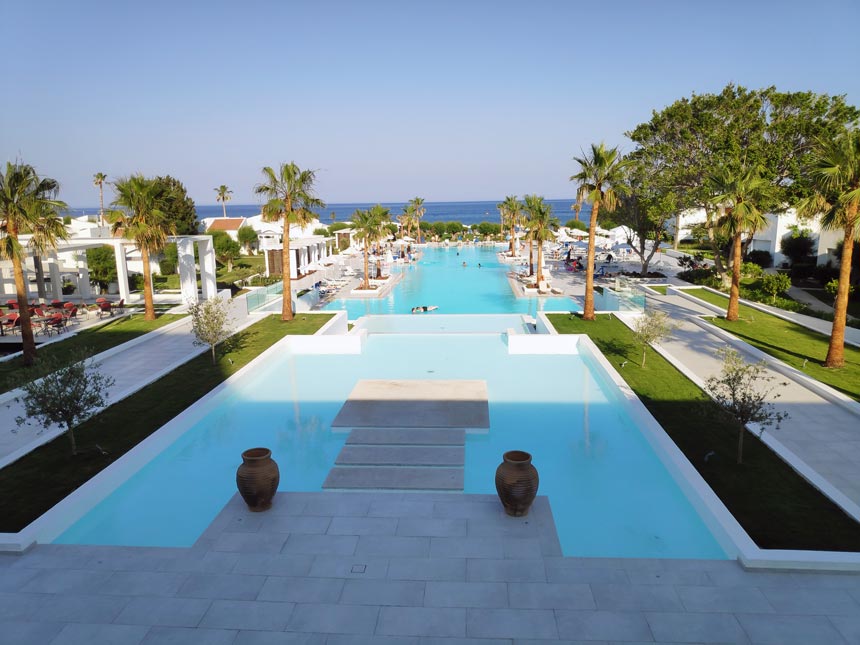 Facilities
Now one of the outdoor pools (the older one) has two partitions – one of which has a very small depth, making it ideal for toddlers to play. My three and a half year old daughter can certainly attest to that. The other partition of that pool had two water slides at its one end for kids of all ages, including myself. However, the real gem of this complex is the newly built 1200 sq.m. pool that never felt too crowded. It totally upgraded this hotel's grounds and overall facilities. (That's where I had an aqua workout on Sunday morning). 😉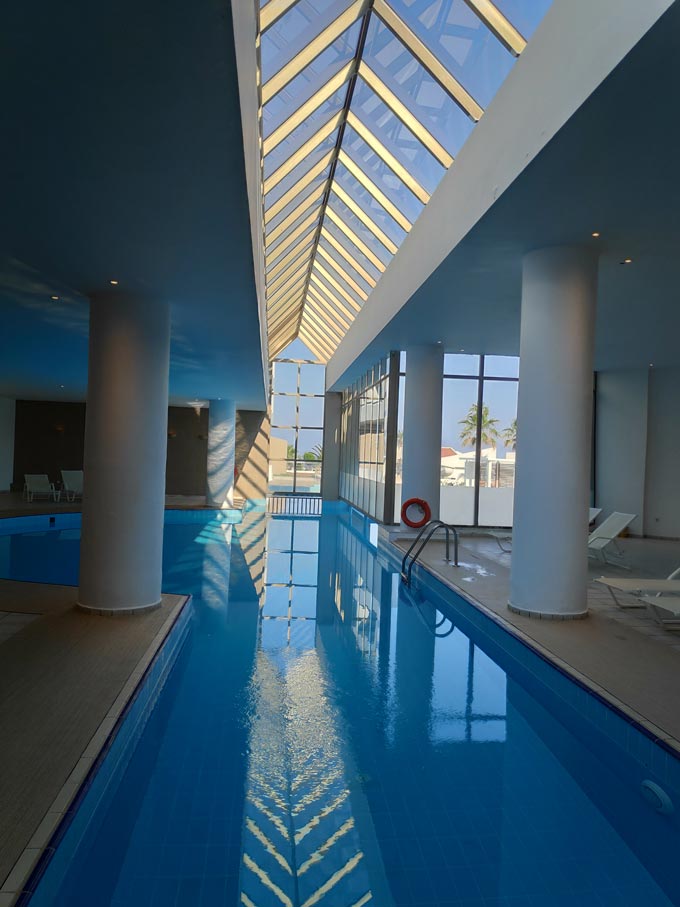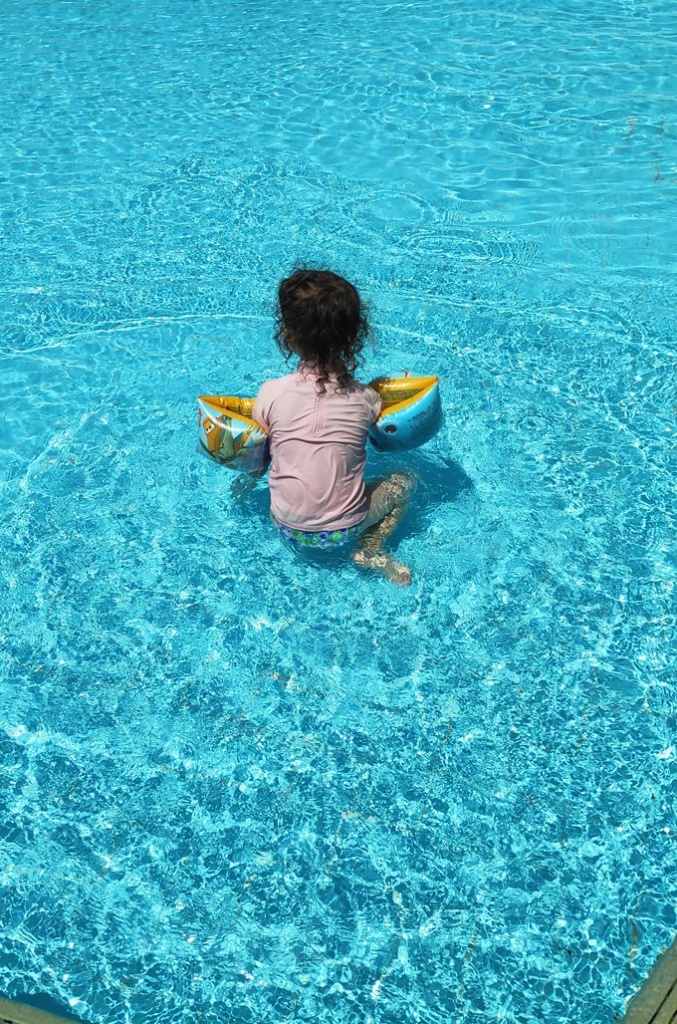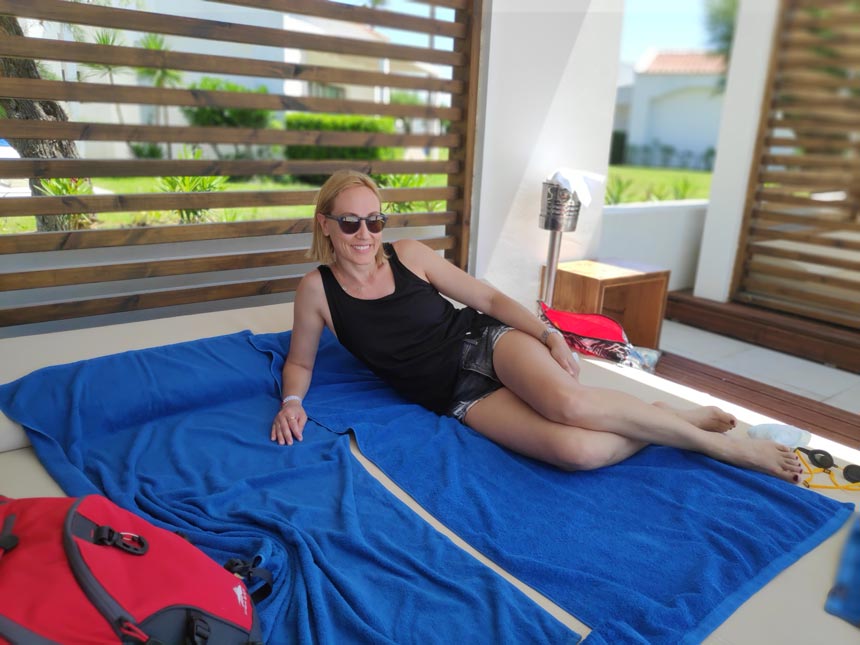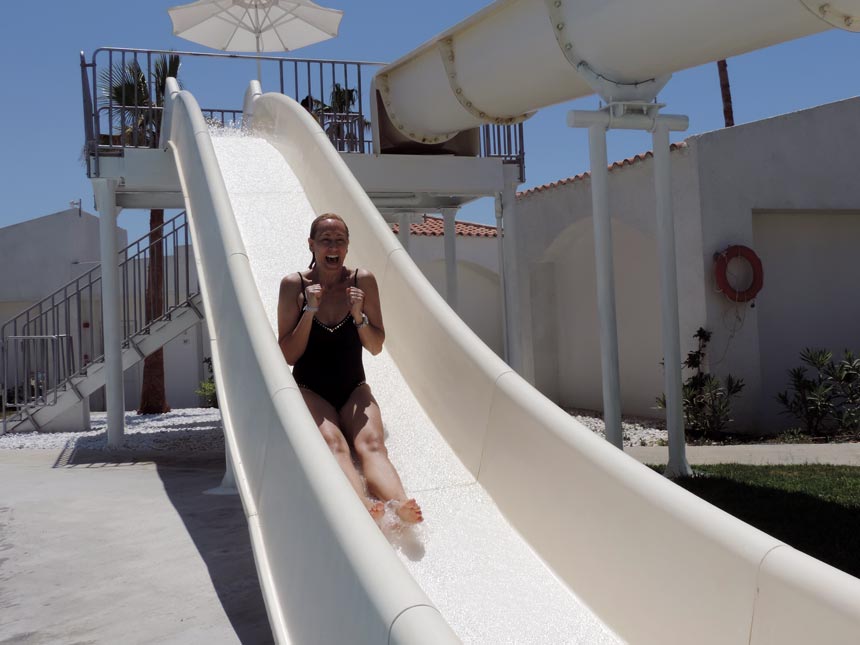 The Renovation
It is no secret that the hotel has been undergoing several renovation projects (including the new pool and the alteration of an old pool into an outdoor dining space). As a matter of fact, all the bungalows have also undergone a complete makeover. Emphasis was placed on creating a minimal, all white interior design with a pop of red. That pop of red tied in nicely with the rest of the hotel's theme. And I assure you, the outcome is very pleasing in terms of aesthetics. (Can't help it if I always notice interiors, for you simply can't take the designer out of me).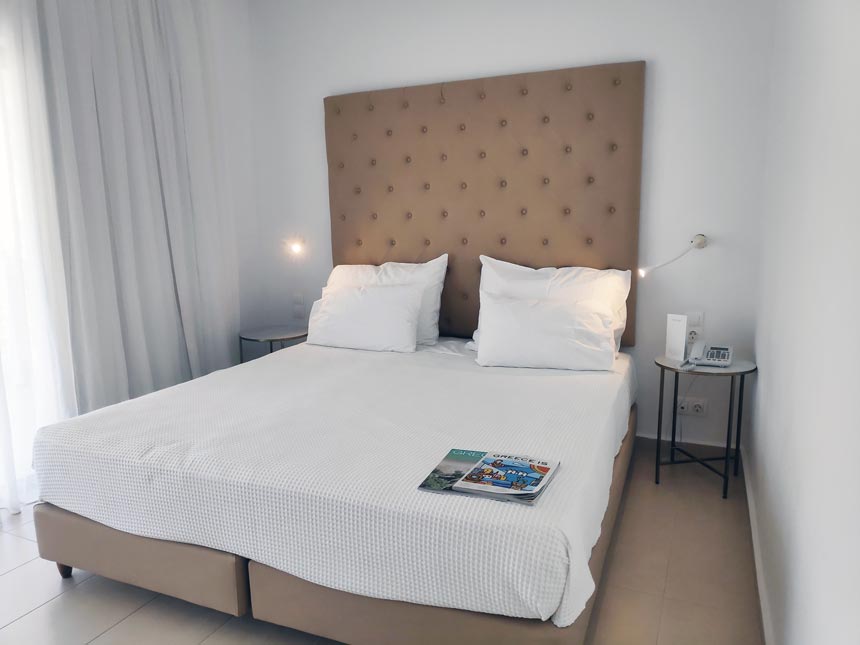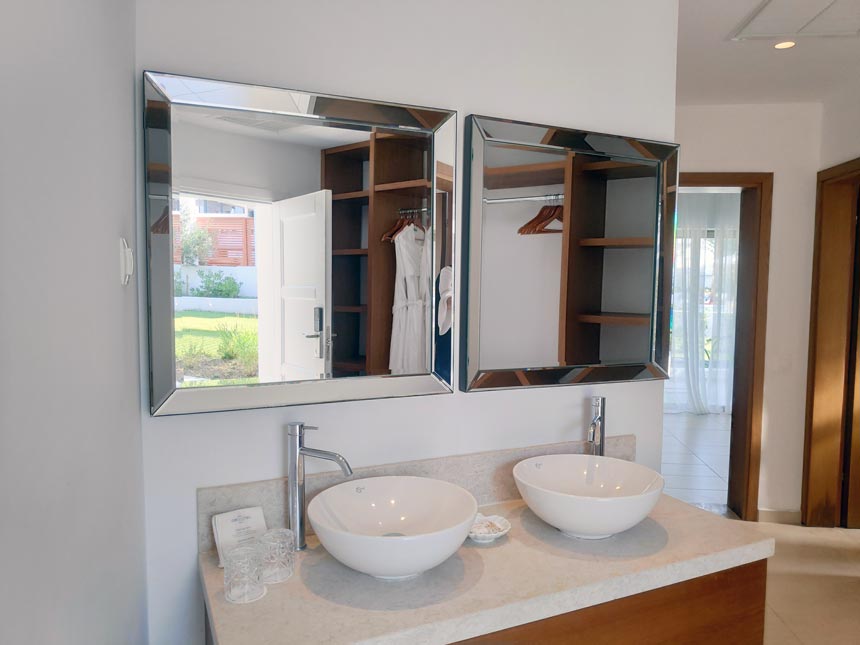 For the time being, the rest of the hotel apartments (about 40 sqm. each made of two rooms that can sleep up to four – ideal for a family) have only been partially renovated. Some of these apartments had the rooms refurbished except of the bathroom. (That is scheduled for a renovation in due time). All the while, other apartments have a renovated bathroom (with a built-in shower), but have not undergone a complete refurbishment yet. That way everyone who's not staying in a bungalow, still gets to enjoy a partial apartment makeover.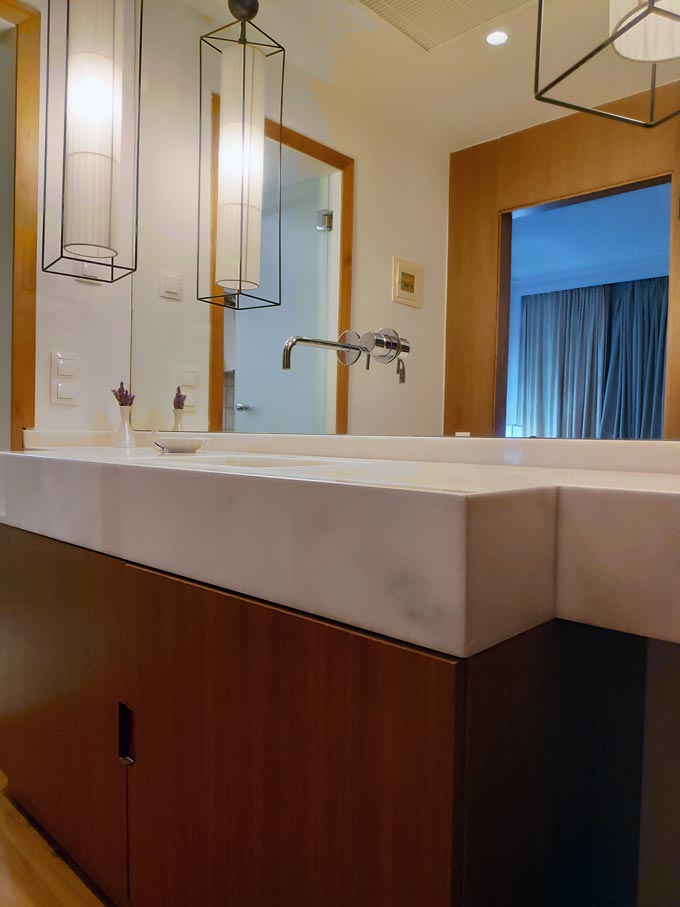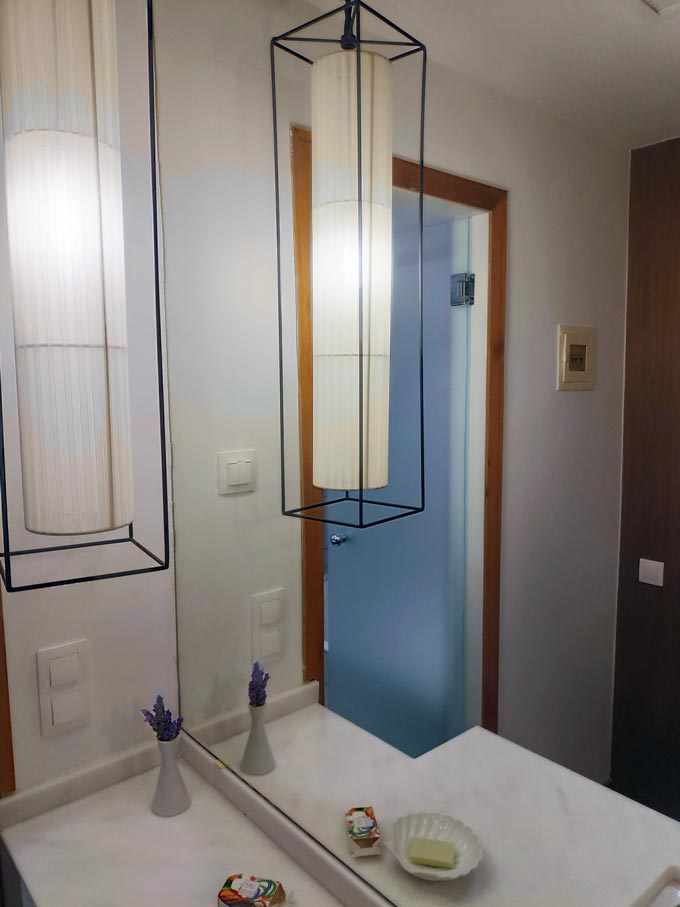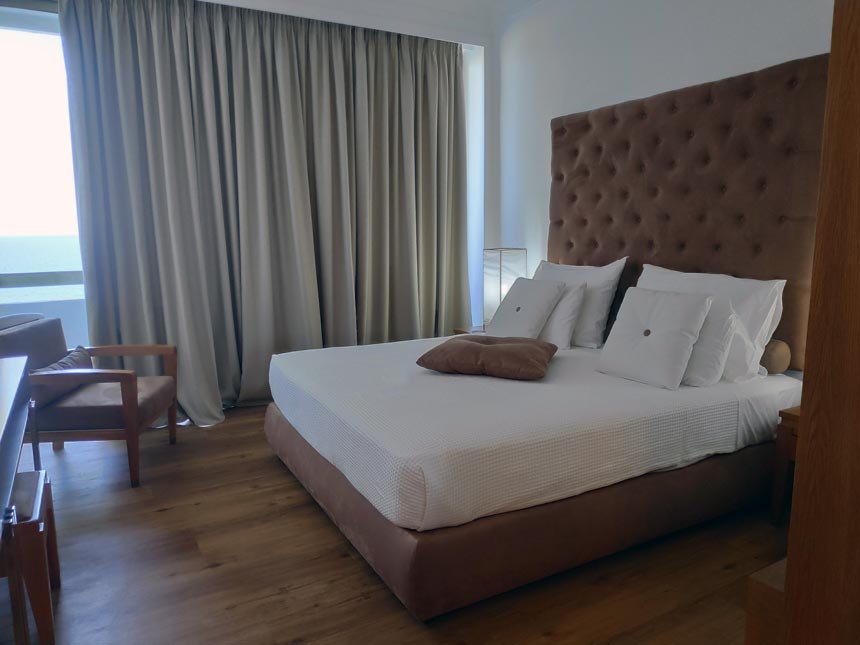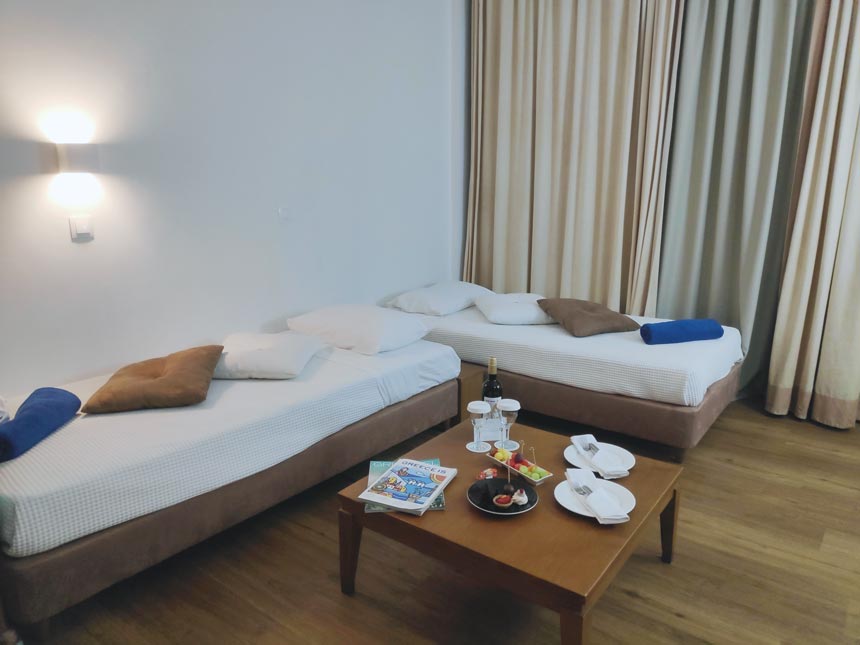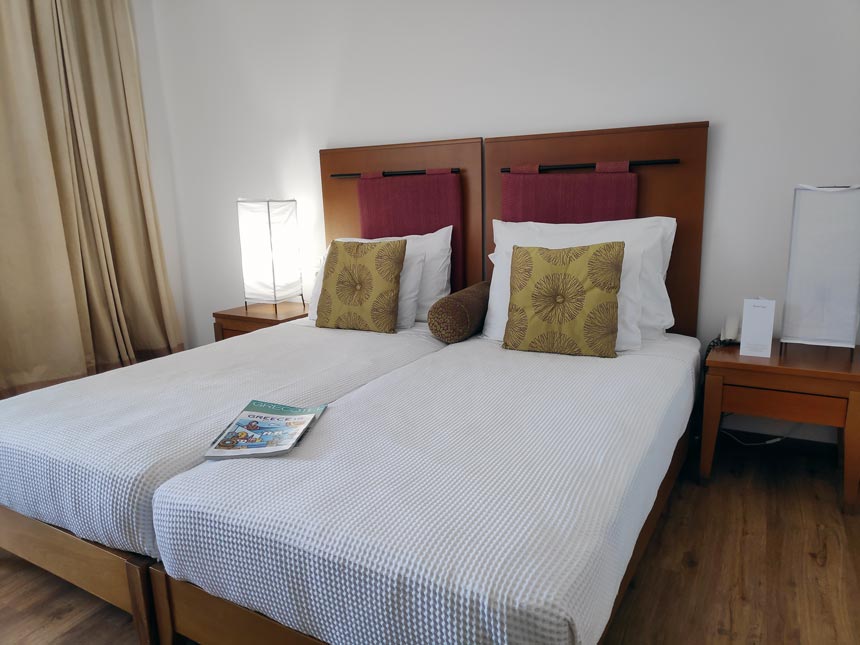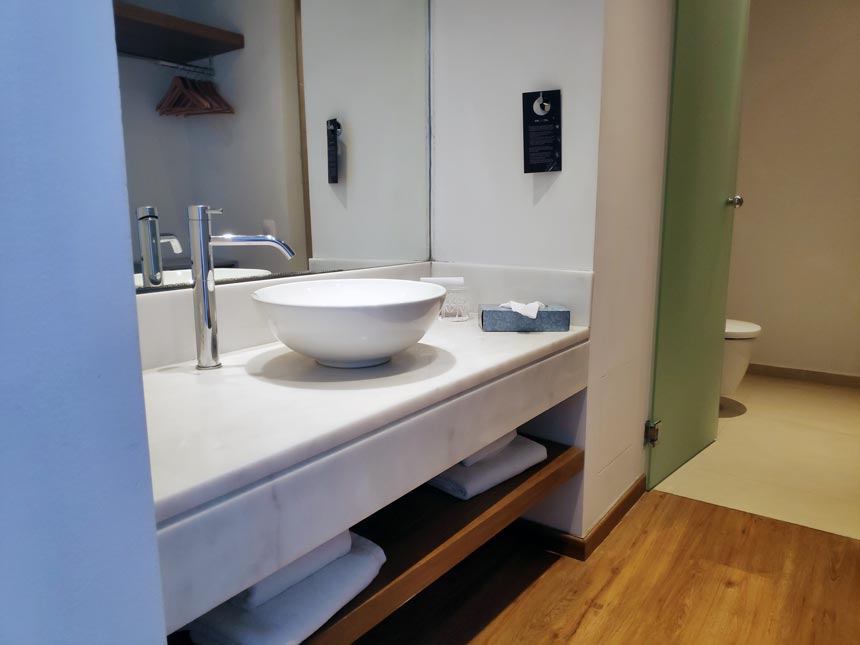 The Services
The second thing I loved about this hotel was the services including the food. We felt cordially welcome from the very first minute. That is something that should never been taken for granted in a large hotel. You could honestly tell the genuine effort that each of the staff members put in. It was not because they had to, but because it was truly heartfelt.
Culinary Options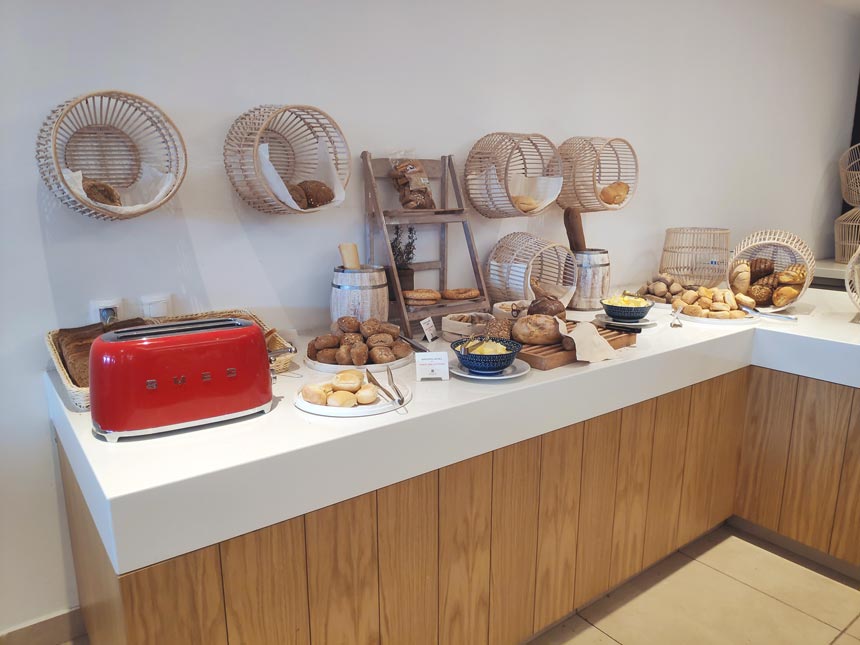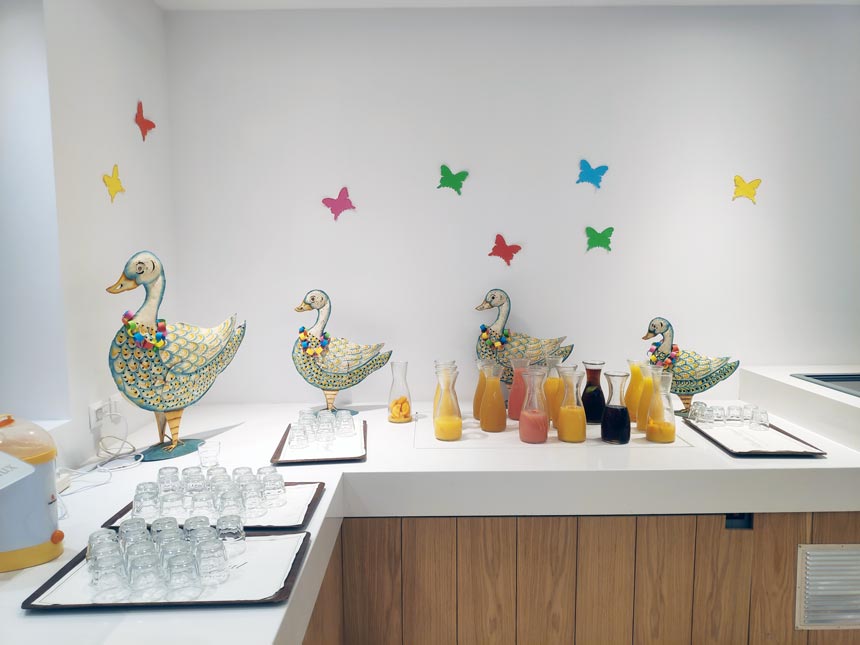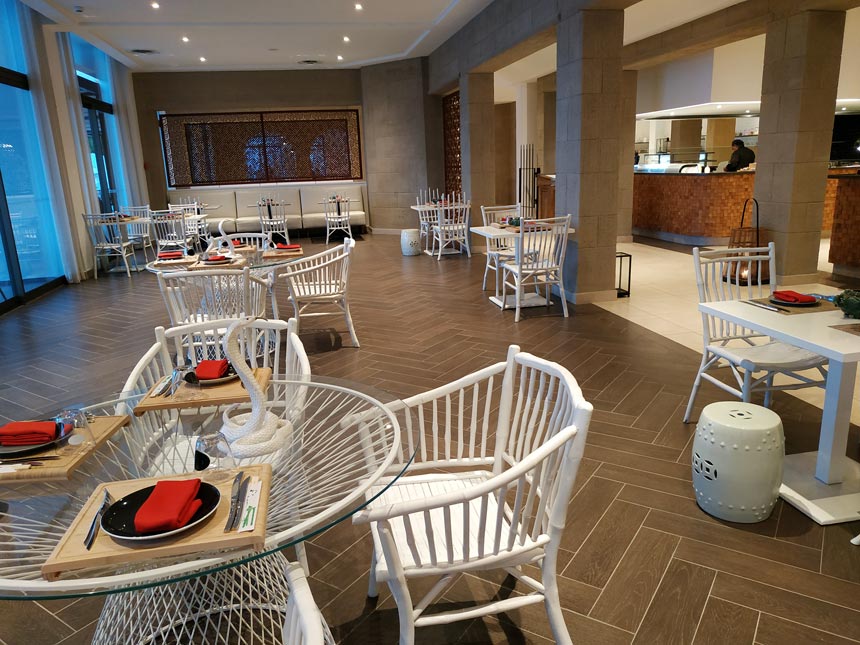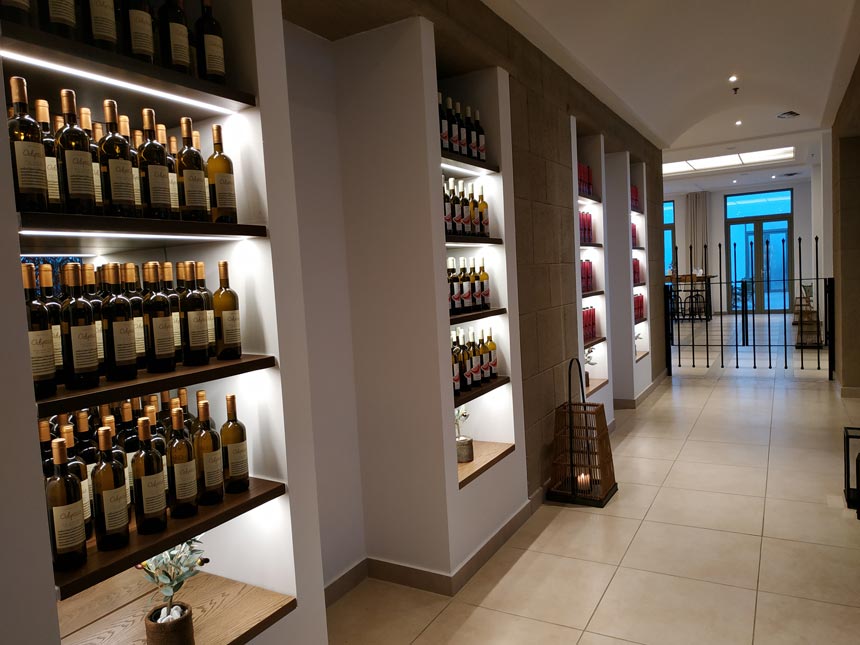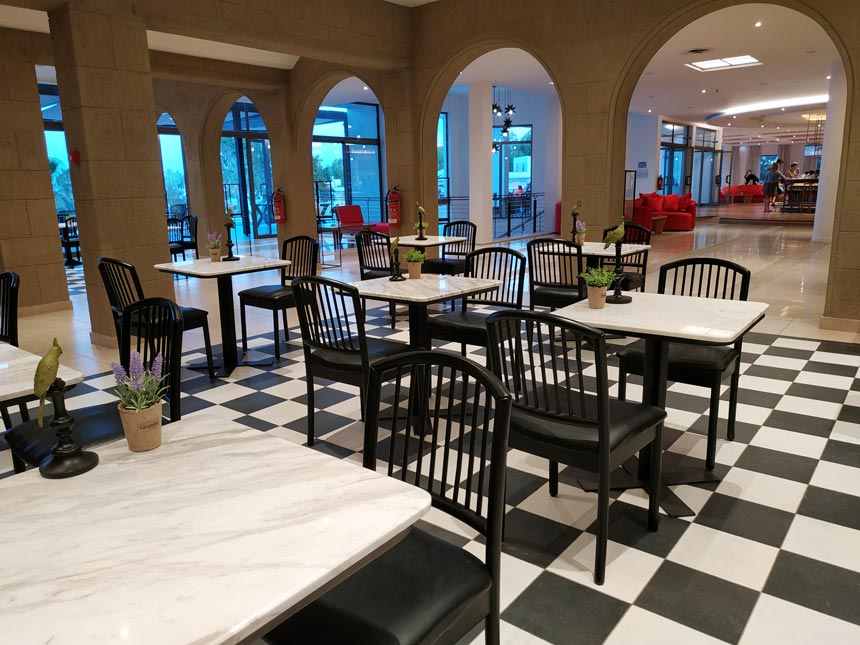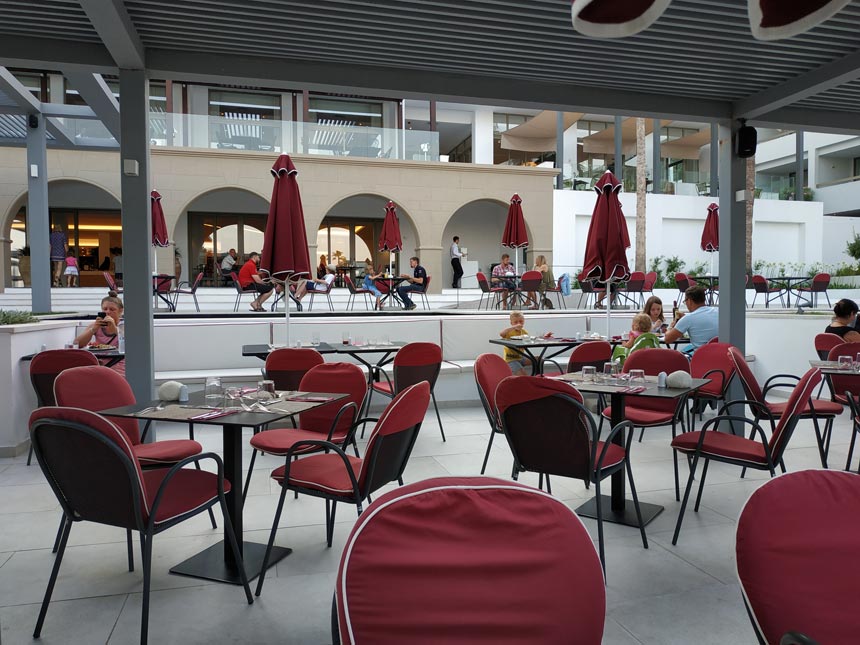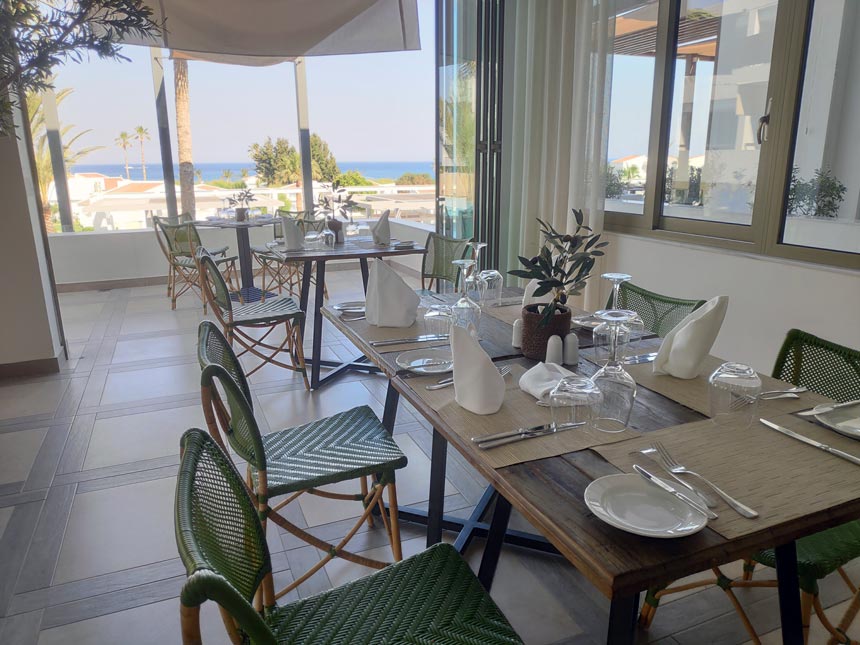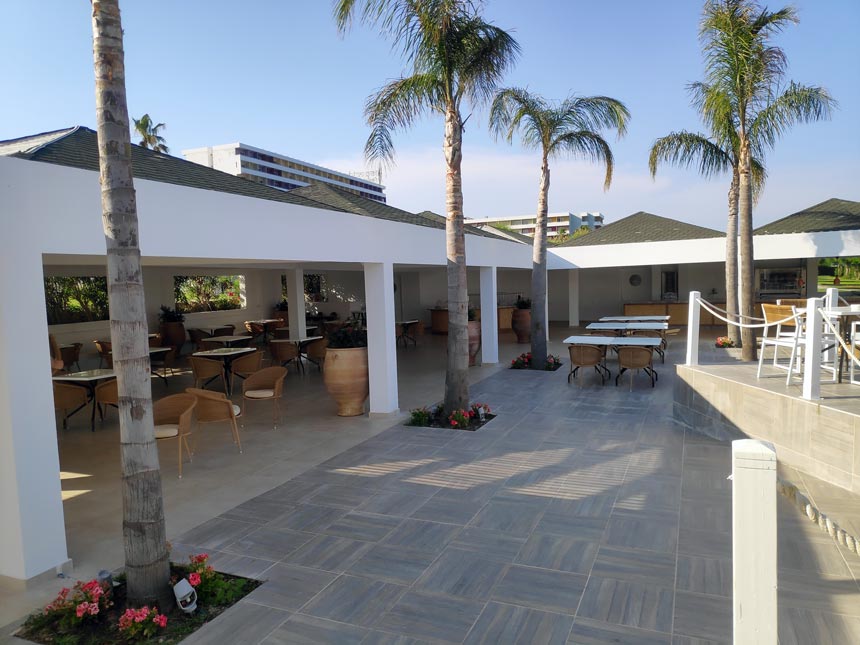 Now, the five different restaurants within the hotel's grounds made it very easy for us to choose as we pleased. There was also a wine-tasting bar that we never got round to. But we surely visited the Greek style taverna and the gelateria – creperie that kept my children happy. I also loved the fact that the kitchen of the Helios Buffet restaurant was open to view. It made you feel like you were always dining al fresco. I also liked the fact that there was a section allocated to local Greek dishes. The same was also true for the other Grecotel in Kyllini we visited last September.
Leisure activities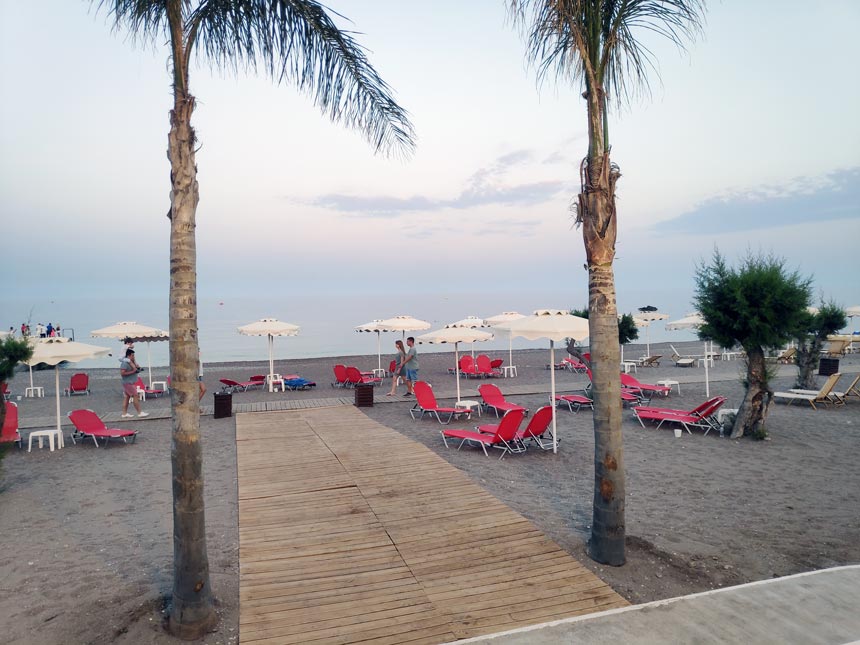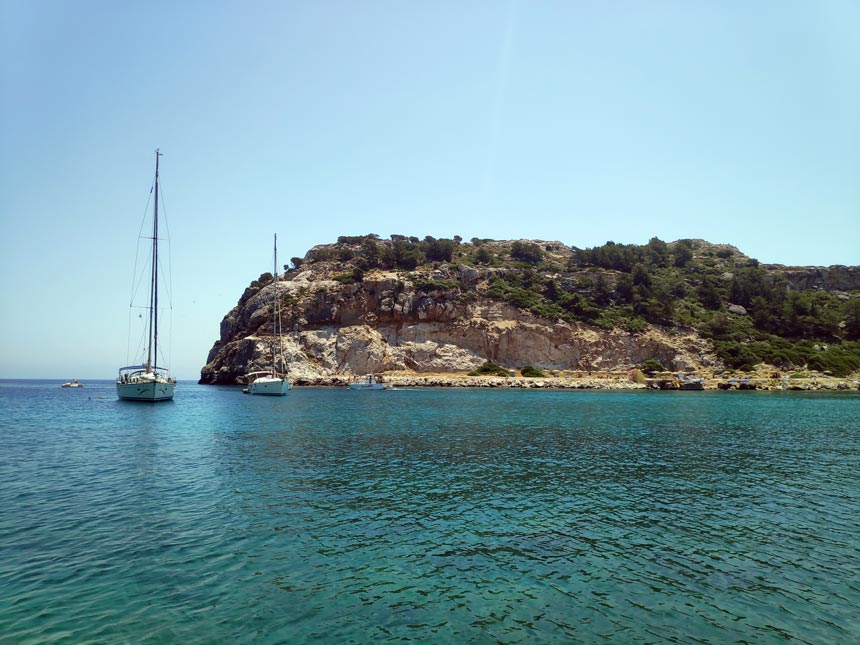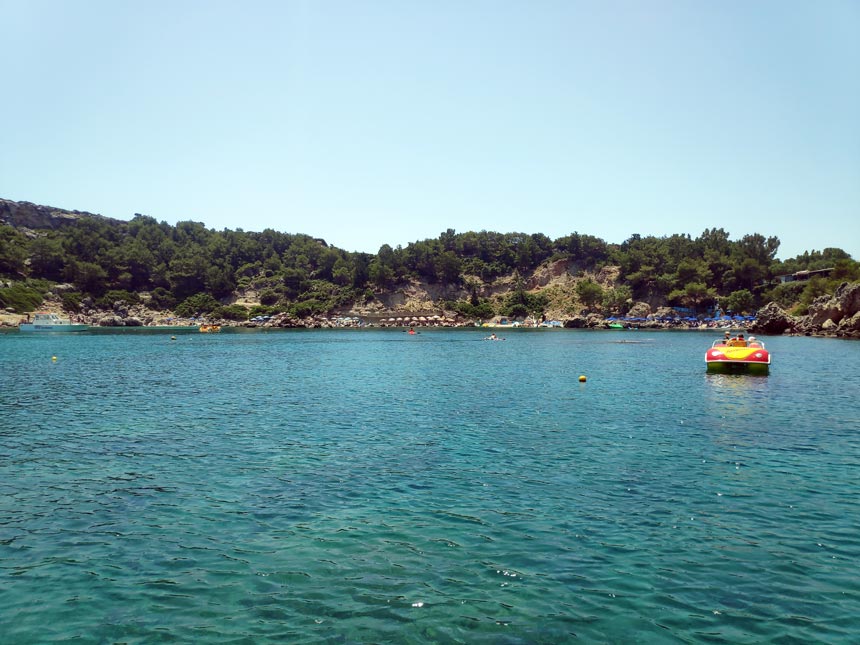 Other than the games in the pool and the great food, we also enjoyed the sandy beach with the red sunbeds and the water-sports hub. Perfect for us, they rented motor-boats too. So we seized the opportunity and sailed off for a dip in the emerald green waters at Anthony Quinn's beach. That was one priceless swim!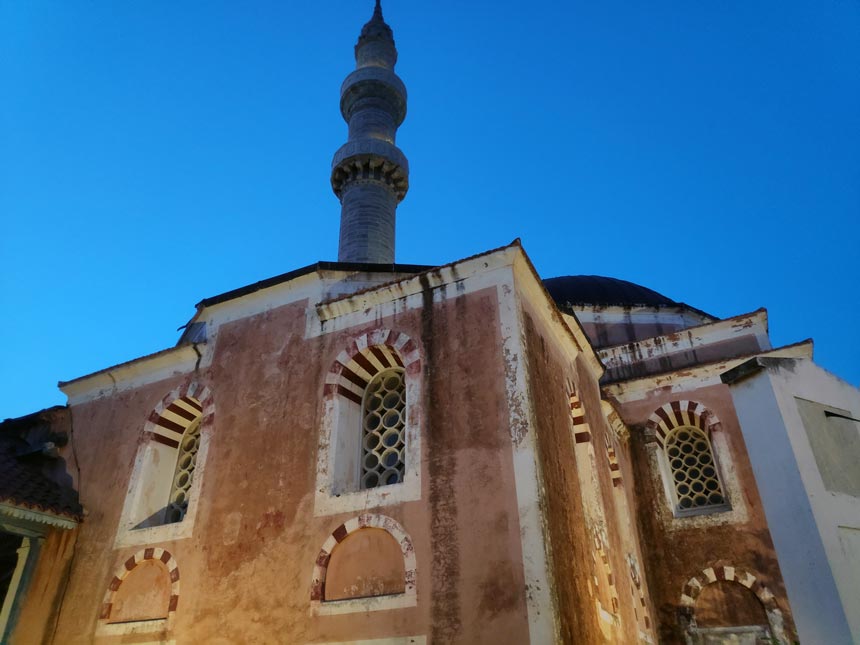 Of course, this long weekend would not be complete if we didn't do any sightseeing. Needless to say that the old town of Rhodes is always a challenge to explore. The crowded alleys with walking-by tourists and buzzing locals added on to the charm of this one of a kind town. The Venetian fortress, mosques, libraries, and ruins are all remnants of many different cultures and eras that stand proud, creating an enchanting backdrop that still echoes moments of a past history… So be sure to watch next the video with all the highlights!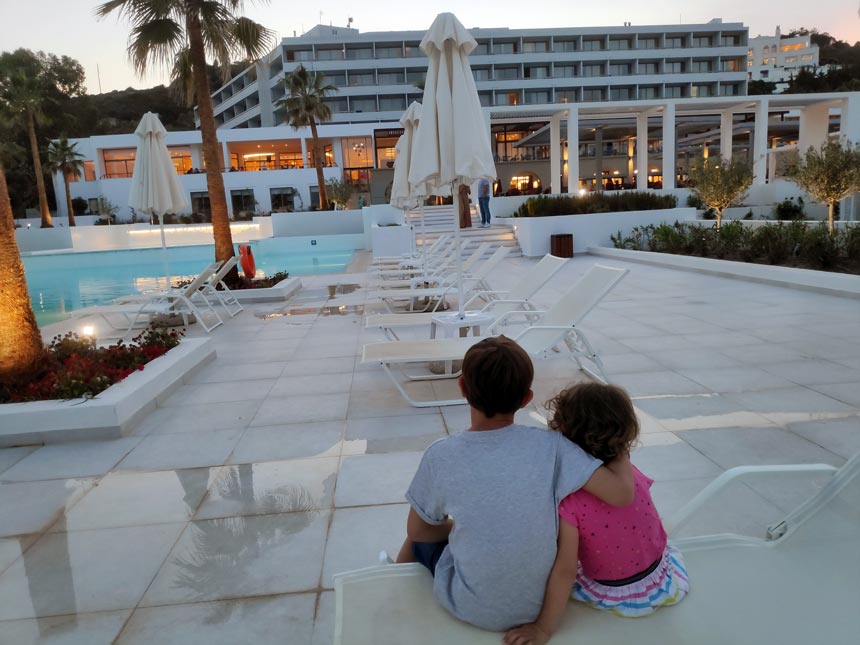 In overall
To make a long story short, Rhodes is a beautiful island that offers lots of gratifying experiences. It's a destination that is worth going that extra mile. That is most certainly true if you know that you could be staying at a hotel like Grecotel Lux Me Rhodos that satisfied all of my family's needs and desires. But more importantly their most honest smile with an impeccable service won us over from the very first minute. After all, it is nice and caring people that make the difference and not any super duper, state of the art, gadget filled room/facility/hotel.
Love and travel more, xo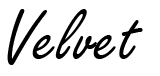 This post is in collaboration with Grecotel Lux Me Rhodos. All opinions and thoughts expressed are 100% mine and are not subject to any negotiation.