If your idea of living literally on a beach and waking up to a sea of light, then you're probably thinking of a Greek island…So let me take you on this visual tour, to a retreat in Syros, by a scenic little cove with clear green blue waters and children playing all day long without a single care…And when the night falls and the moon rises behind the hill across the bay, trillions of stars will keep you company as you take in the grandness of this fascinating cosmos. This is a hint of Cycladic minimal style…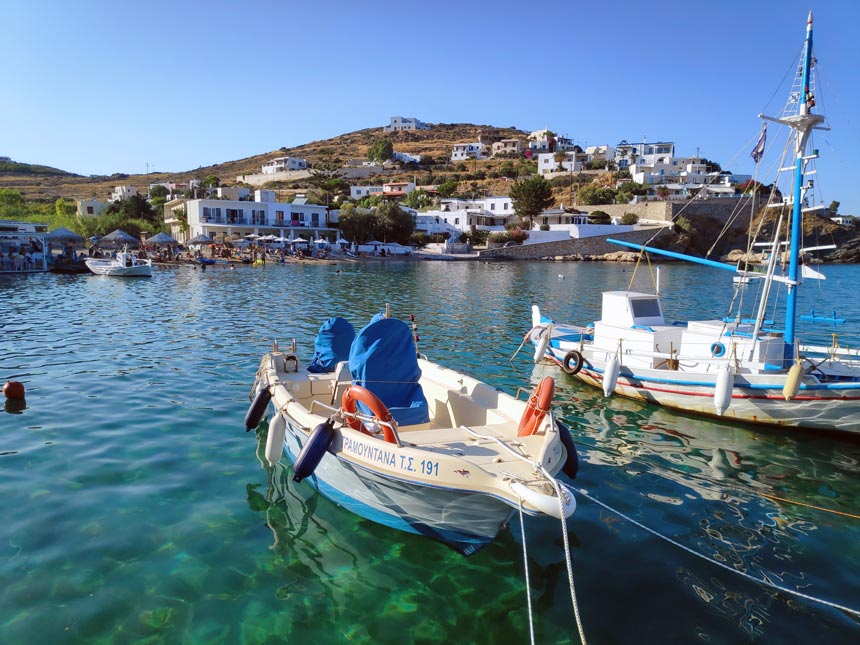 Sounds too idyllic? Believe me it's not! I'm honestly experiencing this, as I type these lines, for real – no exaggerations! This newly renovated retreat in Syros by a sandy beach highlights the best of a Greek summer on an island under the sun, where every moment has its very own gravity and the singing cicada won't have it any other way.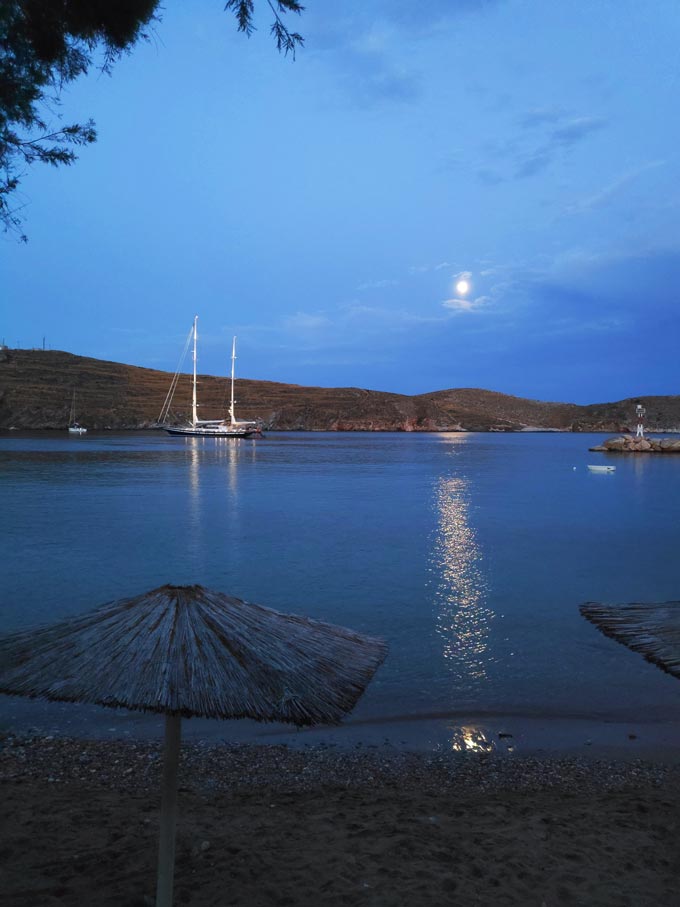 And just like that, simple-living takes on a much more profound meaning. Obviously, I'm far from living like Diogenes the Cynic, the Greek philosopher that made simple living a way of life long before minimalism surfaced in architecture and design.
However, this summer I am fortunate enough to live next to this retreat I want to share with you, that ultimately allows you to pace yourself anew and realize that some of the old values and virtues of hospitality, cordial behavior, trust and friendship building are not entirely lost. You just have to know where to look.
Interiors tour
Hotel Emily, an old hotel named after the grandmother of today's owners, with only 11 rooms, is a lot more than a boutique hotel. It is a 100% family run business and when this family decided to update and upgrade it, they did it with tons of 'meraki', a Greek word that we use to describe the love and soul one puts into doing something. They changed its aesthetic appeal, with a DIY approach, giving it a Cycladic minimal style identity, yet preserved a few details and elements honoring their heritage.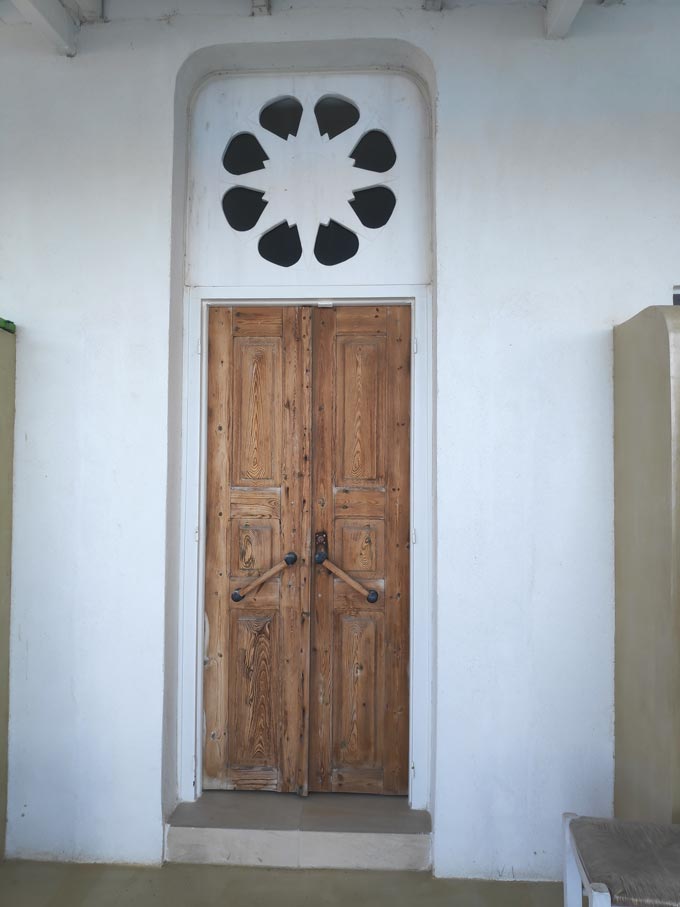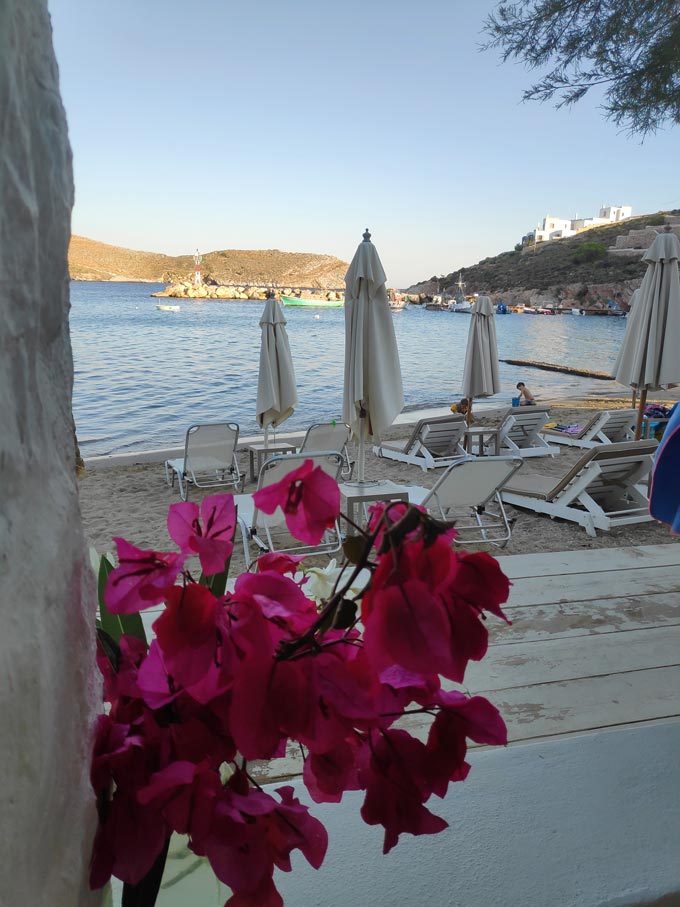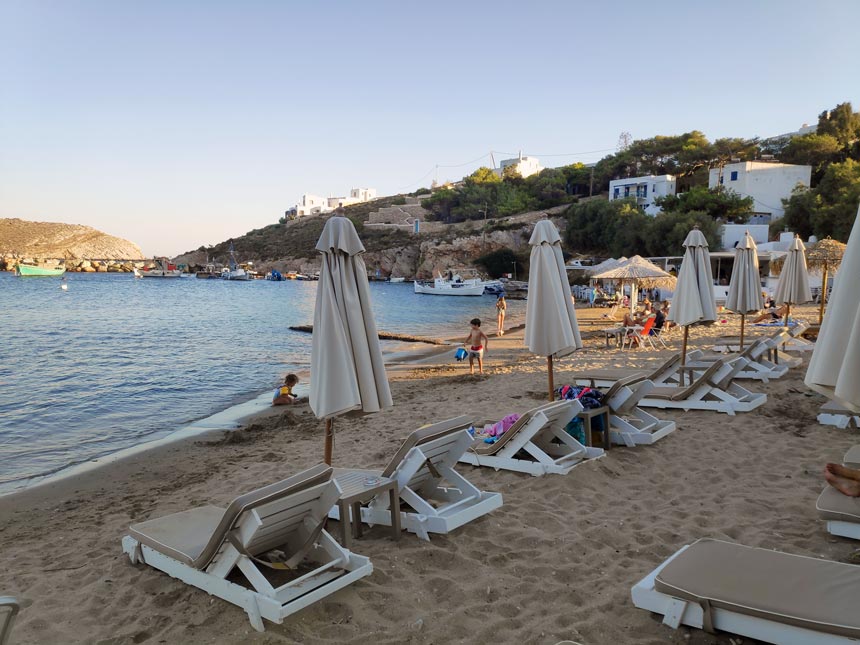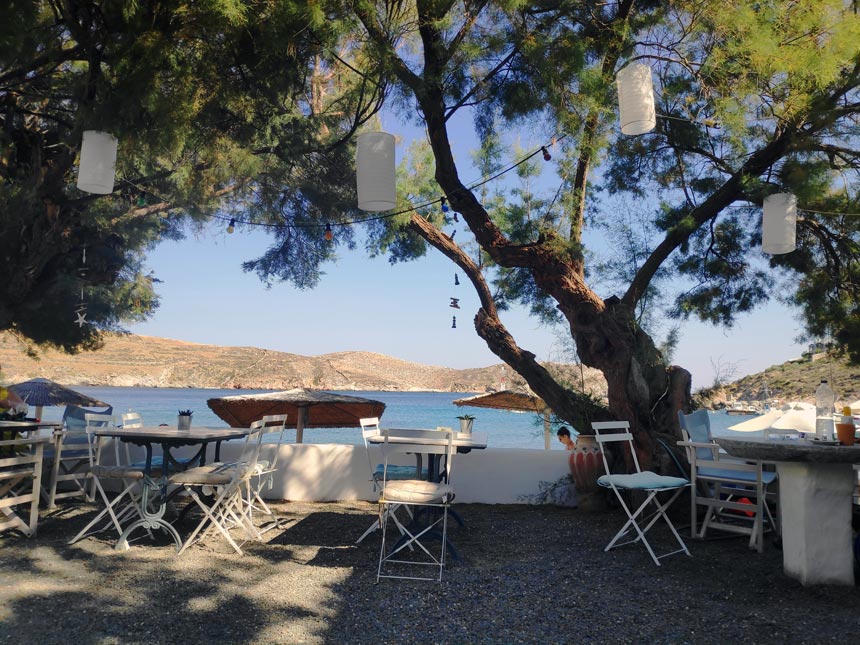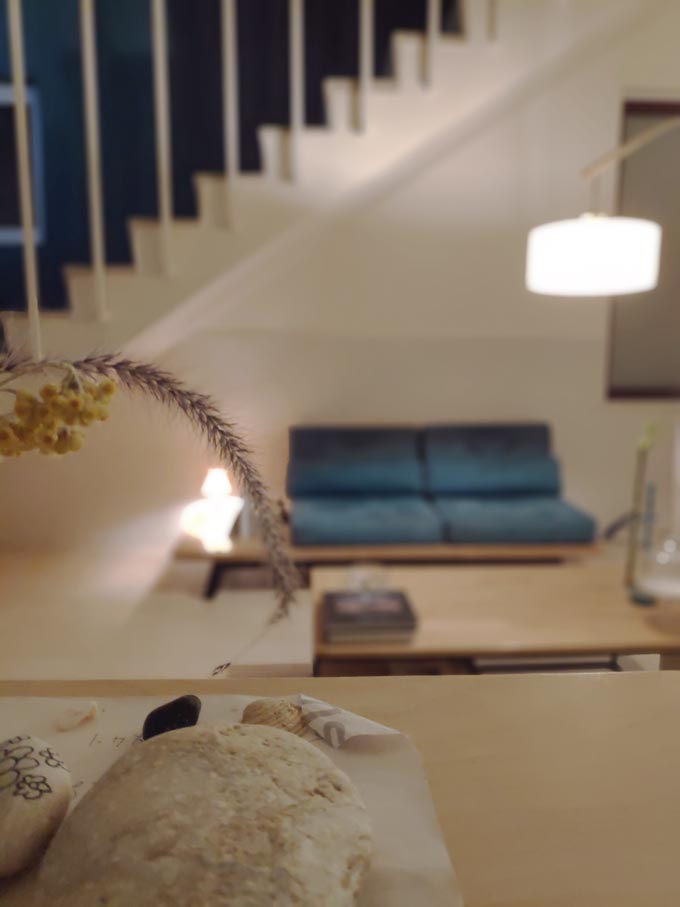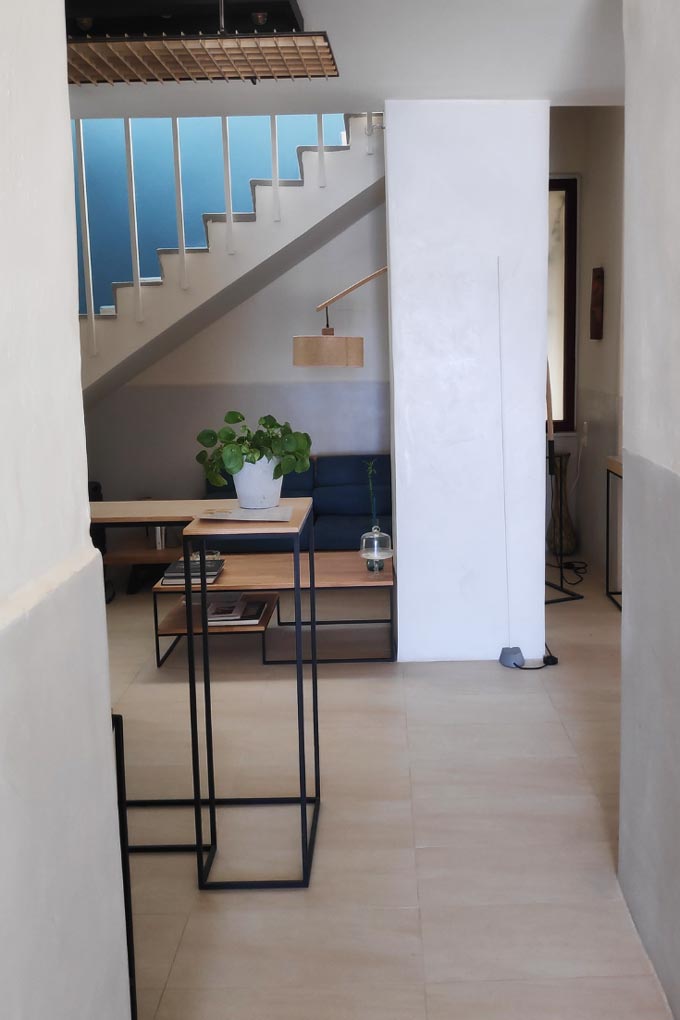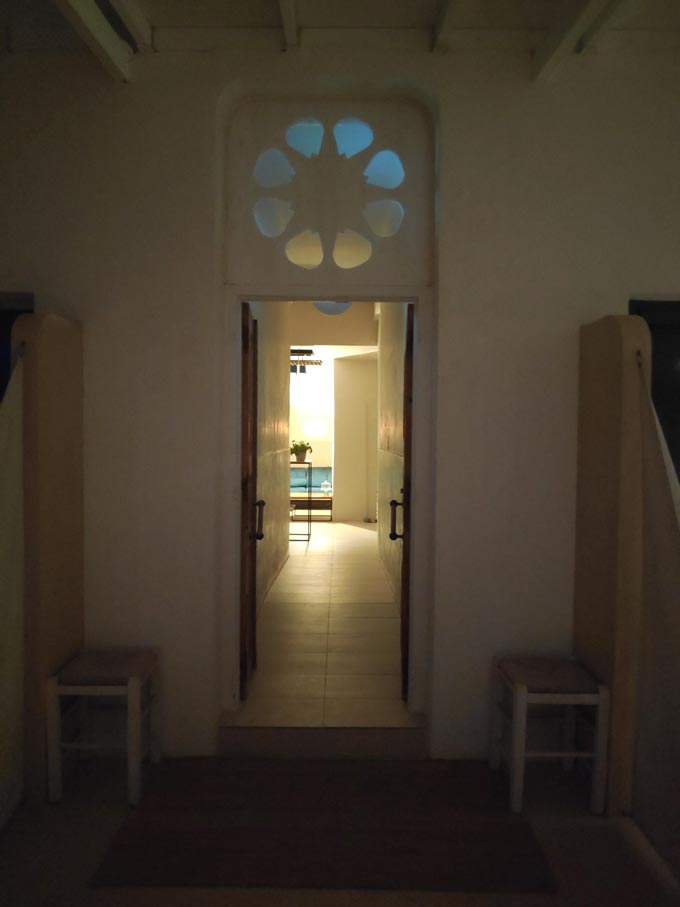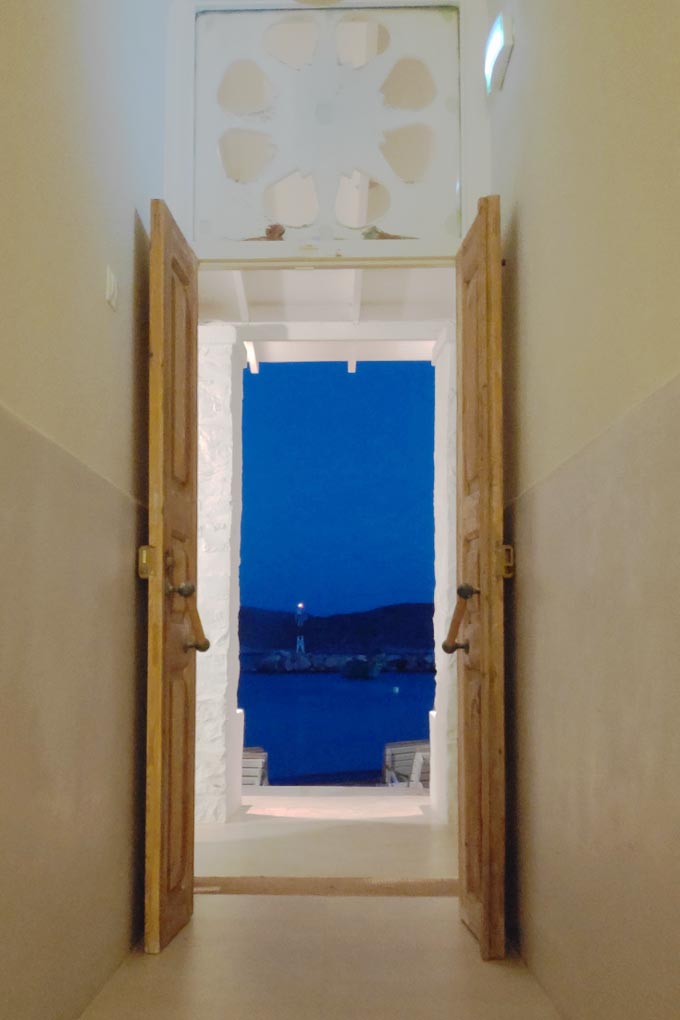 Alexandros Mpolias, a marathon runner, has managed to turn this hotel around. His DIY renovation was based on his deep knowledge of the spaces, rooms and hotel needs to make it work. This knowledge was the driving force in his and family's efforts to come up with design solutions to make the most of each room, given the existing layout.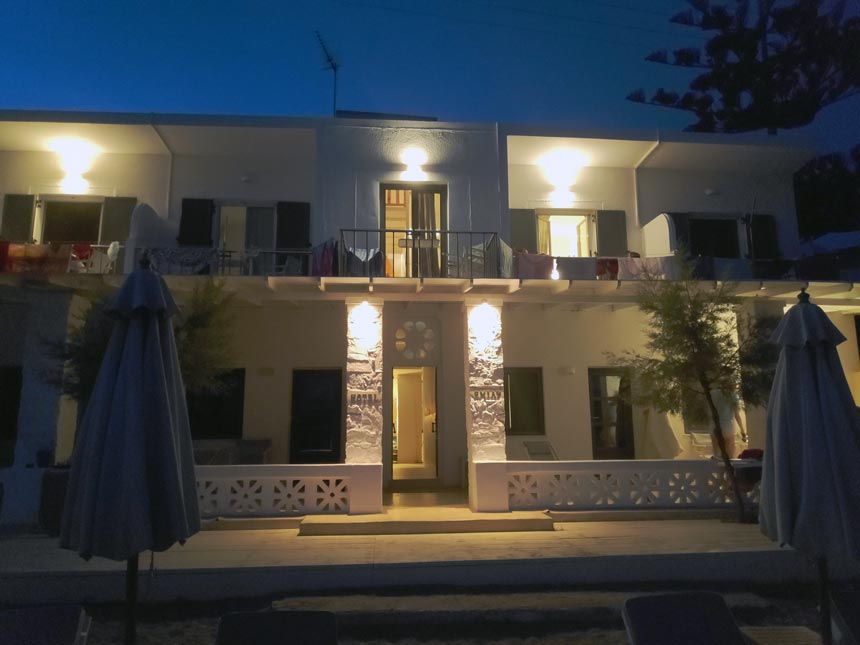 For instance, he preserved the characteristic railing with a sun like pattern that stands out when you look at the facade from the beach front. He also had the original front door stripped from the older coats of paint and restored it, giving a vintage flair to the external facade.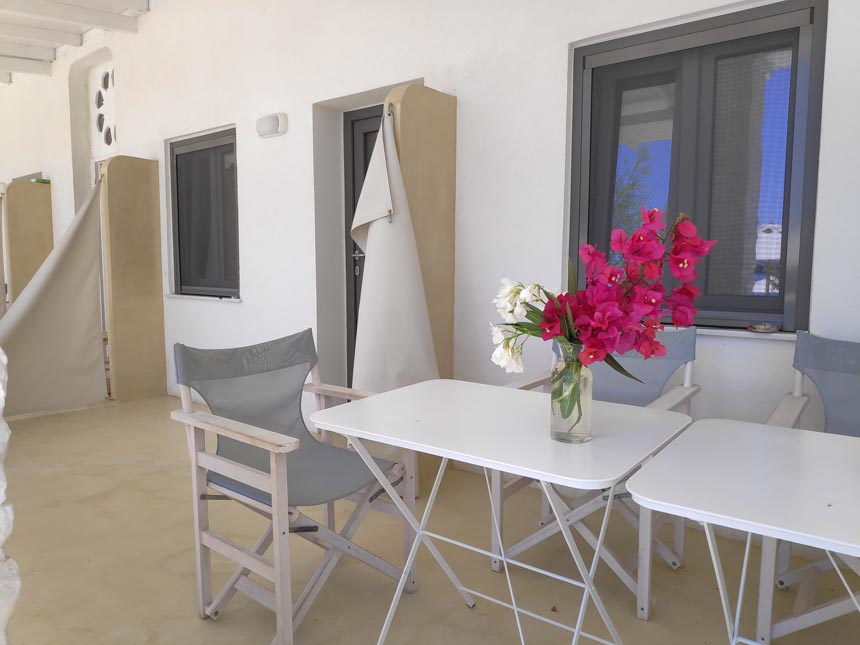 The external flooring of the ground floor balconies has been paved with microcement in rather unusual hue. The chosen hue is one very close to Byzantine ochre, one of the traditional colors found here in Syros, enhancing a feel of organic warmth, especially if you consider the proximity of the balcony to the beach.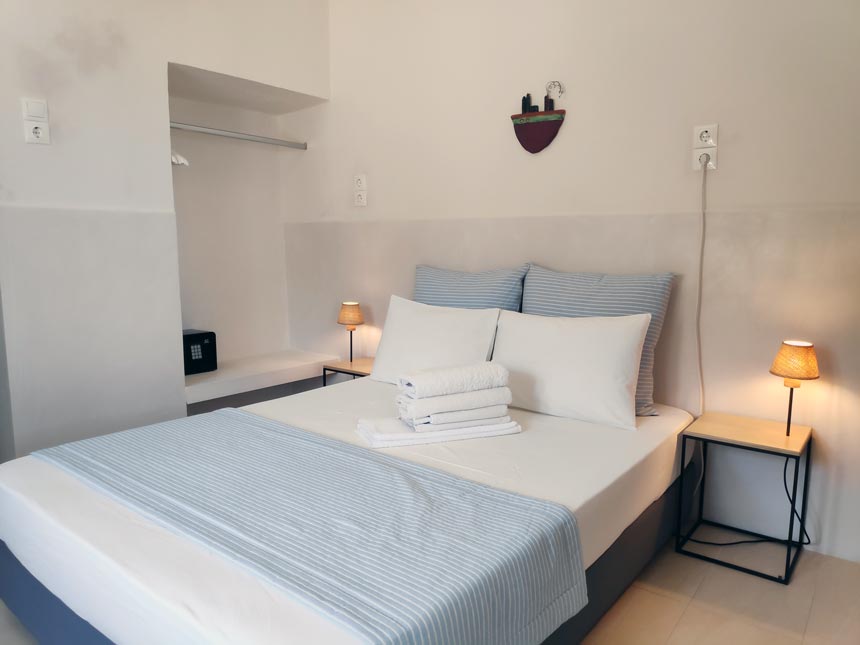 However, inside each room microcement has been used on the bottom one third of the room's walls in an off white tint rather than the floor or an accent wall. This microcement zoning created a very understated feature in each room that highlights a warm minimal aesthetic. It creates a uniform flow thus, making it also a well thought out, sound design approach.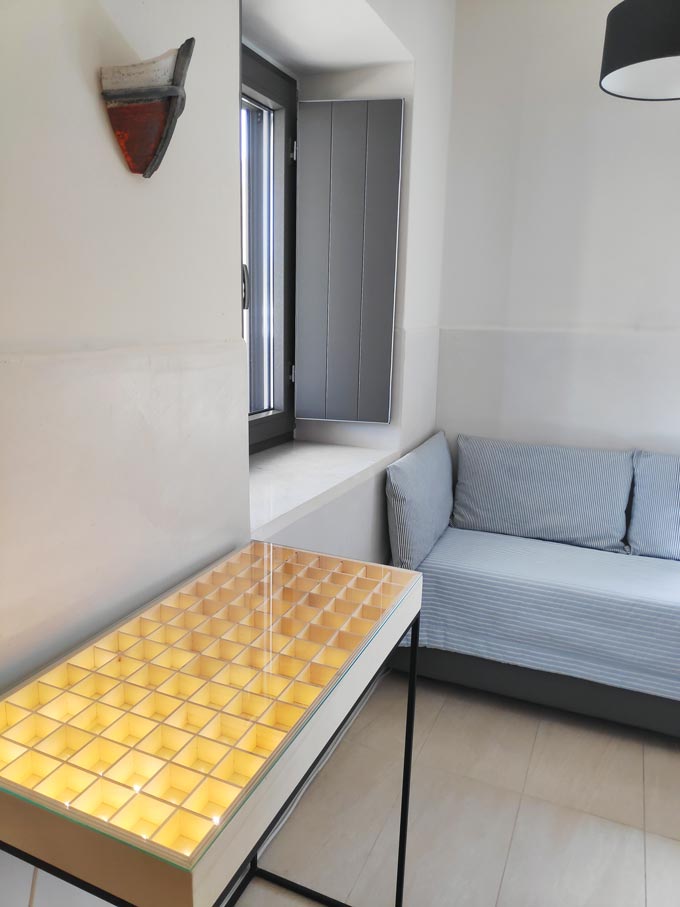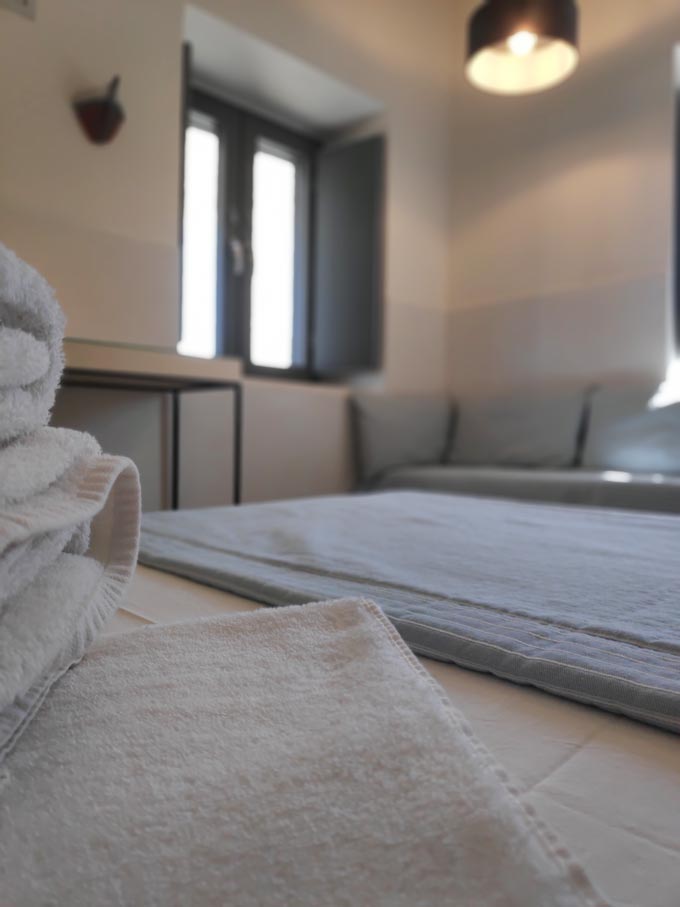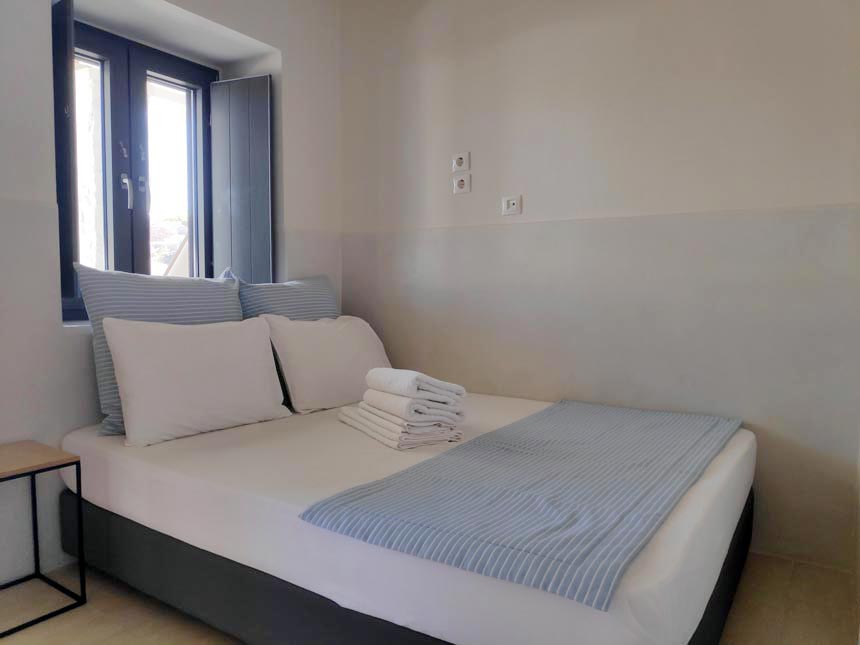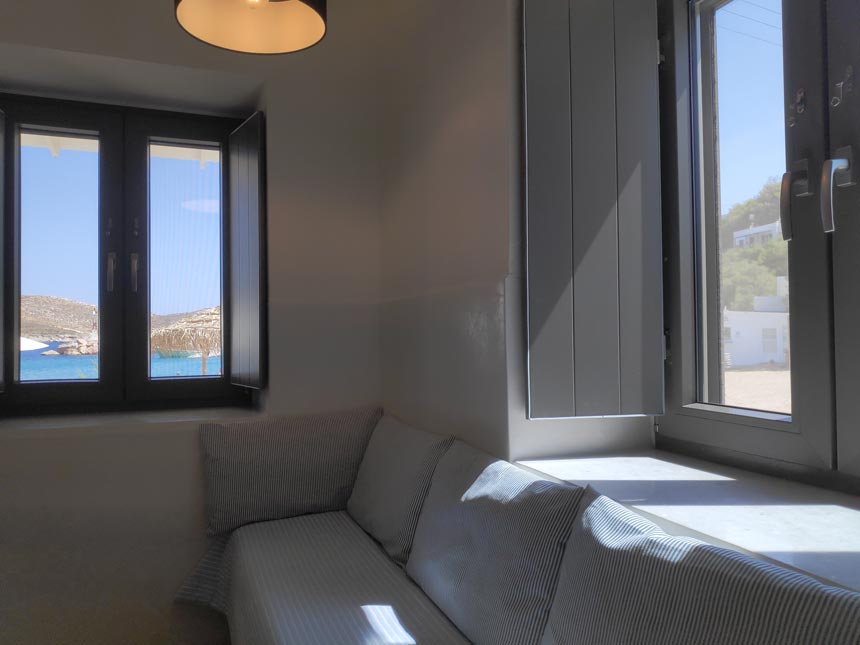 Cycladic minimal style
Now, the rooms are not large by many people's today's standards. However, Alexandros came up with many custom design solutions that grant him the flexibility to turn some double rooms to triple rooms. And speaking of design solutions, it's worth mentioning that the design concept of the room and reception furnishing belongs to Alexandros.
That includes the nights stands that caught my eye. They are brilliant because they feature a small table lamp as part of the night stand. The reason behind that is so that the table lamp won't take up any of the precious area where one would normally wish to lay a book or other personal belongings.
I also liked a table that features a grid – patterned top covered with a glass casing, that lights up! I thought that it is an interesting way of introducing an indirect light source, for that perfect ambiance, while creating yet another understated design statement.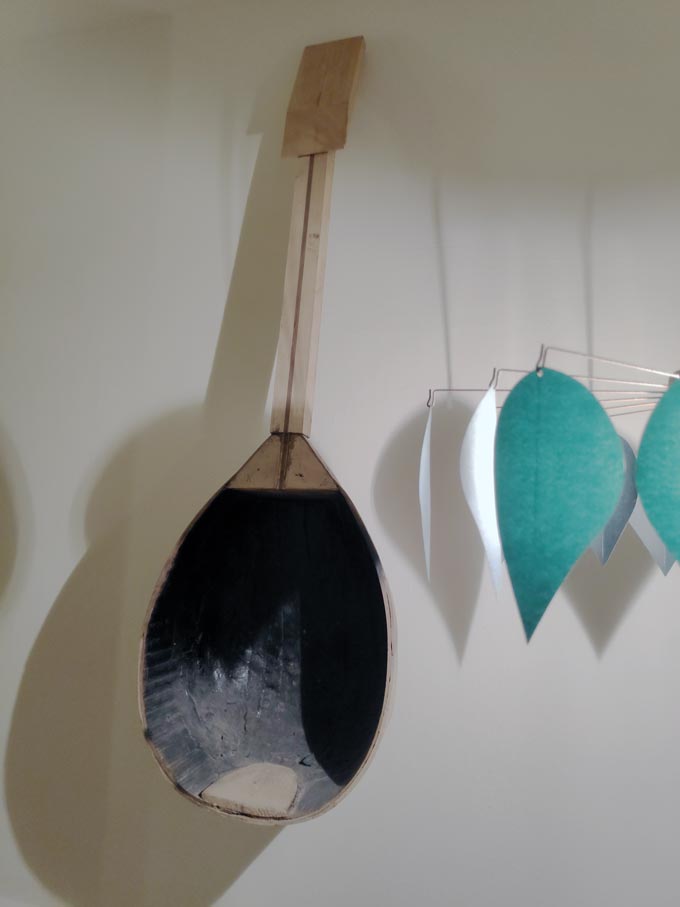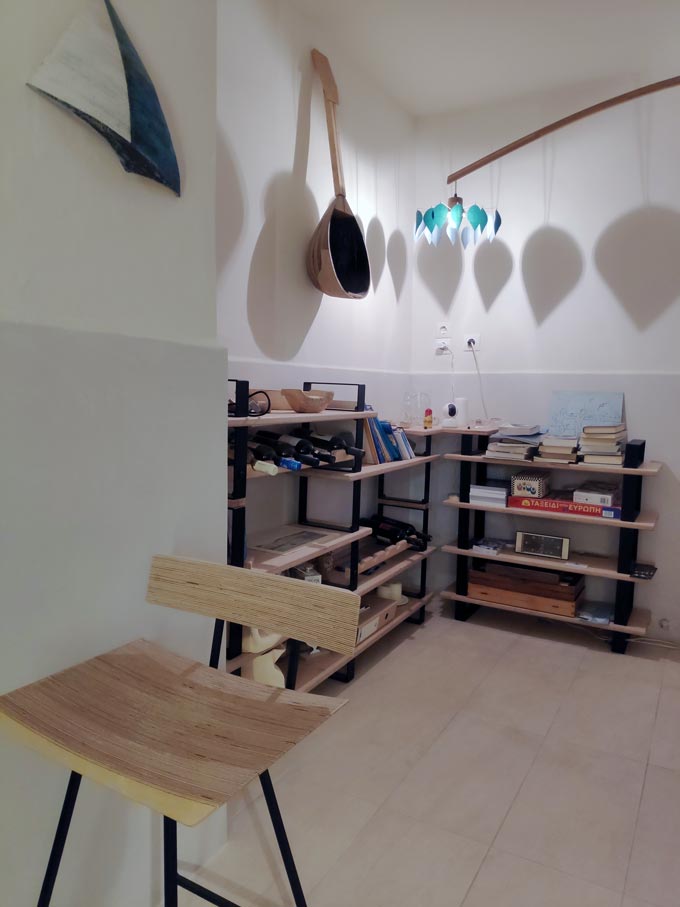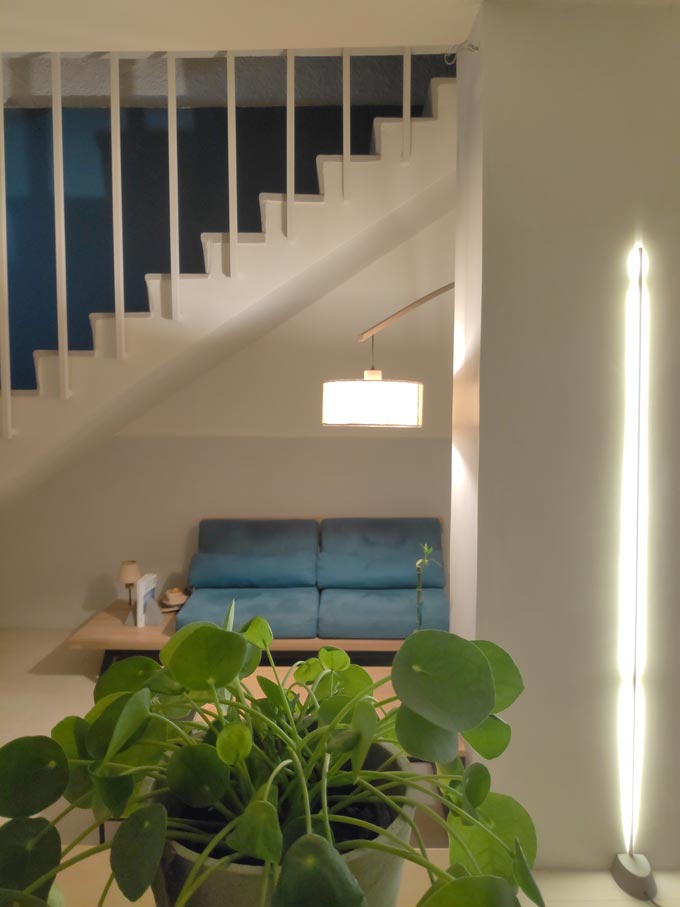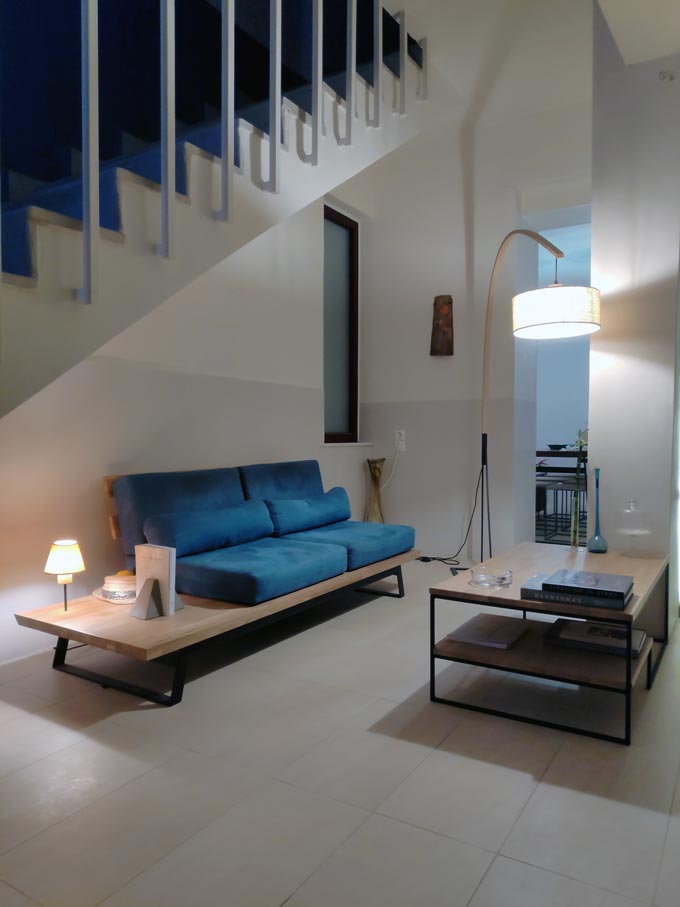 This warm minimal aesthetic with a strong organic vibe and pops of color is carried onto the reception lobby too. The footage area of the reception and lounge is really small, but the T-shape plan area where the two main axis run, serve well all the traffic circulation.
Now the creation of an accent wall using a deep blue teal color where the stairwell leads to the upper floor is noteworthy. The reason is that it makes an impact for it adds color and most of all depth to the reception lobby that would otherwise look somewhat odd and character-less.
As for the minimal decor, that includes sculptures of boats, it is inspired by the blue waters and beach sand tones with ever so slight inky stains from the black steel furniture frames giving a sense of definition. The burgundy color of the room doors and windows found at the back and side facades (seen also at the reception lobby) was chosen on purpose as a reminder of the old color palette.
Overview
In overall view, this specific design style is not the typical Cycladic minimal one. It is far warmer where linear elements intertwine with curvy organic forms yet, nothing is superfluous. Thus, it is a fusion where modern style meets tradition to create a simple and authentic backdrop with a distinct identity that reflects aspects of their personalities. One such example is the external shell of a traditional Greek musical instrument used now as wall decor, for one of Alexandros sisters is a musical instrument maker (with the singing voice of any angel btw)!
Design-wise, I think Alexandros and his family have done a pretty amazing job in turning about this old building into a casual resort, with an unmistakable warm Cycladic minimal style, for the perfect relaxed beach holiday. It is not 100% percent there yet, because they run out of time. But I'm convinced that they are going to continue to improve this hotel step by step, season after season with meraki and dignity.
---
All the while, I will continue to enjoy my simple living, walking barefoot, swimming in clean waters, making sand castles with my little ones and staying outdoors until it's too dark to find my belongings in the sand… This is pretty much how my Greek summer will continue for the next two weeks. I will stay mostly offline even though there is a voting process that is about to commence today for Amara's design awards.
Te Esse is once again nominated for the Amara Interior Blog Award for Best Written Blog (International category) – YES…(doing a little happy dance here)! So it goes without say that I would be more than grateful if you took a moment to vote and show us some of your love. 😉
All my love, XO