Truth be told, a stylish home is never an accidental or circumstantial outcome. Any stylish home that you may have seen, visited or lived in, is a product of a careful, well planned and intended design. When taking a closer look at the anatomy of a stylish home you will discover it is decorated with intention. It is that intention to bring out the best of a space and its purpose in an authentic way. And that takes knowing how to develop a personalized theme by mixing colors, patterns, fabrics, finishes, interiors materials, and decor.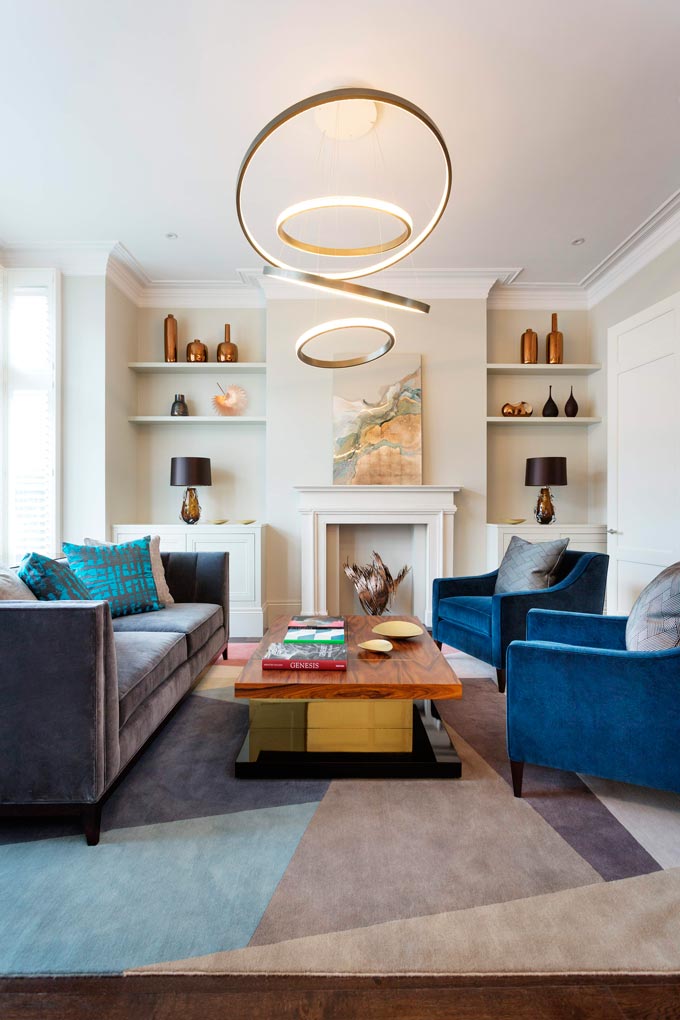 The process of decorating with intention
Who doesn't long for a home that is warm and inviting, yet stylish and more expensive looking that it really is? Yet, time after time despite all the honest efforts, many fall short. For various reasons. Mostly though, because they get "lost" and sidetracked somewhere along their decorating journey.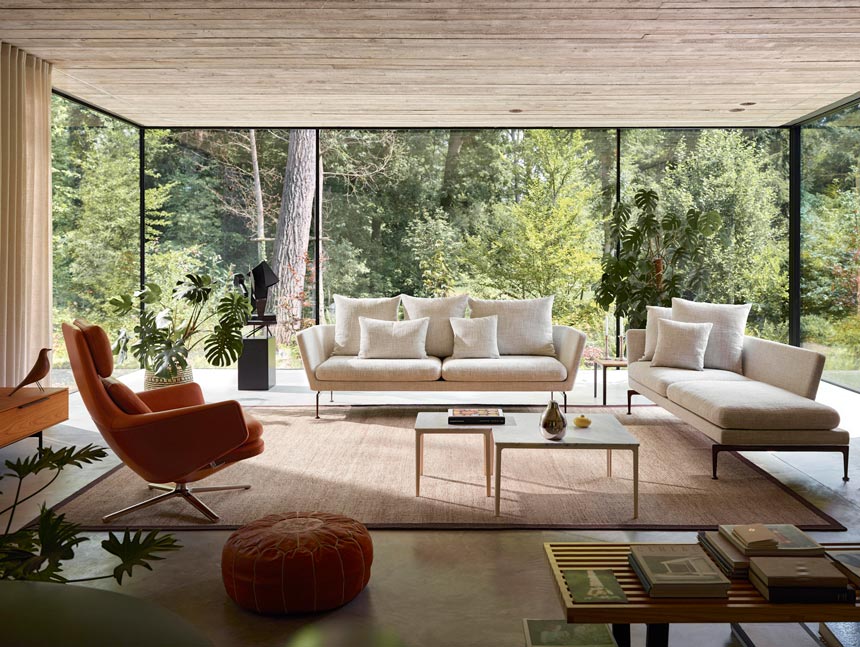 With this in mind, today I will show how to determine your own personal style and stay true to it. As a result, decorating with intention will become a meaningful process, that will make sense so that you don't lose yourself. It is a three step process that will help you with any type of decorating project regardless of its size.
Moreover, I will include an example of a very common, but real life home improvement undertaking to illustrate the process when decorating with intention. In the end, I will finish off with decorating tips on design elements and high value decor that make up any stylish home.
Your inner vision
To begin with, having a vision of what you wish to accomplish is the starting point for any task. Obvious, right?! When it comes to decorating though, you need to know a bit more than that. You need to know your likes and your dislikes – what you're drawn to and what puts you off.
Surprisingly, many of my clients do not have a firm notion of their likes. However, they all have a very clear grasp of their dislikes. But that is a really good starting point. If you know what you don't like then you can rule out everything that doesn't sit well with you, narrowing down the field considerably.
In every case, as a very first step make it a point to phrase in words what it is that you want to do i.e. give my bedroom a makeover or update my living room. That is to become your mission statement – your intent. However, you should also specify in your intent a specific time frame. Unfortunately, this is the part that most people omit.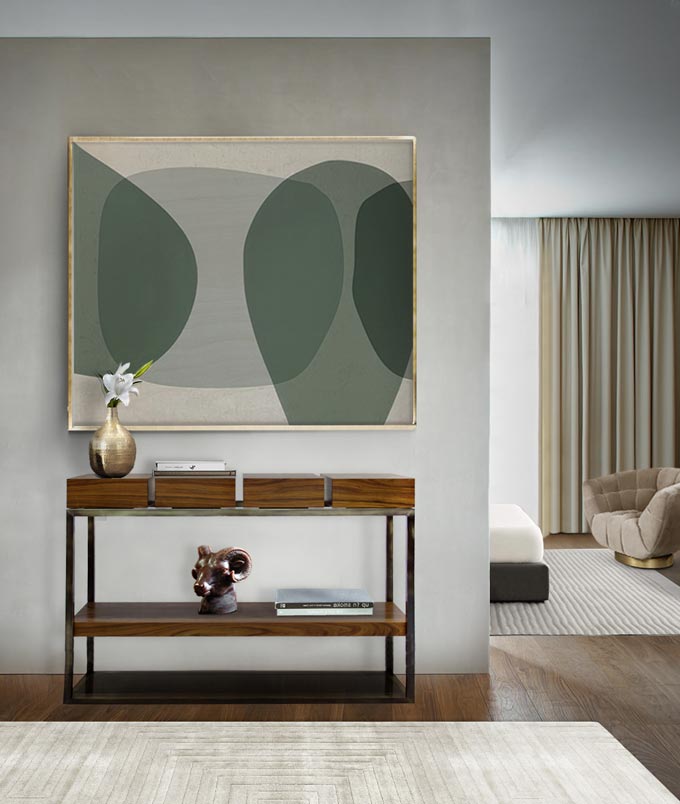 For instance, "my bedroom makeover for the next 10 years" is a completely different decorating intent than "my spring bedroom makeover." The latter clearly suggests that the purpose of that decorating project is a short term one based on seasonal decor alone – a quick fix. Therefore, don't "forget" to start off with a mission statement that includes the factor of time, or you risk going about some decorating undertaking with a miscalculated intent. The worse part of it of course is buying all sorts of stuff that may be trending, yet utterly "useless" to you in the long run. And the way I see it, that's a waste no one can really afford.
Get inspiration – building a moodboard
Next, comes the inspiration process and this is a very important step. This is the stage, where you need to set out and explore your options – the possibilities. The aim is to collect imagery that you are drawn to in order to create a visual map.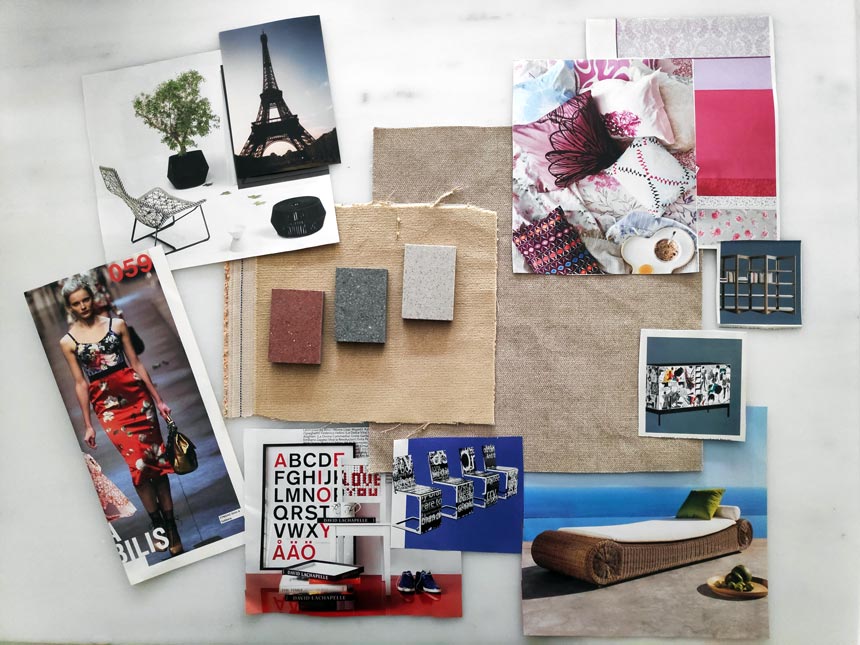 It doesn't matter where you find your inspiration as long as you keep an open mind. Having said that, many people resort to Pinterest – an amazing tool. Others look through various magazines, maps and pictures from various travels. For all you know, it could be an almost ancient postcard from an auntie you last saw two decades ago. In every case don't rule out anything. If it is a heirloom necklace – add it on. Just collect. The sorting bit comes later.
So once you have collected enough images that speak to your heart in a single place, laid out so you can see them, then you have more or less what designers call a moodboard (or inspiration board). This is in fact your very personal inner vision of what your world could look like. Your visual map. It may look a bit crude and raw at first, but it won't be so for long.
---
TIP: Although Pinterest is one of my favorite tools, I have to warn you that digital boards aren't that easy to manipulate. They tend to get massive quickly and when that happens they fail to show you the whole of your map. On the other hand, I'm not fond of the idea of printing out anything unless necessary.
However, it is incredibly handy to physically touch and move around images you have collected, whilst putting together a moodboard. So unless you are a professional decorator or designer, please do print out everything you like. Then spread it out over a single surface to look at. That's when the magic will happen.
---
Decision making
By now you should have a really large collection of ideas and cut-outs – a visual map. Hence, it's time to narrow things down in order to come up with a plan of action. This is the point where you get to ask all the important questions with regards to your intent.
Typical questions to ask yourself:
What purpose does it serve?
Is it versatile, flexible, and/or sustainable in any way?
Will it work for me, in my current home/setting? What about another setting?
Is it suitable for my needs/lifestyle?
Can I live with that color/pattern/piece e.t.c.?
Will I still like 10 years down the road?
Is it high or low maintenance? For instance, some lamp shades made of paper are impossible to dust…So how would you work around that?!
Will it involve any remodeling? Any retouching?
Will it blend in or will it stand out making everything else look shabby?
Is it my style? Or something that's trending?
Cost? (In terms of time and money-wise).
Worth? Is it an investment piece?
These are questions that you should ask yourself about each picture with regards to your project. The aim is to keep on your mood board only the imagery that fits your vision best. Get rid of everything else like that hinders your decision making, like the image of that misfit vase you are obsessing about. If something is a good fit for another project then save it somewhere else for later. (But, please don't engage in too many projects at the same time).
Remember that it is that vision that you need to focus on so that you can get on with your decision making. Naturally, your decisions have to be based on your likes i.e. pulling out the colors from your favorite image to use as a color palette for your bedroom makeover. Or perhaps you love a pattern of a rug and you wish to replicate as an art print in your bedroom art gallery wall. Whatever – (almost) anything goes!
Nonetheless, you should try to edit and narrow down your visual map as much as possible whilst, aligning it with your budget and your intent. After all, your budget is of a decisive importance. If you like something that you simply can't afford now or wish not to spend on, then your creativity might save the day. Also, believe it or not, depending on the project you should also consider hiring an architect/designer. They could well save you a lot more money than the cost of their fee.
Suggested read: 5 Cool Reasons to Hire an Interior Designer
---
---
Example
At this point, I think it's time to walk you through the real life example I mentioned at the beginning. It is an old – small scale – project of mine of a dated galley kitchen in a rental home in need of a makeover. As you can expect, there were a lot of limitations because it was in fact a rental. For instance, we were given the green light for altering the partition between the kitchen and the living room, but we were not to alter the kitchen cabinetry.
The galley type kitchen lend views to the sea through the living room. However, the new tenant wished to "contain" that view.
So what's the intent? The vision? To update this tired looking kitchen.
The next step was to determine the source of our eye sore. I bet most of you would say the cabinetry. But let me remind you that getting rid or changing the color of the cabinetry was not an option. So this is the part where you need to find inspiration from similar looking kitchens.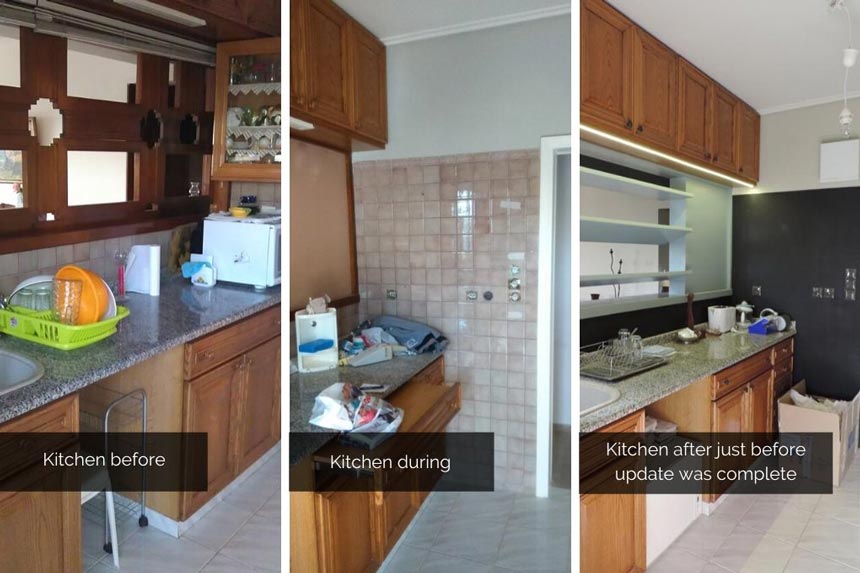 Hence, I came up with a moodboard where I could point out the impact various kitchen elements would have if I changed them. Specifically, the granite looking counter was a keeper for it was in great condition and made the kitchen look more expensive. On the other hand, the flooring looked cheap, but thankfully very indifferent too. Besides, we were not allowed to replace it.
At any rate, the wall tiling had nothing to do with either the counter or the floor tiling. It literally threw everything else off balance. It was the real source of eye soreness.
Therefore, my best option was to do away with the wall tiling. However, neither my client, nor the homeowner wanted the fuss that comes with changing the wall tiling. Vinyl stickers over the tiles wasn't going to cut it either, narrowing down our field further. We then went back to our moodboard and looked at kitchens with a backsplash that was joinery-free. This led us to the next step of this decorating with intention process – the decision making!
During decision making, you need to take a closer look at the pros and cons of each possibility. The cost, maintenance, and performance of each possible solution need careful scrutiny, before any final decision is taken. In this case for example, it soon came down to: "Should we go for microcement or a black board?"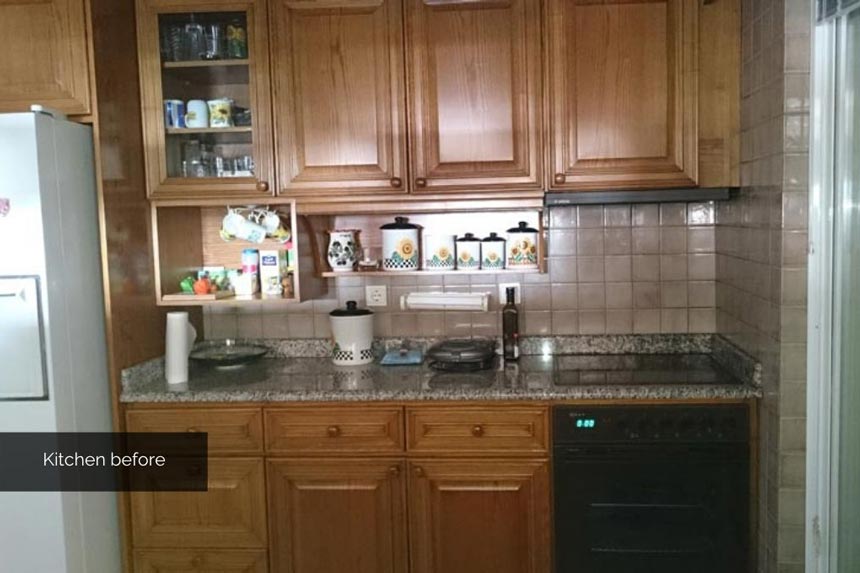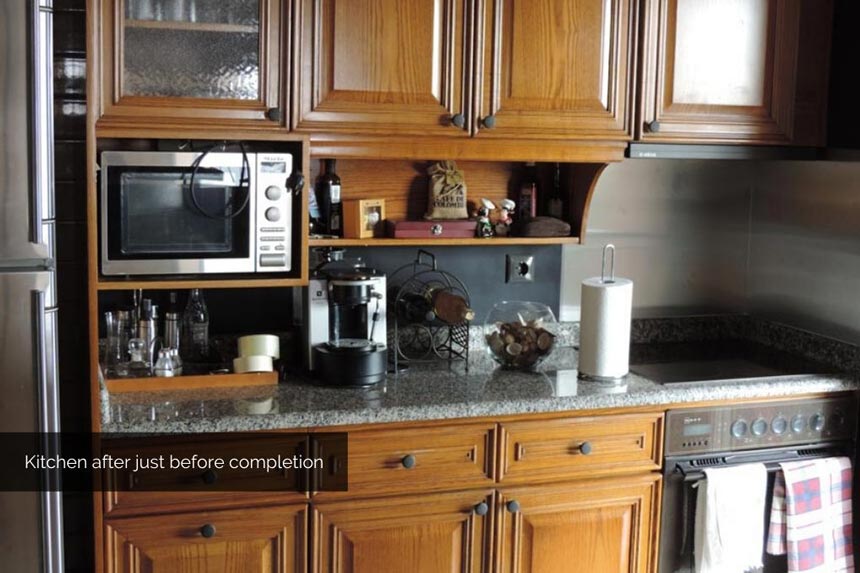 Apparently, my client decided that the black board was much closer to his vision and aesthetic. It was also well within his budget too. Consequently, every decorating decision that followed next had the intent to update this kitchen, whilst building upon this "rustic-chic" theme.
In the same manner, I changed the plug outlets from white to black and the knobs on the cabinetry to some off black stone-like ones. (These small changes can make a great difference when building a theme). All the appliances were changed to others with a stainless steel finish to them. Similarly, I altered the partition wall between the kitchen and living room and updated all the lighting fixtures too. Thus, after this kitchen's intentional decorating, it now looks like an updated kitchen, yet an integral part of this home's overall theme.
Ultimately, this example goes to show you how that this process of decorating with intention, leads to tailored solutions that work aside any limitations, budget or style. It is a step by step process that involves careful planning and a lot of editing before reaching a final outcome. Obviously, it leaves no room for random decisions and impulsive buying home decor sprees. 🙂
Decorating tips for a more stylish home
As I mentioned earlier, a stylish home is a product of a well planned design and decorating with intention; good design has a good flow, articulating a personalized theme and style. Putting it in simple terms, it means that every element has its purpose, but together they all form a single entity – a single "clean and polished" unique look.
Unequivocally, there are ways/elements to establish that "clean" well put together look. Additionally, there are high value decor pieces that you can employ to achieve that look.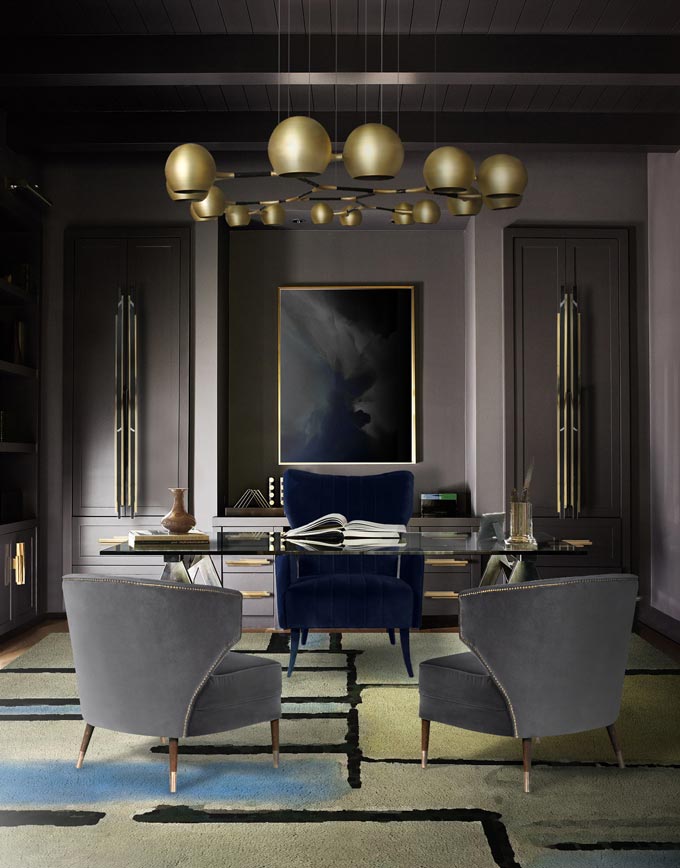 Elements to include when decorating with intention
Let's have a look at some of these elements that are commonly found in stylish homes starting with a good lighting strategy. Planning out the position, type, and number lights for any given space as part of a lighting strategy is probably one of the most crucial elements. Sadly, it also one of the most overlooked design elements. (Suggested read: Lights the Basics on Lighting Design).
Likewise, when decorating with intention in order to have that cohesive and well-put look, it is vital to come up with a personalized theme, not just an interior style. The reason being is that a theme requires a deeper commitment than a style. Thence, everything that follows that theme will be chosen with intent to feel like part of the ensemble. The repetition of certain interior materials, patterns and/or finishes build up that theme. Take the image below for instance and observe how the fluted pattern, the round forms and the earthy colors have created three ongoing themes under the umbrella of a single interiors style "urban chic."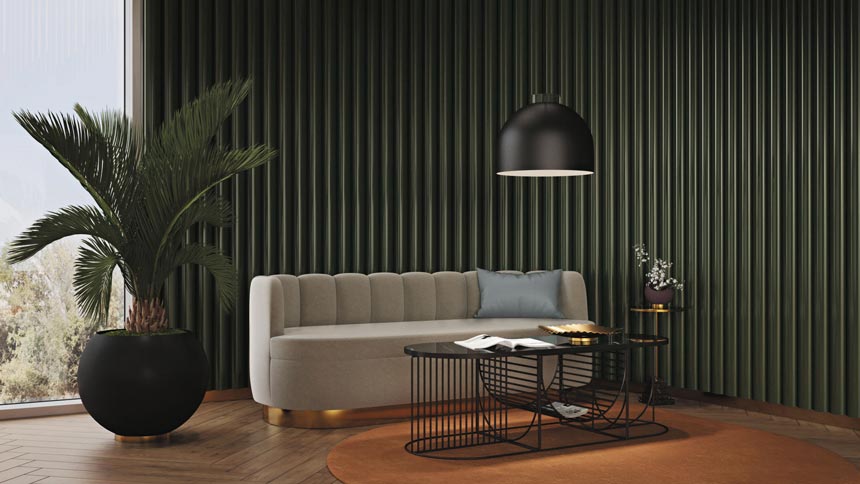 By all means, your color palette is another key element to your decorating efforts for a stylish home. For this reason, once you come up with a color palette that feels right to you, stick to it regardless of the ongoing color trends and keep it cohesive throughout. If it feels right then it means that it is your style. Again, use your moodboard to pull out the colors for your palette.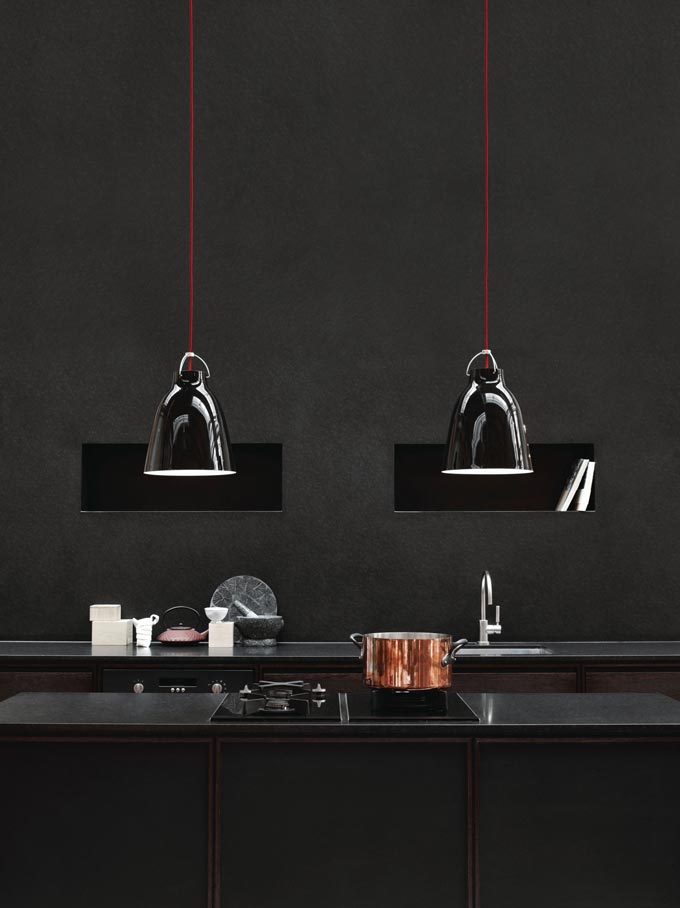 Trust the power of numbers. The power of numbers in decorating with intention is all about repetition. For instance, if you have a vignette then you could certainly add on a cluster of three vases or candles for more impact. (An odd number works best). Or, if you have a gallery wall, then opt for the same type of frame.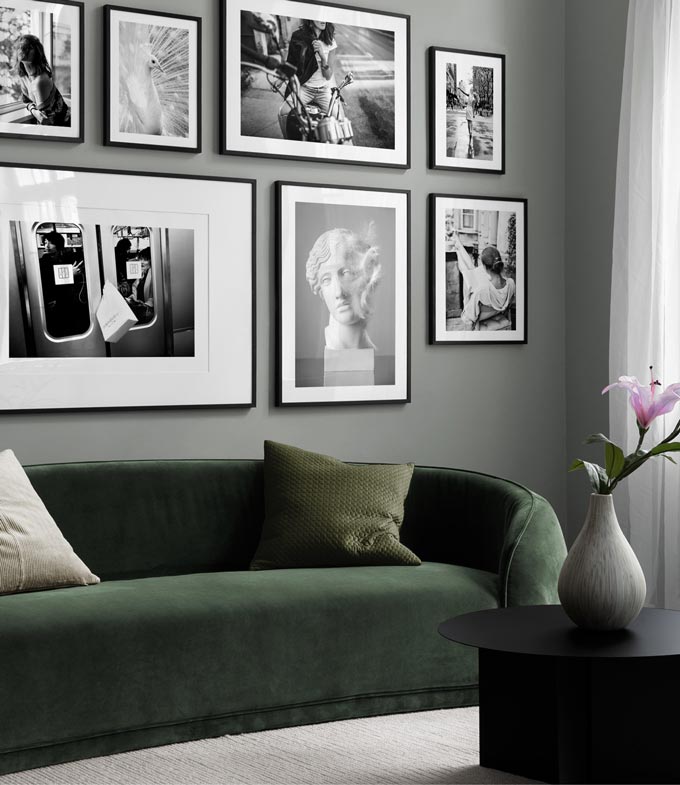 Such an approach works excellent with a cheap and minimal frame like the notorious RIBA from IKEA. The reason is that the frame is no longer "THE frame." Instead, it becomes more like a backdrop allowing the art itself to pop up. Basically the idea is that when employing a piece in a repetitive fashion, you are building up your impact and enhancing your theme.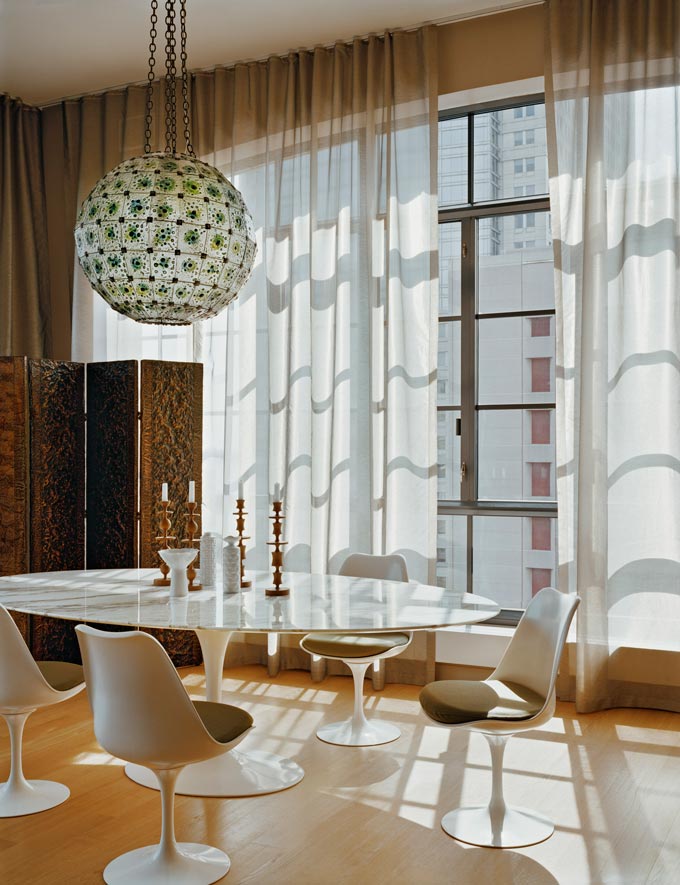 Lastly, window treatments is another decorating element with a tremendous impact in a space. They dress up a space and do away with that "unfinished – incomplete" vibe that presides in so many homes; not to mention their capacity to add drama. (Something to think about).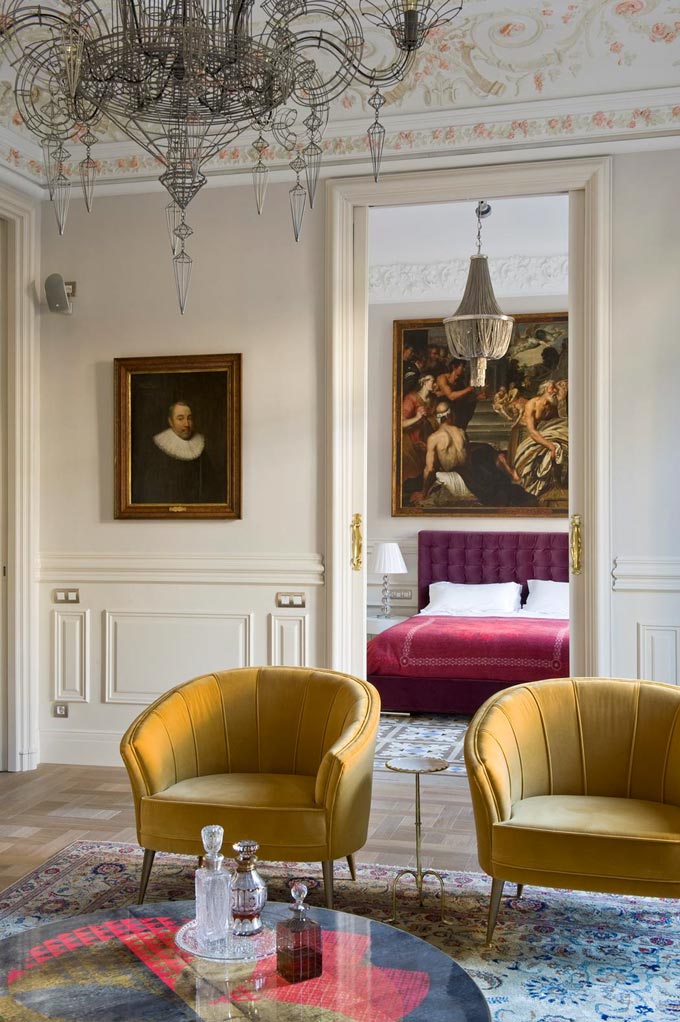 High Value Decor
Statement lighting, hand-knotted area rugs, mirrors and curated artwork are pieces with high decor value that dress up any stylish home. As such, these pieces are independent of any design trends. They are your investment pieces. Hereinafter, if chosen with care and good deal of thought, then you will not feel the urge to replace them later. Any tailored made or handmade pieces like mouth blown glass vases can also constitute pieces with high decor value, so look out for those too.
The upshot
In short, decorating with intention relies on a process that involves naming your intent within a time frame, good planning and sound decision making. Furthermore, it is about committing to a theme(s) using high decor value pieces and design elements to bring the best out of a space in a personal and unique way.
Till later, xo