Decorating a rental may be a challenge, but you can definitely turn it to a beautiful and stylish haven that will have your heart flutter. You can surely put your decorating skills to good use, despite all the big "NO"s of your landlord; or your budget that may be smaller than your rental's square footage. So let's delve into these 7 game changing tips for renters that want their rental as good as it gets.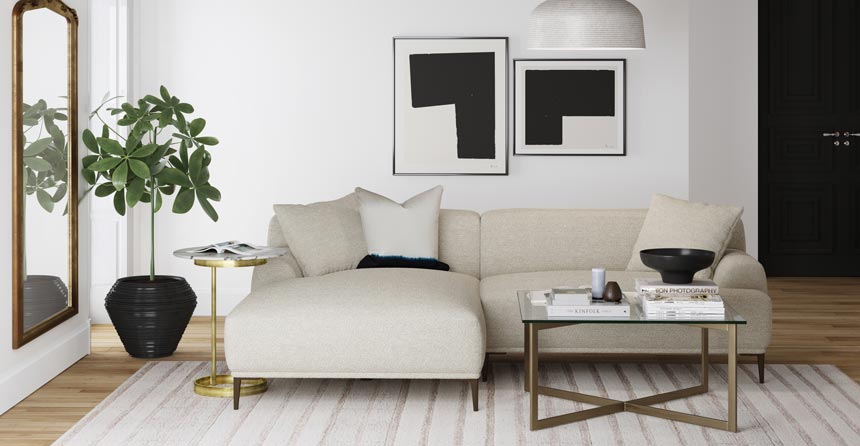 7 Game Changing Tips for Renters That Enjoy Living Now
Tip 1: Decorating with intention
The single most important thing for a stylish home is decorating with intention. In other words, you must nail down your very own distinct personalized decor theme – your style – your decorating signature. A little bit of this and a bit of that are not going to take you far enough on your decorating journey. Especially, when it comes to a rental. And that's an ugly truth I know. A bunch of hand-me-downs with no sense of direction simply shouts 'temporary!' Yet, if you're reading these lines now, then I'm sure you don't really want that.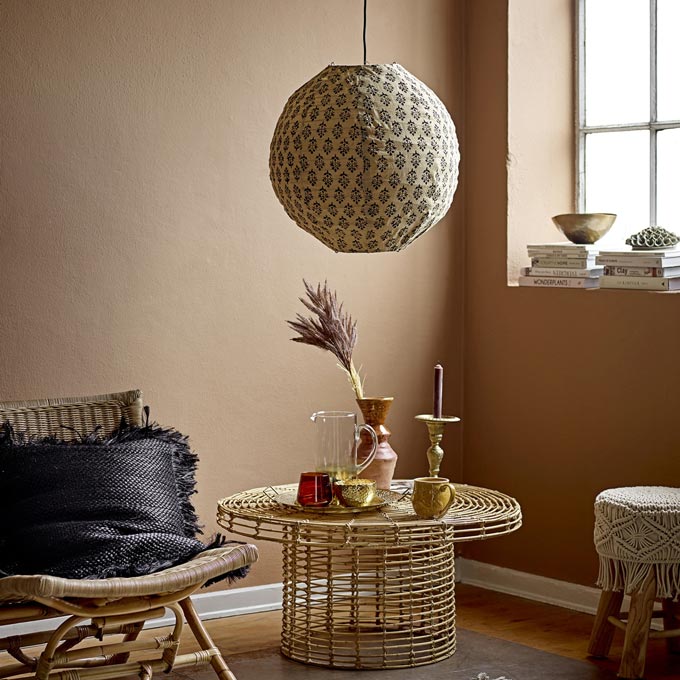 On the contrary, you want a warm, stylish cozy home. Hence, it's vital to have a clear sense of your decorating intention (goal) that will help you edit and ultimately stay tuned in to your style. As such, your rental's style should be all about where you are now and where you're going.
A good starting point in any decorating journey is to pin point any pieces that you may already own that you don't ever want to part with. I'm talking about pieces that mean something to you. Pieces with a story to tell. Those are usually the pieces that hold the key to unlocking your theme, your style. After all, you already have a bond with them, so you might as well highlight it!
---
Tip within a tip: Vintage charm
Next, you may want to pay visit to a flea market or your local second hand store. You can always count on vintage charm to create a homey well-curated vibe. But before you set out to discover those buried treasures that your keen eye will undeniably spot, it's important to keep reminding yourself the notable 'less is more' motto. Honestly, do not go overboard with your shopping sprees. There's no real need. I promise.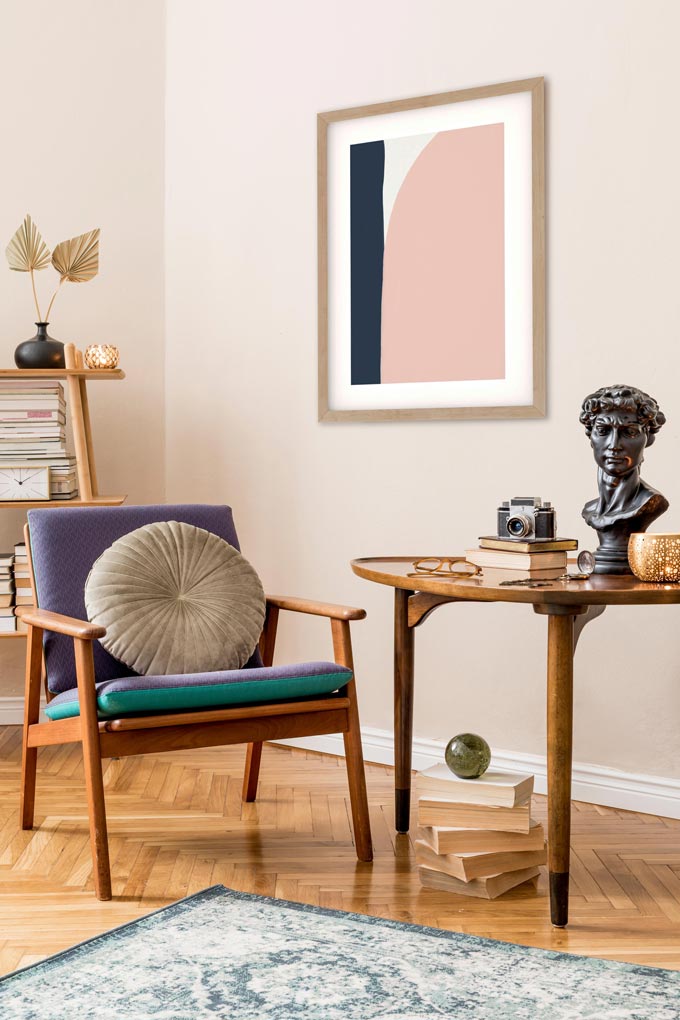 More often than not, you may get carried away with shopping, because moving in a new place always gives rise to new opportunities. And that's exciting. I get it. A house that feels undone, deprives you of a sense of calm. However, it's truly best, to give it a little time for the dust to settle down (sort of speaking). The reason behind this, isn't just because it's the sustainable and consumer responsible way to shop and decorate. Of course it is. You know that.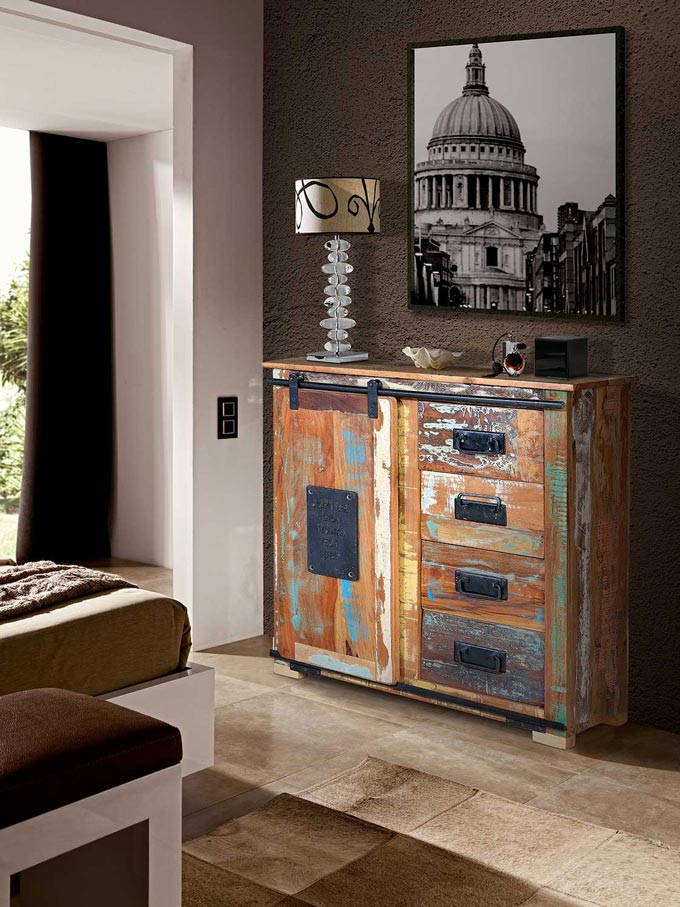 But it's also because, you need to give yourself the chance to note the best and worst spots of your house with regards to natural light. It's about how things including your wall color reads against natural light. And that is best done when you don't have to many belongings crumped up. That's also when the most honest vibe of your space will resonate to you; and it's that vibe that should pursue to highlight after your own style.
Surely, if you can pin point that vibe, then it will be a piece of cake to create the so-called 'moodboard.' A moodboard is all about mapping out a decorating style you would like to embrace. It is really your visual guide of your decorating intention. And it will help you pull out the colors of your palette.
Tips for renters no 2: SNAP a photo
From all the tips for renters, this one is HUGE and works like a charm. Take pictures of your rental. Lots of them – of every corner. Next print them and spread them out so that you can have a clear sense of what your space really looks like – NOT what you think it looks like. You'll be surprised on the things you will pick up from just looking at those photos. This enables you to spot everything you like/dislike, all the eyesores and/or features that may go unnoticed.
If you then place the photos against your moodboard, you'll be able to determine what's missing i.e. a table lamp or an art print. And remember this is an ongoing process that you may have to repeat several times as you decorate corner by corner and room for room. You see decorating is very much like doing a puzzle.
Now, some of you may argue that you don't know what the final picture is supposed to look like. True, yet, you know how it should feel like. And usually the feel of a space is more important than its "particulars" that make up the look. So if something feels out of place, mismatched (in the wrong kind of sense) then it needs to go…(donate it, or pass it down). Simple as that.
On this note, it's also worth mentioning that there are plenty of home design and decorating apps. Each one of them may have a different aim, but all the same they are tools at your disposal. Eventually, they may be of some help to you in making better decorating decisions.
Tip 3: Lighting
Any decor or furniture piece has the potential to look its best under the right lighting. Fact. (Period). Hence, invest in your lighting to create the ambience that feels right to you. Swap out any outdated lighting fixtures, add on dimmers and cast away all shady corners. Lighting is a huge factor in how a space presents itself and ultimately how it feels. Besides, both table and floor lamps are pieces that you can hang on to forever, no matter how many houses you change. Therefore, it pays off to invest in good quality statement lamps, including pendant lights that will add on some drama while having a positive impact to your space.
Suggested read: Home Improvements Chapter 2 – Lighting
Tip 4: Wall Colors in a Rental
In all likelihood, your landlord is not going to agree to your ambitious decorating plans that include accent walls or color blocking. Yet, it's totally worth asking your landlord anyway. Because you never know. Nowadays, some landlords are willingly agreeing to painting a single wall. And if so, then take the time to discuss in further detail which wall should that be.
On the other hand, if there's a particular stand out architectural feature, i.e. alcove, then you could try to find a way to make it work for you. If all that fails, then you can always resort to creating an art gallery wall for that personal vibe in the colors you love best. And in case you do go this latter option, then remember that command strips are a great way to hang art without making holes. That means that you can re-arrange your art again and again until you get it right.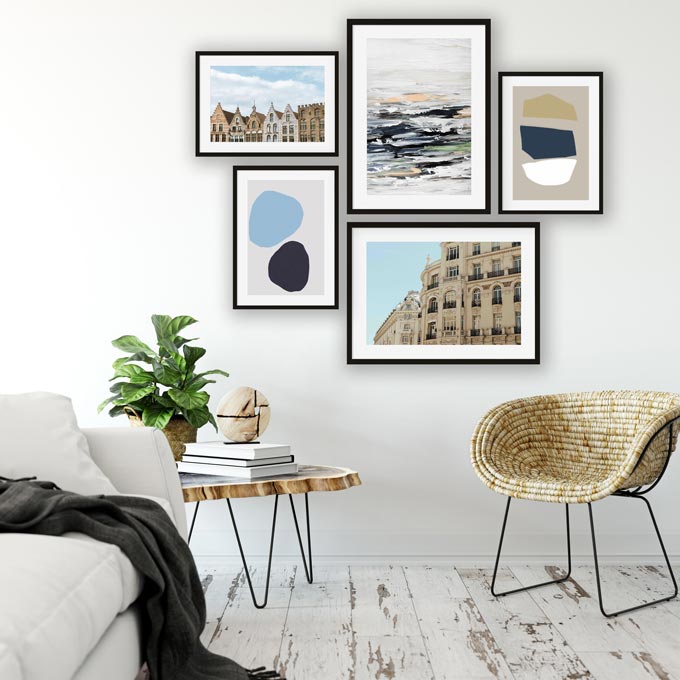 Furthermore, you can resort to removable wallpaper. In some cases, wallpapered accent walls work beautifully and don't necessarily look "tired." You may also want to wallpaper your bedroom closet doors instead. In any case, the great part is that should you get bored of this look, then you can easily remove it and go for another wallpaper pattern or the good old plain solid wall color. By all means, if you're not feeling that bold and are looking for something more subtle, then consider lining the insides of your shelves with patterned fabric or wallpaper. It will create a real awe effect (in a good sense) and you won't risk losing your deposit either.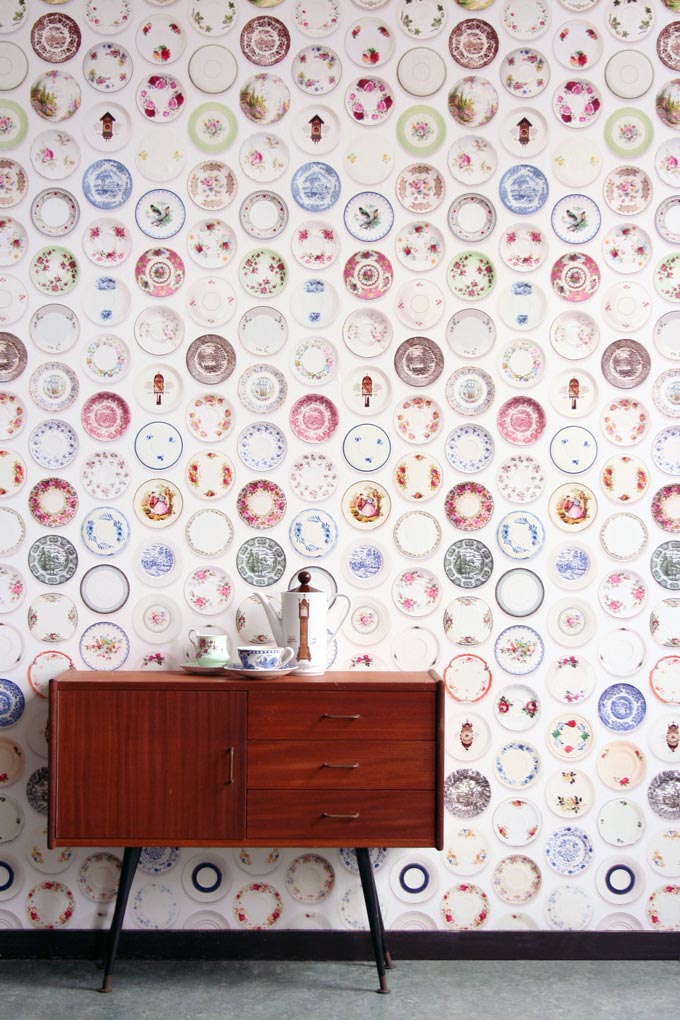 Tip within a tip: Contrast and color are both excellent ways to guide the eye. Therefore, you should use them in a manner as to create a layered space with sight lines, thus creating the most pleasant visual experience.
Tip 5: Versatility
When it comes to furniture for a rental, versatility is the key attribute. Multi-purpose furniture with double serving purposes are must have pieces. For instance, if you move homes quite frequently, then a modular sofa with a secret storage compartment can save you from a "lack of storage" jam. And trust me you can get creative with this. For example, some ten years ago, I bought an IKEA wooden box (sadly it has been discontinued). I hacked it, by adding a glass top to it and have used it ever since as a side table. But it also serves as a storage compartment for all my sofa throws when not in use.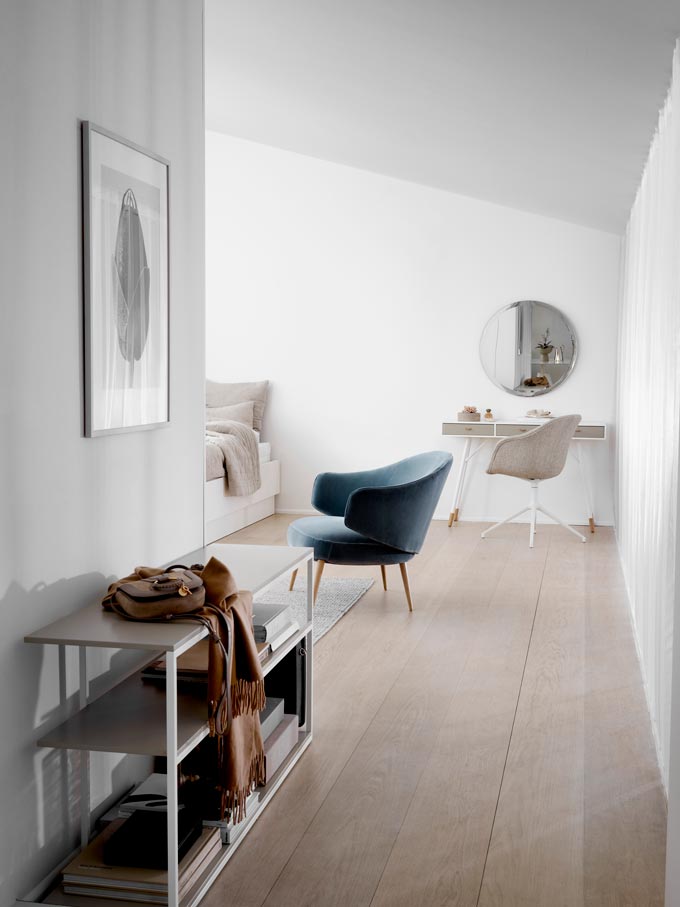 Although, this may sound as a no brainer or even insignificant, the bottom line is that my sofa throws do not take up any precious space from my closets. And that's the kind of mindset you also need to adopt in order to avoid unnecessary clutter. Because clutter in any home (rental or not) usually looks just messy.
Tips for renters no 6: Flooring
Many times the flooring of a rental is a real eye-sore. Unfortunately, there isn't always an easy way round it. Still there are two things you can employ to camouflage flooring i.e. an offensive looking carpet from the 80's. The first thing I recommend is using rugs. As a matter of fact, when it comes to large surface areas i.e. living room, use a large rug.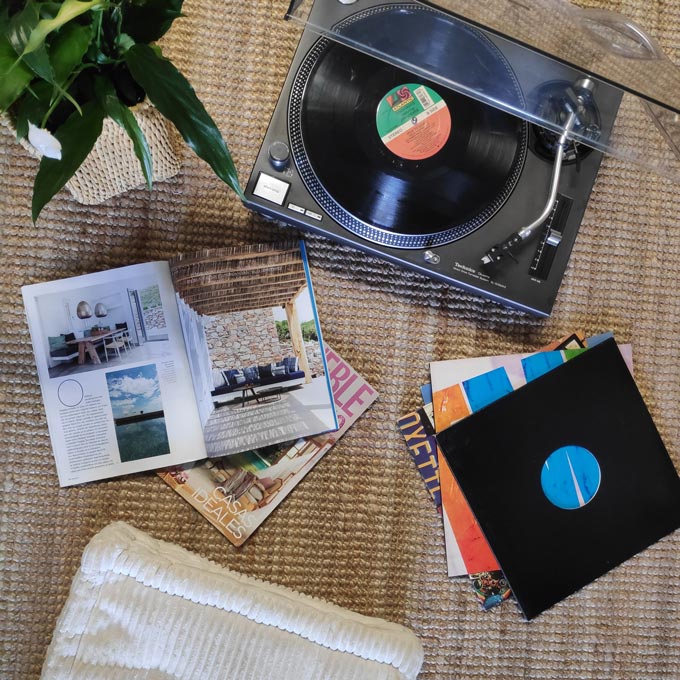 Obviously, you can use any rug that you like, but since it's for a rental home then I strongly recommend using rugs with an organic vibe instead (i.e. jute or sisal). The benefits of this type of rug are a) it's affordable and b) it acts like a "white-out." It literally becomes a neutral canvas that hides an unsightly floor underneath, allowing you to do your decorating thing… By the same token, IKEA has several rugs of this kind that come in various sizes with great looking textures. Also, keep in mind that earthy colors are the safest neutral choices that will not break your existing color palette in any way.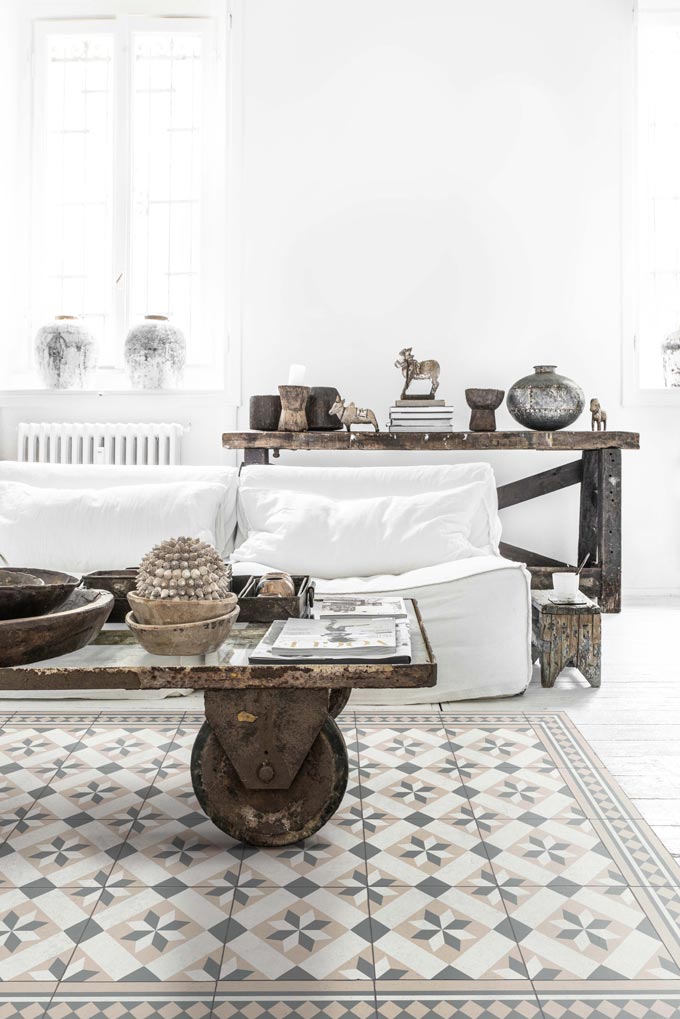 On the other hand, for corridors, entryways or bathroom floors (basically smaller sized surface areas) use vinyl removable floor mats. They also work beautifully. They come in various patterns, but my favorite ones are the kind that look like old cement tile floors with a winner geometric pattern. They sing straight to my heart.
Tile 'dressing'
A similar approach can be employed when it comes to ugly tiling. Again, removable vinyl stickers with great patterns can easily and affordably disguise problematic areas like a kitchen backsplash and/or bathroom tiling. They will add a distinct character and a pattern of your choosing in your room that will resonate so much better.
Tip 7: All in the details
I bet you've heard of the expression "…it's all in the details!" So true! Therefore, do pay attention to all the details that set the mood, the feel of things like the hardware. Swapping the existing hardware with new of your choosing is an easy and very affordable way to update those blunt kitchen cabinets. Similarly, buy a fresh new luxurious shower curtain and don't forget to replace all the toilet seats with new ones. Moreover, if you don't fancy the existing (and perhaps stained) curtains from you landlord, then opt for some 'ready to hang' curtains that will make instantly a huge difference to your rental.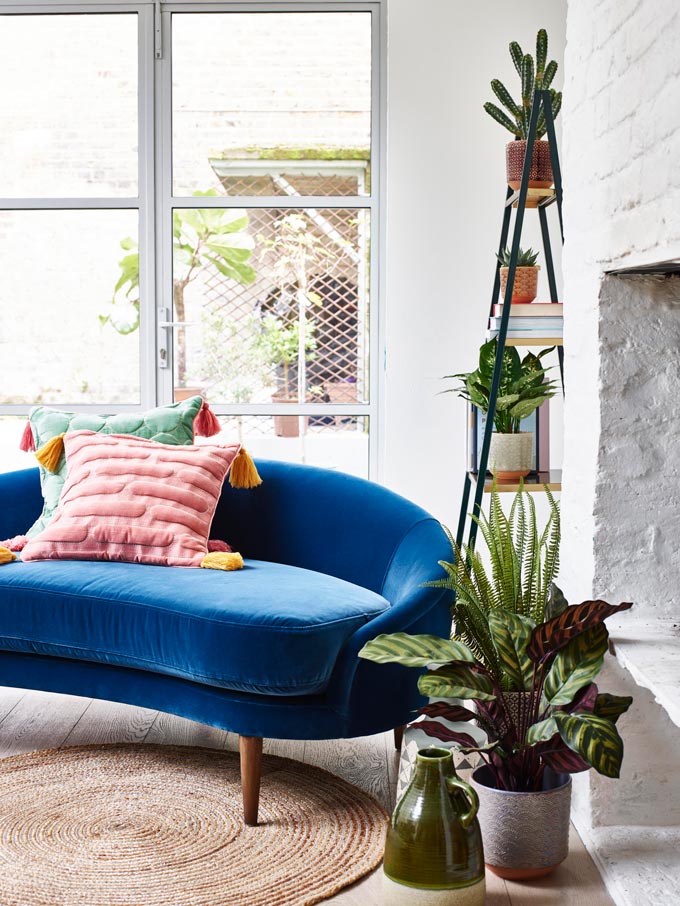 Additionally, there are two more design elements with a significant impact on both the aesthetics of your rental and your overall wellbeing. These are soft furnishings and plants. Both are extremely powerful in creating visual interest and a sense of texture and depth, while they will/can accompany you to every home you move to. Moreover, both add a liveliness and softness enhancing the aesthetics of a space. Thus, layer them in every room, starting from bottom (floor) and work your way up.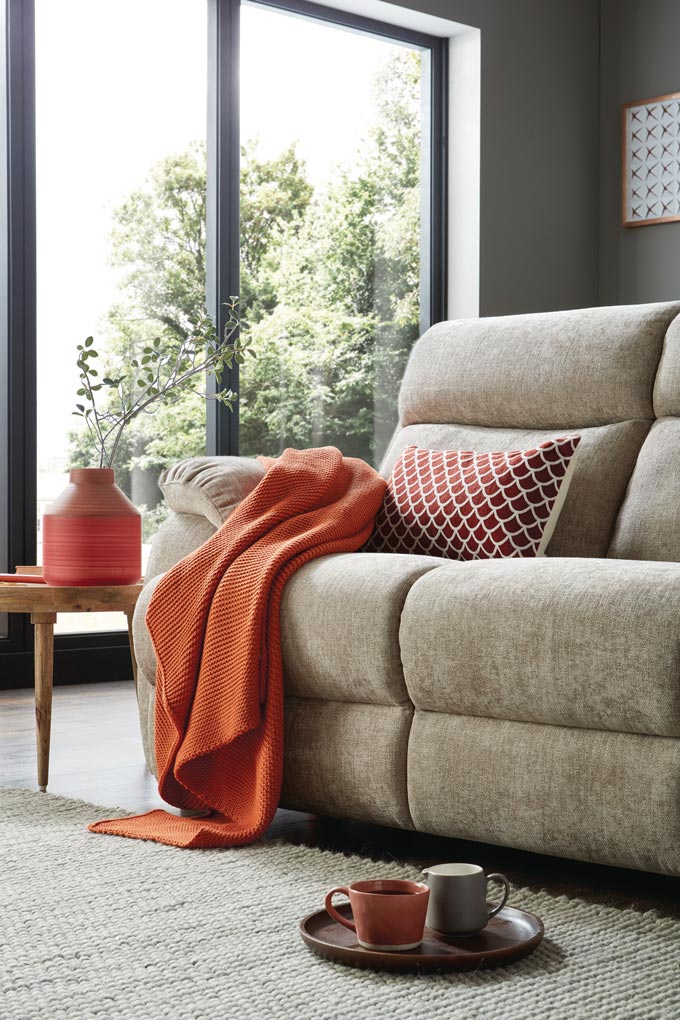 The uptake on decorating a rental
Decorating a rental can be a handful task. Yet, these 7 game changing tips for renters are easy, low risk, affordable and easy to implement over and over again (no matter how many houses you move to). The basic and most fundamental of all is to 'nail' your signature decorating style and hence, invest in your "signature" pieces. Add on some vintage charm, soft furnishings, artwork, statement lighting, and perhaps greenery and you'll have a great thing going on.
Since decorating is about editing in phases, please do not start off your decorating journey by trying to hide ugly radiators. Every house has radiators and hardly ever do they look any good. But our eyes have been used to seeing them in a room, therefore there are good chances that they may go un-noticed. Instead, it's best to guide someone's eye elsewhere i.e. at a gorgeous window treatment. In other words, if you have carried out all the tips mentioned here, then the radiators may be go un-noticed at the end. Lastly, if you are into the industrial aesthetic, then don't miss this: Industrial Design Decorating Ideas for a Rental.
Cheers for reading this far, xx