'Tis that time of year…And despite the odd circumstances due to the pandemic, during the holidays we will gather around the dining table. That's why Elisabeth has created a hyggelig Christmas table setting that brings out the best of the season's magic. It's not an expensive, difficult or time consuming table setting; but it will spark your imagination with its simplicity and hygge vibe.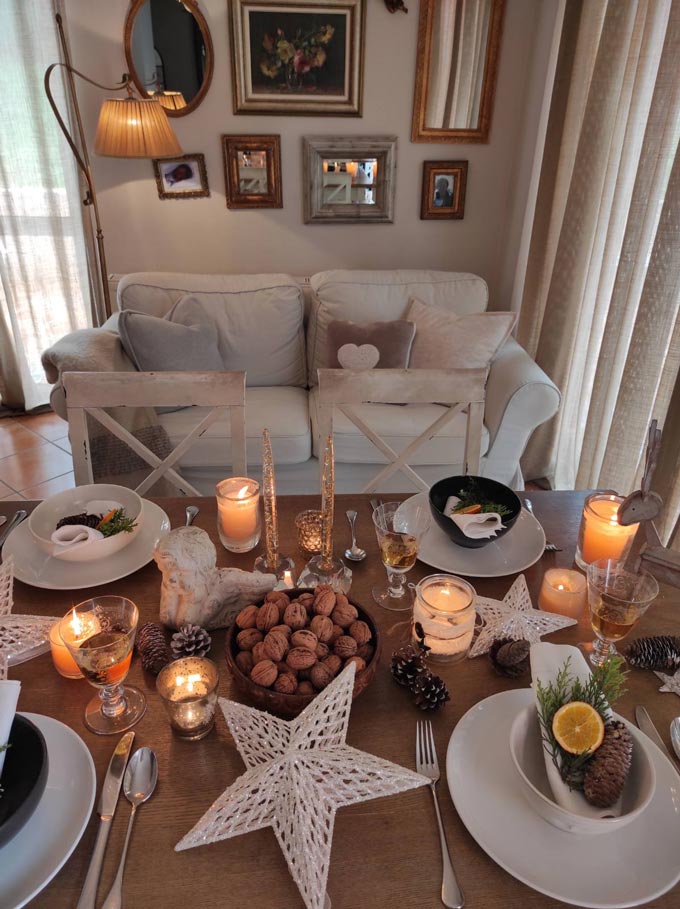 After all, when under a lockdown situation this long, "fancy" party like table settings do not make too much sense right now. Nevertheless, it won't hurt you to check an older Dreamy Christmas Table Setting.
In any case, this time round it matters more than ever to celebrate our well-being, just like it matters in up-keeping our spirits too. Therefore, you don't have to pull out your best holiday china. Yet, you should try to make everyone feel cozy, comfortable and ready to engage in lengthy conversations. And perhaps some board-game playing afterwards.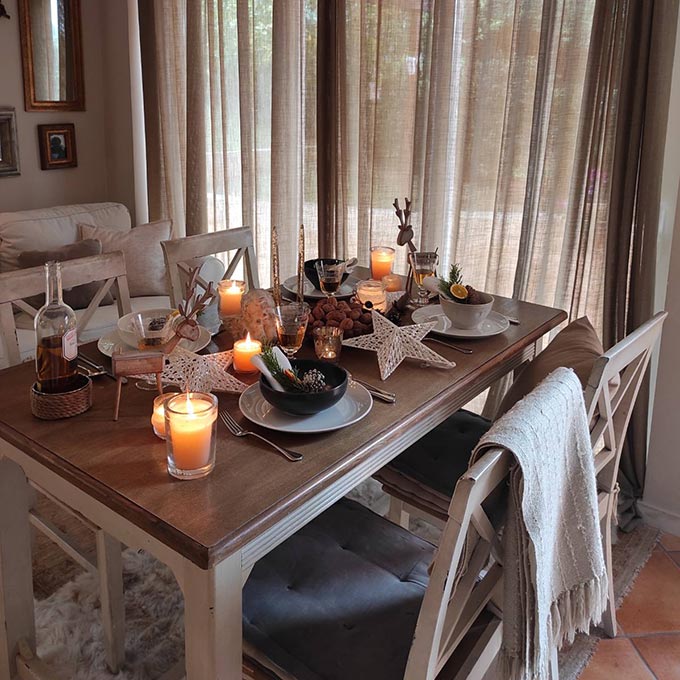 With that in mind, Elisabeth used only decor pieces she already had at home from the years before. (Surely, Elisabeth and I are not the only ones who hang on to Christmas decor and use them over and over again. Besides, to me, shopping my house is appropriate and the most sensible thing in the world, especially nowadays). With that said, Elisabeth created an understated homely glamour that will bring together grown-ups and kids.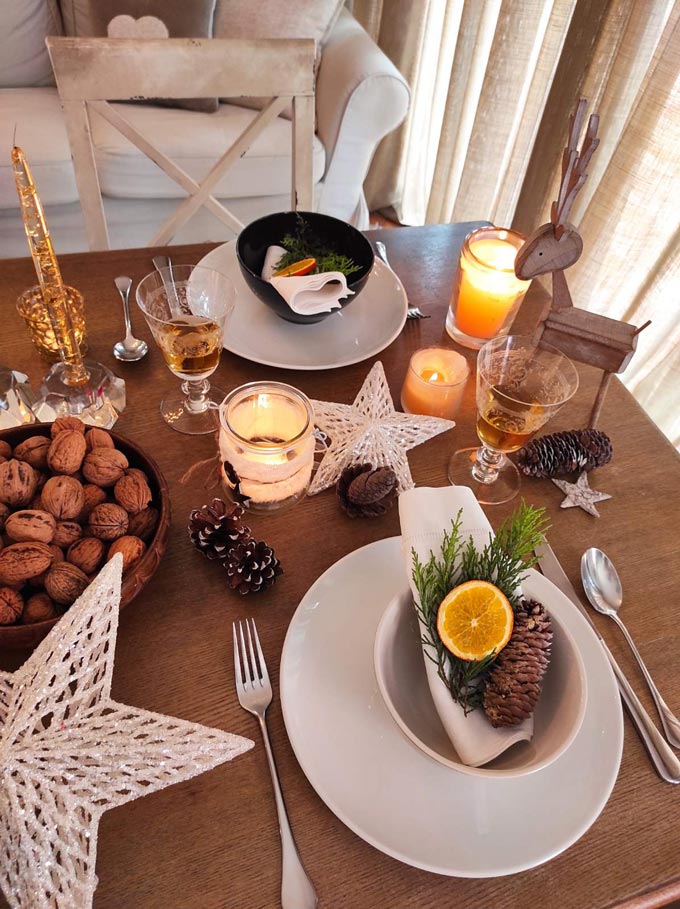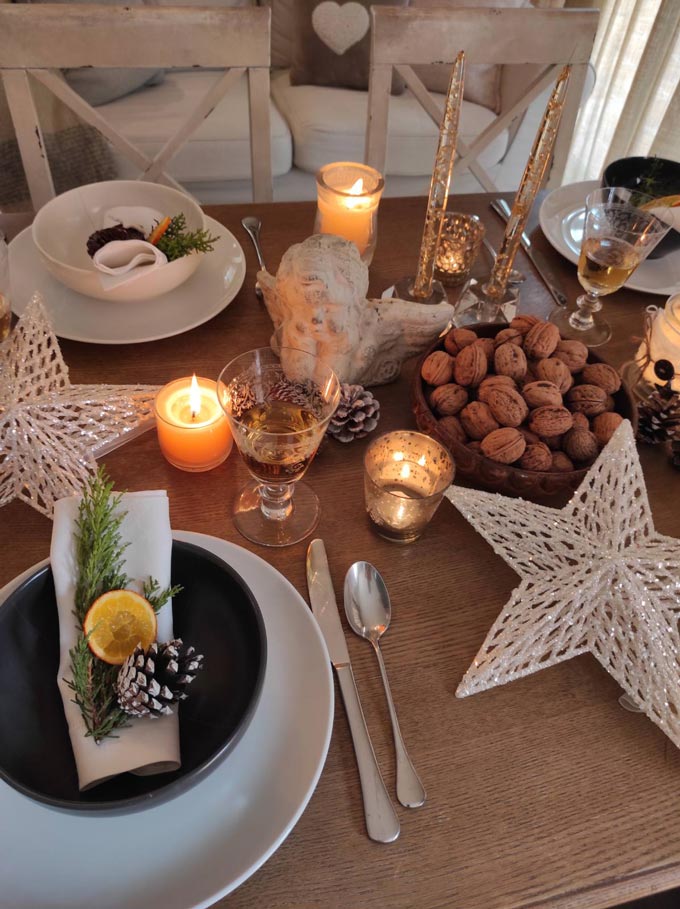 Notice that Elisabeth did not use a tablecloth or placemats. Clearly, on purpose. That way, she did away with their note of formality. Instead, she added a throw blanket and cushions. Next, she added plenty of pine cones. As a matter of fact, she used a pine cone as decor at each napkin setting, paired with a dried orange slice and a fresh green pine twig; all styled with a wabi-sabi flair. Likewise, she added more cone pines sparingly across the table, accentuating that woodsy organic vibe.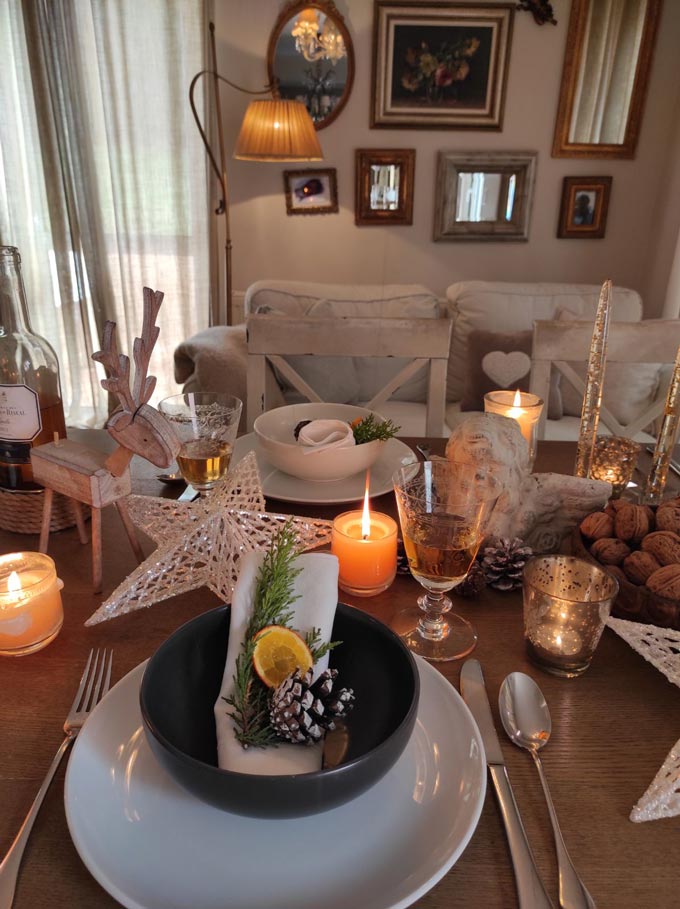 A few more wooden decor pieces i.e. the deer mixed in with an off-white clay angel piece, tealights and the oversized white star create a playful, hyggelig Christmas table setting with a festive aesthetic. But my favorite touch is the wooden bowl with the nuts sitting at the center of the table – so simple and humble. Moreover, I also love how she spiced things up a little by using white dinnerware for the most part, except of the two black soup bowls. That was a game-changing twist that added a hint of understated glamour to an otherwise simple and elegant table.
Regardless of your lifestyle, Christmas is bound to feel much different. All the same though, you should definitely take the time to dress your table appropriately and celebrate dining in style!
Happy Holidays, xo